What's driving the world's leading international hubs?
Analysis
The list of leading international airports is a highly dynamic one, reflecting the broad shifts occurring in the global economy.
This piece is taken from the Nov-2010 edition of Airline Leader. Click here to view and subscribe to the full publication.
Airports thrive on international passengers. They make more valuable contribution to an airport's overall revenue than domestic passengers, helping to drive airport retailing and a range of related services. Not surprisingly, airports aggressively court airlines to add new or expanded international services. Crucially for suppliers and investors, the list of leading international airports, is a highly dynamic one, reflecting the broad shifts occurring in the global economy. And equally, the trends in international airport growth faithfully track the evolution of the global industry.
London Heathrow is by far the world's leading international airport, topping 60 million passengers last year. The gap to second-placed paris CDG is, however, closing as its hub role grow. In 2001, Paris CDG handled 43.8 million passengers - or around 80% of Heathrow's 53.8 million. By 2009, Paris had accelerated to 53 million international passengers - or 87% of Heathrow's 60.6 million. The gap is expected to continue to close this decade, as Heathrow's capacity remains capped, while plans for a third runway have stalled.
In contrast, Paris and rising star Dubai have great flexibility to grow capacity and position for bigger slice of the global international aviation market.
Fastest Growing Airports by International PAX: 2001 vs 2009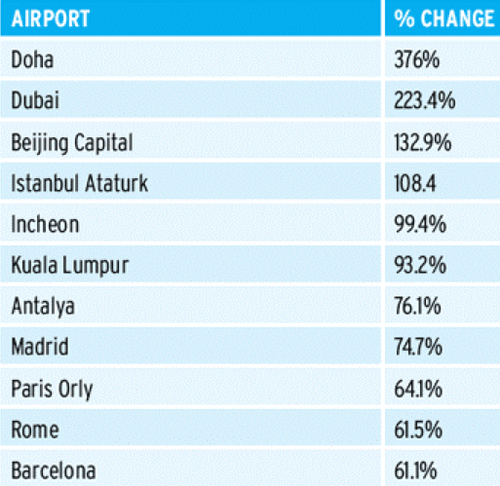 Dubai has soared 20 places up the world ranking since 2001, when it handled just 12.4 million international passengers. Handling an astonishing 40.1 million last year, Dubai is set set to leapfrog Amsterdam this year and challenges Frankfurt and Hong Kong as the word's third busiest international hub in 2011. The Emirates growth story is a large part of Dubai 's ascent, but the Middle East hub is increasingly attracting new airline and it now has one of the most diverse airline customer lists of airports worldwide (with around 105 in total - only Paris, Frankfurt and Rome Fiumicino have more), a solid endorsement of the value of the UAE's open skeis regime.
But outstripping even Dubai since 2001 has been the spectacular growth of the smaller Doha. Fuelled by Qatar Airways' aggressive expansion, Doha' s international traffic has risen 376% from 2.8 million in 2001 to 13.1 million last year. Growth of around 15-20% in 2010 is likely.
Istanbul Ataturk is another new entrant to the world's busiest international airports club, surging into 20th place with 18.4 million international passengers – more than doubling from the 8.8 million passengers handled in 2001. Also in Turkey, reflecting the rapid expansion of flag carrier Turkish Airlines, is Antalya Airport, which handled 15.2 million international passengers last year, up 76.1% from 2001.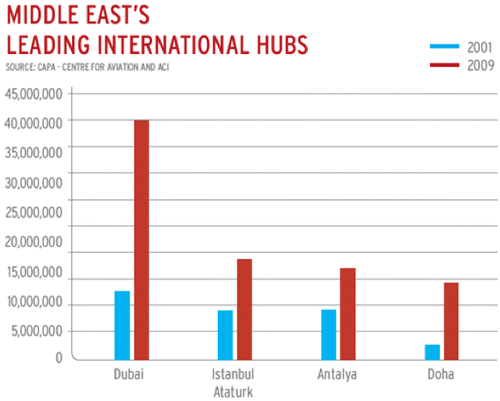 The Asia Pacific region generates much of the movement on the international leader board. Beijing Capital leapt into 33rd place with growth of 133% since 2001 to 14.1 million passengers. Beijing, with its massive domestic market, is now the world's third busiest airport (in terms of total throughput, behind Atlanta and Heathrow) and will climb into the World' s Top 30 internationally this year on the back of China's strong economic growth. Air China, China Southern and Hainan Airlines continue to expand their international networks from Beijing. Foreign carriers are also adding capacity to meet rising demand.
Kuala Lumpur was another star performer in Asia, almost exclusively as a result of AirAsia's remarkable growth last decade. The Malaysian low-cost carrier has catapulted the national gateway into 19th place on the world hub rankings, as 19.4 million international passengers passed through last year. AirAsia has focused its expansion on Southeast Asia, but is increasingly adding India and destinations in North Asia to its suite. AirAsia X will drive long-haul expansion to Australia/New Zealand, the Middle East, Europe and North America in coming years. Kuala Lumpur could easily reach the 30-million international passenger club by the end of this decade, taking it inside the world's Top 10.
South Korea's Incheon International Airport has also soared up the rankings from 23rd position in 2001 to 12th in 2009, as international passengers doubled to 28.1 million last year. Further growth up the rankings is possible in the near term (potentially leapfrogging Gatwick, Bangkok, Narita and Madrid this year or next), particularly if Japan and China liberalise aviation access to Korean carriers and LCCs gather some momentum in the sleepy North Asian triangle, as appears likely.
Tokyo Narita has so far maintained its position as the eighth-ranked international hub, growing its throughput by a creditable 38.9% between 2001 and 2009. Its position is, however, threatened by JAL's bankruptcy and the addition of a fourth runway at Haneda Airport from late Oct-2010 and Haneda' s expansion of long-haul services. But Narita is striking back with plans to grow its domestic network. A cross-flow of traffic from long-haul international to short-haul/domestic services is vital for most prosperous major hubs.
Singapore remains in 7th place (having overtaken Gatwick but been surpassed by Dubai), while Bangkok has slipped one place since 2001 to 10th last year (passed by Madrid).
The traditional European international hubs witnessed only moderate growth last decade and have been overtaken by several fast-charging Asian and Middle East airports. International traffic at Brussels and Manchester declined 1.2% and 14.3%, respectively since 2001, though both are making spirited comebacks as they focus on emerging markets, such as the Middle East, and - in Brussel's case in particular - the LCC market.
London Gatwick's largely point-to-point throughput was virtually static last year compared with 2001, while Copenhagen, Zurich, Stockholm and Palma de Mallorca have all experienced growth of less than 10% over the same period. Amsterdam and Frankfurt expanded by around 11%, while Dusseldorf grew 15%.
But some Southern Europe hubs have prospered, particularly those with exposure to emerging markets and/or LCCs. Madrid climbed into the Top 10, handling 29.1 million international passengers last year, driven by strong demand to/from Latin America and North Africa. A key reason for British Airways' merger with Iberia is the pursuit of a growth engine – and looking to Southern Europe is a sound strategy. Unlike Heathrow, Madrid has plenty of room for expansion.
Rome's international traffic has surged 61.5% since 2001, despite Alitalia's turmoil. Paris Orly and London Stansted – favoured by LCCs – have seen a similar surge in traffic, while Spain's Barcelona has also grown by greater than 60%.
The eastern and western fringes of Europe are also attractive. Dublin and Vienna have grown by 47% and 55%, respectively, though the downturn in 2008/09 has affected these airports, particularly Dublin. Not surprisingly, Aer Lingus and Austrian Airlines attracted takeover interest, from Ryanair (unsuccessfully) and Lufthansa (successfully), respectively. Munich Airport is the exception to the Northern Europe trend, growing 54.2% under the influence of Lufthansa's strategy to build up its hub there.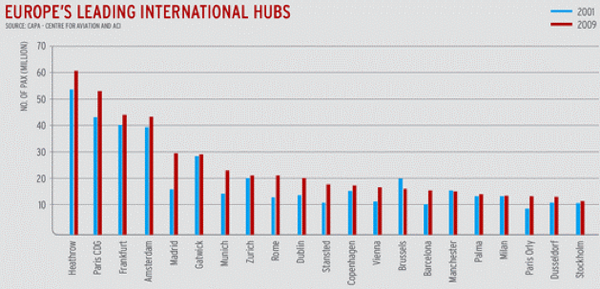 Just four North American airports make the global Top 30, although none is in the Top 10. New York JFK is the busiest international airport on the continent, though it slipped two places to 14th in the global rankings, despite growth of 32% since 2001.
Toronto and Miami have experienced slow growth, of 12.1% and 4.7% respectively, since 2001. In Toronto's case, this reflects the protective aviation policy pursued by Canada in recent years. Los Angeles' international traffic has actually contracted by 5.3% over the same period, despite its seemingly favourable geographic positioning closer to burgeoning Asia Pacific gateways. Its congested and outdated infrastructure and the unfriendly impact of US visa restrictions makes transfer difficult. This creates further challenges, as new technology aircraft, such as the B787, raises the competitiveness of rival airports across the US for non-stop services to growth markets in Asia and elsewhere.
Miami has also failed to capitalise on Latin America's boom, with other Florida-area airports gaining ground. Traditional trans-Atlantic leisure markets have been affected by the global economic downturn and domestic US LCCs have largely eschewed the famous Florida gateway.
There is no single formula for success in climbing the ranks of the world's leading international hubs, as the examples above have demonstrated. But common themes include an aggressively expanding flag carrier, exposure to the LCC sector and airports located in regions of high economic growth, such as Asia. Undoubtedly, the preferred characteristics converge at Heathrow, with its geographical and end-to-end traffic advantages – but the missing factor there, as the UK government shoots itself in the foot economically – is capacity.
The shape of the Global Top 30 in 2020 will be very different again. CAPA expects greater representation of Asia Pacific/Middle East hubs in the upper echelons by that time. Dubai will overtake Heathrow at some point late in the decade and more European airports, especially those in the slower growing central part of the continent, will be squeezed out of the leading group - unless they can effectively court the European LCC segment and Middle East entrants.
CAPA expects airports on the fringes of Europe to do well as they tap neighbouring emerging markets. Some Latin American hubs will also take the place of their North American counterparts in the world's leading international hubs as that region's economy continues to develop.