Tiger looks to catch-up after rights issue and departure of founding CEO Tony Davis
Analysis
Tiger Airways is trying to move forward after surviving the most challenging chapter in its six-year history, capped off recently by a further shake-up in Tiger's executive team, with founding CEO Tony Davis leaving the group, and a rights issue. Tiger's position going forward is significantly improved, but it still has several challenges to overcome if it has any chances of catching up with rival LCC groups AirAsia and Jetstar, which have successfully established pan-Asian footprints while similar efforts at Tiger have so far failed.
Tiger has confirmed that Tony Davis, who led the carrier through its start-up phase beginning in 2005 and from Feb-2007 until Jul-2011 oversaw its pan-Asia expansion strategy as group CEO, will leave the company on 1-Nov-2011. Mr Davis is joining Irelandia Aviation, the Declan Ryan-led investment firm that was an original shareholder in Tiger and now owns stakes in LCCs Ryanair and privately-held Mexican operator VivaAerobus, and formerly Allegiant Air.
Tiger also has announced that Chin Yau Seng has been appointed to the permanent position of group CEO. Mr Chin has served as Tiger's acting group CEO since shortly after the grounding of Tiger Australia on 1-Jul-2011. Mr Davis has since been serving as chief of Tiger Australia, where following the grounding he took over from local manager Crawford Rix. Tiger is now looking to recruit a new chief for its re-launched Australian unit, which it is growing steadily in hopes of avoiding the safety and operational immaturity that led to its grounding.
During Tiger's grounding it was unclear how much knowledge Mr Davis had of the preceding events and what opportunities he had to improve safety and avoid the grounding. Tiger Australia's local management toed the head office line, giving public mystique on future plans in order to feign off competitors. It was very much an old boys' club, even when Shelley Roberts held the top post in Australia, but when the Civil Aviation Safety Authority lifted the grounding and for the first time delved into its causes, it became apparent the Australian division was under-resourced and safety paperwork organisation was as patchy as the old vinyl office furniture in the waiting room of what management affectionately referred to as their the tin shed headquarters. Tiger prided itself on walking and talking their low-cost status, but it neglected safety – and Mr Davis's role in that became apparent.
CASA's scrutiny of Tiger started in mid-2010, almost a year before the grounding, when there were a number of smaller incidents, including failing to report a 2008 aileron oscillation incident with one of its A320 – an incident disclosed in Aug-2010 only because the same aircraft experienced the same problem again. CASA worked with Tiger, but unfruitfully as the regulator issued a show cause notice in Mar-2011 declaring Tiger "on a number of occasions" breached its air operator's certificate, which should have sent alarm bells ringing in Singapore, even more so when the show cause notice had financial ramifications as Tiger could not expand, forcing it to return to Asia two A320s on the ground in Australia awaiting induction.
Tiger made some changes, including increasing maintenance personnel at their Melbourne base to carry out roles previously looked after in Singapore. But it was not enough to placate CASA. In hindsight, Mr Rix told it best when at a 27-May-2011 senate inquiry a senator asked him if a show cause notice could indicate unsatisfactory dialogue between CASA and the airline. "I think the dialogue in general has been okay," Mr Rix replied. Mr Davis interjected, "I would go further. I would say my knowledge of the interaction is that the dialogue between the airline and CASA has been very good."
Whatever was going well was not enough, as two low-flying approaches – of which other carriers have experienced – were enough to tip CASA over the edge and make the unprecedented move in the country of entirely grounding a large airline. CASA told of issues large and small, from a "paucity in the record keeping" to missing entire records to Tiger's web check-in system not being able to safely select passengers to sit in exit rows. Tiger had to put all of its 100-odd pilots through simulator checks as the necessary paperwork could not be guaranteed. When issues with ramifications like these exist, Mr Davis should have been in a position to know of the situation.
SIA to take on greater role with Tiger as it increases its stake to almost 50%
New CEO Mr Chin initially joined Tiger on 7-Jul-2011 from Tiger's largest single shareholder, Singapore Airlines (SIA), providing the first indication that SIA was going to have a more active role in the LCC while maintaining the required separation. At the same time long-time SIA chairman and highly respected Singaporean businessman Joseph Pillay took over as Tiger's chairman, further signalling the start of a new chapter in the Tiger-SIA relationship.
SIA now owns 33% of Tiger while Dahlia Investments, a subsidiary of Singapore government-owned investment firm Temasek, owns another 7%. But Tiger unveiled plans late last week for a SGD159 million (USD132 million) rights issue with SIA and Temasek subscribing to 90% of the new shares. As a result, SIA could end up with approximately 49% of Tiger. Combined, SIA and Temasek will control a majority share.
Tiger announced the rights issue will result in 273.4 million new shares, subject to approval at an upcoming extraordinary general meeting (see background information). The new shares have been priced at SGD 58 cents (USD 48 cents), representing a 39% discount on the share price at the time of the announcement. Tiger, which has seen its stock price tumble since the 1-Jul-2011 grounding of its Australian subsidiary, plans to use the proceeds to cover pre-delivery and final delivery payments for additional A320s.
Stock price comparison index* for Singapore Airlines and Tiger Airways (from Feb-2010 to Aug-2011)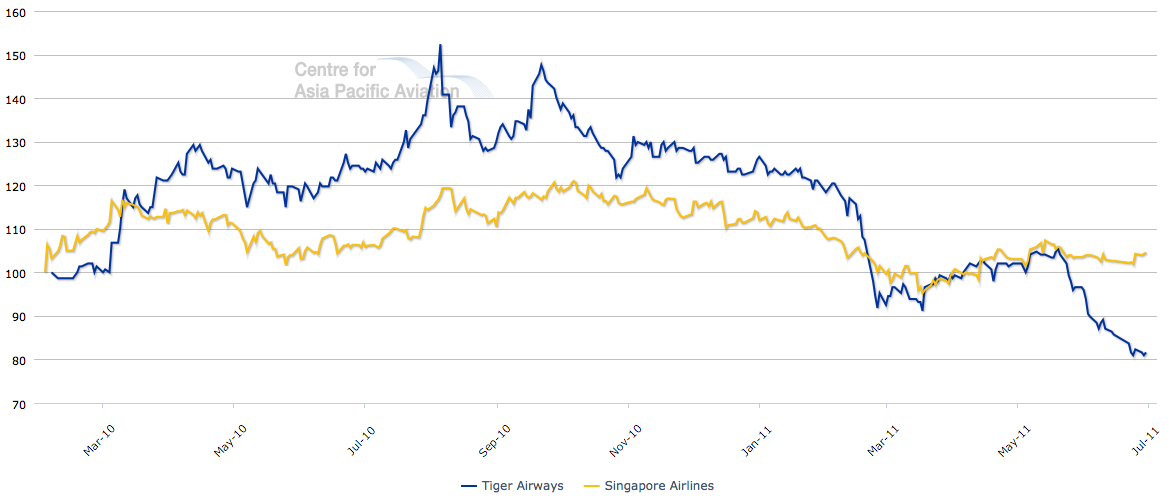 SIA's decision to significantly increase its stake represents a strategic shift for the SIA Group, which prior to Tiger's 2005 launch decided against establishing Tiger as a wholly-owned subsidiary and instead opted to buy a minority stake in the new carrier. SIA is now plotting a new future which ensures more direct participation in the faster-growing lower end of the market. In May-2011, SIA unveiled bold plans to launch by Mar-2012 a long-haul low fare subsidiary. Taking over a majority stake in Tiger gives SIA and Temasek the flexibility to pursue potential synergies between Tiger and the new long-haul LCC and allows the SIA Group to better exploit the rapid growth in Asia's budget airline sector.
The new long-haul LCC is being established along the same lines as SilkAir, SIA's fully-owned regional airline subsidiary. SilkAir has a separate management but its chief has always come from SIA's vice president ranks, with Mr Chin serving as head of SilkAir in 2007 to 2010.
The launch CEO for the new long-haul low-cost subsidiary is also an up and coming SIA executive, Campbell Wilson, who previously served as SIA's general manager in Tokyo and Hong Kong. With Mr Chin, it seems SIA is now taking a similar approach with Tiger. Despite his promotion at Tiger from acting to permanent group CEO, Mr Chin remains on leave of absence from SIA and has not formally resigned from SIA. As a result, it is likely Mr Chin will return to SIA after a couple of years and be replaced by another SIA executive.
SIA Group to have four distinct brands, matching new AirAsia-MAS combination
While Tiger and SIA will need to maintain their independence as they compete head to head on several routes, cooperation on a broader level is possible. The new AirAsia-Malaysia Airlines alliance could serve as added impetus for SIA to pursue more cooperation between their premium and budget brands.
The new AirAsia-MAS combination will result in four major brands: AirAsia (narrowbody low-cost), AirAsia X (widebody low-cost), MAS (narrowbody and widebody full-service) and Sapphire (narrowbody full-service) plus two full-service turboprop operators, Firefly and MASwings. SIA, which has no desire to compete against MAS in the turboprop segment, will essentially have four similar major brands in Tiger (narrowbody low-cost), SIA's yet to be named low cost widebody operator, SIA (widebody full-service) and SilkAir (narrowbody full-service).
SIA's move to increase its involvement in Tiger also allows the group to respond better to two other Southeast Asian competitors, Garuda Indonesia and Thai Airways, as well as rival Qantas. All three airline groups already have budget brands while Thai and Qantas are both planning to launch new full-service regional carriers based in Southeast Asia, with Thai following the SilkAir model and Qantas providing a product that will be even more premium-focused than SilkAir and SIA – and possibly in the category of quasi-business jet.
While the broader pieces of SIA's new strategy under Goh Choon Phong, who took over as CEO at the beginning of 2011, have now emerged, there is still a lot of work ahead in implementing the details. The next few months will be crucial for establishing the initial network and product strategy for the new long-haul low-cost carrier. It will also be a crucial few months for Tiger and Mr Chin.
Getting Tiger Australia back to break-even, which was achieved in the fiscal year ending Mar-2010 but not in the subsequent five quarters when the carrier racked up SGD32 million (USD27 million) in operating losses, is clearly one of Mr Chin's major tasks. Tiger Australia incurred additional losses of about SGD12 million (USD10 million) during the six-week grounding, which began at the start of Tiger's 2QFY2012.
Tiger Australia is expected to remain in the red for the remainder of the year given the costs associated with re-launching the operation and restrictions limiting the number of flights that can be operated with its remaining fleet of eight A320s. The decision to focus on just one base, Melbourne, and stick at least initially to popular routes such as Sydney, Brisbane and Gold Coast, should result in a less dire financial performance in the fiscal second half for the Australian division. But its stiff losses in the first half will likely be too large to be offset by the continued profitability at the larger Singapore-based operation, resulting in the Tiger Group incurring a loss for the half year and likely the full year as well.
Mr Chin to focus on accelerating growth of Tiger cub programme
A far bigger challenge for Mr Chin will be pushing forward with Tiger's long-delayed pan-Asian expansion. While Mr Davis eventually succeeded in his final task in re-launching Tiger Australia after a tedious six weeks in addressing the numerous problems identified by CASA, his success at expanding what he frequently referred over the last four years as Tiger's "paw print" and "cub programme" was very limited.
Mr Chin now takes over stalled efforts to establish joint ventures in Indonesia, the Philippines and Thailand. Tiger has been planning to invest 39% in a new joint venture carrier in Thailand with Thai Airways since last year. Deals have been in the works including since Feb-2011 a 32.5% stake in a new joint venture low-cost operation with Philippine carrier SEAir and since May-2011 a 33% stake in Indonesian airline Mandala, which has been grounded since early this year and is attempting to restructure.
In recent months there has been no progress in any of the planned joint ventures at Tiger. But Mr Chin has said he is confident all three ventures remain on track and Tiger's problems in Australia will not lead to any resistance in completing the deals or securing regulatory approvals.
Tiger needs to find bases for five A320s
Tiger desperately needs at least one of its new Asian ventures to get off the ground as it has five additional aircraft that will need bases by March. Tiger is committed to growing its group fleet in the current fiscal year by nine A320s, for a total of 35 aircraft, and also has to find new bases for two aircraft preparing to leave the Australia-based fleet.
Six of these 11 aircraft are earmarked for Tiger Singapore, which plans to grow its fleet to 20 A320s by the end of its current fiscal year. Although the Singapore operation remains profitable with forward bookings not impacted by the grounding in Australia, there is very little or no room in Singapore to further accelerate growth.
Tiger currently has a group fleet of 28 A320 family aircraft with 42 additional A320s on order, according to Ascend data. In addition to the Singapore and Australia operations, Tiger has two A319 that are leased to SEAir, which launched in Dec-2010 a Tiger-branded international low-cost operation. SEAir is the most likely near-term beneficiary of additional A320 family aircraft as the carrier could expand its Tiger-branded international network even if its proposed joint venture with Tiger, which envisions international as well as domestic services, is not completed. In fact, new Tiger-branded SEAir services from its Manila Clark base to three cities in Malaysia are already in the pipeline.
Despite exceptionally low aircraft utilization rates as a result of CASA restricting the number of sectors Tiger can operate, Tiger for now plans to keep eight of its aircraft in the Australian domestic market, perhaps because it doesn't have other affiliates that can take on any aircraft the Australian division could afford to relinquish. Mr Chin has insisted that Tiger remains committed to staying in Australia – although if the group finally succeeds at opening new joint ventures in the faster-growing and generally more profitable Asian market it could be tempted to shut Tiger Australia.
Rights issue ensures fleet expansion plans will remain intact
Tiger is now slated to expand its group fleet to 68 aircraft by December 2015. Tiger has no intentions of deferring or cancelling any of its orders as the rights issue will give it the cash needed to cover the planned fleet expansion. As a result, Tiger and its major shareholders seem confident efforts to grow Tiger's portfolio of carriers will eventually succeed, giving the group several options as the fleet grows, despite the current delays with the three planned joint ventures and earlier setbacks in setting up affiliates in the Philippines and South Korea.
With a new management team in place and more involvement from SIA, Tiger should be able to survive and continue being a major player in the extremely competitive Singapore LCC market. But Mr Chin has a lot of work ahead before Tiger can join AirAsia or Jetstar as truly pan-Asian LCCs. While Tiger has struggled to set up affiliates in Asia, the Malaysia-based AirAsia Group now has thriving affiliates in Indonesia and Thailand with new affiliates to be launched over the next year in the Philippines, Vietnam and Japan. AirAsia also has been able to match Tiger's 7% market share in Singapore without a Singaporean affiliate, with more capacity to be added at Changi Airport later this year in conjunction with the opening of a Singaporean crew base.
Jetstar, meanwhile, already has affiliates in Singapore and Vietnam along with plans to launch a joint venture carrier in Japan next year. Jetstar's Singapore-based fleet, which will grow to 17 A320s and four A330s by the end of 2011, will soon be bigger than Tiger's Singapore fleet.
Low-cast carriers in Singapore by capacity (seats per week), 29-Aug-2011 to 4-Sept-2011
Based on current capacity (seat) figures from Innovata, the AirAsia Group is about seven times the size of the Tiger Group while Jetstar is roughly four times larger. This gap will likely widen as AirAsia and Jetstar both have placed large orders for the A320neo, a type Tiger has not yet purchased as it has been focusing on resolving more short-term challenges.
Background information
Offer structure of Tiger's proposed rights issue

Financial effects of Tiger's proposed rights issue