The Viva Group settles on Peru amid changing competitive dynamics in Latin America
Analysis
Peru has emerged as the country of choice for the third airline of the Viva Group, which aims to launch its Viva Air Peru during the first half of 2017. In the past Viva has toyed with the idea of spreading its low cost brand to Peru, but chose to pursue an opportunity in Costa Rica that it later abandoned due to the high operating costs imposed on the country's airlines.

Peru has numerous attractive attributes for a low cost start-up, including favourable economic growth, the absence of a true low cost airline and strong domestic passenger demand. Trips per capita for Peru are similar to the still-developing (and growing) markets of Mexico and Brazil, which each feature low cost competitors.

But the current iteration of the Viva franchise faces some changing dynamics in the Latin American market place – primarily the recognition by the region's largest airline groups of the LCC threat, and their adoption of new tools to compete more effectively with existing and aspiring LCCs.
Viva Group finally settles in Peru after abandoning plans for a LCC based in Costa Rica
The Viva Group has taken a measured approach to the spread of its low cost brand in Latin America. VivaAerobus was established in Mexico during 2006 amid a flurry of low cost activity in the country, including the establishment of the fellow Mexican low cost rivals Interjet and Volaris. At that time Mexico was ripe for low cost penetration, with the full service airlines Mexicana and Aeromexico dominating the country's airline industry. Mexicana ceased operations in 2010, which created further opportunities for low cost penetration among Mexico's growing middle class.

VivaColombia debuted in 2012 in a market dominated by the full service airline Avianca and – to a lesser extent – LAN Colombia (now LATAM Airlines Colombia) – which purchased the domestic airline Aires in 2010 – and Copa Colombia.
Colombia, Latin America's third largest aviation market behind Brazil and Mexico, had many of the same attributes as Mexico: strong domestic passenger growth and a growing middle class. For the 8M ending Aug-2016 Colombia's domestic passengers grew 5% to 17.4 million. Since its inception VivaColombia has built up its domestic market share of 11% (Jan-2016 to Aug-2016) to become the country's third largest domestic airline.

During the past few years the Viva Group has mentioned potential opportunities in Peru, but in late 2015 it outlined plans to establish its third franchise in Costa Rica. But the company later backed off those plans, concluding that high taxes and airport fees would prohibit the company from achieving the price points necessary for traffic stimulation.

See related report: Viva and Volaris try to shake up the LCC market in Latin America while Sky switches its model
Mexican ULCC Volaris ultimately reached a different conclusion about the Costa Rican market, and Volaris Costa Rica made its debut in late Nov-2016.
Peru offers many attractive market characteristics as other Latin regions featuring LCCs
In late 2016 Viva detailed plans to launch its next low cost airline in Peru – a market that had been on the company's radar for a number of years. Just as Peru emerged as Viva's choice for a third branded airline, the news outlet The Irish Times reported that Irelandia Aviation had decided to sell its 49% stake in VivaAerobus to the majority shareholder, the Mexican bus company IAMSA.

Although Latin America has been mired in an economic slump during the past couple of years, driven by recession in Brazil, the area remains attractive to low cost airlines and their respective investors due to the region's projected traffic growth. The LCC and ULCC investment group Indigo Partners has recently stated that it had gained a favourable reception from regulators in Latin American markets that the company is interested in, and company executives declared: "You shouldn't be surprised if you see us do something there".

See related report: Indigo Partners assesses ultra-low cost airline (ULCC) opportunities in Southeast Asia

For the 10M ending Oct-2016, Peru's domestic passenger market grew 8.7% to 9 million. Its trips per capita in 2014 were 0.54, and its projected population for 2017 is 32 million, reflecting the potential market growth that Peru offers to new airlines.
Mexico's and Brazil's trips per capita during the same period were 0.55 and 0.54 respectively; Mexico's projected population for 2017 is 125 million, and Brazil's population projections are 208 million. Mexico's second largest airline is the ULCC Volaris, and the LCC Gol is Brazil's largest domestic airline.

Peru is also emerging as one of the stronger economies within Latin America for 2017. In an Oct-2016 report the United Nations Economic Commission for Latin America and the Caribbean ranked Peru as the third fastest growing country in Latin America during 2016, with projected GDP growth of 3.9%.
Bolivia has emerged as the region's leader in 2016, with forecast growth of 4.5%, followed by Paraguay with forecast GDP expansion of 4%. The report concluded that Peru's position would rise to being the second fastest growing economy in Latin America for 2017, with forecast GDP growth of 4% behind Bolivia's 4.3% expansion.

See related report: LCCs in Latin America: Peru's rise as an economic star could draw attention from potential operators
Peru is largely dominated by full service airlines, possibly creating inroads for LCC Viva
Peru's domestic market is dominated by LATAM Airlines Group, with LATAM Airlines Peru holding a 62% share for the 10M ending Oct-2016. Peruvian Airlines and Avianca Peru each held a 12% share. LC Peru represented an 8% market share and Star Peru held a 5% share. LATAM Airlines Group has cited 12% CAGR passenger growth for Peru between 2005 and 2015.
Peru domestic market share: Jan-2016 to Oct-2016
Peru does not have a declared low cost airline.
Both LATAM and Avianca are full service airlines. Peruvian has been one of the fastest-growing airlines in the market during the past couple of years, with system-wide seats growing 19% year-on-year in 2015, and 6% in 2016. Peruvian has risen to tie Avianca as Peru's second largest domestic airline.
Peruvian airlines annual capacity (number of seats): 2013 to 2017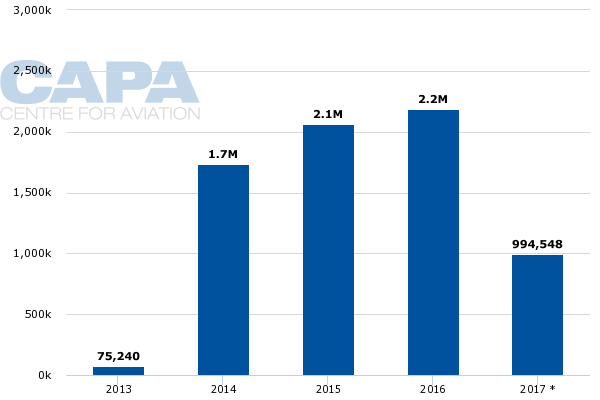 Viva Airlines Peru aims to launch operations in 1H2017, and has reportedly ticked off a list of routes from Lima that are likely to be included in its initial network offerings. LATAM Airlines Peru and Avianca dominate those routes.
Competitors and seat share on potential routes operated by Viva Air Peru as of 1-Jan-2016
Lima is a strategic hub for LATAM Airlines Group, helping the company to leverage connections on north-south traffic flows, as well as connecting longer haul traffic from Europe. During 2016 LATAM Airlines group launched flights from Lima to Washington, DC, Montevideo, Antofagasta, Salta, Rosario, Mendoza, Barcelona and Cartagena. For LATAM the maintaining of its domestic market share is important to support its international expansion from Lima.
LATAM already faces formidable low cost competition in three of its markets in South America – Chile (with Sky's transition to low cost airline), Brazil (from Gol), and Colombia (from VivaColombia). Combined, Brazil, Colombia and Peru represented 56% of LATAM Airlines Group's revenue by point of sale for the 12M ending Jun-2016.
In order to compete more effectively with Latin America's growing number of low cost airlines, LATAM has outlined plans to institute a new fare structure in the domestic markets of its South American operations – Chile, Peru, Brazil, Argentina, Ecuador and Colombia.
The company has concluded that leisure customers are driving passenger growth in Latin America, and LATAM estimates that leisure traffic should represent 50% to 70% of its passenger growth in its domestic markets in South America. In some cases, leisure passengers are growing at nearly triple the rate of corporate customers.
With the growth potential of leisure passenger and increasing competition from LCCs: starting in 2017 and continuing for a two-year period LATAM plans to offer unbundled basic fares in its six South American countries that are up to 20% cheaper, and it projects 50% passenger growth on domestic routes in its South American countries by 2020.
That creates a different set of competitive dynamics for Viva Airlines Peru as it aims to inject low cost competition into the Peruvian market. It also creates a challenge to Viva Colombia, which is still attempting to grow its domestic share in the Colombian market, where Copa is attempting to counter the LCC threat with its new low cost brand Wingo.
See related reports:
LCCs need to keep costs in check to withstand new competitive dynamics
If LATAM successfully executes its plans to offer lower fares to compete with LCCs and ULCCs more effectively, it could create a formidable threat to existing and aspiring low cost airlines. In addition to fare matching LATAM can offer customers a comprehensive global network, and the benefit of a loyalty programme with numerous airline partners. LATAM's efforts to compete with existing and start-up LCCs are not unlike the tactics exploited by the three large global US airlines – American (LATAM's potential joint venture partner), Delta and United. Each airline is at various phases of rolling out a tiered fare structure that includes a basic, bare-bones offering aimed at competing more effectively with ULCCs.
See related report: Branded fares take hold among the three large global US airlines. Market dynamics will shift
Viva and other low cost airlines need to double down on their cost performance in order to compete effectively with the inevitable fare matching from their larger network rivals in Latin America. The Mexican ULCC Volaris estimates that its unit cost excluding fuel YTD Sep-2016 was USD4.7 cents, and it calculates that the CASM excluding fuel of its rival VivaAerobus was USD4.4 cents. Those figures are lower than the USD5.6 cents posted by the leading US ULCC Spirit Airlines.
Latin LCCs need to compete effectively in a new competitive landscape
The Viva Group's decision to settle on Peru is not surprising, given that conditions in the country are such that it is ripe for low cost penetration. The company has arguably disrupted the Colombian domestic market with the creation of Viva Colombia, while the effects of VivaAerobus in Mexico are more nuanced, considering the raft of low cost airlines that emerged in the country in the middle of the past decade.
But since the inception of Viva Colombia in 2012 overall market conditions have changed in Latin America. Two major airline groups – Avianca and LATAM Airlines Group – dominate the market as a result of consolidation, and the region has weathered a tough recession.
Now some of the region's large airline groups are working to institute long-term strategic changes to combat the growing threat of LCCs, and now those LCCS have to contemplate ways to compete effectively as the region's competitive dynamics shift.