LATAM Airlines Group is the latest in the region to build an arsenal to combat the LCC threat
Analysis
LATAM Airlines Group is taking a major step to sustain its leadership in Latin America through the introduction of a new fare structure on domestic routes in its South American domestic markets. This move is to ensure that it remains competitive as existing and potential new low cost airlines aim to establish a foothold in the region.

The company's plans emerged just as Copa Airlines decided to transition its Colombian operations to a low cost model – Wingo – and the Viva Group set its sights on launching its third Latin American low cost airline in Peru during early 2017. Airlines within LATAM have leading positions within those countries. Over the long term LATAM expects rapid leisure passenger growth in Latin America, and is establishing a framework to compete for those customers.

Key to LATAM's execution of its new fare structure is cost efficiency, and the airline has cited several ways to achieve lower costs – including the expansion of direct sales, improved productivity and a marked increase in aircraft utilisation – in order to attain unit costs to compete with new low cost competitors.
LATAM aims to capture the vast growth potential of leisure passengers in South America
Beginning in 2017 LATAM Airlines Group plans to offer lower fares in its South American domestic markets – Chile, Peru, Brazil, Argentina, Ecuador and Colombia.

Those markets represent approximately 45% of LATAM's capacity and revenues, and 78% of the passengers transported by the group's airlines. Data from CAPA and OAG show LATAM to be a top operator in each of those countries, and it holds leading positions in Chile and Peru.
LATAM Airlines Group domestic seat share in its South American domestic markets: 14-Nov-2016 to 20-Nov-2016
Company executives recently explained that despite recent microeconomic pressure in those countries all six have significant growth potential over the long term. Domestic and international trips per capita in South America fell between 0.5 and 1.3, compared with 2 in developed countries and more than three trips per capita for residents of Europe.

Leisure customers are driving passenger growth in Latin America, and LATAM estimates leisure traffic should represent 50% to 70% of its passenger growth within its domestic markets in South America. In some cases leisure passengers are growing at nearly triple the rate of corporate customers.
Latin America has been a hotbed of LCC activity during the last couple of years
LATAM's competitors also recognise the upside in the region's growth of price-sensitive passengers, and a range of LCC activities has occurred in the area during the last year.
With the LCC VivaColombia's rise to Colombia's third largest airline in the country's domestic market, Copa Airlines has undertaken a business strategy change in Colombia to a low cost model. Copa's new LCC brand Wingo is set to make its market debut in Colombia in Dec-2016. Through Wingo Copa aims to compete more effectively in the Colombian market and regain lost market share in the country's domestic space.

See related reports:
Both LATAM and Copa have faced competition from VivaColombia in Colombia since the Viva Group established its second low cost airline in the country during 2012. In just four years VivaColombia has risen to become Colombia's third largest domestic airline – attaining an 11% market share for the first eight months of 2016.

Now Viva is spreading it wings to Peru, a market where LATAM Airlines Peru is dominant and held a 61% domestic market share for the 7M ending Jul-2016. Viva investor Irelandia Aviation sold its 49% stake in Viva's original Mexican low cost airline VivaAerobus before outlining plans to establish Viva Air Peru.

Peru's domestic passengers grew 10.2% year-on-year in the first seven months of 2016, and Peruvian Airlines and Avianca Peru held domestic market shares of 12.3% and 12.1%, respectively, during the first seven months of 2016. The Peruvian economy is projected to grow as Latin America's third fastest in 2016, and is forecast as the region's second largest growing economy in 2017.

The combination of Peru's favourable economic growth and promising passenger potential has resulted in Viva deciding the market is ripe for an injection of low cost competition.

See related report: LCCs in Latin America: Peru's rise as an economic star could draw attention from potential operators

There is also LCC activity in other markets, including Chile, where LATAM's long-time domestic rival Sky Airline has transitioned to a low cost model. The Argentinian market has also garnered attention as the country's new government is assuming a more liberalised position in the aviation sector.

See related report: Chile's domestic airline market stable as Sky Airline tests the LCC model – and Paravai plans entry
LATAM plans product unbundling to capitalise on ancillary sales potential
LATAM's answer to the increasing LCC competition is to introduce a new fare structure in its domestic markets. Beginning in 2017, and continuing for two years, LATAM plans to offer unbundled basic fares in its six South American countries that are up to 20% cheaper, and it projects 50% passenger growth on domestic routes in its South American countries by 2020.

The company is banking on a boost from ancillary sales out of its change in domestic pricing structure. LATAM executives recently concluded "ancillary revenues are a very new trend in South America, but can represent [USD]15 per passenger on US carriers".
Given the lower penetration of ancillary sales within South America, LATAM may have to undertake some passenger education about the ancillary model to avoid backlash, and the customers' impression that they are being nickel and dimed.

With a higher mix of leisure passengers LATAM could face some revenue dilution. In addition to boosting ancillary sales, the company plans to counter some of the dilution by pushing up load factors. LATAM has a stated goal of reaching an 86% load factor. The company's system load factor for 3Q2016 was 84.8%.
LATAM believes it can attain cost levels to compete with LCCs in the next 18 months
LATAM executives understand that the company must shore up cost efficiencies in order to execute the change in pricing structure successfully. The company has cited several ways to lower its costs – including more direct distribution and highlighting its goal of 80% direct sales through its website (up from current rates of 50%).

Other areas LATAM is focused on in cost reduction are lower airport costs from self check-in and self bag check, and a 15% increase in aircraft utilisation. LATAM concludes that during the next 12 to 18 months it will achieve costs necessary to compete effectively with current low cost airlines in Latin America, or any low cost entity that enters the market.

LATAM's unit costs excluding fuel fell 2.7% year-on-year for the 9M ending Sep-2016. Data from CAPA's CASK database show that for 2015 LATAM's all-in unit cost (excluding fuel) versus average trip length was USD7.16 cents. This result was slightly higher than that of Aeromexico, but lower than Avianca's.
LATAM Airlines Group's all-in unit costs adjusted for trip length in 2015 fell 22% year-on-year, driven by a 36% decrease in top line fuel expense.
2015 CASK for selected Latin American airlines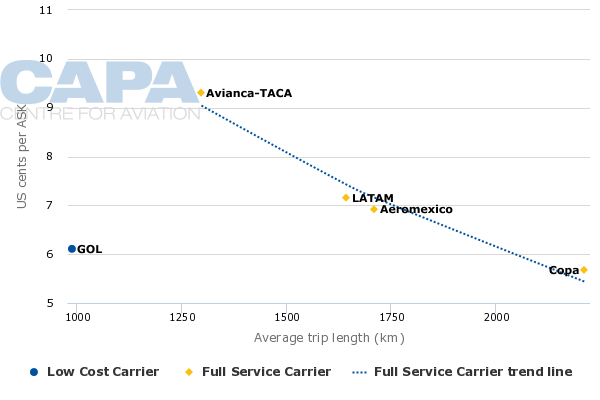 LATAM will remain a full service airline with long haul flights to North America, Europe and Africa. Its higher levels of complexity mean that the company will always have a higher cost gap measured from low cost airlines, but LATAM is clearly working to shrink its cost gap versus low cost competitors.
LATAM makes moves to sustain its competitive advantage; costs are crucial for success
LATAM Airlines Group is not resting on its laurels after the merger between LAN and TAM, which created the largest airline group in the region. Despite navigating the challenges created by two years of economic contraction in Latin America, LATAM is laying the groundwork to remain competitive once economic tides turn and the low cost model becomes more prevalent.

Obviously the measure of success is in LATAM's ability to execute its new pricing structure effectively, making cost efficiency one of the most important benchmarks of its ability in meeting its pricing and passenger stimulation goals.