Copa Airlines: branching out with its new LCC Wingo to regain lost ground in Colombia
Analysis
After years of fading into the backdrop of Colombia's aviation market, Copa Airlines is making a bold move to make itself more competitive in the market place. Copa is reigniting competition after the company's subsidiary Copa Colombia decided to cede domestic market share to other airlines a few years ago, in order to focus largely on international routes.

Copa's weapon of choice is the creation of a new low cost airline Wingo, operated as a unit of Copa Colombia with a targeted market debut in Dec-2016. Wingo is designed as a lower frills point-to-point airline, operating four Boeing 737s in a single-class 142-seat configuration. It is a shift in strategy for the Copa Group, which operates a full service model leveraging traffic flows over its hub at Panama City Tocumen international airport.

Wingo is also adding service to Panama City's Pacific international airport, (Panama City Pacifico), which results in Copa's business units then operating to the city's two airports. Copa's commitment to serve Panama's secondary airport reflects its new strategy to become more competitive in Colombia's aviation market, and create a defensive shield against further LCC encroachment in the future.
As Copa pulled back in Colombia's domestic market, VivaColombia strengthened its stance
Copa acquired a majority stake in the Colombian airline Aero República in 2005, and in 2010 it rebranded the airline to Copa Airlines Colombia. The Colombian market has undergone rapid change during the past few years, with LAN taking over and restructuring the domestic airline Aires.
LAN abandoned Aires' low cost model, began operating it as LAN Colombia and rebranded it as LATAM Airlines Colombia after the merger of LAN and TAM. The Viva Group also debuted its second Latin American airline in 2012 – VivaColombia – and in four years the airline has risen to become Colombia's third largest domestic airline measured by passengers boarded.
Colombia's domestic share by airline (% of passengers boarded): Jan-2016 to Aug-2016
Around the time that VivaColombia launched operations Copa pulled back from Colombia's domestic market to focus Copa Airlines Colombia's operations mainly on international routes. During 1H2012 Copa Airlines Colombia's domestic ASKs fell 28% year-on-year, and the company's domestic market share during that period fell from 18% to 12%.

See related report: VivaColombia shows minimal market disruption as Colombian traffic posts solid growth

VivaColombia is the country's largest low cost airline, operating a fleet of 10 Airbus A320 narrowbodies.
The bulk of its seats, 86%, are deployed into Colombia's domestic market. The airline has expanded internationally during the past couple of years, and presently (week of 24-Oct-2016) operates flights Bogotá and Medellín to Panama City Pacifico, Bogotá to Lima, Quito and Miami and Medellín to Cancún.
VivaColombia international vs domestic capacity (% of seats): 24-Oct-2016 to 30-Oct-2016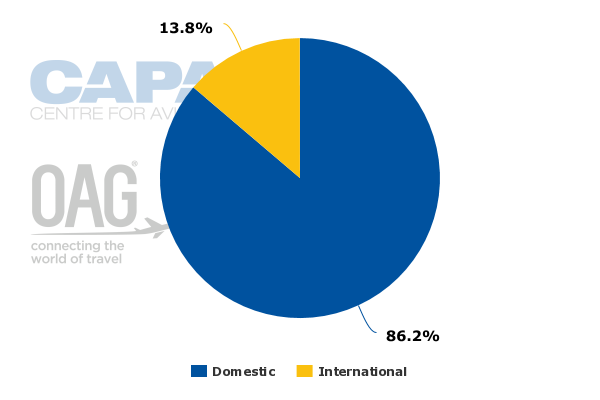 Copa Airlines Colombia posts solid international passenger growth for the 8M to Aug-2016
Colombia's market leaders Avianca and LATAM Airlines Colombia are full service airlines, creating the scenario of two full service market leaders and VivaColombia, a low cost airline aiming to stimulate traffic in Colombia's growing domestic passenger market.
For the 8M ending Aug-2016 the number of domestic passengers transported by Colombia's airlines increased 5% to 17.4 million. Copa Airlines Colombia's share was just 1% (see chart above). Its domestic passengers boarded fell 20% year-on-year, and its seats on offer dropped 19%.

Copa Airlines Colombia is the country's second largest international airline measured by passengers boarded, holding a 13% share for Jan-2016 to Aug-2016, behind Avianca's 35% share. Copa's international passengers boarded grew 7% year-on-year to 1.4 million.
Colombia's domestic market holds promise; Copa is betting an LCC is the right strategy
Adopting the airline within an airline low cost model is a significant strategy shift for Copa, which has operated as a full service airline, leveraging its leading position at Panama City Tocumen to capitalise on passenger flows between North, South and Central America.

Colombia has been one of Copa's weaker performing markets in 2016; however, Colombia's currency depreciation began to improve in 2Q2016. Colombia's largest airline, Avianca, has also experienced improving trends in Colombia's domestic market, and the easing of yield pressure on routes from Colombia to North America.

See related report: Copa Airlines sees positive trends for Latin American demand. A full recovery remains distant

Colombia's GDP is forecast to grow 2% to 2.5% in 2016, with higher growth expected in 2017. Although the country is feeling the effects of overall sluggishness in Latin America, Colombia's middle class continues to grow, and according to data from LATAM Airlines Group – trips per capita in Colombia for 2014 were 0.71, compared with 2.68 for the mature US market and 3.73 for the UK.
Wingo takes over some existing Copa routes hoping to level the competitive playing field
Copa's decision to shift to an LCC model in Colombia is an effort to make itself more relevant in a still-growing market place. Execution will be key for Copa and Wingo, which is taking over some markets from Copa Airlines Colombia and launching new services of its own.

Wingo is assuming Copa Airlines Colombia's domestic service from Bogotá to Cartagena and San Andrés, Cali to San Andrés and Barranquilla to San Andrés. Copa Airlines Colombia is the only operator between Barranquilla to San Andrés, is re-entering the Bogotá-Cartagena market and competes with the country's largest airlines on the remaining routes.
With a presumably lower cost base Wingo could compete more effectively with Avianca and LAN, and puts pressure on VivaColombia if Wingo matches Viva's fares – which is a reasonable assumption.
Seat share of operating airlines on Wingo's Colombian domestic routes: 24-Oct-2016 to 30-Oct-2016
On six international routes from Bogotá Wingo is assuming Copa Airlines Colombia's service, and only competes with VivaColombia in one of those markets: Bogotá-Quito.
The transition to a low cost model on those routes allows Wingo (and Copa) to inject some low cost competition in those markets, perhaps allowing Copa to improve its financing performance on some of Copa Colombia's international routes from Bogotá.
Seat share of operating airlines on Wingo's Colombian international routes: 24-Oct-2016 to 30-Oct-2016
Copa adheres to the LCC model, committing to Panama's secondary airport through Wingo
Wingo also plans to serve Panama Pacifico (a former US Air Force base) to Bogotá, Cali, Medellín and San Jose. Although Wingo will be operated as a separate business unit, and will have no coordination with Copa mainline, it does create another level of complexity for Copa in managing operations at two airports in Panama. However, at the same time it reflects Copa's commitment to the LCC business model, with Wingo operating to the city's secondary airport.

Panama Pacifico was VivaColombia's first international market, launched in 2014, and the low cost airline (week of 24-Oct-2016) operates service to the airport from Bogotá (1,080 one-way seats) and Medellín (540 one-way seats). Copa Airlines Colombia and Avianca operate flights from Bogotá to Panama City, and Copa Airlines Colombia operates from Cali and Medellín to Panama City.

Copa has never publicly declared being under significant pressure from VivaColombia's service from Bogotá and Medellín to Panama City Pacifico. Prior to VivaColombia's launch to Panama, Copa executives stated that it doubled the LCC but would cause little disruption. But clearly Copa believes there is an opportunity on those routes to target low cost passengers whose end destination is Panama City and who may be choosing to travel with VivaColombia. On a broader scale, with Wingo, Copa is attempting to protect its position in Panama from further low cost encroachment.
Wingo is a low risk exercise for Copa to regain lost ground in Colombia
Copa's decision to enter the LCC space through the establishment of the new Colombia-based airline Wingo reflects the fact that Latin America is still underserved by the LCC model.

The company becomes the first full service airline to attempt to operate a low cost arm within its operating umbrella, a development that Copa's competitors will no doubt watch closely over the coming months.

Given Copa's history of solid financial and operational performance, there is little reason to doubt the company's ability to execute the low cost model in a familiar market. Ultimately, Wingo is a low-risk exercise for Copa to determine if it can recoup some losses in the Colombian market by shifting to a low cost model.