Chile's domestic airline market stable as Sky Airline tests the LCC model - and Paravai plans entry
Analysis
Chile recorded a solid 9.7% increase in passenger growth for the first seven months of 2016, with domestic passengers growing 9% and international passenger growth reaching nearly 11%. Although Chile has not been immune to the economic degradation in Latin America, its economy is more stable than in other countries in the region.

Some changes have taken place in Chile's domestic market during the last year – most notably the transition of the country's second largest domestic airline Sky into a low cost carrier. As it has undertaken a change in its business model Sky's international passenger numbers fell for the Jan-2016 to Jul-2016 time period, but the airline is adding some international markets in 2016 and 2017, upping competition with its familiar rival, LATAM Airlines Group.

Another airline aims to start operations in Chile during early 2017 with aspirations to compete with LATAM and Sky on domestic routes. Paravai Líneas Aéreas may not pose a huge threat, but its ambitions reflect a belief that perhaps Chile's duopoly needs to be shaken up.
LATAM Group maintains its lead in Chile, its second largest revenue generator
Chile's 9% growth in domestic passengers for the first seven months of 2016 to 6.3 million was led by LATAM Airlines Group, with an 11% increase year-on-year. Sky Airline posted the second highest growth levels of 10% and LATAM Airlines Chile recorded 7.4% growth in domestic passengers.

LATAM Airlines maintained its leading position in Chile's domestic market for the Jan-2016 to Jul-2016 period, holding a slightly reduced 73% share of the country's domestic passengers compared with 75% for the year prior. Sky maintained its 25% share, while the small turboprop operator Aerovias grew its passengers 12.5% to achieve a 1% share of Chile's domestic market.
Chile domestic airline market share: Jan-2015 to Jul-2015
Chile domestic airline market share: Jan-2016 to Jul-2-16
Chile remains a strategic region for the LATAM Airlines Group, representing 17% of the company's revenue by point of sale for the 12M ending Jun-2016. Chile is the group's second largest revenue point of sale, followed by Brazil at 32%.
LATAM Airlines Group revenue by point of sale: 12M ending Jun-2016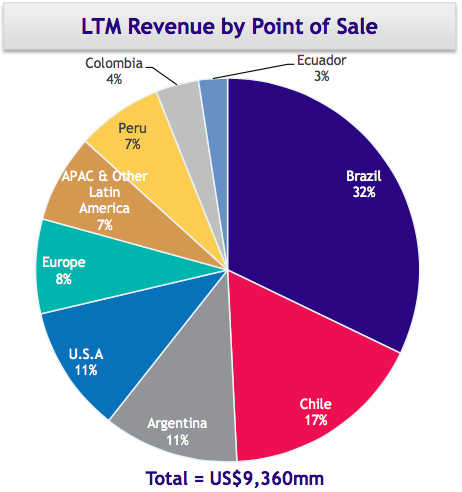 Sky maintains its domestic position as it introduces the LCC model in Chile
A year ago Sky Airline began its transition from a full service airline to a low cost carrier and, as previously reported by CAPA, the move appeared defensive as a means to ward off other potential ULCC start-ups in the country. Sky's CEO stated that given Chile's open sky policy, if the company did not adopt a full low cost business model another airline could pursue a low cost opportunity in Chile.
Indeed, at one point the Viva Group was also considering Chile, but that was during a time when Chile's domestic market was growing more rapidly, and was perhaps more ripe for stimulation, given LAN's dominance.

See related report: Viva and Volaris try to shake up the LCC market in Latin America while Sky switches its model

Although Chile's economy is still growing (its GDP growth is projected at 1.6% in 2016), declining copper prices have resulted in three years of weaker economic growth, which could be a challenge as Sky works toward completing its business model transition. However, it posted solid domestic passenger growth for the first seven months of 2016.

Data from CAPA and OAG show that Sky's domestic seats in 2016 started to grow year-on-year beginning in Jul-2016, but are still below the airline's seat deployment in 2014 prior to its business model transition. However, recently executives from LATAM cited some competitive pressure in Chile's domestic market in 2Q2016, and did not offer a concrete outlook for the market in 2H2016.
Sky Airline domestic seats per week: 2014 through early 2017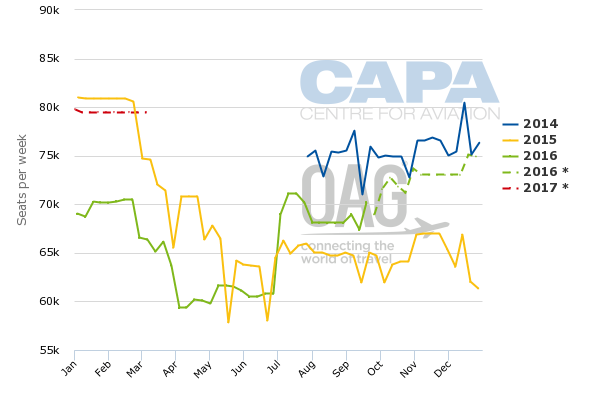 See related report: LATAM Airlines Group faces bigger challenges outside Brazil, as competitors in Peru and Chile attack

Projections from CAPA and OAG show that Chile's domestic seats numbers are projected to grow slightly in 2H2016, which could continue to put pressure on LAN if Sky is injecting lower fares into the domestic market.
Chile domestic seats per week: 2014 to early 2017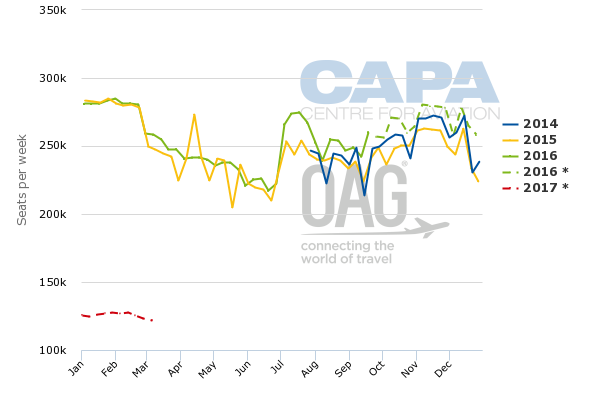 Sky's ability to maintain its market share and grow its domestic passengers shows that Chile is responding positively to the LCC model, which entails buy-on-board food and charging for checked bags, and may require a mindset change among passengers.
Sky alters its international network, upping competition with LATAM to Argentina
During the first seven months of 2016 Sky's international passengers fell 8.6% year-on-year.
Sky has altered its international network composition during the last year, dropping flights from Santiago to São Paulo, Brazil, and La Paz, Bolivia, while adding service to Córdoba, Argentina, and Montevideo, Uruguay. In early 2017 Sky plans to launch service from Santiago to Mendoza, Argentina, seizing on opportunities created by a more liberalised approach to air service adopted by Argentina's new government.

See related report: Argentina Aviation Part 1: Avianca, Copa and LATAM promote international traffic at secondary cities

Neighbouring Argentina is a strategic air travel market for Chile, representing the country's largest international market measured by seat deployment. Sky is breaking LAN's monopoly on service to both Mendoza and Córdoba – presumably injecting lower fares on routes where LAN has been dominant.
Chile international capacity (% of seats): 19-Sep-2016 to 25-Sep-2016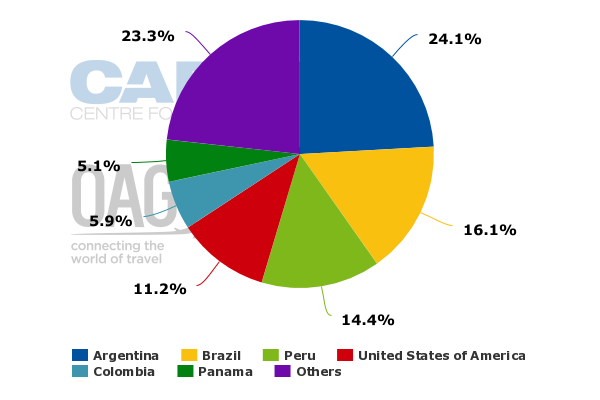 Sky and LATAM could face a new competitor in Chile, beginning in early 2017
There is the possibility of some changes in Chile's domestic market in 2017 if the ambitions of the start-up Paravai Líneas Aéreas come to fruition. The airline bills itself as a full service carrier and plans a base at Santiago International airport. Its operating fleet is composed of two Airbus A320s, two A321s and two Boeing 777s.
Its planned domestic routes include Arica, Iquique, Calama, Antofagasta and Puerto Montt. All those routes are also served by LATAM and Sky. Paravai, part of the larger Paravai corporation, is also examining routes to North America and Europe.

Little more is known of Paravai's ambitions, or the level of disruption it could create in Chile's domestic market. Although Sky is undertaking a transition to a low cost airline, it has held a comfortable duopoly with LATAM for many years.
Chile's domestic market has settled at between 9 million and 10 million passengers during the past couple of years. It is not clear if there is room for another airline in a domestic space where growth slowed to the single digits in 2014 and 2015, but Paravai obviously sees opportunities within the Chilean domestic market.
Chile annual domestic passenger numbers: 2009 to mid-2016
LATAM and Sky continue to maintain their stable positions in Chile's domestic market
Although Brazil and Venezuela have captured most of the attention in Latin American aviation during the past couple of years, changes are also under way in Chile. Sky's adoption of the low cost business model is am important development in a market that was previously bereft of low cost competition.
During the course of the next year Sky will determine whether it can aptly stimulate traffic in the Chilean market with the low cost model.

For now, there doesn't appear to be a major contender waiting in the wings to disrupt Chile's domestic monopoly. Paravai has declared its ambitions to compete with Chile's two major airlines, but until those aspirations are delivered Sky and LATAM will maintain their stable conditions within Chile's domestic market.