Viva and Volaris try to shake up the LCC market in Latin America while Sky switches its model
Analysis
The dynamics of potential LCC upstarts in Latin America have shifted rapidly during the last few months. The Viva Group, whose airlines include Mexico's VivaAerobus and VivaColombia, appears to have shelved plans to launch a third airline in Costa Rica. However, Mexican low cost airline Volaris has swept in, reportedly declaring its intent to establish a new subsidiary in the country.

At the same time Chile's second largest airline, Sky, is working on its transition to a low cost business model, perhaps in part to prevent another airline from attempting to inject low cost competition into the market. Chile's largest airline is LAN, which is part of the powerful LATAM Airlines Group.

In some ways, the spread of the low cost model in Latin America (excluding Mexico) has moved slowly for a market that has numerous opportunities for traffic stimulation. Perhaps the barriers to establishing a new airline remain high even if all the elements are in place for effective market stimulation.
In mid-2015 the Viva Group outlined plans for the establishment of a new subsidiary based in Costa Rica. Initially, VivaCam aimed to launch by YE2015 with two Airbus A320s.

See related report: Viva Group spreads its ambition to Costa Rica and Central America's barren LCC landscape

Now the Viva Group has reportedly shelved plans to create a third airline in Costa Rica. News outlet Routes Online reported that Viva now plans to announce another country for its third low cost airline in Mar-2016, to join Mexico's VivaAerobus and VivaColombia. The Viva Group plans to establish three new airlines across Latin America as part of its five year development plan, according to the report.

It is a major development for the Viva Group, which has moved somewhat slowly to exploit LCC opportunities in Latin America. VivaAerobus launched operations in 2006 amid a wave of upstarts in Mexico, including Volaris and Interjet. VivaAerobus is presently the fourth largest domestic airline in Mexico (with a 12% market share in 2015) and has little international presence outside the country.

VivaColombia launched service in 2012 and it has quickly built up a market share of 10.5% (for the 11M ending Nov-2015). During the last couple of years VivaColombia has branched out internationally with flights from Bogotá and Medellín to Miami and Panama City Pacific International airport, and from Bogotá to Lima and Quito.

The Viva Group has not definitively stated where it intends to establish its third airline. In the past the company has expressed interest in Peru, and Viva executive Joe Mohan (previously with Copa) told Routes that Cuba could also be a great opportunity.
Mexican ULCC Volaris seems to be picking up where Viva left off in Costa Rica. Volaris executives were quoted in larepublica explaining that the company was working to secure an AOC in Costa Rica for a 2H2016 launch. Volaris serves San Jose Juan Santamaria international airport from Guadalajara and Cancun.

Volaris brings some level of market experience and understanding to Costa Rica. Its CEO Enrique Beltranena was previously an executive with Grupo TACA prior to the merger between Avianca and TACA. Mr Beltranena was responsible for uniting Aviateca, Sasha, Nica Lacsa (TACA's Costa Rican subsidiary) and TACA Peru under the Grupo TACA brand.

After TACA and Avianca united under the Avianca brand Avianca closed the hub at San Jose in 2013, but Avianca remains the airport's second largest airline measured by seats for the week of 21-Mar-2016 to 27-Mar-2016.
San José Juan Santamaria International Airport capacity by airline (% of seats): 21-Mar-2016 to 27-Mar-2016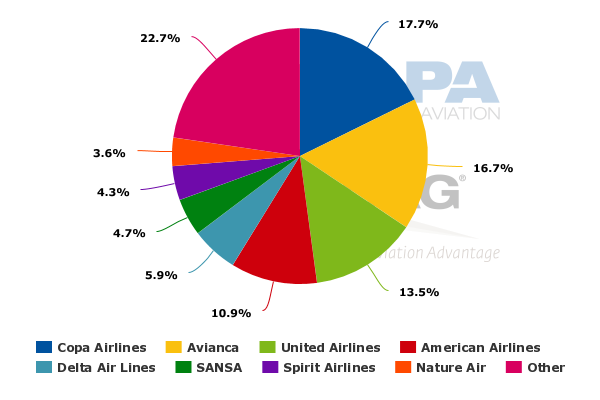 Full service airlines Copa and Avianca remain among Costa Rica's largest airlines measured by seats on a system-wide basis, representing system-wide (domestic and international) seat shares of 14% and 13% respectively.
Costa Rica capacity by airline (% of seats): 21-Mar-2016 to 27-Mar-2016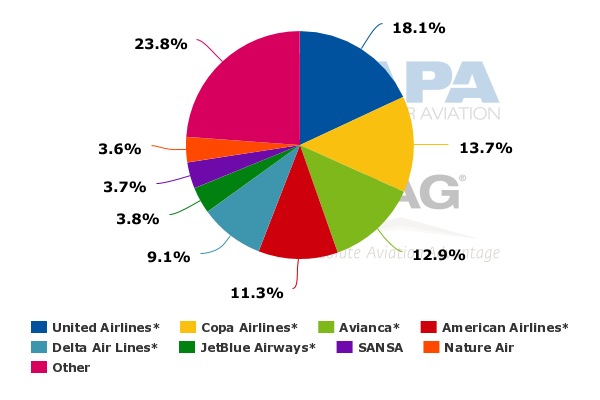 The same market conditions that initially attracted Viva to Costa Rica remain intact. Projected GDP growth for Costa Rica in 2016 is 5%. It is a market dominated by full service airlines, and a solid opportunity exists to lure passengers from bus to air travel in Central America. Both Volaris and the Viva group have experience in transitioning bus passengers to air travel in the Mexican market.

Mr Mohan told Routes Online that ultimately one of the deciding factors in Viva's decision not to purse a subsidiary in Costa Rica was tax and airport fee constraints that would prohibit Viva from achieving the price points necessary to stimulate the market effectively. Volaris presumably faces the same challenges as Viva, but obviously the airline believes it can overcome those hurdles to create meaningful LCC competition from Costa Rica to Central and Latin America.

It will be interesting to see where Viva will cast its net after having established LCCs in Latin America's second and third largest markets (Mexico and Colombia). Both Chile and Argentina are both larger markets without LCC representation. Historically, Argentina's government has taken a protectionist stance against new entrants in order to protect state-owned flag carrier Aerolineas Argentinas. A new Argentinean president, Mauricio Marci, was elected in late 2015; but he has stated that Aerolineas Argentinas would remain under state control. However, airlines are hopeful that the new government will adopt a more liberalised view of aviation, and perhaps slowly open up the market. Buses still transport much of the domestic travel in Argentina, a situation which could create an opportunity for low cost market entry in the country without difficulty.
Sky Airline works on its transition to an LCC as Chile's economic growth slows
As Volaris and the Viva Group work to spread the LCC concept across Latin America, Chile's second largest airline Sky is transitioning to a low cost model.

Sky embarked on the business model change in 2015. In some ways Sky's move appeared defensive, as a means to ward off other potential ULCC upstarts in the country. Sky's CEO stated – given Chile's open sky policy – that if the company did not adopt a full low cost business model, another airline could pursue a low cost opportunity in Chile. Indeed, at one point the Viva Group was also considering Chile, but that was during a time when Chile's domestic market was growing more rapidly, and was perhaps more ripe for stimulation given LAN's dominance.

In 2015 Chile's domestic market grew 0.9% to 9.9 million passengers. Growth within Chile has slowed considerably from the 17.6% year-on-year increase in domestic passenger in 2011, the 18.3% jump in 2012 and the 13.7% rise in 2013. The country's economy grew 2.1% in 2015 , which was better than the economic contractions in Brazil and Venezuela, but less robust than 3% in Colombia and 2.5% expansion in Mexico.
Chile's international passengers increased 11% year-on-year to 8.3 million in 2015. LAN held a 53% market share among international passengers.

LAN and LAN Express combined held a 75% share of the Chilean domestic market in 2015 and Sky represented a 25% share. Sky's has grown 3ppt during the last two years.
Domestic airline market share among Chile's airlines: 2015
Sky is largely a domestic operator. Approximately 81% of it seats are deployed in the domestic market.
Sky Airline (Chile) international vs domestic capacity (% of seats): 14-Mar-2016 to 20-Mar-2016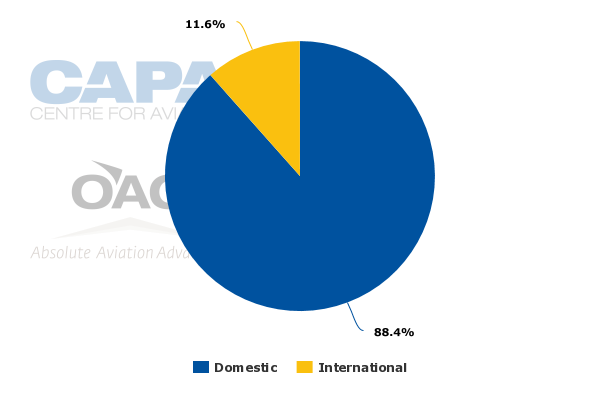 Sky's transition to the low cost business model is occurring as Chile's economy has logged approximately three years of weaker economic growth, driven in part by declining copper prices. However, the country has been an untapped opportunity for the LCC model over a number of years. If Sky can get its costs to a point where it can offer fares low enough to stimulate traffic, then it has a chance of success.
That itself is no small task, and perhaps even more challenging in the current macroeconomic environment in Latin America.
Viva and Volaris work to spread the LCC model - despite regulatory obstacles
Latin America's weak macroeconomic environment is not deterring airlines that aim to capture inherent opportunities in the region for the low cost or ultra-low cost business model. It seems that the greatest hurdles LCCs face in the region are governmental regulations that make doing business in Latin America difficult.

The Viva Group and Volaris are working to spread the LCC model despite some of the regulatory obstacles that exist in certain countries in Latin America. The next few months should prove interesting as each company works to secure a leading position in the region's low cost sector.