Lion Group continues Singapore push as Batik Air enters world's second largest international route
Analysis
Lion Group full-service subsidiary Batik Air has entered the international market with a new double daily service to Singapore. Batik becomes the eighth airline operating Jakarta-Singapore and supplements the seven daily flights already operated by sister LCC Lion Air in the world's second largest international route.
The launch of Singapore is part of a major expansion for Batik in 2015 as the airline nearly doubles its fleet to 34 aircraft. Lion has been allocating most of its narrowbody deliveries this year to Batik and Thai Lion Air while growth at the main Lion Air brand has slowed significantly.
The new route is also part of a major push in Singapore for the Lion Group. Thai Lion Air at almost the same time is launching service to Singapore, which will become the first destination to be served by all four of the main Lion Group carriers.
Lion Group overtakes Garuda to become second largest in Singapore-Jakarta market
Batik is launching services to Singapore on 14-Aug-2015 with two daily flights from its base at Jakarta Soekarno-Hatta Airport. Singapore-Jakarta is the second largest international route in the world based on current seat capacity. Batik's entrance adds about another 4,400 seats, resulting in over 118,000 weekly seats.
Top 5 international routes ranked by weekly seat capacity: 17-Aug-2015 to 23-Aug-2015
Lion Air is already the largest LCC and the third largest carrier overall in the Singapore-Jakarta market behind Singapore Airlines and Garuda Indonesia. The new Batik flights enables the Lion Group to overtake rival Garuda as the second largest player as it grows its capacity share to 21% compared to 19% for Garuda.
SIA has a leading 34% share of seat capacity between Singapore and Jakarta. Lion Air has about a 17% share, making it by far the largest LCC as AirAsia has only about a 9% share followed by 7% for Jetstar and 6% for Tigerair.
Singapore to Jakarta one-way weekly frequencies, capacity and capacity share: 17-Aug-2015 to 23-Aug-2015
Garuda has the most frequencies in the market with 10 daily flights from Singapore to Jakarta. But it currently only operates 737-800s to Singapore with the exception of three weekly 777-300ER flights that only operate from Jakarta to Singapore as part of a Jakarta-Singapore-Amsterdam-Jakarta route. (These flights are not included in the above table as they only operate from Jakarta to Singapore but are included in the total route figure in the first chart of 118,197 return seats.)
SIA has significantly more capacity as all nine of its daily passenger flights to Jakarta currently use 777s. (As different variants of the 777 are used the seat capacity figure for SIA is not exact.)
Lion Group's new schedule of nine flights is one less than Garuda but results in more capacity as Lion uses higher density 737s. Of the seven flights to Singapore under the main Lion Air brand, five are currently operated with 215-seat all-economy 737-900ERs and two with 189-seat all-economy 737-800s. Batik is expected to deploy to Singapore A320s and 737-800s, which it operates in 156-seat and 162-seat two-class configuration respectively. (For all the tables in this report capacity data for Batik in the Singapore market is calculated based on the 156-seat A320.)
Batik provides an inexpensive full service option in the Singapore-Jakarta market
The Batik product is positioned at the top of the market with meals, drinks and seatback IFE monitors across both cabins. But its fares are often competitive with LCCs and are typically only slightly more than Lion Air.
For Singapore-Jakarta return economy fares are available for only SGD154.80 (USD111) including taxes for economy. Return business class fares are available from SGD464.80 (USD332), providing a large premium over economy but priced significantly less than the business class fares of the three other full-service carriers competing in the Singapore-Jakarta market. Besides SIA and Garuda, Air France also operates one daily Singapore-Jakarta sector as part of a tag to some of its Paris-Singapore flights.
Lion Air currently offers return economy fares from SGD113 (USD81) in the Singapore-Jakarta market. Unlike the other LCCs on the route Lion provides complimentary checked luggage (15kg compared to 20kg for Batik) but charges for drinks and food and does not have any IFE.
The current fare offered by Batik could be seen as temporary to stimulate demand and build awareness of its launch in the Singapore market. But domestically Batik has maintained similar fares since its launch in 2013. Batik was created mainly to compete with Garuda at the top end of the market but Garuda has so far been able to maintain generally higher fares, an indication that Batik perhaps is enticing passengers that were flying LCCs but will pay a slight premium for a full-service product.
Batik is able to offer lower fares than other full-service carriers as the company has a very low-cost base but over time will likely need to generate higher premiums compared to Lion. Batik is the first example in the world of an LCC establishing a full-service carrier, an intriguing test case as the airline has been essentially built on a low-cost chassis while full-service airline groups establishing LCCs often struggle to avoid passing down costs that are inherent with legacy groups.
Batik will focus on Indonesian-originating business passengers
The addition of Batik gives Lion a more well-rounded presence in Singapore, a key business market for Indonesians. Batik will likely focus mainly on selling to Indonesians as it has an unknown brand in the Singapore market. As Batik has never operated internationally it will take time for it to establish its brand overseas.
Batik's initial schedule to Singapore is also more suitable to Indonesians as it is offering an early morning departure from Jakarta and a late afternoon return from Singapore. Batik is not offering any morning departure options from Singapore or any late afternoon or evening departures from Jakarta, a schedule generally favoured by Singapore-based business passengers.
Lion also does not have a strong brand outside Indonesia as it has a limited international network with only four scheduled destinations. Lion relies mainly on Indonesian point of sale for Singapore while the other LCCs in the market – AirAsia, Jetstar and Tigerair – are much stronger with sales in Singapore.
Jetstar and Tigerair also offer early morning departures from Singapore while Lion's first departure is 9:45am as it chooses to avoid the extra cost associated with overnighting an aircraft and crew in Singapore.
Lion Air and Batik Air departure times in Singapore-Jakarta market
Lion has grown in Singapore-Jakarta market while other LCCs have cut back
Lion however has been able to increase its share of the Singapore-Jakarta LCC market without offering an early morning departure from Singapore or a late evening departure from Jakarta, which is offered by Jetstar and Tigerair. Lion added capacity in the Singapore-Jakarta market in 2014 as other LCCs reduced capacity.
Lion introduced its seventh frequency on the Singapore-Jakarta route in 4Q2014. At the same time Lion dropped Singapore-Surabaya, which was served with one daily flight and had been its only other route between Singapore and Indonesia.
Indonesia AirAsia currently offers four daily flights on Singapore-Jakarta but had six frequencies until 1-Jul-2015, when it dropped two flights as part of a network restructuring. The Tigerair Group also cut significantly back capacity on Singapore-Jakarta in 1H2015 from eight to three daily frequencies.
The five frequencies that were cut had been operated by now defunct Indonesian affiliate Tigerair Mandala but Tigerair Singapore elected not to take over any of these flights, driving along with AirAsia a large drop in LCC capacity. This void has been only partially filled by expansion at Lion and Jetstar Asia. Jetstar Asia currently operates 24 weekly flights and is planning to add four more weekly flights from late Oct-2015, enabling it to match the four daily flights and 5,040 weekly one-way seats now provided by AirAsia.
See related report: Tigerair and AirAsia lead adjustments to overcapacity in the Jakarta-Singapore market
LCC capacity in Singapore-Jakarta market has dropped while FSC capacity has increased
LCC capacity on Singapore-Jakarta is now essentially back at early 2013 levels, before the two countries forged a new air services agreement. The new bilateral led to a rapid increase in seat capacity from slightly over 100,000 weekly seats at the beginning of 2013 to nearly 140,000 weekly seats at the end of 2013. While SIA and Garuda also added flights, most of the increase was driven by LCCs.
See related reports:
There are currently about 23,300 weekly one-way LCC seats from Singapore to Jakarta and about 35,300 weekly FSC seats. But at the peak in early 2014 there were about 32,000 weekly LCC seats. LCC capacity has since dropped nearly 30% while FSC capacity has increased slightly.
Singapore-Jakarta total one-way LCC seat capacity: Sep-2011 to Jan-2016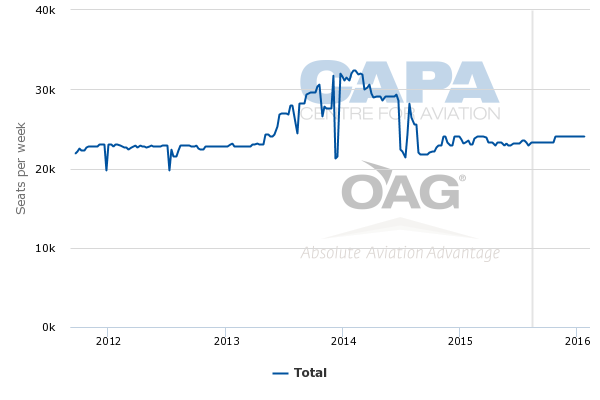 With the launch of Batik the share of FSC capacity on Singapore-Jakarta will increase to about 60% compared to about 50% in early 2014. A 40% LCC penetration rate may seem low given the overall landscape in Southeast Asia, where LCCs now account on average for about 60% of seats within the region. But while the Singapore-Jakarta market has a large price sensitive leisure component there is also a large portion of business and connecting passengers.
The Lion Group clearly sees the benefit of offering both a low-cost and full-service product in such a diverse market. Garuda will inevitably need to look at using its budget brand Citilink to match Lion and SIA in adopting a multi-brand strategy for the Singapore-Jakarta market.
Batik has added 19 aircraft over the last year
Singapore-Jakarta will provide an intriguing battleground for Indonesia's two main airline groups as until now Batik has focused entirely on the domestic market. Batik currently serves more than 20 domestic destinations, generally operating alongside Lion Air in markets that are also served by Garuda and Citilink.
The launch of Singapore does not come as a surprise as Batik initially flagged up Singapore as its first international destination during a Feb-2014 media event in Singapore. At the time Batik was aiming to launch Singapore in late 2014 and also had Kuala Lumpur in Malaysia in its business plan for early 2015 followed by services to Australia, China and India.
See related report: Lion Air's Batik Air plans major domestic push followed by ambitious international expansion
It has taken longer than anticipated for Batik to start the international phase as it decided to spend more time focusing entirely on domestic expansion. But more international routes are expected to be launched as Batik continues to rapidly expand its fleet.
Batik currently operates a fleet of 25 aircraft, consisting of 12 737-800s, seven A320s and six 737-900ERs, according to the CAPA Fleet Database. It has added a remarkable 19 aircraft over the last year, including 12 aircraft in the last four months of 2014 and seven aircraft so far in 2015.
The Lion Group has allocated Batik and Thai Lion almost all its jet deliveries in 2015 as it strategically sees the biggest opportunities in the full-service Indonesian and low-cost Thai markets. Batik has stated it is now planning to end 2015 with a fleet of 34 aircraft while Thai Lion Air is expected to end 2015 with a fleet of 20 aircraft, up from eight aircraft at the beginning of 2015 and 15 aircraft currently.
See related reports:
Batik joins Thai Lion in launching services to Singapore
Thai Lion is also re-entering the international market with Singapore by no coincidence its first international destination since it dropped its original three international destinations in 2014. As CAPA previously highlighted, Thai Lion plans to launch Singapore on 15-Aug-2015 with one daily flight using 215-seat single-class 737-900ERs.
See related report: Thai Lion resumes international expansion with Singapore, increasing Lion Group's presence at Changi
The near simultaneous launch of Thai Lion and Batik services to Singapore means all four of the main Lion Group carriers will now be serving Singapore. Singapore will be the only market with flights by Batik, Lion Air, Malindo Air and Thai Lion – although will almost certainly be joined by others over the next year. (The Lion Group also includes a fifth carrier, Wings Air, which only operates regional routes using ATR 72 turboprops.)
With the new Batik and Thai Lion flights, the Lion Group will operate 13 daily flights to Singapore and offer about 37,000 weekly seats in the Singapore market. This makes Lion the fourth largest foreign airline group in Singapore after AirAsia, Cathay Pacific and Emirates. With one more flight the Lion Group will overtake Emirates and with two more flights it will overtake Cathay.
Top 10 airline groups in Singapore based on weekly capacity: 17-Aug-2015 to 23-Aug-2015
| Rank | Airline Group | Total Seats | Seat share |
| --- | --- | --- | --- |
| 1 | Singapore Airlines Group | 734,000 | 51% |
| 2 | Jetstar Group | 100,536 | 7% |
| 3 | AirAsia Group | 99,000 | 7% |
| 4 | Cathay Pacific Group | 40,273 | 3% |
| 5 | Emirates Group | 38,122 | 3% |
| 6 | Lion Group | 37,044 | 3% |
| 7 | Malaysia Airline System | 34,424 | 2% |
| 8 | Garuda Indonesia Group | 30,512 | 2% |
| 9 | Air France-KLM S.A. | 22,840 | 2% |
| 10 | Thai Airways Group | 22,048 | 2% |
The Lion Group has nearly doubled its operation in Singapore over the last year as Malindo only entered the market in Nov-2015. Malindo initially began services to Singapore with three daily flights from Kuala Lumpur and in Jul-2015 launched one daily flight on the Singapore-Ipoh route. It currently uses 162-seat two-class 737-800s on three of its four Singapore flights and 180-seat 737-900ERs for one flight.
See related report: Lion's Malindo Air to compete vs AirAsia, Jetstar & Tigerair on world's top international LCC route
Lion likely sees an opportunity in Singapore as Changi has seen flat traffic along with a reduction in LCC capacity over the last 18 months. Competing against Singapore's more established LCCs and (in the case of Batik) against SIA will be challenging. But strategically it is time for the Lion Group to expand beyond its domestic roots and there is no better place to test the waters than Singapore.