German airlines adjust strategies as outlook darkens
Germany's two largest airline groups, Lufthansa and Air Berlin, have announced wide-ranging measures to either preserve profitability, in the case of the former, or restore profitability, as they grapple with a gloomy regional economic outlook. Air Berlin, sandwiched between the low-cost and full-service space, will reduce its exposure to the struggling German leisure segment, which has been on a downward spiral all year.
Germany, the de facto leader of the European Union and a major underwriter of the bailout packages as a large holder of European sovereign debt, has been hit with renewed, and increasing, recession fears. German investor confidence fell to its lowest in more than 2.5 years in Sep-2011, the ZEW Center for European Economic Research said on 20-Sep-2011.
Germany, EU's brightest light, gets caught up in the mess
Exports, the propeller of German economic recovery, unexpectedly fell for a second straight month in Jul-2011. The declines in confidence and exports are signs the economy is losing momentum as the global recovery falters. The slower economic momentum will inevitably trickle through to the country's air transport market.
Fortunately, European airlines now have well-rehearsed responses to crisis, and the latest one, thus far, appears to have a slower onset than the previous crisis. The slower onset, however, is helped by the fact many European countries never actually dug out of the recession hole and those that did managed to eke out only unimpressive growth.
Carsten Spohr, CEO of Lufthansa's passenger business, underscoring the urgency with which Lufthansa must respond, said the airline group must act now, "rather than flying through the crisis with empty planes". Asset sales, reduced, or negative, capacity growth and reducing the fleet size are some of the measures that will be employed by the German majors as they seek to ward off losses in the face of another economic downturn.
Lufthansa lowers earnings forecast, puts assets on the block
Lufthansa's Executive Board has revised downward its earnings forecast for the current financial year, joining Air France-KLM, with the group now expecting an operating profit "at the upper end of its three-digit million Euro range". The board said its previous guidance of an increase in operating profit "no longer appears to be achievable". Lufthansa made EUR876 million at the operating level in FY2010.
The adjustment undertaken reflects a weaker than expected monthly result for Aug-2011 reported by the Passenger Airline Group. The board made no secret of the situation, stating the forecast was revised down owing to an ugly forward bookings profile. "In view of ongoing economic uncertainties, further booking trend expectations were also adjusted," the airline said. Against the background of the increased sales risks, a package of measures was decided at the same time that provides for a further reduction in scheduled capacities in the 2011/12 winter timetable.
Lufthansa will reduce capacity growth in the upcoming winter season by 2 ppts to 4% year-on-year. The group originally planned to increase capacity 12% this year, which had been revised down to 6% by 3Q2011. Mr Spohr said the airline plans to utilise smaller aircraft as part of plans to reduce capacity growth over the winter period. "We are removing part of the anticipated additional capacity out of planning, in that we are reducing frequency, cutting some connections, and using smaller airplanes," he said.
The downwardly revisions follow a patchy 2011 for Lufthansa, which has failed to manage capacity as successfully as past years. Despite increases in passenger numbers, the group has recorded load factor decline in every month in 2011, which the exception of Apr-2011, which was flat.
Lufthansa Group (Lufthansa Passenger Airlines, SWISS, Austrian Airlines, Germanwings, bmi) passenger numbers: Jan-Aug-2011
Lufthansa Group load factor (%): Jan-Aug-2011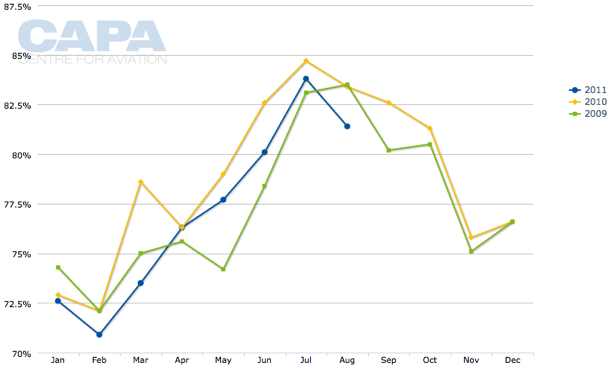 Owing to poor forward bookings, declining load factors, ongoing structural change in air transport markets, particularly in short-haul Europe, Lufthansa plans to adjust its network, with Mr Spohr expecting the group's short-haul network to be profitable by 2013. Short-haul services out of Frankfurt and Munich, the airline's two largest hubs, which attract the most corporate traffic and generally feed to long-haul network, will be profitable as of 2012, he said.
Lufthansa is also developing its intercontinental connections, with new services from Dusseldorf to Asia to be introduced in the next summer schedule, and routes from Dusseldorf to Tokyo and Dehli "very high on the list". The airline plans to expand into strong-growing South American markets due to ongoing economic weaknesses in developed markets, VP Americas Jurgen Siebenrock stated. Capacity on Brazil routes will be expanded by 60% in 2011. The airline recently launched service to Bogota and Rio de Janeiro and has developed an alliance with future Star Alliance-member Avianca-TACA, to increase its reach in Latin America.
Increasing exposure to emerging markets is a key part of Lufthansa's strategy. Lufthansa has wide coverage of the Indian market, although Star's rejection of Air India accession to the alliance is a setback and Lufthansa has a strong network and partners in East and South East Asia. However, Latin America has been a white spot on the route map. Lufthansa generates only 2% of total revenue from the Latin American region, lagging behind rivals IAG and Air France-KLM in the region.
Lufthansa is also making bold steps to address its most unprofitable and non-core parts. The airline is looking at its options regarding heavily loss-making subsidiary bmi, Lufthansa's weakest link. Chief officer Stefan Lauer confirmed the airline has appointed Morgan Stanley to look at the plans to sell some or all of bmi. The East Midlands-based airline made an operating loss of EUR120 million in the six months to 30-Jun-2011, or a staggering EUR44 loss per passenger carried.
Lufthansa Group airlines revenue, operating result and operating margin: 1H2011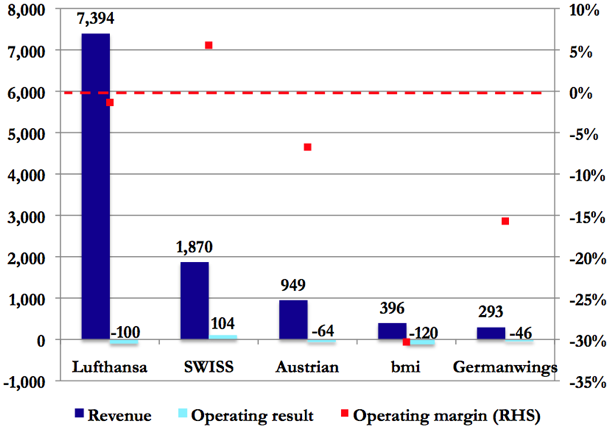 Mr Lauer has stepped down from his post as bmi chairman and Lufthansa has appointed former Scandinavian Airlines deputy CEO Vagn Ove Sørensen. As a seasoned corporate restructure specialist, Mr Sørensen's appointment underscores Lufthansa's attempt to extract whatever value is left in bmi. Undoubtedly, bmi's greatest asset is its slot portfolio at the congested and high-yielding London Heathrow Airport, which suitors such as IAG and Virgin Atlantic have made no secret of. bmi is Heathrow's second-largest carrier with 8% of slots, according to Innovata.
bmi's slots are of enormous value, and Lufthansa has begun to realise the premium airlines are prepared to pay to gain more access to Heathrow. IAG on 23-Sep-2011 acquired six daily slots pairs at London Heathrow from bmi for an undisclosed sum. Continental Airlines reportedly paid GBP136 million for four pairs of slots at the airport in 2008.
Across the Atlantic, Group CEO Christoph Franz said on 22-Sep-2011 that Lufthansa has also not ruled out selling its 15.9% stake in New York JFK-based JetBlue. Following the United-Continental merger and Star Alliance's trans-Atlantic JV, Lufthansa now has a much stronger US partner and a wider reach, in effect diminishing the "strategic importance" of Lufthansa's holding in JetBlue. Mr Franz added there is "no urgency to take action" as he is not "unhappy" with JetBlue's performance. "There are some assets where we have...changed our perspective in terms of strategic importance and JetBlue is one of them," the CEO said.
Air Berlin 'shapes and sizes' down
Air Berlin plc, the holding company of airberlin, NIKI, LTU and Belair, has meanwhile confirmed plans to roll out a far-reaching cost reduction programme known as "Shape & Size". The programme follows the group's increased operating loss in the second quarter (three months to 30-Jun-2011) as it suffered from disruptions in key North African markets, the sharp rise in fuel costs and Germany's new travel tax.
Air Berlin made an operating loss of EUR220 million in 1H2011 (six months to 30-Jun-2011), a 64% year-on-year fall in profitability. The group has not made an annual profit since 2007.
Air Berlin operating (EBIT) loss: 1H2006-1H2011
The strategy is broadly aimed at increasing group earnings by EUR200 million per annum, by slicing that amount off the cost base. "In more than 30 work groups, senior executives…have identified targets which have [the] potential to bring about and secure profitability and competitiveness," the airline announced.
Air Berlin's central focus will be on "process organisation, marketing and distribution, cost reduction, flight routing and maintenance", with a "substantial" contribution coming from the optimisation of the flight network and the fleet structure. By summer 2012, Air Berlin aims to reduce its current fleet of 170 aircraft to 152 aircraft (a reduction of 18 aircraft, or 10%). As a result, flight performance will be lowered by 4% and the productivity per aircraft would be increased by 200 hours per year, the airline estimates.
Overall capacity will be reduced by 5.0% relative to previous announcements, which will keep capacity in 2011 and 2012 at levels seen in 2010. Air Berlin estimates this will "save" 16,000 flights and 2.2 million seats. A knife will be taken to capacity in troubled North Africa, with capacity to Egypt and Tunisia to be cut by a third in the second half. Capacity will also be reduced on connections between smaller airports. The freed up capacity will be shifted to the "heavily travelled route and additional feeder services" to the group's four hubs at Berlin Tegel, Düsseldorf, Vienna and Palma de Mallorca. Long-haul service will be concentrated at two hubs, Berlin Tegel and Düsseldorf, and operated in partnership with oneworld partners.
CEO Hartmut Mehdorn said the group's strategy and hybrid business model will not change, following an "intense" review of the strategy. Uncertainty has plagued the airberlin business since its departure from the LCC model, because it has also not embraced the full-service model. Airberlin, a oneworld-member designate, looks set to continue occupying what could be viewed as a strategic "no man's land", caught in a space where it doesn't do low-cost as well as Ryanair or easyJet, but also doesn't do full-service as well as Lufthansa or Air France. The airline's competitive position has worsened over the past few years as it has made the transition from LCC to hybrid. Since its departure from its strictly low-cost model, the airline has struggled to generate profits with its mixed product and service offering and network.
"airberlin stands for tourism and scheduled flights and will continue to focus on the expansion of its four hubs, in Berlin, Düsseldorf, Palma de Mallorca and Vienna and will become a full member of the global airline alliance, oneworld in the spring of 2012", the CEO reiterated. "We are currently operating in a turbulent environment, both in terms of competition and economic conditions. In order to secure the company's future for the long term and to restore airberlin's former strength, every single company division will be scrutinised over the coming months."
Mr Mehdorn has also not ruled out job cuts as part of the airline's restructure, and CFO Ulf Hüttmeyer, in response to questions about the group's funding, has assured investors Air Berlin does not need to raise additional capital. Mr Hüttmeyer has also said the company plans to take advantage of growth in Asia to offload some of its planes and counter weakness in Europe's short-haul market, where airberlin is dominant.
"We have good chances to place these planes on the market. There's an enormous demand for planes in Asia," he said, adding that options for Air Berlin included returning leased planes earlier, leasing them to other airlines or selling them altogether.
The two airlines have underperformed the benchmark DAX index this year. Lufthansa has fallen 43% (to a two-year low), Air Berlin 34% (to an all time low) and the DAX index down 30%.
Share price performance of Lufthansa (dark orange), Air Berlin plc (green) and the DAX index (light orange): YTD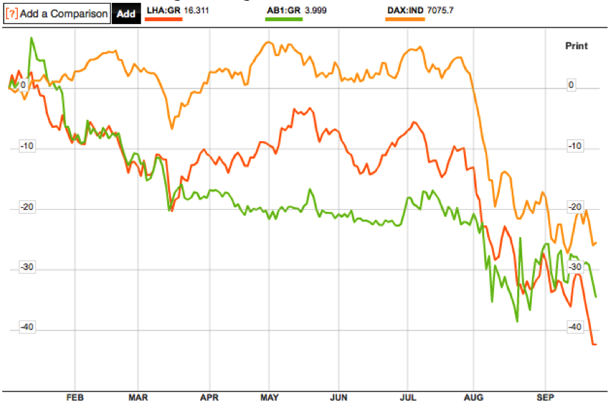 Air tax creates further woes
The German airline and tourism industry is still struggling to adjust to the impact of the Government's aviation tax. The impact of the tax has hurt airberlin more than Lufthansa, as the Berlin-based carrier has a greater proportional exposure to the discretionary travel and domestic segments relative to Lufthansa. Former Air Berlin CEO Joachim Hunold, who said the tax had caused major "distortions in the competitive environment", highlighted the Government's air travel tax as a major threat to revenue growth.
Lufthansa international vs. domestic capacity: 26-Sep to 02-Oct-2011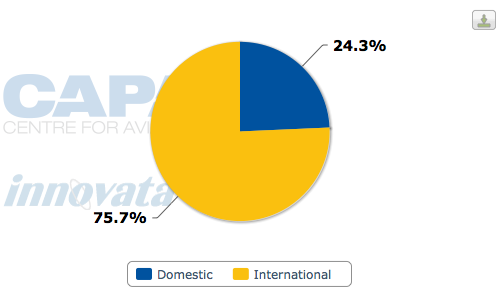 airberlin international vs. domestic capacity: 26-Sep to 02-Oct-2011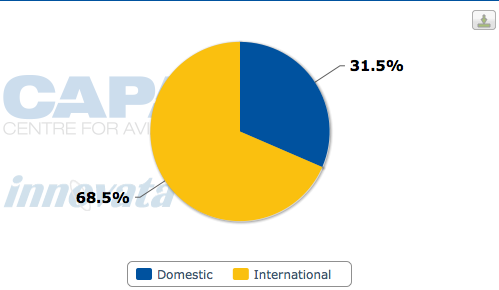 Each passenger departing Germany must pay an EUR8 tax. The tax also applies to domestic air travel, upon which VAT is also levied, which adds about EUR10 to domestic airfares. The price increases, of course, have a greater relative impact on an LCC's EUR40 airfares than Lufthansa's EUR100 euro airfares, and has therefore had a greater impact on LCCs and the airports they serve.
There is increasing evidence of German travellers living near international borders switching to foreign airports to avoid the German travel tax. Most significantly, this trend includes major demographic centres such as the Munich region, home to four million people, and the Rhine-Ruhr region, home to approximately 18 million people and whose major international airport would be Düsseldorf.
"In relation to revenue, we have to pay almost four times as much as our largest competitor," Mr Hunold said. Whereas airberlin, with a revenue of EUR1.8 billion in 1H2011, had to pay approximately EUR74.4 million (4.1% of the revenue) in aviation tax, Mr Hunold stated its "largest competitor, with total revenue of EUR14.1 billion, only had to pay EUR162 million (1.15% of the revenue)". He continued: "The aviation tax together with the existing competitive pressure makes it impossible to pass on the increased kerosene price to the customers in its entirety. In order to prevent yet further damage to the already low-margin airline traffic in Germany, the aviation tax should be abolished as quickly as possible."
The German air travel tax masked what would have been a turnaround from airberlin's 2Q2011 operating loss, which was not affected by the travel tax (the tax was introduced only at the start of the current calendar year). Air Berlin estimates the air travel tax had a EUR45 million impact on its 2Q operating result. Excluding the impact of this "green" levy, Air Berlin would have reported a EUR12.2 million operating profit.
ADV, the German airport association, has also noted that the aviation tax has strained the German air transport industry, particularly low-cost and domestic German travel. LCC traffic fell 0.8% in 1H2011, while total German traffic increased 8.1% in the period. ADV noted that foreign airports close to the German border recorded substantial increases in passenger numbers. The Netherlands' Eindhoven and Maastricht airports increased passenger numbers 29.7% and 71.8%, respectively, in 1H2011.
The graph below highlights the stark differences between Germany's full-service airport, most notably Frankfurt and Munich, and the smaller airports most reliant on the low-cost sector. Düsseldorf Weeze, Frankfurt Hahn and Berlin Schoenefeld all grew strongly in the years to Jan-2011, and have since turned sharply negative. Traffic at Frankfurt Hahn, already in negative territory, has collapsed this year. Frankfurt and Munich, which are served mostly by full-service carriers, have been largely unaffected by the new tax.
Performance of German airports: Jan-2010 to Aug-2011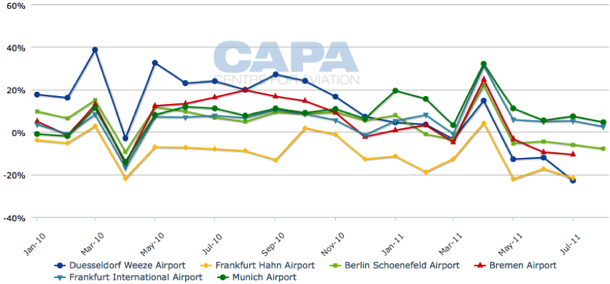 This map of Germany (available only in German) and its largest airports, taken from the Frankfurter Allgemeine Zeitung, captures the crisis that has hit the regional and low-cost airports, and the boon the tax has been to foreign airports near the German borders.
The decline of regional German airports
Growth (%) in passenger numbers from Jul-2010 to Jul-2011. Passenger numbers in brackets for the month of Jul-2011, except where otherwise noted. (Translation from German original.)
The difference in performance between low-cost and full-service airports is clear when two airports, which serve the same metropolitan area, are benchmarked against each other. Two airports that serve the same area, but differ only in clientele, provide an insight into the factors affecting that clientele, rather than the region as a whole. The following graphs, created using CAPA's Airport Benchmarking Tool, demonstrate the growth differential between LCC and full-service airports.
The blue trend line is the low-cost airport (Hahn, Weeze, Schoenfeld and Luebeck) serving its respective city, and the yellow trend line is its full-service counterpart. Some of the airports, such as Frankfurt Hahn and Hamburg Luebeck, have been in long-term decline, and the introduction of the tax in Jan-2011 has quickened the pace of its decline. But others, such as Düsseldorf Weeze and Berlin Schoenefeld, the traffic downturn is particularly evident, especially to its full-service airport counterpart, which has been largely unaffected by the introduction of the tax. An important issue to note across the sample below is the spread between the two airport types is widening.
Frankfurt Hahn vs. Frankfurt Airport (% growth): Sep-2009 to Aug-2011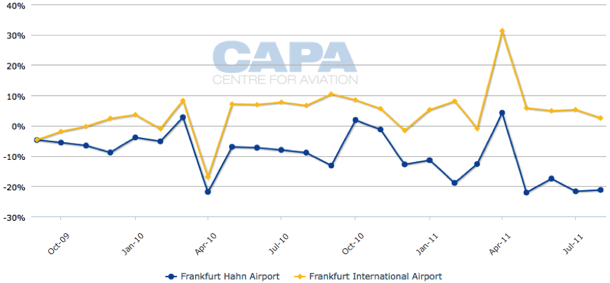 Düsseldorf Weeze vs. Düsseldorf International: Sep-2009 to Aug-2011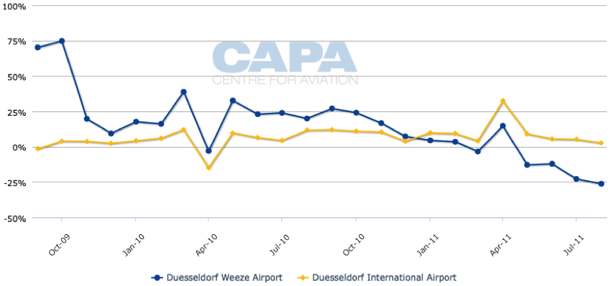 Berlin Schoenefeld vs. Berlin Tegel (% growth): Sep-2009 to Aug-2011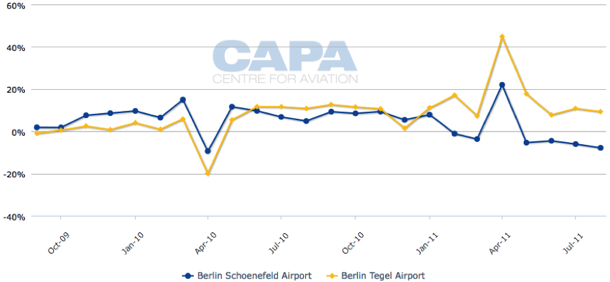 Hamburg Luebeck vs. Hamburg Airport (% growth): Sep-2009 to Aug-2011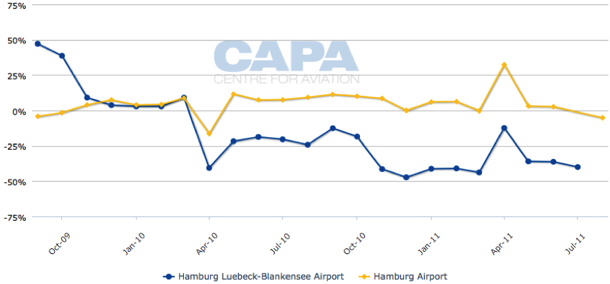 Market in flux
LCCs enjoyed strong growth in Germany in the decade to 2011, but their share of the German market has fallen sharply in 2011, down 3.5% to 40.6%. The LCC market in Germany has lost three years of growth, with LCC penetration now below 2008 levels.
Germany's LCC capacity share (%) of total seats: 2001-2011 (Jan-Sep inclusive)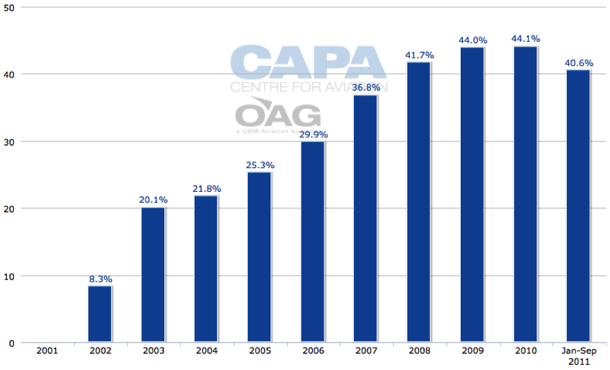 With an increasingly difficult low-cost German market, it makes sense for Air Berlin to move more aggressively into the higher-yielding corporate market, currently dominated by Lufthansa. Both carriers will require further yield-supportive measures in 2012, following the aviation industry's inclusion in the European Union's Emissions Trading Scheme from 01-Jan-2012.
But the wide-ranging measures being undertaken by Lufthansa and Air Berlin reflect the changes required to remain competitive and profitable in a market that is being battered from all sides. Margins are likely to continue to be squeezed as cost pressures mount and the outlook for revenue growth remains weak.