easyJet embraces LCC hybridisation but holds firm on no connecting flights or loyalty programme
Analysis
easyJet is hitting a strategic sweet spot as it cautiously moves away from a stripped-down LCC model to a hybrid that caters to business passengers. Not only does easyJet have a low cost base that it says it uses to encourage business people to do the "right thing" for their company and book orange, but 22 bases across Europe give it frequency and timing advantages that competitors cannot match. Entering key business routes, such as London-Moscow and Milan Linate-Rome Fiumicino, further add to appeal – and profit, which increased 28% for the year to Sep-2012.
But easyJet is putting the brakes on hybridisation. Commercial director Cath Lynn, speaking on the sidelines at CAPA's Airlines in Transition conference in Dublin, said easyJet is not interested in pursuing other hybrid LCC activities like connecting flights, having a loyalty programme or vast array of ancillaries for sale during the booking process. In 2013 easyJet will be looking to grow in the UK, France and Italy in particular.
Cath Lynn, easyJet Group Commercial Director, gives some insights at CAPA's Airlines in Transition
High load factors preclude need for connecting flights, easyJet believes
Southwest Airlines, the granddaddy of LCCs, for years has offered connecting flights and in recent years Asia's main and vibrant LCCs have introduced connecting flights on domestic and international itineraries. The AirAsia and Jetstar groups were early proponents while Tiger joined later. Their Navitaire backbone enables the carriers to cost-effectively interline with other Navitaire users, as Scoot and Tiger Airways have done with each other. TUI in Europe partners with so many carriers that its website has effectively moved from an airline booking page to an online travel agency.
Ms Lynn is not interested in pursuing connecting passengers, believing they would not be "a key revenue driver for easyJet". She says easyJet is interested in point-to-point markets and that if enough passengers exist for a connecting service easyJet could consider a direct flight.
Ms Lynn sees limited potential for further passengers on each flight owing to easyJet's high load factors: 88.7% in the year to Sep-2012. In comparison, Southwest in 2012 achieved an 80.3% load factor, Jetstar (Australian domestic) 84% and AirAsia 80% (group figure including AirAsia Malaysia, Indonesia AirAsia and Thai AirAsia).
easyJet, Southwest, AirAsia, Jetstar, Tiger Airways Holdings and Vueling annual load factor: 2008 to 2012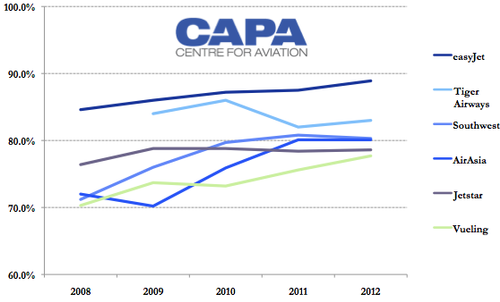 easyJet's load factors see typical variance throughout the year. While not much improvement may be needed during summer months, winter months could stand to see improvements, although easyJet's load factors are seeing year-on-year improvements.
easyJet monthly load factor: 2011-2013
easyJet does not use Navitaire but rather its own reservation system. Navitaire in fact unsuccessfully sued easyJet, claiming the new reservation system infringed on a previous Navitaire platform easyJet had used. easyJet's current reservation system has limitations: it could not support seat assignments, so easyJet had to use Microsoft's Azure Cloud platform to support the service, which has since won the carrier accolades from business passengers – as well as ancillary revenue. Ms Lynn did not say if easyJet's system could support connecting flights.
Connecting flights would not be a key revenue driver, says Ms Lynn – the impact on load factor would be small – but could deliver critical incremental revenue that goes almost entirely to the bottom line, making the offering a potentially very profitable one.
A note of contrast exists with Southwest. Most of the carrier's passengers, like at easyJet, fly nonstop, but Southwest does offer connections. Its third and fifth largest hubs at Baltimore and Chicago Midway, respectively, see some of the highest connection rates with about 40% of passengers connecting, according to the airline.
Southwest Airlines top 10 hubs/bases/stations by seats: 29-Apr-2013 to 05-May-2013
Southwest acquired LCC AirTran and in Mar-2013 started offering combined itineraries. Preliminary figures show Southwest is gaining over USD3 million of revenue a day from new Southwest-AirTran itineraries, but cautions not all of it is incremental as passengers may have self-connected before or used two Southwest flights or two AirTran flights instead of one on each.
Southwest executives during the carrier's 1Q2013 analyst call predicted the actual incremental component is only around USD1 million a day. But even after a "substantial haircut", Southwest is potentially looking at over USD350 million of additional revenue just by supporting connecting flights between Southwest and AirTran, to say the least of existing Southwest-Southwest or AirTran-AirTran connections.
Some markets are too thin to support a dedicated service, challenging easyJet's view that if a connecting market existed the carrier could add a flight. And if there were a market that could either support connections or a dedicated service, connections would be lower risk as if there was a downturn there would not be an additional aircraft to contend with.
As it stands, easyJet's profit is highly cyclical with the winter months loss-making and the summer months profitable. Adding aircraft is expensive and comes with high risk, to say nothing of easyJet founder Stelios Haji-Ioannou's strong views against easyJet's planned future aircraft order.
Another view could be that if easyJet pursued connections, overall traffic would rise and it could increase frequencies on some routes, adding value to its point-to-point staple traffic.
easyJet top 10 hubs/bases/stations by seats: 29-Apr-2013 to 05-May-2013
Ms Lynn did encourage self-connections and said easyJet was supportive of the self-connect product Milan Malpensa is developing to create smoother self-connections, which the airport hopes will lead to an increase in passengers.
Malpensa is easyJet's second-largest hub after London Gatwick, which has flagged its intent to develop a service to enable passengers from LCC flights to connect more easily with long-haul carriers. Less than one-tenth of Gatwick passengers connect compared to a third at London Heathrow. Self-connections currently require passengers to collect their luggage and go through security but the new service will allow passengers to check in to their next flight airside.
These airport-led improvements may lead easyJet to see the number of self-connections and wonder if it could offer connecting flights – with a yield uptick – if airports are making it convenient to do so. Such developments at the Kuala Lumpur low-cost carrier terminal and at Singapore Changi resulted in LCCs offering connections.
On the other end of the spectrum is the LCC terminal at Copenhagen, Copenhagen Go, that has as a prerequisite that airlines do not need to transfer luggage. This may need to be re-evaluated.
easyJet not interested in FFQ programme – but should it be thinking 'loyalty' programme?
easyJet is also shunning a frequent flyer programme, with Ms Lynn saying that since 80% of its passengers are travelling on leisure and most of those passengers are taking a single flight a year, during which "they're not going to earn a lot of points". Ms Lynn said easyJet's challenge is: "How to recognise loyal customers without driving cost and complexity into organisation?" The answer for now, she said, is a partnership with reward programme Nectar.
Southwest offers a rewards programme while AirAsia has launched its "Big" loyalty programme while Jetstar offers passengers the ability to purchase a fare bundle that includes frequent flyer points on parent company Qantas, which in the year since the May-2011 introduction grew ancillary revenue per passenger 27% from AUD24.10 in FY2011 to AUD30.60 (USD31.6) in FY2012. Its previous year-on-year ancillary growth was only 8%.
Jetstar ancillary revenue per passenger (AUD): FY2010-FY2012
Direct ancillary revenue could be one gain from a frequent flyer programme (in the case of Jetstar) but there could be indirect ancillary gain by having the frequent flyer programme align with partners who pay for an airline to give out points or miles (notably credit cards). The latter is how AirAsia's programme works: Big points are accumulated for free. Big has a number of partners, including banks and credit cards.
AirAsia sees Big as a key driver of future revenue growth, and was clued in enough to the schematics that Big launched almost immediately with a co-branded credit card, which gives consumers points and the airline cash for those points. This is the US model, so prevalent that banks affiliated with an airline's loyalty programme were often on the creditors' panel when US carriers underwent restructuring.
The subtle but critical point about Big is its reference as a loyalty, not frequent flyer, programme. The largest airline-affiliated reward programmes see members earn the majority of their points from non-flying activities. Non-flying reward redemptions are increasing, from the classic toaster example to bespoke offerings like a session in a flight simulator that may be offered for more than what a carrier asks for a first class ticket to its farthest-flung destination.
See related report: AirAsia, eyeing revenue, makes strong entrance to frequent flyer programme
Arguably airlines still thinking of a rewards programme as a "frequent flyer" programme have got it wrong: it is a loyalty programme and points earned by flying will be a minority but consumers cling to the airline's programme as travel is aspirational, unlike a free coffee with a buy-nine-get-one-free card or a discount voucher at the supermarket.
Changing this viewpoint makes it acceptable if a sizeable portion of easyJet's passengers may not earn points over a decade for a free trip – having them use a branded credit card, which a bank pays the airline a privilege for, is largely where the money is at. And as Europe's third-largest carrier with some 22 bases, there would be a queue to be a loyalty partner.
And this does not even touch on the further benefits to easyJet's corporate push, or incremental revenue gained from passengers willing to commit to easyJet if a dedicated loyalty programme existed.
Top 10 airlines for intra-Europe seat capacity: 29-Apr-2013 to 5-May-2013
Rank
Airline
Total Seats
1
FR
Ryanair
2,103,192
2
LH
Lufthansa
1,464,036
3
U2
easyJet
1,385,664
4
TK
Turkish Airlines
837,418
5
AF
Air France
797,388
6
BA
British Airways
655,504
7
SK
SAS
651,820
8
AB
airberlin
605,760
9
DY
Norwegian Air Shuttle
577,662
10
SU
Aeroflot
425,294
Airline loyalty programmes were a feature topic in CAPA's strategy journal Airline Leader, which wrote:
IF YOU'RE RUNNING AN AIRLINE, YOU'RE PROBABLY IN THE WRONG BUSINESS. Not just for the obvious reasons. You should be marketing your brand, not selling tickets. One is unique and valuable, the other is a commodity. One can be monetised, the other mostly creates jobs for others. And the truly remarkable feature with the brand business – leveraged through a frequent flyer programme (FFP) – is that while someone else willingly collects the money for you (and pays for the privilege of doing so), your customers will love you more for it, just as your partners bring along their own customers for you as well.

All you have to do is recognise and exploit the value of your airline's brand. It sounds so simple, but how is it that so many very smart airlines have failed to leverage their income in this way? Certainly it is an undertaking that requires skill and capital. As Groupe Aeroplan (GA) noted, many of the early programmes were unable to exploit the potential of the customer data they were collecting because they neither had the necessary database design or functionality nor the expertise to effectively mine and analyse that data. A key ingredient was to possess the budget necessary to make use of the data.
See related report: The airline frequent flyer programme: for love and money
easyJet not aggressively pursuing ancillary revenue
While LCCs in Asia look to AirAsia as the gold standard for ancillary revenue (it offers 20 meal options for pre-booking, including a fresh coconut), Ms Lynn cautioned that she has reservations on offering too many ancillaries for sale during the booking process. Using food and beverages as an example, she says ancillaries should be purchased as they are needed/used.
"If I'm booking a cinema ticket, I might book the ticket online but I'm not likely to book my popcorn and ice cream online," she says. Ms Lynn adds that easyJet has benefitted, in an undisclosed way, of up-selling throughout the passenger process.
easyJet's Cath Lynn (right) with bmi Regional's Cathal O'Connell at CAPA's AIT conference: 11-Apr-2013
Ms Lynn also notes this makes it easier to deliver. There are logistics to be worked out with catering, but these are not insurmountable. Any additional cost or complexity could be offset by reducing unused products at the end of the day that would have to be sold. It stands likely that passengers, when given the opportunity, would pre-book, especially if they know some items will be more expensive on board, a tactic AirAsia uses.
The lack of popularity of buying ice cream and popcorn with a cinema ticket may indeed represent a lost opportunity for cinemas. Although wants change from the time of the initial booking to when a flight is flown, smart airlines send passengers e-mail a few days before reminding them of their journey and opportunity to purchase ancillaries, be it meals or additional checked luggage for a holiday that saw more shopping than planned.
easyJet does well in terms of overall ancillary revenue, and ancillary revenue as a percentage of total revenue, according to the Amadeus/IdeaWorks Yearbook of Ancillary Revenue.
Top 10 Airlines for Total Ancillary Revenue: 2011 vs 2010
Top 10 Airlines for Ancillary Revenue as a % of Total Revenue: 2011 vs 2010
But easyJet does not pull its weight with ancillary revenue per passenger, with fellow European carriers Flybe and Aer Lingus edging ahead. AirAsia X even earns more than easyJet.
While ancillaries may be larger because of the long-haul nature of AirAsia X, the airline is operating on an Asian, not European, cost base; food and beverages are cheaper than on European peers while luggage is more reasonable (less to do with cost and more to do with others eye-gouging).
Top 10 Airlines for Ancillary Revenue per Passenger (US dollars): 2011 vs 2010
easyJet in 2013 is looking to expand in its home market of the UK, raise awareness and capacity in Italy after entering Milan Linate-Rome Fiumicino and continue its push in regional France. easyJet decreased UK capacity in 2009 and since then has seen 2-3% capacity growth, with a planned 5% growth in 2013 so far.
After a rapid growth in Italy, easyJet has put the brakes on capacity. easyJet had double-digit growth in France 2007 to 2011 with 2012 seeing 8.9% growth and 2013 so far planned to see 3.9% growth, according to OAG.
easyJet capacity for seats to/from/within the UK and year-on-year growth: 2003-2013
easyJet capacity for seats to/from/within France and year-on-year growth: 2003-2013
easyJet capacity for seats to/from/within Italy and year-on-year growth: 2003-2013
easyJet in 2011 added Nice and Toulouse to its bases at Lyon, Marseille Paris CDG and Paris Orly. Nice in 2013 will surpass Orly to become easyJet's second-largest French base after Paris CDG while Toulouse has spooled-up nicely. Paris CDG will see a 4.5% decrease in capacity while Lyon, Orly and Toulouse will grow by 1.6-4.6%.
Marseille and Nice will see higher growth at 15.2% and 10.1% respectively. easyJet's focus on France comes as Air France introduces Hop! as its latest salvo to tackle unprofitable short-haul markets.
easyJet capacity by French base: 2003-2013
easyJet year-on-year growth by French base: 2003-2013
See related reports:
Outlook: easyJet has hybridised well, but more awaits if it chooses
easyJet's financial performance indicates an underlying strength in its business, and recent improvements have been due to easyJet's hybridisation. Further benefits await should easyJet embrace – psychologically or with enabling technology – efforts to chase yields, incremental revenue and ancillary revenue.
See related reports: