27-May-2015 9:04 AM
Brazil's 2015 airport concessions are due to be confirmed in June, after recent iterations
As reported in CAPA's Airport Privatisation Review in Jan-2015, privatisation of some of the remaining primary airports by concession in Brazil is ready to commence now that a restructuring of state operator Infraero is under way. At that time the government was preparing concessions for another three airports, in Manaus, Porto Alegre and Salvador. Vague announcements from the government also indicated there might be more to come as well, but not in 2015. Then Manaus was declared ineligible for privatisation along with Sao Paulo Congonhas and Rio de Janeiro Santos Dumont airports so they can continue to provide some backbone for Infraero.
The general air of confusion has continued. The government may be clear about its objectives but public pronouncements lack clarity. A formal announcement was to have been made on 14-May-2015 but has been postponed until early Jun-2015 because the government needs more time to deliver the next concession packages. It appears the originally identified three airports have lost one but have also been extended to a possible four with the addition of Florianopolis and Fortaleza. There has also been a hint of a couple of surprises concerning Infraero's future contribution and about Fraport's potential role in it.
See related reports:
Brazil's airport privatisation remains a work in progress as the first two tranches are analysed
The first round of Brazil's privatisations (excepting a trial privatisation at Aluízio Alves International Airport at São Gonçalo do Amarante in Natal province) were completed early in 2012 when the National Civil Aviation Agency (ANAC) moved swiftly to conclude the concession auction for three major airports: two in Sao Paulo and one in Brasilia. Both Brazilian institutions and foreign investor/operators like EGIS, Corporación America, and ACSA were involved.
State operator Infraero retained 49% of the equity in each case except in Natal where concessionaires acquired 100% of the equity. The overall consensus was that this first procedure was satisfactory but that the winners had overpaid, while the President's office expressed concerns that some of the companies did not possess adequate airport managerial experience.
There was considerable introspection after which the government set about introducing some quite draconian new rules for the next round of airport auctions, some of which proved to be unworkable and were subsequently dropped.
That round was concluded in 2014 with:
Rio de Janeiro's Galeao International Airport going to a consortium of Odebrecht (Brazil) and Changi Airports International (Singapore) in Mar-2014 for USD7.9 billion on a 25-year operating deal; a consortium variously referred to as Aeroportos de Futuro, Aeroporto de Rio de Janeiro, and Rio Galeão.
Belo Horizonte Trancredo Neves Airport, also known as Confins, went to a consortium, AeroBrasil (later BH Airport) in Aug-2014, made up of Brazil's CCR (75%), Flughafen Zurich (24% increasing to 25%) and Flughafen Munich (1% - no longer a shareholder), which collectively bid USD812 million for a 30-year concession.
In each case bids were again hundreds of per cent above the required minimum and in each case Infraero again retained 49% of the equity. The Civil Aviation Minister, Eliseu Padilha, stated quite recently that this public-private partnership model for privatising airports (both tranches) "has been positive" for Brazilian civil aviation, citing BRL13.4 billion (USD4.4 billion) was invested in Brazilian airports to date. Mr Padilha noted that if the Ministry of Civil Aviation "depended only on the State Treasury... we would not have these investments."
There has been some movement in the form of on-sales. For example the Conselho Administrativo de Defesa Economica (CADE) has just approved the sale of controlling stakes in Natal's new Aluízio Alves International Airport and Brasilia International Airport to Corporación America. The Engevix Group agreed to sell its 100% stake in the Natal Airport and 51% in Brasilia Airport to the Argentinean multi-national operator. The agreement is worth BRL400 million (USD131 million).
The other noteworthy development is the authorisation of entirely private sector-financed and built airports such as at Sao Paulo. There is also a proposal by the LATAM airline to build its own infrastructure at an airport in northeast Brazil (Natal, Fortaleza, or Recife). Natal is a concession, while Recife and Fortaleza are still operated by Infraero.
Another is an international cargo airport proposed for Pouso Alegre, between Sao Paulo and Belo Horizonte, in this case likely to be a PPP. These developments could challenge the concessionaires at existing airports, calling into question the huge amounts paid to secure them.
Private entities are already in partial control of Brazil's five principal airports
So a situation has arisen where private entities control slightly less than half (the equity) of the five principal – and busiest – airports. It was understood that additional airports would be privatised in similar circumstances once the dust had settled on these transactions and more lessons had been learned. But Infraero has fallen on hard times as a result of losing revenues from these important facilities and is yet to follow its previously declared path of making foreign investments instead.
In Dec-2014, Brazil's Government found it necessary to approve a credit line for Infraero as it had been so financially hampered following these privatisations and the closure of Natal Augusto Severo Airport in favour of the private Natal Aluízio Alves International Airport.
As a consequence Infraero's function is under review. Early in May-2015 Mr Padilha announced the government is considering reducing the participation of Infraero to 15% in the new round of privatisations. At the same time President Rousseff postponed the announcement of the Government's new infrastructure plan. As part of this announcement the Government was also expected to declare Fraport as a minority shareholder of Infraero. While Munich Airport has been involved in previous transaction bidding and was a minority shareholder in the Aerobrasil consortium that operates Belo Horizonte airport (now BH Airports), Fraport has bid but has not been successful.
Back in 2013 Fraport's head of global investments Alexander Zinell said the company was looking at entering the market in Brazil as airport rivalry intensifies among investors and construction companies, and was therefore seeking assets in "emerging economies."
Infraero's future role is uncertain
This raises obvious questions about Infraero's future role. It looked as if it was about to take a back seat, perhaps focusing more on the government's determination to upgrade 270 airports at a cost of USD2.6 billion to serve small communities dotted around the country. That procedure is currently hampered by environmental licensing issues and cut-backs are anticipated. But that is not really what Fraport excels at. Perhaps Infraero will now commit itself to foreign investment and operation activities with its new equity-owning partner.
So that is the state of play as the formal announcement concerning the third concession tranche approaches.
Whether government satisfaction about the previous concessions is merited, Brazil enters this latest one with a different macro-economic background.
Having experienced 7.6% GDP growth in 2010, that slumped to 0.14% in 2014, the economy is expected to contract by 1% in 2015 before possibly rebounding to +1% in 2016 and to +2% or more in subsequent years. As organisations such as IATA identify and report momentarily, Latin American airlines are recording up to a 10% decrease in volumes while capacity continues to increase. Regional trade activity may have increased in recent months, but has not offset the struggling economies of Brazil and Argentina. Airfreight demand is also repressed.
On the other hand, in Brazil, ANAC has registered a 5.03% demand (RPK) growth from Jan to Apr-2015 compared to the same period last year. Meanwhile, ASK has grown by 3.35%. So a budding aviation recovery at least is under way.
GDP Growth/Decline in Brazil (Percent change)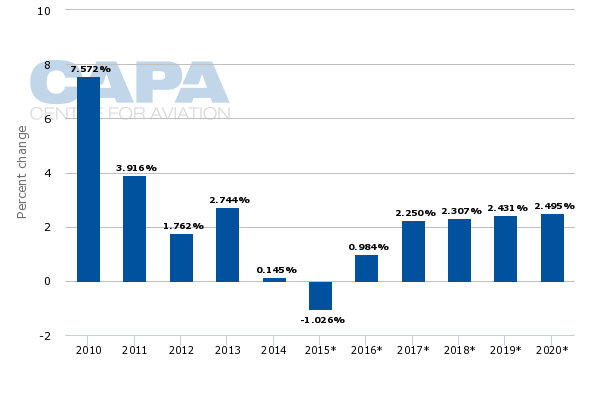 Whether this (possibly short-term) economic malaise – and the influence of the private-sector airports referred to earlier – will have any impact on the concession prices demanded and conceded remains to be seen. After all, this is the B in the BRICs, and decision makers the world over have been conditioned to ensure the words 'BRIC' and 'success' are never far apart in their dialogue. At the very least offers of many times the reserve auction price for the airports should again be expected.
The remainder of this report is a brief overview of the airports that are expected to figure in the forthcoming auction, namely Porto Alegre; Salvador; Florianopolis and Fortaleza. The first three formed the recommendation of the Departamento de Regulação e Concorrência da Aviação Civil (CAA). When the announcement is finally made President Rousseff is expected additionally to confirm the privatisation of management of state-owned terminals in 29 airports. The package is again seen as an attempt to raise new investment and mitigate the negative effects of the slowing economy.
Unlike some of the airports that have already been concessioned, for example Brasilia and Belo Horizonte, the commonality to at least three of these airports is large-scale tourism.
Porto Alegre – one of the primary industrial centres of southern Brazil
Porto Alegre is the capital of, and largest city in, the Brazilian state of Rio Grande do Sul and the southernmost capital city of a Brazilian state. Its population of 1.5 million inhabitants makes it the tenth most populous city and it is at the centre of Brazil's fourth largest metropolitan area with 4.5 million inhabitants. Porto Alegre is regarded as an important port as well as one of the chief industrial and commercial centres of Brazil.
Salgado Filho Airport serves the city and is itself served by all major Brazilian carriers as well as a small selection of Latin American, North American and European carriers (local airlines own 96% of capacity). A total of 10 airlines in all, four domestic and six international. The largest carrier by seat capacity at this time is Gol, followed by TAM and Azul.
Porto Alegre Salgado Filho Airport capacity, seats per week, all airlines, 25-May-2015 to 31-May-2015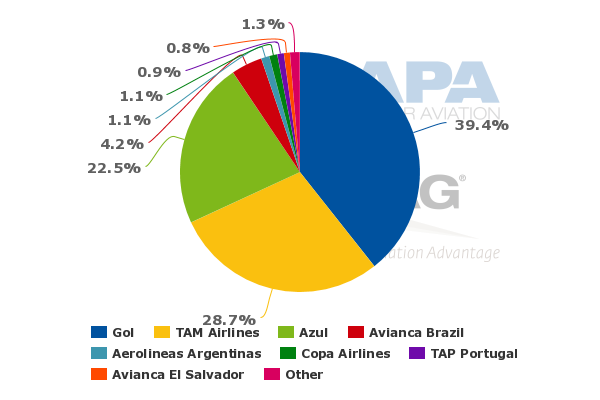 Low cost carriers have almost two-thirds of seat capacity.
Porto Alegre Salgado Filho Airport capacity, seat share by carrier type, 25-May-2015 to31-May-2015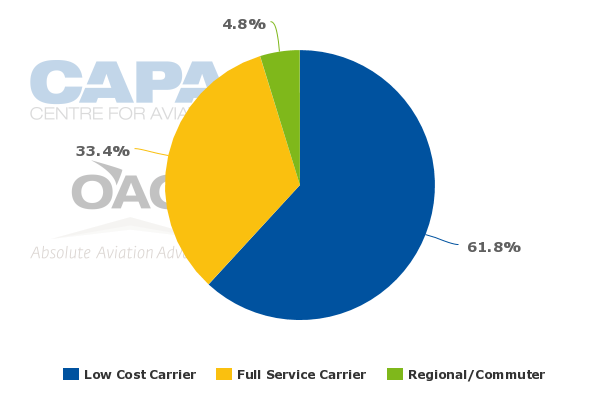 Most capacity is on unaligned carriers. Alliances have yet to make an impact apart from oneworld (through LATAM).
Porto Alegre Salgado Filho Airport capacity, seat share by alliance 25-May-2015 to 31-May-2015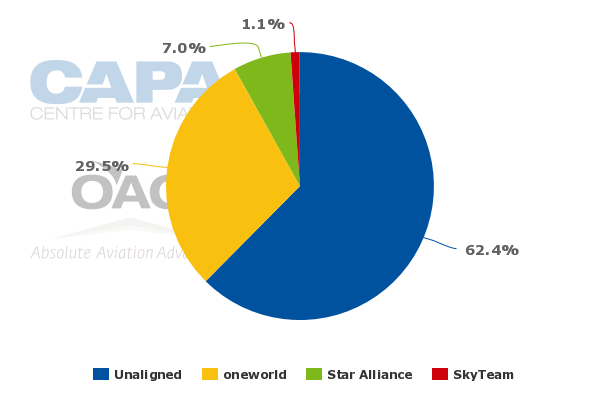 Passenger traffic has fluctuated in the last four years but remains constant overall with no excessive peaks or troughs.
Porto Alegre Salgado Filho Airport annual passenger numbers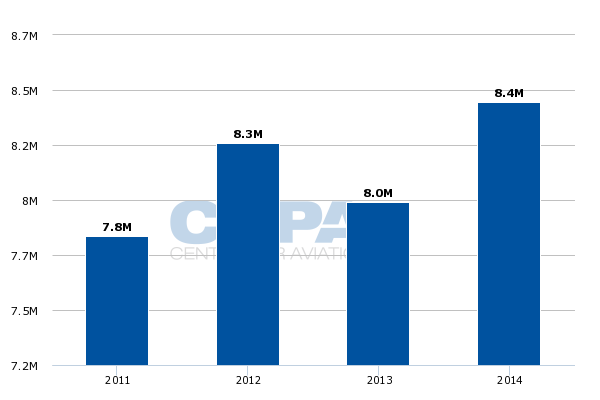 Salvador – the first capital that is now a tourism capital
Salvador, formerly São Salvador da Bahia de Todos os Santos, Brazil's first capital and known either as Bahia or Salvador da Bahia, is the largest city and the third-largest urban agglomeration on the northeast coast of Brazil, where it is the capital of the state of Bahia. The metropolitan area of the city, with 3.5 million people is the eighth most populous Brazilian urban agglomeration. It is the second wealthiest in Brazil's northeast and has strong links to Africa.
Salvador is one of Brazil's most prominent ports and international trading centres with a large oil refinery, a petrochemical plant and other industries reducing its historical dependence on agriculture. It is also an important tourist city with 80 km (50 miles) of beaches. It is the second most popular tourism destination in Brazil, after Rio de Janeiro.
Deputado Luís Eduardo Magalhães Airport serves the city. The airport is a joint civil/military facility, also encompassing the Salvador Air Force Base. Brazil's four major carriers all have a significant presence at the airport, with a small selection of US and European carriers also providing services. As with Porto Alegre there are presently 10 airlines operating there; four domestic and six international.
The distribution of seat capacity is also similar to that at Porto Alegre, led again by Gol but with Avianca Brazil overhauling Azul into third place. 97% of capacity is attributed to local carriers.
Salvador Deputado Luís Eduardo Magalhães Airport capacity, seats per week, all carriers, 25-May-2015 to 31-May-2015
There is a slightly more equable split of capacity between LCCs (50%) and full service and regional carriers than at Porto Alegre.
Salvador Deputado Luís Eduardo Magalhães Airport capacity, seat share by carrier type, 25-May-2015 to 31-May-2015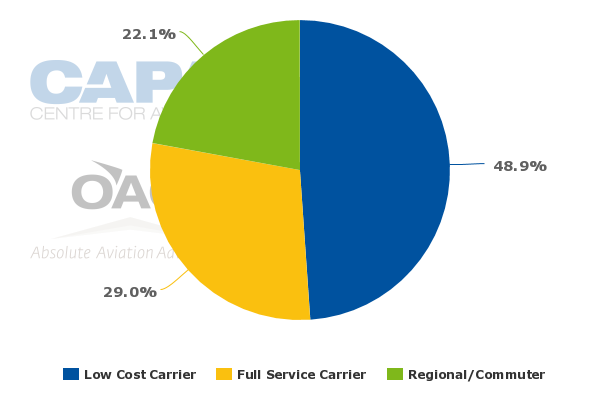 As for the impact of alliances, oneworld is again a force through LATAM while Star Alliance has a significant presence through Avianca. SkyTeam, as at all of these four airports, is weakly represented.
Salvador Deputado Luís Eduardo Magalhães Airport capacity, seat share by alliance 25-May-2015 to 31-May-2015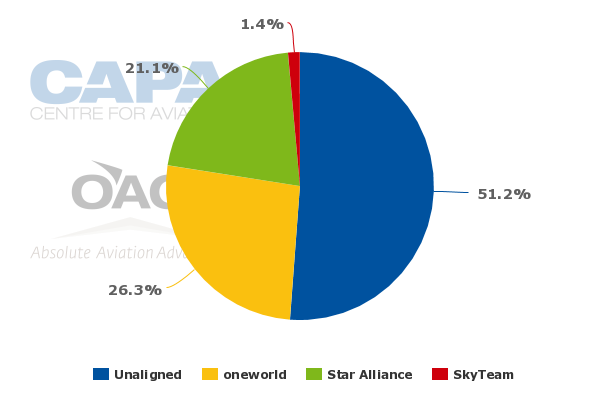 Traffic has again remained stable during the last four years with a tendency towards growth in 2014 but uncertainty about 2015 as the economy stalls.
Salvador Deputado Luís Eduardo Magalhães Airport annual passenger numbers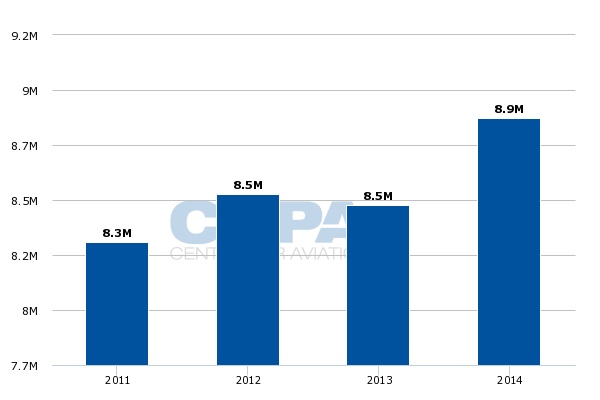 Fortaleza loses some connections to Europe but sustains others
The densely populated city of Fortaleza is the state capital of Ceará, located again in northeast Brazil. With a population close to 2.55 million (metropolitan region in excess of 3.6 million), Fortaleza is the fifth largest city in Brazil. Fortaleza is one of the three leading cities in the northeast region together with Salvador and Recife, whose airport is not expected to be included in the forthcoming privatisations. The Brazilian government reportedly sought the inclusion of an additional airport in the northeast in the concession programme and Fortaleza appears to have been chosen.
With 25km (16 miles) of beaches, Fortaleza is, like Salvador, a major tourism destination for the domestic Brazilian market. Apart from tourism it has a diversified commercial and industrial base focused around footwear and textiles and it is a premier location for the meetings industry.
Eight airlines serve the Pinto Marins Airport, two domestic and six international. The airport shares some facilities with the Fortaleza Air Force base. It offers an extensive domestic network as well as a number of European services. Foreign carriers such as KLM and Alitalia have in the past offered direct connections with European capitals.
TAP Portugal (Lisbon) continues to do so, along with Condor Flugdienst (Frankfurt). Note also the tiny but significant presence of TACV (Cape Verde), which for some years has offered a sixth freedom air bridge between various African and European cities and northeast Brazil. The connection between this part of the country and the African continent should not be underestimated for both commercial business and tourism development in the future.
Fortaleza Pinto Martins Airport capacity, seats per week, all carriers, 25-May-2015 to 31-May-2015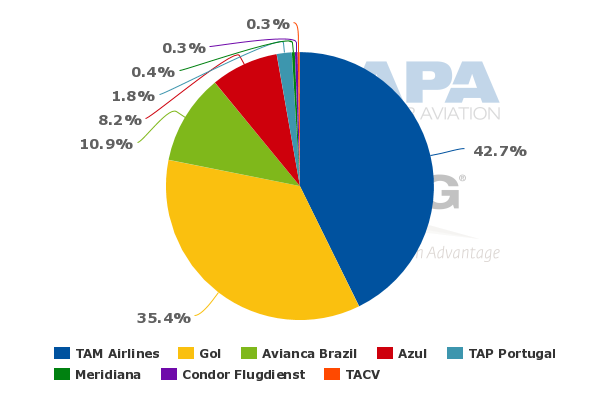 For the first time in this analysis we see that LCC impact is at a less significant level in Fortaleza, at 44% of capacity.
Fortaleza Pinto Martins Airport capacity, seat share by carrier type, 25-May-2015 to 31-May-2015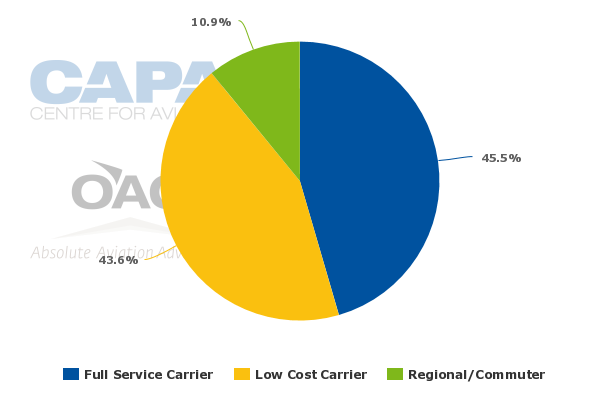 Oneworld again has a strong presence at Fortaleza while that of Star Alliance is insignificant. (It actually grew by 10 percentage points from the previous week when Star had only 1.8%).
Fortaleza Pinto Martins Airport capacity, seat share by alliance 25-May-2015 to 31-May-2015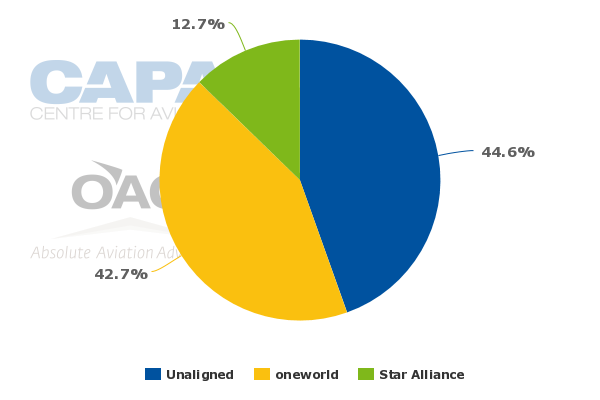 There is no great difference in traffic growth between Fortaleza and the other airports but Fortaleza has at least avoided a decrease in traffic between 2011 and 2014 and saw growth of almost 10% in 2014.
Fortaleza Pinto Martins Airport annual passenger numbers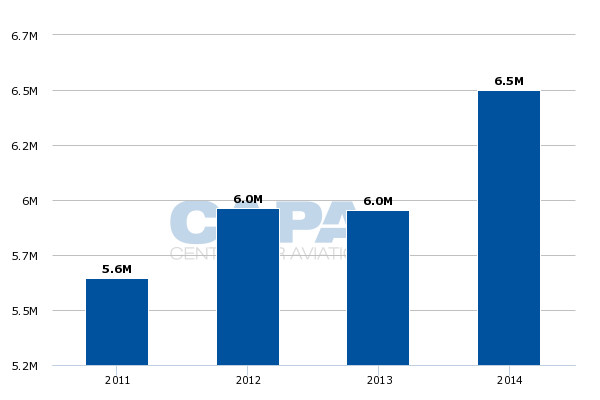 Florianópolis – tourism and second homes propel the local economy
Florianópolis is probably the most interesting and at the same time esoteric of the cities where the airport is likely to be privatised. It is the capital city and second largest city of Santa Catarina state in the Southern region of Brazil. It has a population of about 450,000, making it the second most populous city in the state (after Joinville), and the 47th largest in the country. The metropolitan area swells the population to over one million.
What makes Florianópolis unique is its very high quality of life, especially as expressed by its Human Development Index score, which at 0.905 puts it on par with Canada and slightly ahead of Singapore.
Once again tourism features largely in the economy, with 42 beaches in the metropolitan area. The international magazine Newsweek listed it amongst the 10 most dynamic cities in the world and a leading Brazilian publication identified it as the best place to live in Brazil. As a result of this exposure, Florianópolis is growing as a second home location for many Paulistas (inhabitants of Sao Paulo), Argentines, North Americans, and Europeans. Apart from tourism, the economy is also based on information technology and services.
It is Hercílio Luz International Airport that serves the city of Florianópolis. As with the other airports, some services are shared with a local air force base. The airport is the 14th busiest in Brazil, and receives significant charter traffic in the summer season in support of the tourism industry. Regionally, the airport is well served by Latin America's largest carriers (although only one – Aerolineas Argentinas - is not Brazilian), and also features extensive domestic connections.
Florianópolis Hercílio Luz International Airport capacity, seats per week, all carriers, 25-May-2015 to 31-May-2015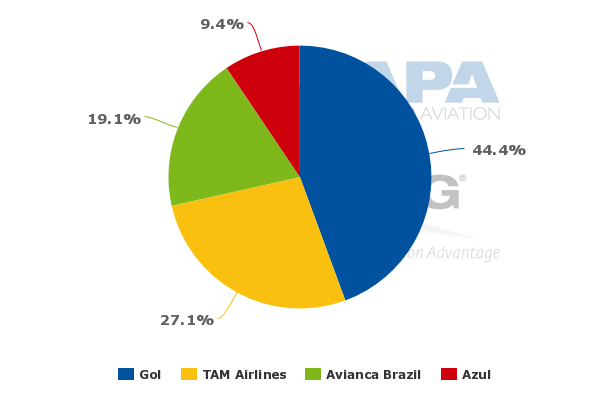 There is a predominance of LCC seat capacity at Florianópolis.
Florianópolis Hercílio Luz International Airport capacity, seat share by carrier type, 25-May-2015 to 31-May-2015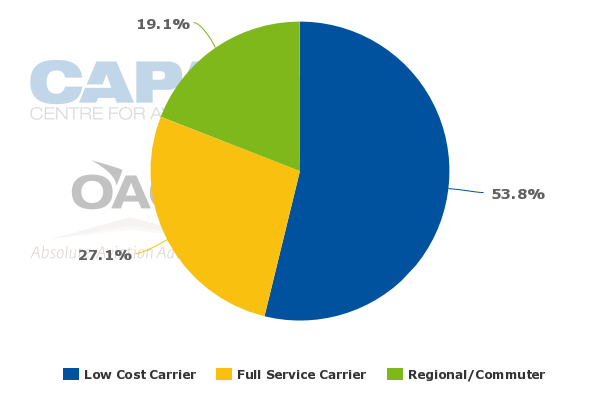 Two airline alliances have a presence of any significance: oneworld and Star Alliance.
Florianópolis Hercílio Luz International Airport capacity, seat share by alliance 25-May-2015 to 31-May-2015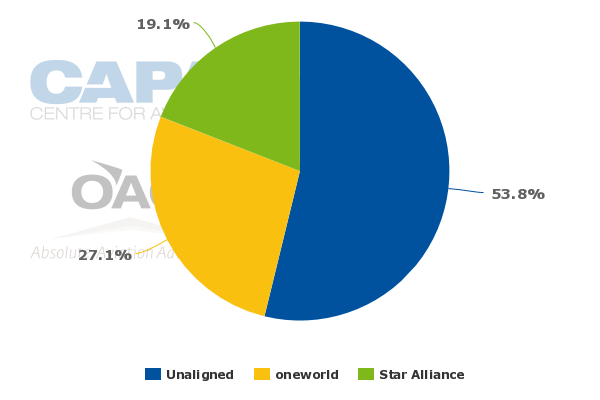 In contrast to some of the other airports passenger traffic built steadily between 2011 and 2013 but fell back into 2014 as the economy tightened.
Florianópolis Hercílio Luz International Airport annual passenger numbers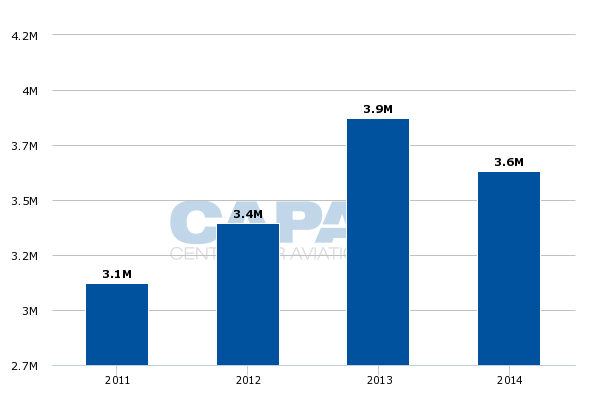 Brazil airport privatisation: conclusions/summary
Following a degree of introspection after the first two concession tranches the government is ready to commit to a further three or four airports in the third tranche;
There is continuing speculation about which airports will be involved. We have listed the most probable of the suspects but the final decision will be made by the President personally. (Dilma Rousseff's home city airport at Belo Horizonte is already concessioned);
A common thread to most of them is tourism and future tourist potential;
The role of Infraero in these PPPs may reduce. Some of Infraero's equity may be acquired by Fraport. Infraero could begin to look abroad for Investment opportunities.