Azul believes Brazil-Buenos Aires service is unviable, partially driven by fifth freedom competition
Analysis
As the major US airlines sought improved access to Latin America in the 1990s, Brazil and Argentina were persuaded - with some reluctance - to agree to open skies bilateral conditions. One consequence of this liberal environment has indirectly been to open up fifth freedom access between the two countries.

Brazil's third largest airline Azul concludes now that it cannot profitably serve Buenos Aires, due in part at least to the participation of third country airlines. Buenos Aires is a market in high demand among its customers, but the abundant capacity, including from airlines operating fifth freedom services through Brazil to Argentina, puts this out of the question.

With Buenos Aires unviable for Azul in the short to medium term, it looks as if the airline will focus on more international expansion to the US until its Airbus A350s begin arriving in 2017.
Azul is also keen to strengthen its existing partnership with United and initiate a tie-up with JetBlue, which has a strong presence in Azul's US markets. Those aspirations likely exclude any consideration by Azul of examining a potential partnership with Gulf airlines.
Azul concludes the current capacity levels to Buenos Aires make it unviable
After its 2012 acquisition of, and subsequent merger with, regional Brazilian airline Trip, Azul has built a vast domestic network spanning 101 domestic destinations. During the recent CAPA Americas Aviation Summit 2015 in Las Vegas, Tudo Azul president Alex Malfitani observed that Azul flies alone "in 70% of our routes".

The airline launched its first markets outside of Brazil in Dec-2014 with new flights from its largest base at Campinas Viracopos (roughly 94km from Sao Paulo) to Orlando and Fort Lauderdale. Azul is initially operating five Airbus A330 widebodies on international long-haul routes, and has also ordered five Airbus A350s.
Azul Fleet Summary as of 21-May-2015
Mr Malfitani stated that other international markets that were a high priority for Azul's customers included Buenos Aires, a few destinations in Europe and a few in the US. But Buenos Aires is not a viable market for the airline, said Mr Malfitani. There is so much capacity on routes to Buenos Aires already, not only from Brazilian and Argentinean airlines but also from airlines using fifth freedom rights to stop-over in Brazil, said Mr Malfitani.

"There is no way we could be profitable flying to Buenos Aires," he stated, and as a result, it is a destination Azul has chosen not to serve.

Although Brazil and Argentina are both suffering from weak economies, Buenos Aires is an important market from Brazil. Argentina is the second largest country from Brazil measured by seat deployment and frequencies. As Azul looks to build out its international network, lack of service to Buenos Aires could become a large hole in its route offerings over the long term.
Brazil international capacity by country (number of seats): 18-May-2015 to 24-May-2015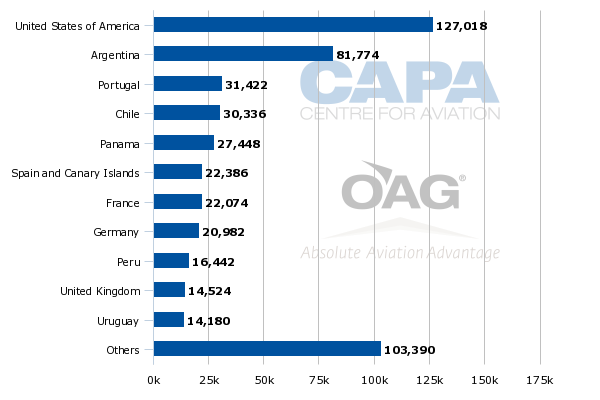 Brazil international capacity by country (frequency to/from): 18-May-2015 to 24-May-2015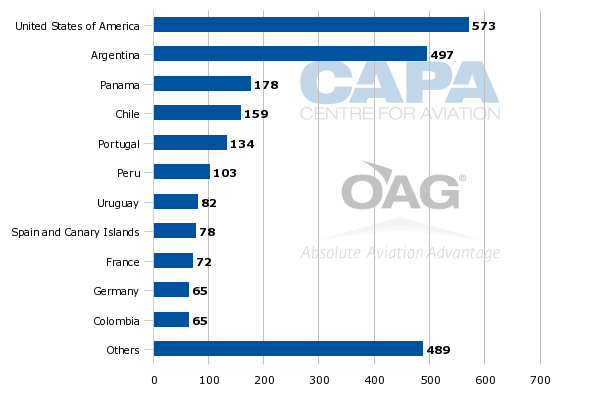 Brazil-Buenos Aires is a crowded market with both Latin American and foreign airlines
Data from CAPA and OAG for the week of 18-May-2015 to 24-May-2015 show that Emirates operates service from Rio de Janeiro to Buenos Aires Ezeiza on a flight that originates in Dubai, and Turkish Airlines operates from Sao Paulo to Ezeiza on service originating in Istanbul. Qatar also operates fifth freedom service from Sao Paulo Guarulhos to Ezeiza originating in Doha. Much of the fifth freedom flights stem from aircraft range issues in reaching Buenos Aires directly.
Data from CAPA and OAG show that Emirates operates daily service between Rio de Janeiro Galeão and Buenos Aires Ezeiza, although it is difficult to determine how many seats on the Boeing 777 it operates on the pairing are topped up with local traffic in Rio, which is the same scenario with the daily flights operated by Qatar and Turkish from Sao Paulo Guarulhos to Buenos Aires, also operated by 777s.
Tam, Gol and flag carrier Aerolineas Argentinas operate service between Rio and Ezeiza and LAN, Tam, Gol and Aerolineas offer flights from Sao Paulo to Ezeiza. The South American airlines have better schedules to capture local traffic than the fifth freedom airlines, whose departure times are later in the day given the arrival times from Dubai, Doha and Istanbul. Emirates' service from Rio departs at 16:18 while Qatar's flights from Sao Paulo has a 17:55 departure time. Turkish flights depart Sao Paulo at 18:30.
Aerolineas also serves Rio Galeão from Buenos Aires Aeroparque, which is closer to the city centre than Ezeiza, and handles mostly domestic traffic with a few international offerings. Aerolineas, Gol and TAM all serve the Aeroparque-Guarulhos pairing.
Gol and Aerolineas Argentinas finalised a codeshare in 2014 that also includes frequent flyer programme reciprocity. Previously, Gol has stated that the two airlines aimed to use their partnership to set-up an airbridge between Buenos Aires and Sao Paulo to compete more effectively with the LATAM group.

See related report: Gol to start codesharing with Aerolineas Argentinas. Are TAP Portugal and Etihad next?
Would there be any value in Azul forging partnerships with fifth freedom airlines?
Mr Malfitani observed that some of the fifth freedom offerings between Brazil and Argentina were great from a customer standpoint as fares are relatively cheap and the cabins are lavish. Although he stated it was hard to compete, Mr Malfitani was resigned to the fact that the heightened competition "was just the name of the game".
But with Brazil's economy contracting, and some airlines cutting back service to Brazil, it seems as if all airlines operating to Buenos Aires are seeing some weakening demand, and many factors could be contributing to Azul's decision not to launch service in the market during the short term.

In some ways it would seem almost logical for Azul to examine a partnership with Emirates or Turkish given the Brazilian LCC's extensive domestic reach. Although Campinas is its largest base, Azul does offer numerous domestic flights from Guarulhos and links Campinas hub with Galeão.
Data from CAPA and OAG for the week of 18-May-2015 to 24-May-2015 show that Guarulhos is Azul's third largest base measured by ASMs. So leveraging a partnership could be beneficial as Azul could market flights to the Middle East and the fifth freedom airlines could penetrate deeper into Brazil. Qatar already has a codeshare and frequent flyer partnership with Gol.
Azul top 10 hubs/bases/stations by ASMs: 18-May-2015 to 24-May-2015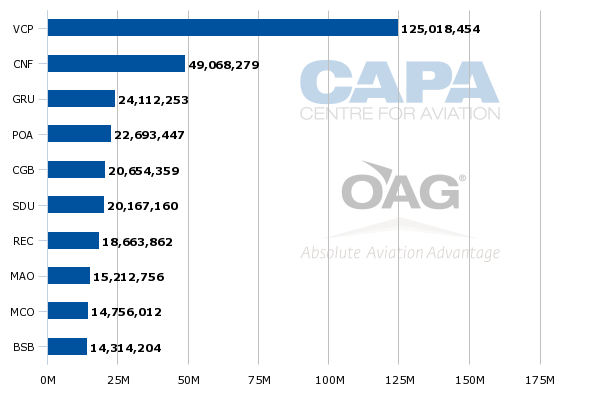 But the likelihood of deepening ties are likely to be slim. Azul has an interline and frequent flyer reciprocity relationship with United Airlines, which is a Star Alliance anchor member. Azul has stated that it would like to see that relationship deepen, and given United's allegiance to American and Delta to limit Gulf airline growth to the US, it is unlikely Azul would seek to forge ties with Emirates.

A partnership between Azul and JetBlue may be more of a distinctive possibility after the recent CEO change over at JetBlue. Mr Malfitani remarked that Azul was counting on having a partnership with JetBlue. Both Azul and JetBlue were founded by David Neeleman, who is now the chairman of Azul. JetBlue is the second largest airline measured by ASMs at Orlando International and the largest at Fort Lauderdale.

See related report: Azul starts to position as an attractive potential partner for JetBlue – and perhaps even United
Is the competition Azul feels from some fifth freedom airlines becoming the norm in global aviation?
It seems the controversy that has erupted by the big three US airlines push to re-examine open skies agreements with the countries that are home to the three large Gulf airlines has spurred discussions elsewhere about the effects of certain fifth freedom rights.

But Azul holds the view that the competition created by the granting of those rights is just marketplace dynamics. In a world where aviation is a global business, that seems to be a more logical view; that swings and roundabouts are part of the overall competitive fabric. And as Azul's position in the Brazilian market continues to strengthen, Buenos Aires could become more viable once the country's economy starts to rebound.