Latin America: Huge opportunities remain despite recent challenges
The Latin American market should see growth rates start to reaccelerate as the region's economies improve. Growth in Latin America has slowed as economies have sputtered, impacting demand and profitability of its previously buoyant airline sector.
But Latin America remains an important emerging market and the medium-term outlook is bright.
Economic growth in Latin America should start to recover in 2015. More favourable conditions across most of the main Latin American markets along with lower fuel prices and a relatively disciplined approach to capacity should result in improvements to the bottom line.
Argentina and particularly Venezuela remain areas of concern. But these are relatively small markets - Latin America has been dragged down in recent years mainly by Brazil, which is now showing some signs of recovery.
The region's GDP grew by slightly more than 1% in 2014, but is expected to expand by more than 2% in 2015.
Brazil, which is by far the largest country in Latin America and has the world's fourth largest domestic aviation market, is expecting economic growth of 1.4% in 2015 after growth of only about 0.3% in 2014.
Chile is also expected to see a rebound, with projected GDP growth of 3.3% in 2015, after slowing to about 2% in 2014. Mexico's economic growth is projected to continue accelerating from 2.4% in 2014 to 3.5% in 2015 after a low of 1.1% in 2013.
Meanwhile Colombia and Panama are projected to remain strong. Colombia has recorded between 4% and 5% economic growth for three consecutive years and is projected to again have GDP growth of about 4.5% in 2015. Smaller Panama saw GDP growth of about 6.6% in 2014 and is projected to grow another 6.4% in 2015.
Economic conditions will however remain weak in Argentina and Venezuela, which contracted in 2014. Virtually all airlines serving Venezuela have significantly cut capacity on their routes to the country. But Argentina's aviation market has continued to grow despite the economic issues. Aeropuertos Argentinas, which manages all 33 of Argentina's airports, reported a 5.4% increase in passenger throughput in 2014 to 27.2 million.
None of the seven main markets in Latin America achieved double digit passenger growth in 2014. This compares to three markets with double digit growth in 2013, four in 2012 and five in 2011.
These seven markets account for about 90% of total seat capacity in Latin America, excluding the Caribbean. (The two smallest of these markets, Peru and Panama, have not yet reported figures for 2014 but growth was likely in the high single digits.)
The slower growth in 2014 is unsurprising given the challenging economic conditions. Total seat capacity in Latin America was up only 4% in 2014, according to OAG data.
Mexico had the fastest passenger growth among the top five Latin American markets, with total passenger numbers increasing by 8.6% to 65.1 million, according to Mexican DGAC data. This included 7.9% domestic growth to 32.9 million and 9.3% international growth to 32.3 million.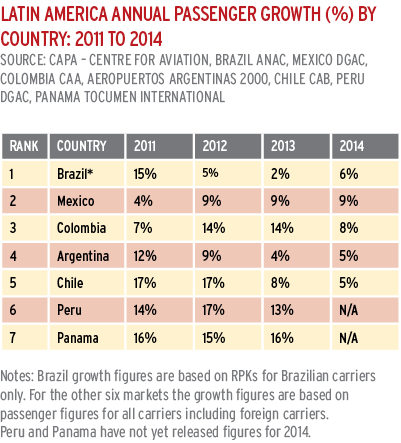 But the growth in Mexico came at the expense of yields and profitability as competition intensified. Seat capacity in the Mexican market increased by over 8% in 2014. Competition has been particularly intense among Mexico's three LCCs. Mexico is the only country in Latin America with more than two LCCs.
Colombia also had rapid growth in 2014 with total passenger numbers up 7.9% to 33.9 million, according to Colombian CAA data. This included 7% domestic growth to 23 million and a 9.8% increase in international passenger traffic to 10.9 million.
But Colombia has enjoyed a more healthy supply and demand balance as its economy has seen healthier and steadier growth than Mexico or Brazil. Total ASKs in Colombia were up 9.5% in 2014 while RPKs were up 9.7%. Domestic ASKs were up 8.5%, slightly outstripping demand, while international ASKs were up 9.8%, slightly outpacing demand.
Colombia is poised to continue its rapid passenger growth, boosted by solid economic prospects. Competition is also relatively limited because Colombia has only one LCC compared to three LCCs in Mexico and two large LCC players in Brazil. VivaColombia is also by far the smallest of the six LCCs in Latin America, although it is now starting to pursue more rapid expansion following the launch of international services in 2014.
Smaller Chile suffered a major slowdown in its domestic market in 2014. Chile had been one of the world's fastest growing domestic markets in 2011 through 2013, recording passenger growth of 18% in 2011, 19% in 2012 and 14% in 2013. But Chile's domestic market grew by only 3.6% in 2014 to 7.4 million passengers as the Chilean economy cooled off significantly.
Domestic growth should recover in 2015. But the return of high double digit growth seems unlikely unless a new entrant breaks into the market. Chile is the largest domestic market in the world without a local LCC.
Chile is the fourth largest domestic market in Latin America, slightly ahead of Peru and Argentina although Chile is significantly less populated. The Argentinean and Peruvian domestic markets also do not have any LCCs. There are huge long-term opportunities for LCCs to drive accelerated growth in Latin America's smaller domestic markets as well as in the regional international market, which has an LCC penetration rate of less than 10%.

Total passenger traffic in Chile increased by 4.6% in 2014 to 17.2 million. International traffic was up 6.1% to 7.4 million.
In Brazil domestic passenger traffic was up 6.6% in 2014 to 95.9 million while domestic RPKs were up 5.4%, according to Brazil ANAC data. But the growth in Brazil was driven almost entirely by an improvement in load factors as Brazil's two largest carriers, Gol and TAM, cut capacity. Total domestic ASKs were up by only 1% as Azul and Avianca Brazil continued to expand. Total seat capacity in Brazil was flat in 2014 while capacity in every other Latin American market except for Venezuela increased.
Brazil achieved high double digit domestic growth in 2009, 2010 and 2011, but this rate proved to be unsustainable. Domestic RPK growth initially slowed to 5.3% in 2012 and 2.3% in 2013 as the Brazilian economy weakened. Domestic ASKs were back at 2011 levels in 2014. Airlines should be able to benefit in 2015 from the new more rational approach to domestic capacity. Domestic load factors, which in Brazil have traditionally been well below global industry norms, have already improved significantly.
Brazilian airlines continue to rely primarily on the domestic market but the country's two LCCs, Gol and Azul, are starting to focus more on international expansion. Brazilian carriers recorded a 5.7% increase in international passenger traffic in 2014 to 6.4 million. International RPKs were up 5% despite a 2% reduction in ASKs, driven by cuts at TAM. Unlike other Latin American countries, Brazilian international passenger traffic data only includes local carriers.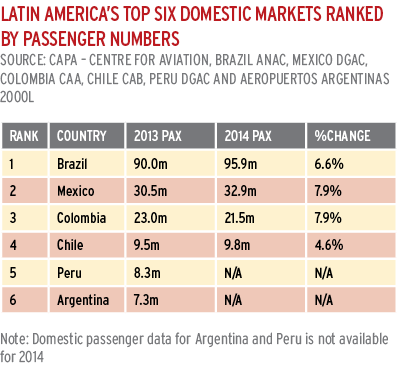 It has been an extremely tough few years for the Brazilian airlines. The recent improvement in load factors and reduction in fuel prices should lead to a return of profitability, particularly if the economy picks up.
Gol has been unprofitable for four consecutive years. TAM also has been unprofitable, dragging down earnings at LATAM Airlines Group, which was formed from the 2012 merger of TAM and LAN. Chile-based LAN was consistently and highly profitable prior to the merger while LATAM has been unprofitable for three consecutive years.
Smaller airline group Copa Holdings has remained profitable and again in 2014 posted one of the highest operating margins in the global industry. Avianca Holdings also has been steadily profitable since its 2011 initial public offering.
Avianca, which has hubs in Colombia, Peru and El Salvador, has benefitted from its exposure to markets with more favourable economic conditions and limited LCC competition. Copa also has a relatively positive geographic position because its hubs are in Panama and Colombia and faces virtually no LCC competition. But Copa is the most exposed of Latin America's airline groups to the Venezuelan market and LCC competition in Central America will inevitably increase. The Viva Group, which has LCC affiliates in Colombia and Mexico, has been looking at establishing a joint venture in Central America.
Dramatic consolidations in Latin America's full service airline sector has left five dominant groups (LATAM, Avianca, Aeromexico, Copa and Aerolineas Argentinas) accounting for a majority of the region's capacity. Some additional consolidation is possible as some of the remaining full-service carriers struggle to compete. But the focus of the main groups will primarily be on improving profitability and leveraging their strong positions as the region's economy recovers.
Change in the LCC sector is more likely as Latin America has only six LCCs across three markets. There hasn't been a single start-up in three years, an extremely long time given the growth opportunities and the fact Latin America remains virtually unpenetrated outside the main markets of Brazil, Mexico and Colombia.
As economic conditions in Latin America improve, the market will become more attractive to new entrants. New joint ventures under the existing LCC groups, particularly Viva, and new budget subsidiaries under the leading FSC groups are both possibilities.
The return of growth and improved market conditions will also again put the spotlight on Latin America's infrastructure issues. The region's infrastructure has long lagged behind the growth curve. Projects will need to be accelerated and the trend towards airport privatisation, which has gained momentum in Latin America in recent years, will continue.
Despite recent setbacks Latin America is still a region of huge potential. The return of rapid growth will benefit both local and foreign carriers, with the leading FSC groups and the region's emerging LCCs best positioned to cash in on the opportunities.