CAPA Airport Finance and Privatisation Review 2014/15; emerging markets attract investor interest
Analysis
CAPA is pleased to announce the publication of our 2014/2015 global 200-page report on financing activity in the airport sector.
From the UK to Brazil, from Vietnam to Chicago, this unique CAPA report provides a comprehensive account of global airport privatisation and financing activities globally in 2014 and early 2015 and offers opinion on future developments during the remainder of 2015 and beyond.
The report also covers significant airport construction and capital expenditure projects in the same time period, irrespective of ownership. The account is complemented by profiles of many of the airports concerned, along with a Data Appendix drawn from CAPA's Airport Investment Database.
Around 500 commercial airports worldwide have some form of private-sector participation in their management or ownership now, and those that are in wholly private ownership constitute about 15% of the total.
In general, the bigger the airport, the higher the propensity towards privatisation. Of the top 100 airports as measured by revenues, 40 are either fully or partially owned or controlled by investors (or are in the process of becoming so).
According to the Review, total 2014 revenues for these 40 airport companies was USD40.9 billion, which is 50.5% of the revenue of the entire top 100 airport groups, so they have greater profitability. About two dozen of these airport companies are listed on stock exchanges around the world, some domestically, some internationally.
The number of airports privatised around the world still remains on the low side, with around 70% still entirely in public ownership.
Over the years, the number of privatisation deals has shown elements of cyclicality, peaking and troughing several times during the last couple of decades, often influenced by world events outside the industry's control that restrict access to capital.
Airport Finance and Privatisation Review Main Findings and Conclusions
To buy your copy of the CAPA Airport Finance and Privatisation Review 2014/15, please contact info@centreforaviation.com

The main findings include:
Apart from sales and leases on groups of regional airports most privatisation activity in 2015, as in 2014, will be focused on top-end primary airports. Prospects for the sale of individual secondary and tertiary level airports remain weak;
International funds will dictate the fortunes of primary airports, and particularly Private Equity/Venture Capital/Hedge Funds;
There is a propensity for strategic investors increasingly to invest in infrastructure assets in emerging markets where growth forecasts are significantly higher;
Subject to specific local circumstances and unforeseen external interventions ("unknown unknowns"!) airport valuations will be maintained at and around 12-15 times earnings in 2015. These levels have fluctuated widely - from an all-time high of 30x in the mid 2000s and recent lows of around 9x.
In general financing of airports is increasingly dominated by huge international funds, most of which have little regard for secondary or tertiary level airports.
The nature of the airport investor has changed quite dramatically in the last decade. From the late 1990s onwards there was an influx of surface transport operators, local real estate developers and the like, all keen to get a piece of the action and in particular with regard to secondary and tertiary level airports, military airport conversions and so on - which is where the action then was - along with a realistic profit potential.
The Review contains summary profiles of most airports where transactions have occurred in 2014 or are in prospect in 2015
An example of a summary page is below: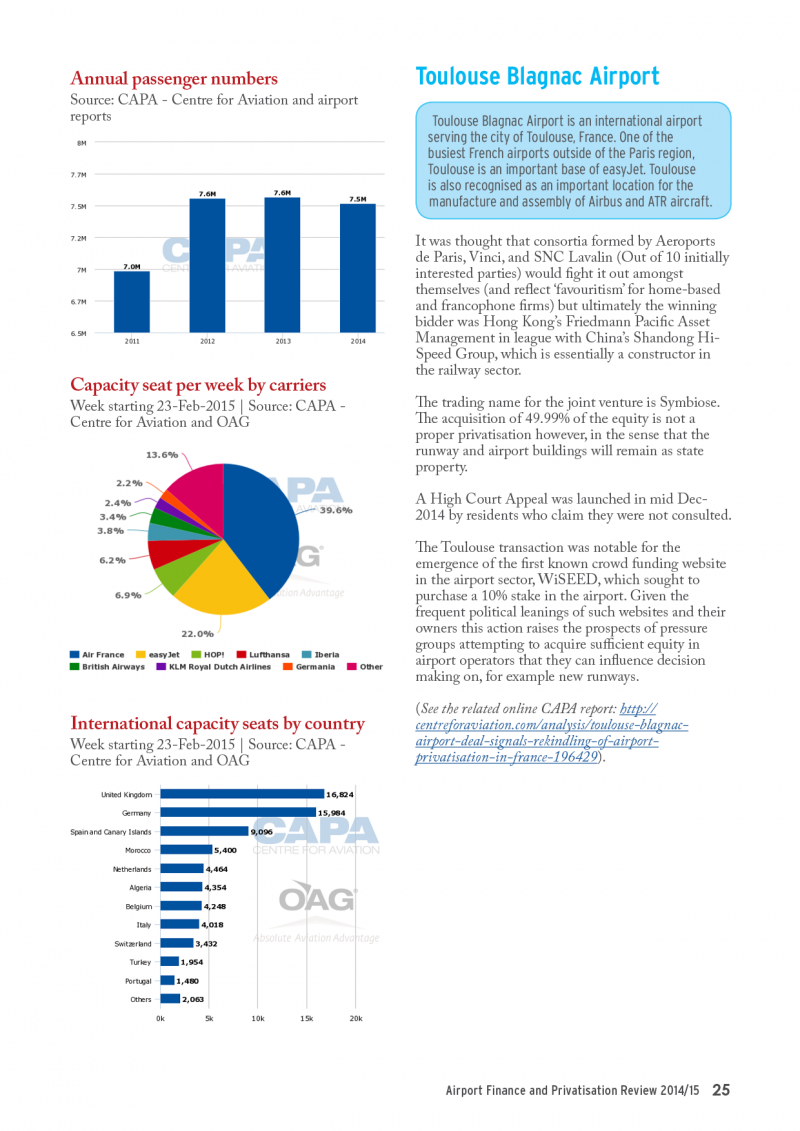 The UK Airport Commission's runway decision may have an indirect influence on UK airport ownership
The Report notes that "regional airports (which have large amounts of spare capacity) were given short shrift by the UK Commission. But both Birmingham and Manchester airports still harbour the desire to play a greater national role.
"Th
eir hand (and especially Manchester Airport's) has been strengthened by the spin-o
ff
e
ff
ects of the Scottish independence vote in Sep-2014, which has led to greater autonomy being granted to the Greater Manchester city-region to determine its own economic a
ff
airs (though not
fi
scal ones, yet) and the promise by the Chancellor of the Exchequer to create a 'Northern Economic Powerhouse' to rival London, some of the funding for which has already been found despite the lingering and growing de
fi
cit."
The CAPA Airport Finance and Privatisation Review 2014/15 was prepared by David Bentley, CAPA's Chief Airport Analyst