Austrian Airlines: questions raised over Tyrolean transfer and Austrian's long-haul future
Analysis
On 30-Sep-2013, Austrian Airlines (AUA) celebrated its 56th anniversary of commencing operations in 1957. It also recently passed its biennial Star Alliance audit with what it said were the best results in its history and its parent Lufthansa confirmed that it expects it to return to profit in 2013 for the first time since 2007.
But looking beneath the surface of this birthday re-spray, there might just be some wrinkles on its skin.
A Sep-2013 court ruling questions the legality of AUA's 2012 transfer of flight operations to its Tyrolean Airways subsidiary. AUA is appealing the decision and the transfer remains effective pending the outcome. This radical move, aimed at lowering staff costs, was part of the vital restructuring necessary to restore profitability. Some two weeks after this court ruling, Lufthansa announced a major widebody order that did not include aircraft for AUA.
The two events may not be directly related, but serve as a reminder that the success of AUA's restructuring must surely be a pre-condition for any major additions to its fleet.
Transfer of flight operations to Tyrolean
AUA launched a restructuring programme at the start of 2012 aimed at improving competitiveness and restoring profitability. The most significant and radical element of the programme was the transfer of flight operations into lower cost Tyrolean Airways, previously its regional subsidiary, from 1-Jul-2012. This resulted in joint flight operations of the regional, short-haul and long-haul networks under the Austrian brand name. Around 460 pilots and 1,500 flight attendants saw a change of employer as a result of the transfer, while 100 pilots and 214 flight attendants left the company. At the time of the transfer, the group had 900 pilots and 2,000 cabin crew.
See related report: Austrian Airlines: a perennial loss-maker undergoing radical restructuring
This move followed cost cutting negotiations with unions over AUA's collective wage agreement with flight crew. Management was seeking EUR45 million of personnel cost savings as part of its overall EUR263 million savings target. Lufthansa agreed to recapitalise Austrian with a cash injection of EUR140 million only if the savings plan was implemented. The Austrian Airlines works council presented its own cost-cutting package to save EUR47 million a year in personnel costs, plus a one-off saving of EUR230 million, but this was rejected.
The transfer of flight operations of the Austrian Airlines Group into Tyrolean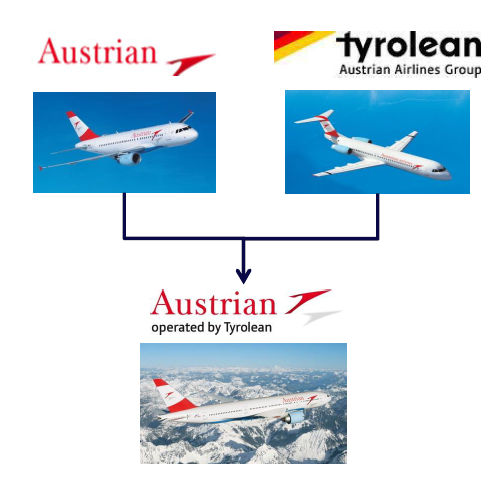 Collective agreements were terminated in Feb-2012
In early 2012, AUA management presented the union and works council with a proposed new collective agreement that would have removed automatic wage increases, changed retirement regulations, increased flight hours and removed scope restrictions for Tyrolean pilots. The union and works council rejected this proposal, partly because they were unhappy at not having been invited to preliminary talks prior to the drafting of the proposal.
After failing to agree with the unions, management terminated the AUA collective wage agreements in Feb-2012, an action that was confirmed by the Austrian Federal Economic Chamber. This left in place the Tyrolean collective agreement, under which Tyrolean flight crew pay was around 25% lower than under the old AUA agreement, but only a little lower than under the agreement that applied to former Lauda Air pilots.
Top 20 airlines in Austria ranked by seat capacity: 27-May-2013 to 2-Jun-2013
| Rank | Airline | Share of total |
| --- | --- | --- |
| 1 | | 45% |
| 2 | | 14% |
| 3 | | 8% |
| 4 | | 7% |
| 5 | | 3% |
| 6 | | 2% |
| 7 | | 1% |
| 8 | | 1% |
| 9 | | 1% |
| 10 | | 1% |
| 11 | | 1% |
| 12 | | 1% |
| 13 | | 1% |
| 14 | | 1% |
| 15 | | 1% |
| 16 | | 1% |
| 17 | | 1% |
| 18 | | 1% |
| 19 | | 1% |
| 20 | | 1% |
| | Others | 8% |
AUA then suggested the transfer of AUA flight operations to Tyrolean in order to allow the latter's collective agreement to be applied to all flight crew. It was expected that those pilots who had worked under the more generous agreement and were not happy with the transfer would take advantage of benevolent severance terms. AUA planned to make up the anticipated pilot shortfall by upgrading co-pilots and retraining around 40 Tyrolean Airways pilots to fly A320 aircraft.
In response, the vida union terminated the collective wage agreement at Tyrolean, in spite of the opposition of the Tyrolean works council and protests by Tyrolean staff outside the Austrian Trade Union Federation's offices in Vienna. The union hoped that this move would prevent the transfer and force management to negotiate a group-wide collective agreement, but AUA decided in Apr-2012 to proceed with the transfer.
Further talks between AUA management and the works council led to proposals from both sides, including a package presented by the works council that was approved by 96% of employees voting in May-2012. However, management did not accept this package and proceeded with the transfer on 1-Jul-2012, on which date employees were given new company guidelines modelled on the Tyrolean agreement.
AUA reached an agreement with the Tyrolean works council and unions in Apr-2013 over a programme of redundancies, including voluntary redundancies, and staff retraining. Nevertheless, lawsuits filed by unions against the transfer of employees to Tyrolean continued to grind through the court system.
The unions argued that such a transfer should only be implemented to protect employees, and not to lower wages. Judgements that were originally expected in late Mar-2013 or in early Apr-2013 were delayed due to the complexity of the matter.
Austrian Airlines total revenue per available seat kilometre and cost per available seat kilometre 2005 to 2012 (EUR c)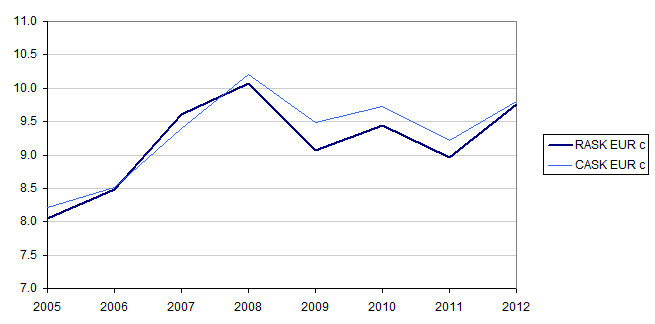 Court ruling questions the transfer of Austrian's flight operations to Tyrolean
In early Sep-2013, the Vienna Labour and Social Affairs Court finally issued a judgment, which questioned the legal validity of the transfer of flight operations from AUA to Tyrolean Airways. Although the judge said that the transfer complied with the stipulations of the Austrian Labour Contract Law and that "an ostensible violation of the law is not given", the ruling raised doubts over the transfer of operations within a corporate group, stressing the importance of employee protection.
The court's decision was a ruling of first instance and has no immediate practical impact as the legal process will take time to run its course and this could take several months as the case is considered at the federal level. Nevertheless, the ruling questions the law, as it stands today, with regard to a group implementing the transfer of employment from one corporate entity to another.
Technically, it means that transferred staff are still employees of Austrian Airlines, pending appeals. The Vienna Labour and Social Affairs Court was looking at all specific legal repercussions of the transfer from AUA to Tyrolean with respect to employment and labour regulations.
Austrian Airlines CEO Jaan Albrecht expressed his surprise that the judge cast doubt "upon the common practice of transferring operations as part of Group restructuring programmes", adding that AUA would "pursue every legal path at its disposal in the appeals process" in order to "safeguard our restructuring path".
Mr Albrecht said AUA believes the transfer is valid, but admitted that the airline has "no plan B" if it cannot continue with it.
After-effects of terminated collective agreement are yet to be clarified
Meanwhile, and separately, the Austrian Supreme Court has yet to give a decision clarifying the after-effects of the terminated collective wage agreement for former AUA flight personnel. In Jun-2013, the Supreme Court informed AUA that it would request clarification from the European Court of Justice on several legal issues.
At that time AUA said that its legal experts were, "convinced that their legal opinion will also be confirmed by the European Court of Justice", but that it would take at least a year to clarify. Talks with the works council on a collective wage agreement are ongoing.
AUA's restructuring is having a positive impact on earnings
According to Lufthansa in its 1H2013 results announcement, AUA, "successfully tackled the challenging market by pursuing the restructuring activities that began last year" and this will have a positive impact on earnings this year. It may be some months before a final verdict on the transfer is reached and sources at Lufthansa say that they are fairly relaxed, seeing only a very low probability that it could be reversed.
Lufthansa Group revenue and operating result by segment: 1H2013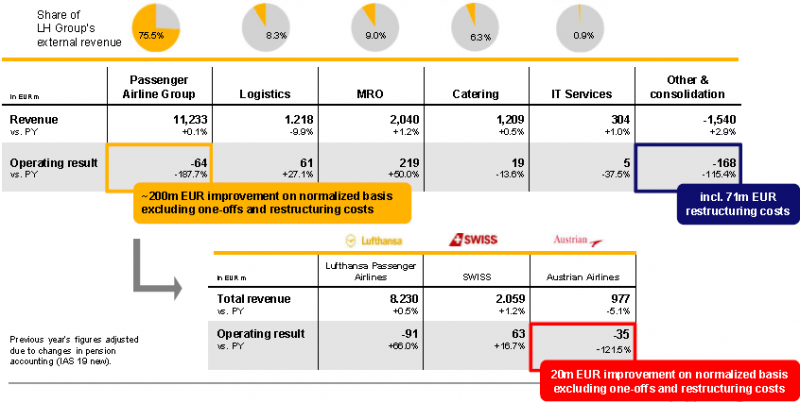 Nevertheless, the impact on AUA's restructuring programme and its achievement of cost reduction targets would be significant if the final outcome of the legal process were to render the transfer illegal. Austrian Airlines has not reported an underlying operating profit for any year since 2007, although it has been on a consistent improving trend since the trough of 2009 and it expects a positive operating result in 2013.
After four cost cutting packages in as many years since Lufthansa acquired control of AUA in 2009, it cannot afford to lose any momentum with the current one.
See related report: Lufthansa: another good trick. 2Q2013 operating result deteriorates and improves at the same time
Austrian Airlines adjusted operating profit* (EUR million, left hand axis) and operating margin (% of revenues, right hand axis): 2005 to 2012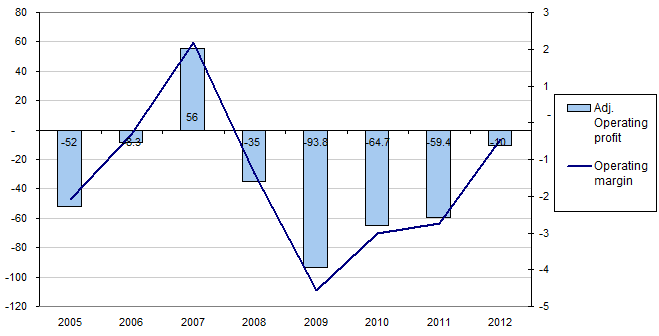 Lufthansa's aircraft orders have none earmarked for AUA
Lufthansa has announced two significant aircraft orders in 2013, one for 100 A320 family aircraft and one for 59 long-haul aircraft (both Airbus and Boeing). None of the aircraft in these orders is specifically earmarked for AUA. It has completed its narrowbody fleet harmonisation around the A320 family and its long-haul operating fleet consists of 10 Boeing aircraft (six 767s and four 777s).
According to the CAPA Fleet Database, its Airbus and Boeing fleet have average ages of around 13 to 18 years and its regional fleet's average age ranges from nine to 21 years. It recently completed the refurbishment of its long-haul fleet with new cabins, new economy class seats, new business class flat beds and a new in-flight entertainment system.
New Austrian Airlines Business Class seat
Lufthansa has approved the addition of a further 777-200ER for the summer of 2014, but this will be the only long-haul aircraft to enter AUA's fleet since 2007, when one 777 was added. Nevertheless, although Mr Albrecht has said that the expansion of the airline's long-haul offering is "an integral part of the restructuring program", the further growth of its widebody fleet cannot currently be taken for granted.
Austrian Airlines Fleet Summary: as at 01-Oct-2013
Lufthansa's Sep-2013 press conference to discuss its recent long-haul order included a slide depicting the aircraft types that will be in the group's widebody fleet in 2025. AUA was notably absent from this graphic, although a revised version was posted on the Lufthansa website saying "future aircraft type to be decided" for AUA.
See related report: Lufthansa's new widebody order sends signals to rivals and to manufacturers
In spite of the amended version of the slide, the absence of any clear plan for AUA's future long-haul fleet gave rise to speculation that it may face a future with no intercontinental network. This caused Austrian Airlines spokesman Peter Thier to deny reports that the carrier will no longer operate long-haul services beyond 2025 (austrianwings.info, 19-Sep-2013).
Tyrolean transfer and restructuring are necessary steps to receiving investment
While it seems likely that this speculation reflected media over-interpretation of the original Lufthansa presentation, there may be a grain of truth in it (although in airline terms a 12 year horizon, to 2025, in any event goes well beyond firm long term planning).
But, just as IAG held back from including Iberia in new aircraft orders announced this year, no rational shareholder will commit significant funds to capital investment for a perennial loss-maker until it provides clear evidence that it can earn a suitable return on that investment in the short and medium term.
See related report: IAG's aircraft orders are like waiting for a bus. Three arrive at the same time.
The first evidence of this nature must be for AUA to demonstrate a return to profitability in the short term and then to build confidence that profits can grow sufficiently to justify new investment from its shareholder. The transfer of flight operations to Tyrolean is a key element of the strategy to improve AUA's earnings.
The uncertainty now cast over the legality of this transfer, however slight, will not add to this confidence. Only when this doubt is removed can Austrian clearly be seen to be on track to a new future.