Austrian Airlines: a perennial loss-maker undergoing radical restructuring
Analysis
Austrian Airlines has not made an operating profit since 2007 and has been consistently the weakest Lufthansa Group carrier in terms of margins and passenger growth. It is more exposed than its sister companies to short/medium-haul markets, where price-based competition is fierce, and its long-haul network is relatively light.
However, it has strong market positions on its long-haul routes and is looking to grow this area of its business with an additional Boeing 777, approved by the parent company. Moreover, its recently completed rationalisation of its narrowbody fleet from 11 Boeing 737s to seven Airbus A320 family aircraft will both reduce its exposure to short/medium-haul markets and allow it to serve them more efficiently.
Meanwhile, the centre-piece of its radical restructuring programme, the transfer of flight operations into its regional subsidiary Tyrolean Airways (effective from Jul-2012), and the concentration of administrative operations at Vienna should lead to further cost savings if legal challenges can be repelled.
Austrian Airlines (AUA) has seen only very modest growth in passenger numbers in recent years. From the pre-recession economic peak year of 2007 to 2012, its passenger numbers grew at a CAGR of 1% p.a. Average annual growth has been faster since the trough of 2009, also the year in which AUA became part of the Lufthansa Group, averaging 5% from 2009 to 2012.
The recovery from 2009 was driven mainly by long-haul passenger numbers, which were 70% higher in 2012 versus 2009, while short-haul passenger numbers were only 15% up and charter passengers were down by 37%. However, in 2012, long-haul passenger numbers fell by 1% and short-haul grew by 3% within total passenger growth of 1.8%. AUA's overall passenger growth since 2009 has underperformed that of Lufthansa itself, which has grown passenger numbers at an average of 6% since 2009. In 2012, AUA's growth was 1.8%, compared with 2.4% for Lufthansa and 3.3% for sister company SWISS.
Austrian Airlines passenger numbers (million): 2009 to 2012
AUA's revenues have fared worse than its passenger numbers since 2007, falling at a compound average rate of 2% pa to 2012. They grew at an average of 3% pa from 2009 to 2012, lower than the 5% average growth in passenger numbers.
Austrian Airlines passenger numbers (million, left hand axis) and revenue (EUR million, right hand axis): 2005 to 2012
AUA's ASK total development has been fairly stable since 2009, after falling by 28% from 2006 to 2009. The brunt of this cut was borne by long-haul routes, which then performed strongly from 2009 to 2012, growing by 32% while short/medium-haul ASKs fell by 12%.
In 2012, long-haul ASKs were 50% of the total, up from 38% in 2009. Passenger load factor has been volatile in recent years. It reached a high of 77.5% in 2012, but remained lower than its fellow group airlines (78.1% for Lufthansa and 82.4% for SWISS).
Austrian Airlines development of ASK (million, left hand axis) and load factor (%, right hand axis): 2005 to 2012
Losses every year since 2008 for the Lufthansa Group's least profitable airline - but it is improving
Austrian Airlines has not reported an underlying operating profit for any year since 2007. This is in contrast with SWISS, which has not reported a loss since 2005. AUA's 2012 reported operating profit was EUR65 million, but this included one-off accounting items related to the transfer of flight operations to subsidiary Tyrolean Airways. Excluding these one-off items, the adjusted operating result for 2012 was a loss of EUR10 million, AUA's best result since 2007 and close to breakeven.
The operating result has been on a consistent improving trend since the trough of 2009 and AUA was the only one of the Lufthansa Group's three airlines to see an improved operating margin in 2012 versus 2011.
Austrian Airlines adjusted operating profit* (EUR million, left hand axis) and operating margin (% of revenues, right hand axis): 2005 to 2012
AUA's losses narrowed in 1Q2013
In the seasonally weak 1Q2013, AUA reported another heavy operating loss, with a worse margin than either Lufthansa Passenger Airlines or SWISS, but it managed to narrow its loss from EUR67 million in 1Q2012 to EUR56 million in 1Q2013. Its 1Q total operating revenues fell by 1.3% on ASK down by 9.4%, with load factor up 3.4ppts to 74.0%. Costs fell by 3.2%, more than the drop in revenues.
Austrian Airlines 1Q2013 highlights
EUR million
except where stated

1Q2012

1Q2013

Change

Total operating revenue

464

458

-1.3%

Operating profit

-67

-56

-16.4%

Operating margin

-14.4

-12.2

2.2

Passengers million

2.4

2.3

-2.7%

ASK million

5,367

4,861

-9.4%

RPK million

3,789

3,598

-5.0%

Load factor %

70.6

74.0

3.4

RASK EUR c

8.6

9.4

9.0%

CASK EUR c

9.9

10.6

6.9%
Adjusted operating margin* for Lufthansa Group businesses: 1Q2012 and 1Q2013
Target to return to profit in 2013, helped by restructuring programme
AUA's main financial target for FY2013 is to return to profit after so many years of losses. It anticipates demand will remain volatile and fuel costs will stay high, but expects revenue growth. The narrower loss in 1Q2013 was slightly below its expectations as poor winter weather added to flight cancellations and de-icing costs and the result was also burdened by ticket taxes and fuel price increases. It was able to grow its RASK strongly in the quarter and keep CASK growth down in spite of the strong capacity cut.
AUA launched a restructuring programme at the start of 2012 aimed at improving competitiveness and restoring profitability. The most significant and radical element of the programme was the transfer of flight operations into lower cost Tyrolean Airways, previously its regional subsidiary, from 1-Jul-2012. AUA reached an agreement with the Tyrolean works council and unions in Apr-2013 over a programme of redundancies, including voluntary redundancies, and staff retraining.
According to Austrian Aviation Net (22-May-2013), an Austrian court is expected to rule on the transfer of employees to Tyrolean by summer 2013, after unions filed a lawsuit to prevent it. The judgements were reportedly expected in late Mar-2013 or in early Apr-2013, but were delayed due to the complexity of the matter.
The restructuring programme will also see further changes in operational and administrative functions in 2013. The migration of all Tyrolean Airways administrative functions from Innsbruck to Vienna will eliminate duplication and improve operating efficiencies.
The decision to transfer flight operations into Tyrolean, almost a kind of reverse takeover, was both imaginative and risky. However, after frequent attempts to negotiate cost reductions with unions under the old Austrian Airlines structure, something radical was required.
It is no coincidence that Lufthansa soon followed this decision by deciding to transfer its own non-hub continental flights from Germany into lower-cost Germanwings.
Vienna hub accounts for 98% of AUA's seat capacity
AUA's network is dominated by its Vienna hub, which accounts for 98% of its seat capacity (week of 27-May-2013, source: Innovata). It has a strong position at Vienna, with almost a 50% share of seats and this rises to nearly 58% for the Lufthansa Group as a whole. The Air Berlin Group, which includes NIKI, has just over 11%. Lufthansa Group hubs at Frankfurt and Zurich and Star Alliance partner SAS' hub at Copenhagen also feature in AUA's list of top 10 airports.
This reflects its relatively small intercontinental network and the need to link with partners' long-haul operations. The top 10 also includes airports in Central/Eastern Europe (Bucharest and Sofia).
Austrian Airlines top 10 hubs by seats: 27-May-2013 to 2-Jun-2013
Major LCCs have not made inroads into Austria… yet
AUA's overall share of seats in Austria is 45%, a healthy level compared with other European flag carriers in their home country - helped to no small extent by conservative bilateral policy. NIKI is at number two, with a share of 14%. The Lufthansa Group has a fairly dominant 57% share, with the Air Berlin Group second on 21%.
Vienna Airport seat capacity by carrier: 27-May-2013 to 2-Jun-2013
LCCs have made relatively little inroad into Austria, with a 2012 share of 25% in the international market and less than 3% in the domestic market. Most of this is due to NIKI and Germanwings, while leading LCCs Ryanair and easyJet only have a minimal presence (and none in Vienna).
This is mainly because of high costs at Austrian airports, although Ryanair CEO Michael O'Leary has said that Ryanair is "dangerous for Austrian Airlines and its high ticket prices" in Vienna, noting Austrian Airlines will face challenges if Ryanair launches operations from Vienna (AustrianAviation.net, 13-Apr-2013).
Top 20 airlines in Austria ranked by seat capacity: 27-May-2013 to 2-Jun-2013
Rank

Airline

Share of
total

1

45%

2

14%

3

8%

4

7%

5

3%

6

2%

7

1%

8

1%

9

1%

10

1%

11

1%

12

1%

13

1%

14

1%

15

1%

16

1%

17

1%

18

1%

19

1%

20

1%

Others

8%
Smallest (fully consolidated) Lufthansa Group airline has least intercontinental focus
AUA is the smallest of the fully consolidated Lufthansa Group airlines (Brussels Airlines is smaller, but, as it is only 45% owned by Lufthansa, is not strictly part of the group). SWISS has around one third more seats than AUA and Lufthansa has more than six times AUA's capacity.
Looking at the regional distribution of seats, AUA's small domestic market and geographic location give it some peculiarities relative to the rest of the group. It is less exposed to Western Europe (44% of its seats versus 62% for SWISS), but more exposed to Central/Eastern Europe (35% versus 12% for SWISS). In absolute terms, it has more than twice as many seats in Central/Eastern Europe as does SWISS. Overall, Europe (including domestic) accounts for 86% of its seats (79% for SWISS and Lufthansa), giving it the smallest exposure to intercontinental markets.
AUA's intercontinental seats are broadly evenly divided between Asia, Middle East and North America, giving a higher relative exposure to the Middle East than the Lufthansa Group. This arises from its geographical positioning and also reflects its positioning of itself before the Lufthansa takeover as an eastward pointing carrier. AUA has no routes to Latin America and its three African routes are all to North Africa.
Weekly seat capacity by region for Lufthansa Group airlines: 27-May-2013 to 2-Jun-2013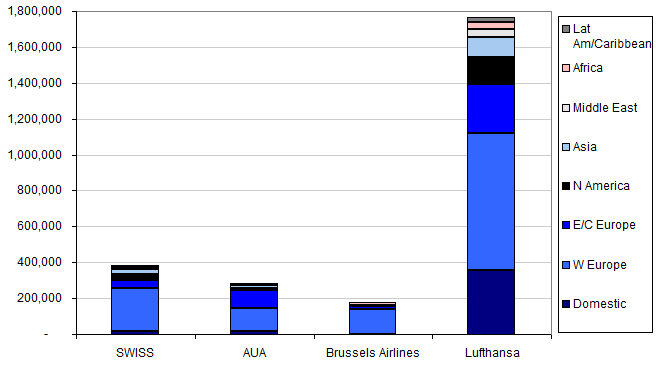 Weekly seats by region (% of total) for Lufthansa Group airlines: 27-May-2013 to 2-Jun-2013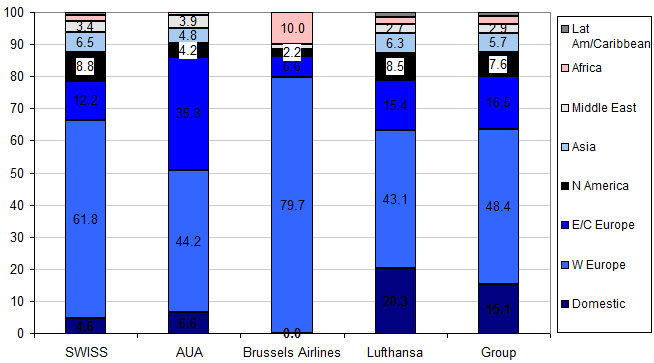 Strong links to other Lufthansa Group and Star hubs
Just as Lufthansa Group and Star Alliance hubs feature in AUA's top 10 airports, they also feature in its top 10 international routes by seats. Vienna to Frankfurt and Vienna to Zurich are its top two, while Vienna to Copenhagen is ninth and Vienna to Brussels is 10th.
Austrian Airlines top 10 international routes by seats: 27-May-2013 to 2-Jun-2013
AUA's top 10 routes by ASKs reflect the importance of North America and Asia in its intercontinental network, but also include the Middle East (Tel Aviv) and Eastern Europe (Moscow). Four of these routes are to Asian destinations and four to North America.
Star Alliance partner hubs account for half of the airports in this list (see chart below).
Austrian Airlines top 10 international routes by ASK: 27-May-2013 to 2-Jun-2013
Year to date passenger numbers falling, but growth to return
Year to date (Jan to Apr-2013), AUA's total passenger numbers declined by 3.7%, with its intercontinental traffic down by 9.3% and European passengers down 2.7%. ASKs fell 9.8%, reflecting the harsh winter and reductions in the fleet. The narrowbody fleet reduced from 11 to seven aircraft and the widebody fleet saw one aircraft taken out of service due to the cabin refurbishment programme (see below).
Year to date load factor is up by 2.3ppts to 74.6%, still lagging Lufthansa's 75.9% and SWISS' 81.0% for the same period.
Austrian Airlines passenger traffic statistics: Jan-2013 to Apr-2013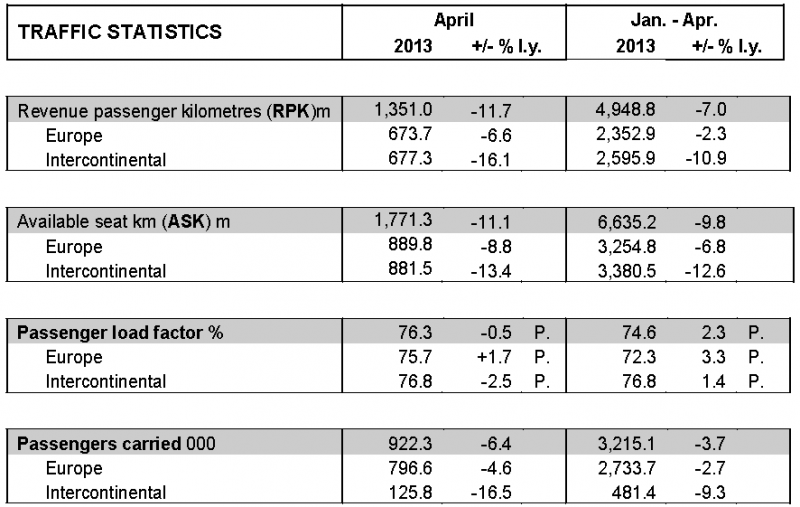 AUA's capacity plan for 2013 sees a cut in ASKs of 1.9%, according to Lufthansa CFO Simone Menne on Lufthansa's 1Q2013 results conference call with analysts. Given that ASKs were down 9.8% for the first four months, this implies growth of around 2% over the rest of the year.
Its restructuring plan involves expansion of long-haul routes and examination of schedule data from Innovata suggests that the likely growth over the remainder of this year will be driven by long-haul, in particular North America and North Africa, while capacity will be cut on short/medium-haul (in particular Western Europe).
New five times weekly Chicago service began on 7-May-2013
North American growth will result from AUA's new service to Chicago O'Hare (launched on 7-May 2013), with a five times weekly Boeing 767 operation. It is now in AUA's top 10 routes by ASKs. At the time of its 1Q2013 financial results on 2-May-2013, it said that the forecast for bookings to Chicago showed capacity utilisation of over 80%, while CCO Karsten Benz said on 20-May-2013 that load factor was "about 90%". Mr Benz added that AUA is expecting an additional 100,000 passengers per year from this route (about 6% of its total 2012 long-haul passenger numbers).
Star Alliance partner United offers onward connections to destinations across North America, including 18 codeshare destinations. AUA is a member of a trans-Atlantic joint venture with Lufthansa, SWISS, Brussels Airlines, United and Air Canada.
The Chicago route brings AUA's North American destinations to four, all of which are monopoly routes.
Austria to North America weekly seat capacity (one way): 19-Sep-2011 to 17-Nov-2013
Additional capacity to Tripoli, a monopoly route
AUA's year-on-year capacity growth to North Africa is being driven by additional capacity on the Tripoli route, where it is the sole carrier.
Austria to North Africa weekly seat capacity (one way): 19-Sep-2011 to 17-Nov-2013
New US, LatAm and Far East routes are expected later this year and in 2014
Capacity to Asia will not see growth this year, according to Innovata data, but this looks likely to change next year. As CAPA has previously reported, AUA plans to announce new US and Far East routes by autumn 2013 (ch-aviation.ch, 24-May-2013).
It is reportedly considering new routes to Boston, New York Newark, San Francisco, Hong Kong and Shanghai Pudong and transferring its Tokyo operation from Narita to Haneda. AUA is also reportedly considering services to Brazil using rights from Lauda Air, its subsidiary that has ceased operations as a result of the group's restructuring.
AUA is number one on all its intercontinental routes, but the long-haul network is small
AUA is the leader by seat capacity on all of its 17 intercontinental destinations operated from its Vienna hub and the monopoly carrier on 11 (12 if Star Alliance partners are included). AUA's long-haul network is relatively small, but connections from Vienna to Frankfurt and Zurich allow access to the more extensive networks of its Lufthansa Group partners.
AUA's long-haul year-on-year capacity growth in the remaining months of 2013 will be driven by additional capacity on Tripoli and by the new Chicago route. As a high cost legacy carrier (see below), it is likely to retain a cautious approach to capacity growth, focusing on markets that are sufficiently large and where its market position is strong enough to maintain or increase unit revenues following any additional capacity.
Austrian Airlines competitive position on its intercontinental routes summer 2013
Destination

AUA's ranking
by seats on route

AUA approx.
share of seats

Competitors
on the route

Year on year
change in AUA
seat capacity

1

60%

Flat

2

25%

Down

Tripoli

1

100%

Up

1

100%

Down

1

75%

EVA Air, Thai*

Flat

1

100%

Down

1

100%

Down

Tokyo

1

100%

Flat

1

60%

Flat

1

100%

Down

2

20%

Down

1

100%

Flat

1

65%

Down

1

100%

New

New York JFK

1

100%

Flat

1

100%

Down

Washington

1

100%

Flat
Summary of Austrian Airlines market position on intercontinental routes by region
Region

Total non-stop
passenger
destinations

Austrian
number one
positions

Austrian
monopolies

Star
Alliance
monopolies

3

2

1

1

5

5

4

5

Middle East

5

4

2

2

North America

4

4

4

4

Total

17

15

11

12
Medium-haul fleet harmonisation is now complete
According to an Austrian Airlines press release of 2-Apr-2013, its fleet consisted of 74 aircraft at that date, after its final Boeing 737 left the fleet and AUA completed its narrowbody fleet harmonisation around the A320 family.
Lufthansa Group information says that AUA also has three Embraer aircraft let outside the Group and two A340s let to SWISS.
Its long-haul operating fleet consists of 10 Boeing aircraft and Lufthansa has approved the addition of a further 777-200ER for the summer of 2014 (reportedly to come from Vietnam Airlines, source: Austrian Wings 23-May-2013). This will be the first long-haul aircraft to enter AUA's fleet since 2007, when one 777 was added.
Austrian Airlines CEO Jaan Albrecht said on 6-May-2015: "The expansion of the airline's long-haul offering is an integral part of the restructuring program launched in 2012. The long-haul market has growth potential, particularly destinations in Asia and North America. In this way we will secure our long-term competitiveness at the Vienna flight hub."
AUA launched a refurbishment of its long-haul fleet in 2012, whereby all its 767 and 777 aircraft will have new cabins, new economy class seats, new business class flat beds and a new in-flight entertainment system by Sep-2013.
The conversion of AUA's four 777s and two of its 767s was completed by May-2013. According to AUA, its passenger surveys have found that 88% of Austrian Airlines business class passengers who had used the new long-haul cabin were "very satisfied" with the new product, specifically mentioning the comfort, entertainment and service offered in-flight.
Austrian Airlines Fleet Summary: as at 02-Apr-2013
AUA needs to establish a clear downward CASK trend
The chart below shows the development of AUA's unit cost and unit revenue from 2005 to 2012, calculated by CAPA based on figures reported by AUA. (Note that these may differ from those reported by the Lufthansa Group when treating AUA as a unit within the group.)
As can be seen from the chart, RASK has been below CASK every year apart from 2007, but the gap has narrowed since 2009 as AUA has made efforts to approach breakeven. Although CASK in 2012 was below the level of 2008, the downward trend has not been incisive as the CASK curve has oscillated up and down since 2008.
The RASK curve has broadly traced the CASK curve, suggesting that AUA has just been able to pass on cost increases, but not to hold on to price increases when costs have fallen.
The planned long-haul expansion and short/medium-haul contraction will help to reduce its interaction with price-based competition in Europe and may increase its pricing power if additional long-haul routes with little or no competition can be found. However, AUA is a high cost legacy carrier when its unit costs are compared with those of other carriers with a similar average sector length.
Sustainable profitability will only be achieved if the restructuring programme can lead to a more decisive downward trend in the CASK curve.
Austrian Airlines total revenue per available seat kilometre and cost per available seat kilometre (EUR c): 2005 to 2012
Unit costs (cost per available seat kilometre, EUR cent) and average sector length for selected European legacy and low-cost carriers: 2012*