Lufthansa: another good trick. 2Q2013 operating result deteriorates and improves at the same time
Analysis
In a somewhat confusing earnings release on 2-Aug-2013, Lufthansa said that its 'normalised' 2Q2013 operating result had improved by EUR169 million year-on-year to reach EUR438 million, although its reported operating result declined by EUR163 million to EUR431 million. The passenger segment (and each of its three component airlines Lufthansa, SWISS and Austrian), the logistics segment and MRO all saw improvements in their underlying operating results.
The SCORE profit improvement programme, which aims at improving the annual operating result by EUR1.5 billion from 2011 to give a result of EUR2.3 billion in 2015, is now into its second year. There have already been a number of high profile initiatives, most notably 'new Germanwings' taking on Lufthansa's short/medium-haul non-hub traffic. However, there is still a sense of it being a 'work in progress' and Lufthansa's unchanged FY2013 target to achieve an operating profit above last year's reported figure of EUR524 million leaves much ground still to be covered.
Reported operating result falls, but the underlying result rises
The Lufthansa Group reported a 27% fall in its operating result for 2Q2013 (Apr-Jun) from EUR594 million to EUR431 million. For 1H2013, the operating result fell 69% to EUR72 million. Revenues were down by 0.7% year-on-year in 2Q and by 0.3% in 1H2013.
Excluding some one-off positive factors that boosted last year's result and restructuring costs that weighed on this year's result, Lufthansa says that the normalised operating result actually improved by EUR169 million in 2Q2013 and by EUR233 million in 1H2013 versus last year. Given that Lufthansa's operating result figure is a departure from the statutory accounts and designed to represent the underlying profitability of the group, this begs the question as to why the reported operating result does not already reflect these adjustments?
The one-off positive effects in the previous year, which totalled more than EUR300 million, mainly related to pension-related matters arising from the transfer of activities from Austrian Airlines into Tyrolean Airways and the sale of bmi. In addition, accounting restatements of last year's figures in accordance with new pension accounting standards magnified the one-off effects. This year's figures were adversely affected by restructuring costs related to the group's SCORE programme.
Lufthansa Group financial highlights: 2Q2013 and 1H2013
Lufthansa Group normalised operating results: 1H2013 and 2Q2013
Cash flow from operating activities improved by EUR569 million in the half year compared with the same period a year earlier and free cash flow (i.e. after capital expenditure) improved by just over EUR1 billion. Total group liquidity improved by EUR796 million to reach almost EUR5.4 billion. Compared with the end of FY2012, net debt fell by 37% to EUR1.2 billion and book equity increased by 7% to EUR5.2 billion. This again highlights Lufthansa's position as the least financially geared of Europe's Big Three flag carrier groups.
Load factor gains
The group's passenger numbers were more or less flat year-on-year (up 0.6% in 2Q2013 and down 0.4% in 1H2013), with load factor gains of 0.3ppts in 2Q and 1.2ppts in 1H (to 78.1%). In ASK terms, capacity was up 2.2% in 2Q and flat in 1H (-0.1%). The cargo business carried fewer tonnes of freight and mail, but the rate of decline slowed to -0.6% in 2Q (-3.9% for 1H). Cargo load factor gained 0.6ppts in 2Q and 0.9ppts in 1H (to 69.1%).
Lufthansa Group summary traffic figures: 1H2013 and 2Q2013

Costs fall in line with overall capacity, but helped by fuel costs
Total revenues were broadly flat, mainly reflecting the performance of the passenger segment, while reported operating costs grew by 1.1% in 1H2013. Adjusting for one-off positives in last year's figures and one-off negatives in this year's figures, underlying operating costs fell by 1.4%, matching the fall in overall capacity (ATK). Cost performance was helped by a 2.5% fall in the fuel bill. Non-fuel costs grew by 2.2%, but fell by 0.6% on an underlying basis, not quite matching the cut in overall capacity.
Staff costs, up by 14.6% on a reported basis, grew by 2.4% on an underlying basis. Employee numbers were broadly stable, -0.6%, but underlying staff costs were swollen by interest rate-related increases in addition to pension provisions. Agreements have been concluded with all employee groups apart from cockpit crew, with whom talks are ongoing.
Lufthansa Group year-on-year revenue and cost development: 1H2013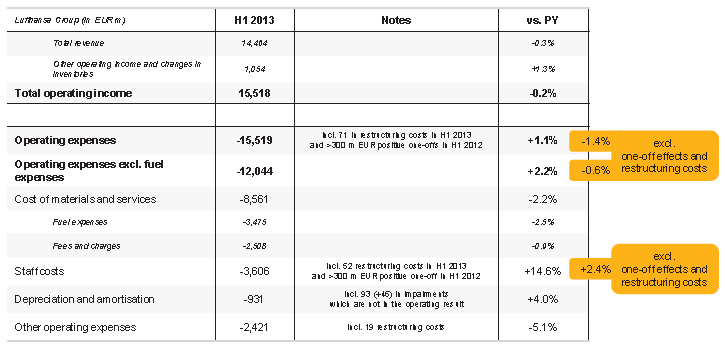 Major segments had better results on underlying basis
The passenger segment remains key to the group result and the fall in operating result for the group owes much to a decline in this segment. Logistics (cargo) and MRO both reported improved results for 1H2013. However, while the passenger segment's reported operating result fell by EUR137 million to post a loss of EUR64 million, its underlying performance improved by around EUR200 million after stripping out one-off positive factors from last year's 1H result. Lufthansa's own passenger business improved by EUR177 million, SWISS by EUR9 million and Austrian Airlines by EUR20 million (excluding one-offs).
Making adjustments for one-off factors in both 1H2013 and 1H2012 results, and adding back income from the write-back of provisions to operating results (to facilitate comparison with reporting conventions for other airline groups), all of Lufthansa's major contributors to group profits saw a year-on-year improvement in margins. The passenger and MRO segments saw the biggest improvements. Nevertheless, even on this adjusted basis, the passenger segment would still have reported an operating loss in 1H2013.
Lufthansa Group revenue and operating result by segment: 1H2013
Lufthansa Group adjusted operating margins by segment: 1H2013 vs 1H2012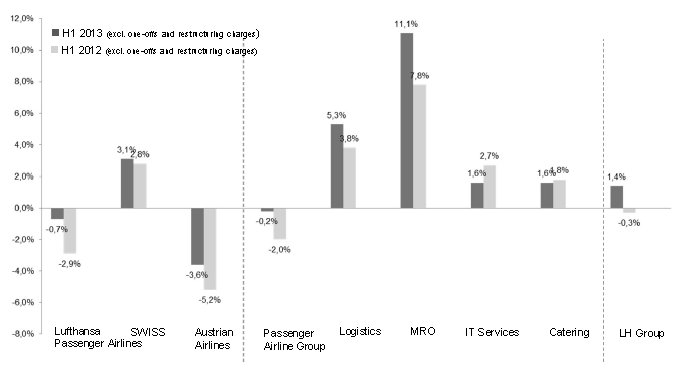 MRO outlook improving
Lufthansa's FY2013 outlook for operating results by division is similar to that given at the time of its 1Q results, with the passenger, logistics and IT services segments all expected to improve on FY2012 results. The MRO segment is now also expected to see an increase in its operating result due to "efficiency increases" and revenue growth, whereas it was previously expected to be flat year-on-year.
By contrast, the outlook for the catering segment, LSG Skychefs, has been downgraded from an increased operating result to a result "roughly on a par with last year's level". This business is considering opportunities to expand into industry sectors beyond airlines and has recently tendered for a rail catering contract.
Asia-Pacific yield and load factor remain weak
The passenger segment's 2.1% increase in capacity (ASKs) in 2Q2013 versus 2Q2012 was driven by growth of 7.7% in the Americas (which is mainly North America) and 2.9% in Asia-Pacific. Capacity was cut in other regions (-1.4% in Europe and -3.5% in Middle East/Africa). While reduced capacity in Europe appears to have helped load factor, other regions saw a fall in load factor, which was just better than flat for the group overall in 2Q2013.
Group yield was down by 2.5% in 2Q, although 1.4ppts of this was due to adverse currency movements. Regionally, Asia-Pacific saw the weakest yield and load factor performance, reflecting ongoing competitive dynamics in that market and currency effects. This region is performing below management's expectations.
Yield development was also affected by a cabin mix effect, since 1H2013 premium capacity was cut by 8% and economy capacity increased by 1.4%. This reflects both the introduction of larger aircraft with more economy capacity (e.g. A380) and a change in cabin configuration. Lufthansa management report that yield was up or stable on a like-for-like basis within individual travel segments. For the half-year, short-haul yield was up 1%, long-haul economy yield up 1% and long-haul premium yield was flat year-on-year, giving an overall yield decline of 1%.
Lufthansa Group year on year development of passenger capacity, traffic, load factor and yield by region: 2Q2013 and 1H2013
FY2013 outlook unchanged, but cautious
For the Passenger Airline Group, Lufthansa plans to grow capacity (ASK) by just 0.7% for FY2013, with short-haul capacity down 1.7% and long-haul up 2.1%. The total number of flights will fall and long-haul ASK growth mainly reflects more seats per aircraft due to the increase in the share of economy class seats. Total ASK growth is slightly below its previous plan of 1.0% after trimming back long-haul growth plans from 2.5% for the year. The winter 2013/2014 schedule will see a uniform capacity increase of 1.1% in both short-haul and long-haul.
According to Lufthansa, current forward bookings indicate positive growth in passenger volume and a stable yield development. There are some regional differences, with the outlook for Americas positive, Europe stable and Asia-Pacific and Middle East/Africa negative.
Lufthansa is confident of a recovery in the cargo market after the summer break in September. This follows signs of improved demand in charter business, where booking horizons are longer and positive trends from May to June signalled by IATA. It plans cargo capacity growth of 5% in 2H, bringing FY2013 cargo capacity level with last year. 1H2013 capacity was cut by 3.9% (-6% in Asia-Pacific).
Lufthansa's CFO Simone Menne told analysts on the results conference call that the transfer of non-hub European traffic from Lufthansa to 'new Germanwings' was proceeding smoothly, that its product was being well received in the market and that forward bookings were good. The operational phase of this initiative is still young, having officially started on 1-Jul-2013.
Lufthansa's target for its FY2013 operating result remains to beat last year's reported figure of EUR524 million, since restated to EUR839 million after changes in pension accounting. It also says that it remains on track to achieve its EUR740 million of SCORE-related profit improvements in 2013.
See related reports:
This guidance is unchanged, but Lufthansa has added the caution that the passenger segment will face a three digit million Euro one-off expense in 4Q2013 arising from product-related measures (for example, business class cabin refurbishment). This may signal that Lufthansa sees less headroom in how far above EUR524 million it can achieve. Nevertheless, with the outlook for fuel costs still some EUR400 million less than last year, this target still looks cautious.
Lufthansa Group operating result 2006 to 2012 and guidance for 2013