AirAsia's "unique franchise" of JVs drive profits and spread risk
Analysis
AirAsia Group CEO Tony Fernandes described the group's second quarter (three months ended 30-Jun-2011) as "one of the best quarters" in its history, in light of the myriad difficulties facing the industry. The results, which, for the first time were reported as separate businesses rather than as a group, demonstrate the robustness of the AirAsia model, with strong performances in key metrics across the board.
Preparing for separate IPOs, earnings reported by airline unit
AirAsia has traditionally reported consolidated group earnings, with some headline figures for the performance of the three individual (although interlinked) business units - Malaysia AirAsia (MAA), Thai AirAsia (TAA) and Indonesia AirAsia (IAA). This time no group earnings numbers were provided. Instead the earnings performance for each unit was delivered in their respective currencies.
This lack of group financial figures and the heavier focus on the performance of the three airlines signals an important development in the evolution of the wider AirAsia Group: while its headquarters and roots remain in Malaysia, it is being positioned as a pan-ASEAN company, with distinct regional brands and tailored strategies. IPOs are planned for both the Thai and Indonesian units, and should be completed within a year. Two new affiliates, in the Philippines and Vietnam, are also expected to be launched by early next year.
Group data for 2Q2011 was only presented in terms of operating statistics. Group passenger traffic increased 20.9% year-on-year to 7.35 million. Capacity (seats) increased 15.7% to 9.22 million, which pushed up average group load factors to 80%. Average stage length remained relatively flat year-on-year, with the total fleet size increasing by a net eight aircraft.
AirAsia Group operating statistics, 2Q2011
CEO Tony Fernandes said the strong quarterly performance shows AirAsia is moving in "a very positive direction" and he expects that "thing will only get better". 2Q is typically the group's weakest quarter while the first and fourth quarters are usually the strongest.
Malaysia AirAsia: the original, most profitable unit
In the key Malaysian unit, pre-tax profit increased 1% year-on-year to MYR145 million (USD48 million), with operating profit down 3% to MYR215 million (USD72 million). The Malaysian unit accounts for 60% of the group's passenger numbers.
Revenue increased 15% in 2Q2011 to MYR1.076 billion (USD360 million), driven by strong contributions from ancillary revenue initiatives. Passenger numbers were also up 15% to 4.47 million, indicating flat yields despite the sharp rise in oil prices. But higher load factors helped MAA partially offset the rise in oil prices. The carrier's load factor was 83%, compared to 77% in 2Q2010.
Mr Fernandes said MAA is beginning to see the level of maturity found at "the Ryanairs of the world", which achieve consistently high loads. He expects loads at MAA to continue to track upwards towards the 85% level, "which has tremendous upside for us", Mr Fernandes said.
Malaysia AirAsia key operating metrics, 2Q2011 vs. 2Q2010
The weaker net profit result for MAA, which fell 48% to MYR104 million (USD35 million), was due to deferred tax as MAA did not take delivery of aircraft in the quarter. At the EBIT level, MAA continues to be the most profitable airline in the group, with a 20% operating margin.
Malaysia AirAsia key financial statistics, 2Q2011 vs. 2Q2010
| | 2Q2011 | 2Q2010 | Change |
| --- | --- | --- | --- |
| Revenue | 1,075,622 | 933,402 | +15% |
| EBITDAR | 372,842 | 362,565 | +3% |
| EBIT | 214,803 | 222,557 | -3% |
| Profit after Tax | 104,258 | 198,390 | -48% |
| EBIT margin | 20% | 24% | -4ppt |
Average fares at MAA fell 5% to MYR164 (USD55). Despite this RASK increased 6%, reflecting the higher loads in the period and increased traffic volume. CASK jumped 12%, due to higher fuel prices. Ex-fuel CASK fell 1%, demonstrating the airline's stringent cost control.
Total operating costs increased 21% in 2Q2011, outpacing the 15% growth in top-line revenue, to MYR861 million (USD288 million). The operating cost increase was led by fuel, which increased 39% to MYR441 million (USD147 million). Fuel accounted for 51% of MAA's total operating costs in 2Q2011, up from 45% a year ago.
MAA RASK and CASK (US cents), 2Q2010 to 2Q2011
MAA will focus on building the domestic market and strengthening its presence in hubs outside of Kuala Lumpur. Frequencies will be added on key domestic routes in east Malaysia and key international routes.
The airline's focus will remain on routes under three hours. AirAsia is Malaysia's largest carrier, as measured by seats, although in international terms, it is slightly smaller than new partner Malaysia Airlines.
In Thailand, the group's second largest unit, the airline chalked up immense growth in pre-tax profit, which increased 862% to THB386 million (USD13 million). Operating profit increased 123% in 2Q2011 to THB315 million (USD11 million) and revenue increased 44% to THB3.760 billion (USD125 million).
TAA attributed the revenue increase to higher fares and improved ancillary performance. The EBIT improvement at TAA is a standout, particularly in light of the higher fuel costs. Passenger numbers increased 30% to 1.61 million, achieving average loads of 78%.
Thai AirAsia key operating metrics, 2Q2011 vs. 2Q2010
Total operating costs surged 40% in the period to THB3.444 billion (115 million), led by a 70% increased in fuel costs to TBH1,626 million (USD54 million). Average price paid for fuel in 2Q2011 increased 38% to USD139 per barrel from USD101. Fuel accounts for 47% of total costs, up from 38% a year ago. Staff costs rose 40% to THB373 million (USD12 million).
Thai AirAsia financial highlights 2Q2011 vs. 2Q2010
| | 2Q2011 | 2Q2010 | Change |
| --- | --- | --- | --- |
| Revenue | 3,760,162 | 2,620,044 | +44% |
| EBITDAR | 990,591 | 678,650 | +46% |
| EBIT | 315,238 | 141,294 | 123% |
| Profit after Tax | 384,444 | 39,420 | +875% |
| EBIT margin | 8% | 5% | +3ppt |
TAA's fleet size held steady at 20 aircraft. The number of flights, however, increased 18% to 11,642, which demonstrates the airline's sharp increase in aircraft utilisation in the period.
Average fares increased 7% to THB1,924 (USD64). RASK increased 14% year-on-year, reflecting the airline's strong growth in ancillary income per passenger. Per passenger ancillary income increased 30% to THB405 (USD14). CASK increased 11%, which is less than the pace of RASK growth, an impressive result in light of fuel costs. Ex-fuel CASK fell 4%, which again reflects AirAsia's prudent cost control.
Thai AirAsia RASK and CASK (US cents), 2Q2010 to 2Q2011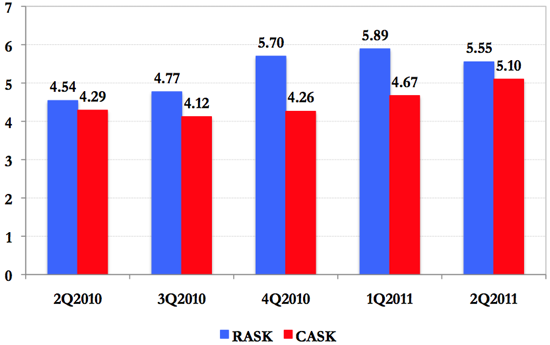 As the political situation stabilises Thailand, Mr Fernades expects TAA's performance to get "stronger and stronger". Growing in the domestic market will be Thai AirAsia's short-term focus, a market that has been very profitable for the carrier.
Thai AirAsia is Thailand's second-biggest carrier, in terms of seats in both domestic and international markets. The airline will look to move more aggressively into the North Indian market from Thailand, where there is "tremendous upside", Mr Fernandes says, and where yields are attractive. Thai AirAsia's debt to the group has been fully paid, with only MYR70 million (USD23 million) of losses to recover before the AirAsia Group starts accruing their profits.
IAA, which is the smallest AirAsia unit, remained the group's weakest link. Pre-tax profit fell 48% in 2Q2011, in line with the group's expectations, which Fernandes attributed to higher fuel costs and the group's fragmented fleet.
Operating profit fell 54% to IDR45.254 billion (USD5 million) due to the higher cost of fuel. Revenue increased 37% to IDR895.254 billion (USD105 million), reflecting the higher passenger growth and fares. IAA reported the strongest growth in passenger numbers, with traffic increasing 33% to 1.26 million, achieving an average 75% load factor.
Indonesia AirAsia key operating metrics, 2Q2011 vs. 2Q2010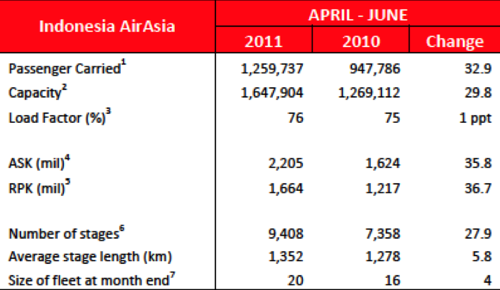 Source: Centre for Asia Pacific Aviation and AirAsia
IAA's 5% operating margin is the lowest of the three airlines. While revenue was up strongly, surging costs led to a weaker EBIT result.
Indonesia AirAsia financial highlights 2Q2011 vs. 2Q2010
| | 2Q2011 | 2Q2010 | Change |
| --- | --- | --- | --- |
| Revenue | 895,254 | 653,988 | +37% |
| EBITDAR | 211,569 | 217,355 | -3% |
| EBIT | 45,254 | 98,630 | -54% |
| Profit after Tax | 41,690 | 80,409 | -48% |
| EBIT margin | 5% | 15% | -10ppt |
Average fares increased just 1% to IDR570,987 (USD67). RASK increased 2% on the back of improved ancillary performance, which increased 10% per passenger to IDR139,680 (USD16). IAA continues to operate on wafer-thin margins, with RASK coming in only slightly above CASK in the past three quarters.
IAA has a similar CASK to the other two carriers, but consistently weaker RASK performance, leaving its margins much thinner. Mr Fernandes expects RASK to starting trending upwards.
IAA RASK and CASK (US cents), 2Q2010 to 2Q2011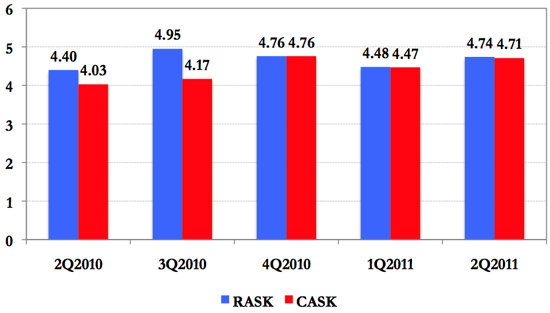 CASK increased 14% in 2Q, and at USD4.71 cents, it is only just under RASK, at USD4.74 cents. IAA was the only unit in the group to experience an increase in ex-fuel CASK, which was up 5%. Total operating costs increased 53%, outpacing the 37% increase in top line revenue, which is reflected in the weaker operating profit result.
Operating cost were led higher by fuel, which increased 67% to IDR415.901 billion (USD49 million). Fuel accounts for 49% of total costs, up from 44% a year ago. Price paid per barrel of fuel increased 39% in 2Q2011 to USD142, from USD102. IAA's staff costs nearly doubled to IDR96.692 billion (USD11 million). IAA's fleet size grew to 20 aircraft, up from 16 a year ago, with the number of flights increasing 28% to 9,408.
The main focus for Indonesia AirAsia going forward will be short-haul international routes, markets which have been "very profitable" for IAA. The airline will also look to move into underserved domestic markets. Remaining B737s will be retired from the fleet by the end of this year, which the airline expects to reduce its cost structure.
Ancillary: a big money maker for the group
Ancillary revenue has consistently been major earner for the AirAsia Group, although ancillary income per passenger has been slowing at the Malaysia and Thai units in recent quarters. Mr Fernandes believes ancillary revenue per passenger can be increased to MYR60 (USD20) by 2012.
Assigned seating has shown remarkable growth, with assigned seats up 77% year-on-year at MAA, up 106% at TAA and up 48% at IAA. Passengers travelling on business have been the largest users of this new service. Other ancillary revenue streams, such as baggage, in-flight meals and cargo, all continue to record strong growth across all three airlines.
Mr Fernandes stated there are new ancillary initiatives coming in, including a new duty free JV, which he expects to be "very cash accretive". Most significantly, the Aug-2011 launch of the JV between AirAsia Go and Expedia will be key in driving ancillary earnings. The JV will combine AirAsia Go with Expedia-branded storefronts in Japan, India and ASEAN. He noted that the capex impact of the JV will be very minimal but he expects it to be "hugely cash accretive". He sees the Expedia JV being a "huge earner…if not the size of AirAsia, possibly larger".
AirAsia's loyalty programme, BIG, will launch in 4Q2011, which will allow customers to earn and burn points, both on AirAsia services and other merchandise. Mr Fernandes expects BIG to add "a new dimension to our business".
AirAsia also has an upcoming JV with CAE, a flight training provider, which the company expects will turn pilot training from a cost centre into an earnings source. Mr Fernandes expects it to become one of the largest flight training centred in Asia, which will allow the group to tap into the expect surge in demand for pilot training in the future.
AirAsia poised for growth - fleet growth, JVs
The rapid pace of AirAsia's growth is set to continue. Three new joint ventures are expected to be operating by 2013 and the airline recently announced a strategic alliance with Malaysia Airlines (MAS), which is expected to result in further strong growth, most notably for the Malaysian unit. The MAS tie-up will address market fragmentation and better segment the market, with MAS' LCC operation, which now falls under the Firefly unit, to be retired in favour of a wide cooperation agreement with AirAsia. This will leave MAS, and its new premium offshoot Sapphire, to focus on premium traffic in the region, with AirAsia to control low-cost and leisure travel.
AirAsia continues to be cash flow positive, although less so than in the 2Q2010, reflecting the increased operating costs in the quarter. Net debt fell to MYR5.756 billion (USD1.925 billion). The airline's cash balance at the end of the quarter was MYR2.1 billion (USD700 million).
The record-setting A320neo order, for 200 neos with 100 options, may appear aggressive, Mr Fernandes said, but he believes the number is "fairly conservative" in light of group plans. He said even with the order, he still expects AirAsia to be short aircraft, as AirAsia "really is a 500-aircraft" company.
The AirAsia Group currently has 95 aircraft in service, spread across 12 hubs. He maintains the decision to place the order was the right one, even more so in light of Boeing's recent announcement that it too will re-engine the B737.
Mr Fernandes said the new B737 "will never be as efficient as the A320neo" as they will not achieve the same savings in fuel burn due to the size of the new fans. AirAsia was involved in the discussion on several engineering aspects to the A320neo, the CEO said, adding that the aircraft has "really been tailor made for heavy usage".
Mr Fernandes said he was thrilled to be able to do the A320neo deal, particularly in light of where fuel prices are likely to go. From 2013 the group will start putting sharklets onto its A320s, which is expected to cut 2% of fuel costs, which, Mr Fernandes said, "is no small number [given] the amount of aircraft we operate".
The airline's growing fleet will soon be spread across six airlines. Mr Fernandes said AirAsia now has a "unique franchise" model, with room for potentially one more offshoot. AirAsia Philippines, AirAsia Vietnam and AirAsia Japan have not yet commenced operations but will all be operating by 2013. He said that he also sees room for one more affiliate "up in the north [of Asia]".
Although AirAsia still has not set up up an affiliate in Singapore, the group will open a crew base there in 2H2011, which will formally give the city state "hub" status. All three existing AirAsia carriers already have large operations at Singapore and the group now has a 7% share of the market, based on seats, according to Innovata.
AirAsia is the largest LCC group in Singapore along with Singapore-based Tiger Airways, which also has a 7% share of the market. Mr Fernandes says establishing a crew base and night stopping aircraft in Singapore will allow AirAsia to further expand capacity at Changi and offer better schedules.
AirAsia Group joint ventures, current as at 23-Aug-2011
The airline's other recent key strategic moves include the MAS tie-up (see here for related article) and the ANA LCC JV (see here for related article). In regards to MAS, Mr Fernandes said the tie-up allows AirAsia to "fully maximise the airline's potential" and focus on growing the business, "as opposed to spending a lot of time on politics and fighting unnecessary battles". The collaboration should also boost yields, which will translate into higher top line revenue due to less price competition.
Mr Fernandes said the tie-up also better segments the market, with a clear low-cost, leisure market for AirAsia and a premium travel market for MAS. The move will result in market with four main carriers - Malaysia AirAsia, MAS, and its subsidiaries Firefly and Sapphire. AirAsia will be the only budget brand while Firefly will adopt a full-service regional carrier model, operating only turboprops primarily from Kuala Lumpur secondary airport Subang. However, it remains unclear how the MAS and Sapphire premium brands will differ from one another.
On the topic of the Japanese market, Mr Fernandes is not concerned about the impact the Jetstar-JAL-Mitsubishi joint venture, Jetstar Japan. While he believes it will be a challenge making the JV work across such distinct cultures, he is adamant the Japanese market is large enough to support two aggressively growing LCCs. "We compete with [Jetstar] in Singapore and we compete with them in Vietnam and they have not had an impact on us," Mr Fernandes noted, "so it is no issue taking [Jetstar] on in Japan".
Trends positive for 2H2011
For 3Q2011, demand is "very good", Mr Fernandes noted. The fuel surcharge will remain in place, despite the recent drop in the price of oil, as it balances out volatility in oil prices Mr Fernandes said. He stated the group aims to get rid of the surcharges, but it will remain in place until the price of fuel shows clear signs of stabilising. He noted that AirAsia's fuel surcharge is below the surcharges implemented at other airlines, which continues to make AirAsia the cheaper alternative.
AirAsia delivered a strong result in a very challenging 2Q2011. Key metrics were up across the board and, the group remained highly profitable, in sharp contrast to some of its peers. The group's rapid pace of growth and expansion across Asia continues to make AirAsia the most interesting airline in one of the world's most dynamic markets.