Aeroflot: second best 2015 operating margin of European legacy airlines despite Russian recession
Analysis
Aeroflot Group's operating profit almost quadrupled in 2015. Among listed European legacy airlines, its 10.6% operating margin placed it behind only Icelandair, but ahead of IAG (these were the only others in double digits). This was achieved in spite of the severe recession in Russia, a nation which has been badly affected by falling oil prices and geopolitical events.
Aeroflot has benefited from the consolidation of Russian aviation and from capacity cuts by foreign airlines. The demise of Transaero accelerated the consolidation process in 2015, and Aeroflot will benefit further from this in 2016. The biggest contributor to the Group's 13% rise in passenger numbers was its low cost subsidiary Pobeda, which completed its first full year of operations in 2015. International transfer traffic through Aeroflot's Moscow Sheremetyevo hub also grew.
This year Aeroflot Group plans an acceleration of ASK growth to double-digit rates. Pobeda has launched its first international routes and the Group's regional airlines Rossiya, Donavia and Orenair will return to growth under the single consolidated brand of Rossiya, helped by routes and aircraft taken on from Transaero. The Group's longer-term goal to become one of Europe's top five airlines looks feasible.
Net loss narrows; operating profit grows fourfold in 2015
The Aeroflot Group narrowed its net loss to RUB6,494 million (USD107 million) in 2015 after a loss of RUB17,164 million in 2014, although the 2015 figure was still adversely affected by results from non-operating accounting items, including derivative and hedging instruments and the impairment of a loan to Transaero.
The operating profit, which gives a better view of the underlying performance, increased almost fourfold from RUB11,268 million in 2014 to RUB44,107 million (USD724 million) in 2015.
Aeroflot Group financial and operating highlights 2015
| RUB million except where stated | 2014 | 2015 | Change 2015 vs 2014 |
| --- | --- | --- | --- |
| Total revenue | 319,771 | 415,173 | 30% |
| Traffic revenue | 277,354 | 359,205 | 30% |
| Operating income | 11,268 | 44,107 | 291% |
| Operating margin % | 3.5 | 10.6 | +7.1ppts |
| Net income | -17,146 | -6,494 | -62% |
| Passengers million | 34.7 | 39.4 | 13% |
| Cargo carried, '000 tonnes | 166.3 | 156.3 | -6% |
| ASK billion | 115.8 | 124.7 | 8% |
| RPK billion | 90.1 | 97.6 | 8% |
| Passenger load factor, % | 77.8 | 78.3 | +0.5ppts |
| RASK RUB | 2.76 | 3.33 | 21% |
| CASK RUB | 2.66 | 2.98 | 12% |
| CASK ex fuel RUB | 1.91 | 2.22 | 16% |
Aeroflot Group joins ranks of double-digit margin airlines
Revenue increased by 30% to RUB415,173 million (USD6,811 million) and the operating margin rose by 7.1ppts to 10.6%, bringing Aeroflot Group into the relatively small group of European legacy airlines with double-digit operating margins in 2015. With most listed European airlines having now reported 2015 results, this puts the Aeroflot Group up alongside two others: IAG, with a 10.2% margin, and Icelandair with 11.9%.
See related reports
IAG has its best ever profit in 2015, helped by fuel and strategic vision and pragmatism
Icelandair: great circles, sixth freedoms and low fuel prices support accelerating traffic growth
There is only one more legacy European airline with a chance of joining this double-digit club for 2015. Aegean Airlines has not yet reported 2015 results but was the only legacy airline to report a double-digit operating margin in 2014, when it achieved 11.6%. However, at the 9M2015 stage, Aegean's margin was down by 1.1ppts year-on-year and so – its FY2015 margin could fall either side of the double-digit threshold, depending on its 4Q performance.
See related report: Aegean Airlines: lower fuel helps maintain 9M operating profit in spite of weak RASK and Ryanair
The Aeroflot Group's margin is strong by comparison with most other legacy airlines, but is still behind the more profitable of the LCCs. Ryanair achieved an operating margin of 22.4% and Wizz Air made 16.5% in calendar 2015, while easyJet's margin was 14.7% for the year to Sep-2015.
2015 marks Aeroflot's return to a trend of rising operating profit, after 2014's slump
The Aeroflot Group's increase in its operating profit in 2015 marks a return to the improving trend that was interrupted in 2014. The Ukraine crisis and RUB weakness combined to weigh on Aeroflot in 2014, and its growth in operating profit in 2015 has been achieved in spite of the continuation of these challenges.
Aeroflot Group revenue, operating profit and net profit 2010 to 2015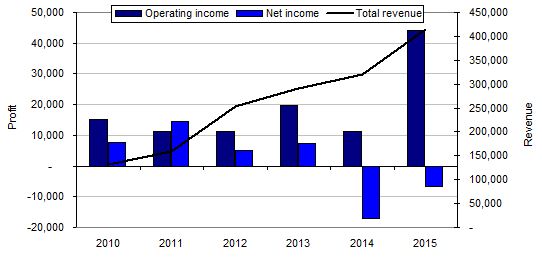 Aeroflot Group ASKs up 7.7% in 2015; passenger numbers grow in a falling market
In 2015 the Aeroflot Group increased ASKs by 7.7%, with RPKs up by 8.4% and passenger load factor up by 0.5ppts to 78.3%. It has maintained load factor in the region of 78% for four years in spite of continued capacity growth (compound average growth of 9.3% pa since 2012), although it remains stubbornly short of the global average of around 80%.
In 2015 the Group's passenger numbers increased by 4.7 million, or 13.4%, to 39.4 million, faster than ASK and RPK growth because of disproportionate growth on domestic markets. Passenger traffic grew by 32.5% within Russia, but fell by 6.2% on international routes.
The Aeroflot Group's performance was stronger than the total Russian market, where total passenger numbers fell by 4.1%, with domestic numbers up 13.6% and international traffic down by 16.6%.
Aeroflot Group available seat kilometres (ASK, billion) and passenger load factor (%) 2006 to 2015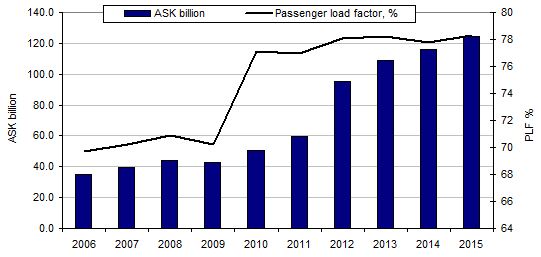 LCC subsidiary Pobeda is biggest contributor to growth
By individual airline brand, Aeroflot itself grew its passenger numbers by 2.5 million, or 10.6%, to 26.1 million, and the Group's Far East airline Aurora contributed an extra 74k passengers, growing by 7.1% to 1.1 million.
Passenger numbers at the three regional brands - Rossiya, Orenair and Donavia - were down by around 900k at 9.1 million. These three airlines are to be merged under the Rossiya brand and will return to growth, partly thanks to the assumption of aircraft and staff from the bankrupt Transaero.
See related report: Aeroflot focuses multi-brand strategy as 3Q operating profit doubles, benefits from Transaero demise
The biggest contributor to the Group's increased passenger numbers was LCC Pobeda, which only started operations in late 2014. Pobeda increased its traffic by 3.0 million to 3.1 million passengers in 2015, all in the domestic market. The LCC subsidiary has since launched its first international routes from Moscow Vnukovo to Cologne/Bonn, Bratislava, Memmingen and Milan Bergamo.
Total international traffic falls, but growth continues to Europe and Asia
On international markets, where the Aeroflot Group's total passenger numbers fell by 6.2%, its performance varied sharply by region. Scheduled passenger numbers fell on routes to the Commonwealth of Independent States, where traffic was hit in 4Q by the suspension of flights to Ukraine. Traffic also fell on routes to the Middle East (which suffered from the suspension of Egypt flights), and also the Americas.
The Group achieved modest growth on scheduled European routes and a double-digit increase in passenger numbers on Asian routes, which benefited from hub transfer traffic through Moscow and reduced competitor capacity.
Aeroflot Group growth in scheduled passengers, ASK and RPK by region 2015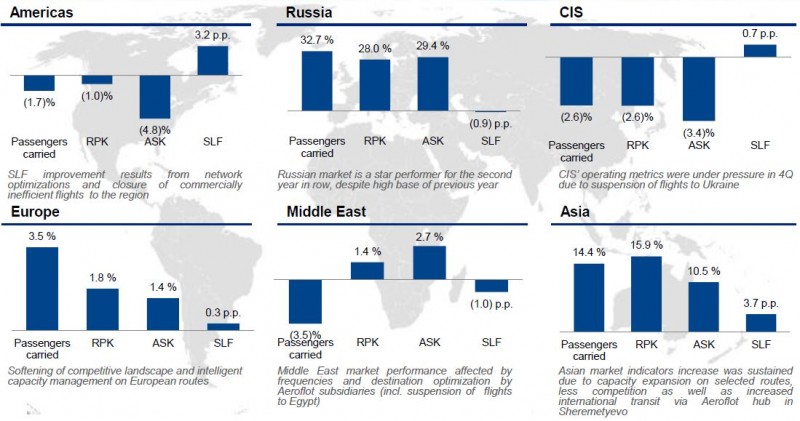 Transfer traffic through Sheremetyevo hub continues to grow
The continued growth in passenger numbers on routes to Europe and Asia, and in the domestic market, was important in maintaining Aeroflot's growth in transfer traffic that crosses its Sheremetyevo hub. In 2015 the proportion of passengers carried by Aeroflot who were in transit at its main Moscow hub was 44.2%, up from 39.2%.
The proportion of passengers who were in transit between two international routes was 14.0%, up from 11.8% in 2014. Aeroflot's international to international connecting traffic is mainly driven by passengers travelling between Asia and Europe, but also by Asia-US travellers.
Transit between international and domestic routes accounted for 16.7% of Aeroflot airline's passengers at Sheremetyevo in 2015, the same percentage as in 2014. Domestic to domestic transit was 13.5% of passengers, up from 10.7% in 2014.
Aeroflot airline: share of transit traffic at Sheremetyevo 2012 to 2015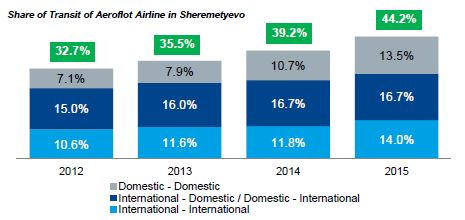 Transaero's bankruptcy provides opportunity for Aeroflot
In the last four months of 2015 Aeroflot carried 0.2 million passengers that had booked with Transaero, which ran into financial difficulties and eventually ceased operations on 26-Oct-2015. Prior to that, the Group had also provided financial support for Transaero flights, carrying 1.8 million passengers in Sep-2015 and Oct-2015.
Following the bankruptcy of Transaero, which was the number two airline group in Russia, Aeroflot has increased its leading share of passenger numbers from 31.1% in 2015 to 36.7% in 2015. It has assumed 56 out of Transaero's 141 international routes and plans to take 34 aircraft from its fleet for the new Rossiya operation. The Group also expects to employ 6,000 former Transaero staff, mainly in Rossiya.
As a result of its assumption of these routes and aircraft, Aeroflot Group anticipates carrying an additional two to three million passengers annually, although it does not expect its share of passengers to exceed 50%.
Share of passenger numbers carried by Top 5 Russian airline groups 2014 and 2015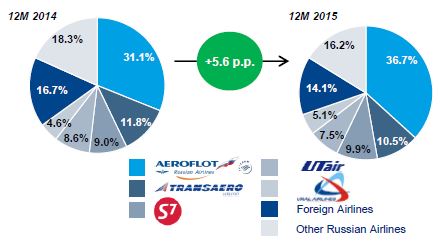 Group revenue up 30%, boosted by RUB weakness
Aeroflot's increase in group revenue by 29.8% was faster than its increase in ASKs and mainly reflected the performance of passenger traffic revenue. Passenger revenue per ASK grew by 19.2% year-on-year and total RASK increased by 20.6%.
Scheduled passenger revenue grew by 35.4%, while charter passenger revenue fell by 59.1%. Cargo revenue increased by 10.5%, in spite of a 6.0% fall in cargo tonnage.
Aeroflot Group revenues 2015

Aeroflot Group passenger RASK, 2015 versus 2014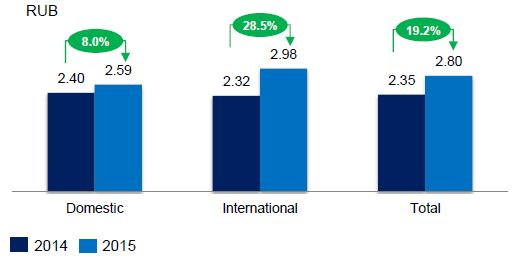 Revenue performance was boosted significantly by currency movements as USD strengthened on average by 59% against RUB, and EUR strengthened by 33% against RUB in 2015. This meant that revenue earned in foreign currencies translated into a greater number in RUB.
The total impact of foreign exchange on revenue was a benefit of RUB66,309 million (this was balanced by a similar negative impact on costs). This accounted for more than two thirds (69%) of the reported revenue increase in 2015.
Passenger RASK was particularly strong on international markets, where it was up by 28.5%, reflecting the importance of revenue generated in foreign currencies on these routes. In the domestic market, where currency impacts did not play a part, the group nevertheless enjoyed a passenger RASK increase of 8.0%. This probably reflected Aeroflot's growing market share, helped by the demise of Transaero and capacity cuts by other competitors, including UTAir.
Aeroflot Group passenger traffic revenue by region 2015 versus 2014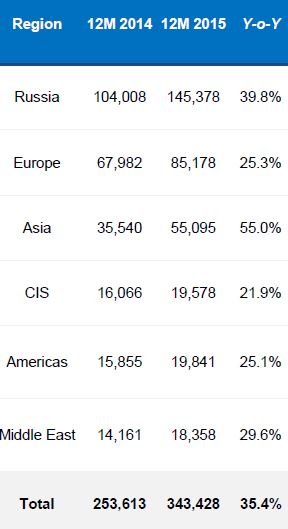 Costs up 20%, also inflated by currency movements
Total operating costs increased by 20.3%, faster than ASK growth, but slower than revenue growth. Fuel costs grew by 8.2%, broadly in line with ASK growth in spite of the fall in USD-denominated market prices (excluding currency movements, fuel costs fell by 18.8%). Non-fuel costs increased by 25.0%.
Labour costs were up by 6.7%, slightly ahead of the 5.6% increase in head count, but many other cost categories increased more sharply as a result of currency movements. The total impact of foreign exchange on operating costs was adverse by RUB66,847 million, almost the same as the revenue benefit. This figure was more than the increase in reported costs for the year (it was 107% of the cost increase).
The Aeroflot Group incurred RUB16.8 billion in costs associated with Transaero (approximately half of this related to the impairment of a loan to Transaero, which is included in finance costs rather than operating costs).
As reported, total CASK grew by 11.7% and ex fuel CASK grew by 16.1%. Excluding foreign exchange movements and non-recurring expenses of RUB2,031 million, CASK fell by 9.0%.
Aeroflot Group operating costs 2015 versus 2014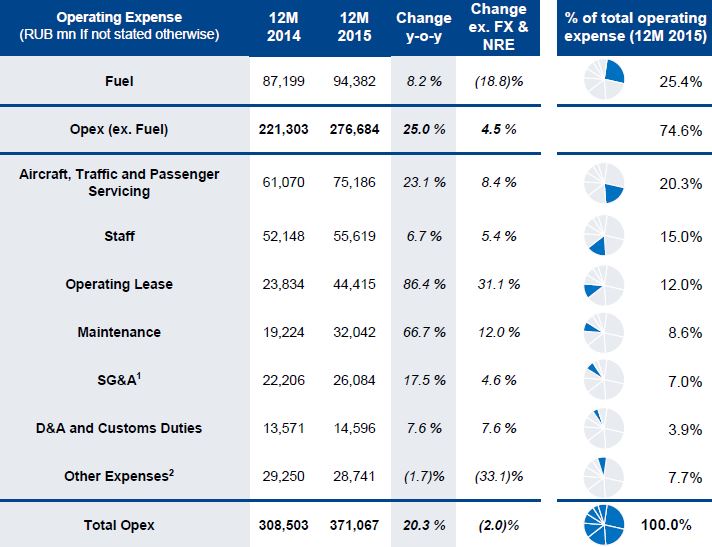 RASK growth outpaced CASK growth in 2015
The Russian economy started to slow in 2013, when GDP grew by only 1.3%. GDP growth slowed more noticeably in 2014 to just 0.6%, with the Ukraine crisis and the start of the oil price collapse.
The slowdown turned into recession in 2015, and the International Monetary Fund estimates that Russia's GDP contracted by 3.7%. In addition to the collapse in oil prices and the imposition of sanctions by Western powers opposing Russia's 2014 military incursion into Ukraine, the government's failure to diversify its economy has also contributed to the slump.
As a consequence of Russia's economic woes, the RUB began to weaken significantly against USD and other Western currencies in 2014. Prior to that, Aeroflot Group's RASK and CASK both held broadly stable. Since 2014, the depreciation of RUB has served to push both RASK and CASK on a steep upward curve, particularly in 2015.
In 2014, demand weakness limited the RASK increase to a lower rate than the increase in CASK. This led to a fall in operating profit. However, in 2015, RASK growth outpaced CASK growth and this drove operating profit improvement.
Aeroflot Group index of cost per available seat kilometre (CASK) and revenue per available seat kilometre (RASK), indexed to 100 in 2013, for 2010 to 2015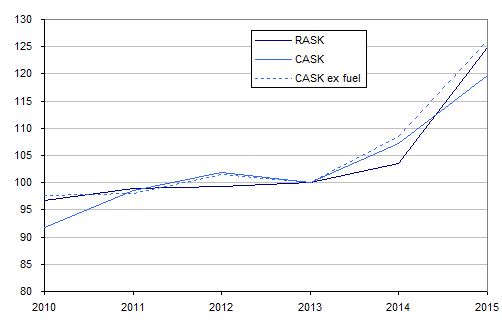 Aeroflot is well placed to achieve long term goals
Aeroflot is ambitious for its future, and its strength in Russia should help it towards its goals. The Group aims to be among the world's top 20 airlines and one of Europe's top five by 2025, based on RPKs and revenue, assuming "economic stabilisation". Achieving this will require international traffic growth to strengthen.
It aims for 70 million passengers in 2025, implying compound average growth of 6% pa from 2015. As a milestone on this path, the Group aims to carry 61.5 million passengers by 2021 (an increase of 22 million on 2015). In 2016, it plans capacity growth of 14% to 16%, adding a net 38 aircraft to its 2015 year-end total of 258.
Adjusting for currency movements in 2015 Aeroflot suffered a heavy fall in RASK, reflecting softness in demand as a result of the economic and geopolitical backdrop in Russia. Nevertheless, it managed to reduce currency-adjusted CASK more quickly. This was helped by lower fuel prices, but Aeroflot's cost control was creditable.
Aeroflot continues to benefit from government-directed consolidation in the Russian market. It also benefits from higher structural growth in Russian aviation, which is less dependent on GDP growth as a result of lower penetration of air travel than in other large European countries. Its multi-brand strategy positions it strongly in the premium, regional and low cost segments of this market and it has also used its Moscow hub to capture a growing level of international connecting traffic.
Even so, its accession to the ranks of European airlines with double-digit margins was impressive, particularly given the very poor state of the Russian economy.