VietJet starts to exploit huge potential of Vietnam's international low-cost airline market
Analysis
Vietnam's largest low-cost carrier, VietJet Air, is preparing to quickly expand its international network, taking advantage of growing demand for budget travel to and from Vietnam. The carrier launched its first international route on 10-Feb-2013, Ho Chi Minh-Bangkok, and is looking at several additional potential international destinations in Southeast and North Asia.
Two more international routes as well as additional capacity domestically, where VietJet already has captured a 15% share of the market, are expected in 2013. Vietnam is poised for further LCC domestic and international growth as LCC penetration rates in the country's domestic and international markets are the lowest among major Southeast Asian countries. VietJet is well positioned, along with a rejuvenated but still very small Jetstar Pacific, to cash in on Vietnam's LCC boom.
VietJet is already Vietnam's second largest airline
VietJet launched services in Dec-2011 and in its first year focused on establishing a presence on all main domestic routes. In 4Q2011 VietJet launched services to five new destinations within Vietnam, giving it nine domestic destinations.
It currently operates 21 daily flights on nine domestic routes, giving it almost 53,000 weekly seats in Vietnam's domestic market. In 4Q2012 it surpassed Jetstar Pacific to become Vietnam's largest LCC and second largest carrier overall after Vietnam Airlines.
See related article: VietJet overtakes Jetstar Pacific as largest Vietnamese low-cost carrier
VietJet currently has more than a 15% share of domestic capacity in Vietnam, ahead of Jetstar Pacific's 10% share but still well behind Vietnam Airlines' 69% share. Vietnam Airlines owns a 30% stake in Jetstar Pacific, which currently operates a fleet of five A320s compared to six A320s at VietJet.
For now Air Mekong, a small privately-owned regional carrier operating four Bombardier CRJ900s, accounts for the remaining 5% of capacity in Vietnam's domestic market. But Air Mekong has reportedly decided to suspend operations as of 28-Feb-2013 and return its four CRJ900s to US-based SkyWest Airlines, which owns a 30% stake in Air Mekong. As a result, Vietnam's three remaining carriers will all see in Mar-2013 slight increases in their market share.
Vietnam domestic capacity share (% of seats) by carrier: 18-Feb-2013 to 24-Feb-2013
Vietnam Airlines, Jetstar Pacific and Air Mekong have all seen their shares of the domestic market decrease over the last 14 months as a result of VietJet's entrance and rapid expansion. Prior to VietJet's launch of services on 25-Dec-2011, Vietnam Airlines had a 79% share of Vietnam's domestic market compared to 15% for Jetstar Pacific and 7% for Air Mekong.
Vietnam domestic capacity (weekly seats) by carrier: 19-Sep-2011 to 11-Aug-2013
Air Mekong has been most impacted by VietJet's entrance as VietJet has entered several smaller markets that were not served by Jetstar Pacific and therefore did not have any LCC competition. For example, VietJet launched services in Dec-2012 to Phu Quoc island, which is Air Mekong's home market and was unable to support jet services prior to the recent opening of a new airport. As CAPA reported in Jan-2013:
While a potential boom for VietJet and Vietnam Airlines, the opening of Phu Quoc's new airport will likely have a negative impact over the medium to long-term on Air Mekong. Phu Quoc has been an important niche market for Air Mekong since the regional carrier launched services in Oct-2010.

Air Mekong's fleet of CRJ900s, a regional jet with short-field takeoff performance that previously was not operating in Vietnam, enabled the carrier to carve out a niche as the only jet operator at Phu Quoc. The carrier was essentially protected from competition with LCCs in its biggest market as the island's former airport could not accommodate narrowbody aircraft such as A320s.
See related article: Phu Quoc sees surge of new flights, led by VietJet and Vietnam Airlines, as new airport opens
Jetstar Pacific also has been significantly impacted by the launch of VietJet as VietJet has become the second LCC on five of Jetstar Pacific's six current routes. The only Jetstar Pacific route that VietJet has not yet started operating on is Hanoi-Nha Trang, which is the 10th largest domestic route in Vietnam. VietJet also beat Jetstar Pacific in entering two new domestic markets, Phu Quoc and Dalat, and in expanding into the international market.
Jetstar Pacific has been focusing over the last year on renewing its fleet rather than expansion, a phase it completed in Jan-2013 when it retired its last Boeing 737-400. The carrier is preparing to resume expansion later this year and enter the international market but faces an uphill battle as VietJet has quickly overtaken it in size.
VietJet plans expansion of new international network
As VietJet now serves the eight largest routes in Vietnam (see background information), it is turning its attention to expanding capacity in existing domestic markets and establishing a footprint internationally. Ho Chi Minh-Bangkok, which is being initially served with one daily flight, will be the first of at least three international routes VietJet plans to launch in 2013 as it continues to expand its A320 fleet. VietJet, which plans to have a fleet of 15 A320s by 2015, is also expected to launch several international routes in 2014.
International expansion will not be easy as VietJet is an independent and entirely locally-owned carrier. It will need to compete against well-known and powerful international LCC brands such as AirAsia. As Vietnam remains predominately an inbound market and the VietJet brand is not well known outside Vietnam, international routes can be challenging.
But Vietnam has a growing middle class that will lead to a higher portion of the population having the discretionary income to travel overseas. Budget carriers are well positioned to capture this segment of the passengers, particularly Vietnamese budget carriers given the local intricacies of Vietnam's market. All Vietnamese carriers including LCCs need to work with travel agents and offer a wide mix of payment schemes as many Vietnamese passengers do not book online and do not have credit cards.
VietJet is competing against Thai AirAsia as well full-service flag carriers Thai Airways and Vietnam Airlines in the Ho Chi Minh-Bangkok market. Competing against the AirAsia Group, which at one point planned to invest and have a partnership with VietJet, is not easy for a fledgling independent LCC start-up. But the Ho Chi Minh-Bangkok market is large and has a relatively small portion of LCC capacity given the short length of flight (one and a half hours) and the fact there is a large leisure component.
Even with VietJet's entry, LCCs only account for about one third capacity on the Bangkok-Ho Chi Minh route, with Thai AirAsia's three daily A320 flights giving it a 25% capacity share and VietJet's new single daily flight giving it an 8% share. Thai Airways, which operates two daily flights on the route with A330s and 777s, has a leading 28% capacity share while Vietnam Airlines, which operates two to three daily flights with A321s, has a 20% share.
Turkish Airlines and Lufthansa account for the remaining 12% and 6% of capacity on the route respectively. But a large portion of this capacity is not available to local Ho Chi Minh-Bangkok passengers but for passengers carrying on to Istanbul and Frankfurt. Lufthansa operates three weekly flights from Frankfurt to Ho Chi Minh via Bangkok while Turkish operates a daily flight from Istanbul to Ho Chi Minh via Bangkok.
Ho Chi Minh to Bangkok* capacity by carrier (one-way seats per week): 19-Sep-2011 to 11-Aug-2013
Similar sized short-haul routes within Southeast Asia have a much larger portion of LCC capacity. For example, LCCs account for almost 60% of capacity on Singapore-Ho Chi Minh and almost 50% on Bangkok-Singapore.
Singapore-Ho Chi Minh is a bit of an exception in Vietnam as most international and domestic routes have lower than average LCC penetration rates. Singapore is the largest international route from Ho Chi Minh and is by far the largest international LCC route from Vietnam. Singapore-based Jetstar Asia operates three daily flights on the route, Singapore-based Tiger Airways operates 20 weekly flights and Indonesia's Lion Air operates one daily flight.
Vietnam has only a 25% LCC domestic and a 14% LCC international penetration rate, according to CAPA and Innovata data. This is the lowest among the six main markets of Southeast Asia and is well below the Southeast Asia average. LCCs now account for over 50% of seat capacity within Southeast Asia.
Southeast Asia LCC penetration rates by country: 18-Feb-2012 to 24-Feb-2012
Country

Total weekly capacity

(millions of seats)

Systemwide LCC

penetration rate

Domestic LCC

penetration rate

International LCC

penetration rate

Indonesia
2.5
56%
62%
42%
Thailand
1.8
29%
59%
18%
Malaysia
1.5
49%
52%
47%
Singapore
1.4
30%
N/A
30%
Philippines
1.0
62%
85%
34%
Vietnam
0.7
19%
25%
14%
VietJet evaluates several potential new international routes in Southeast and North Asia
VietJet has indicated it is looking at several potential markets in Southeast Asia and North Asia. It has mentioned Kuala Lumpur in Malaysia, Singapore, Busan and Seoul in South Korea and Taipei in Taiwan as potential destinations. Two of these will likely be launched in 2013.
VietJet plans to look at operating international services from both Ho Chi Minh and Hanoi. But Ho Chi Minh is the most likely initial gateway for any new international route with Hanoi service to follow if the Ho Chi Minh service succeeds. For example, VietJet is now considering launching Hanoi-Bangkok, leveraging its investment in the Thai market.
The large amount of LCC capacity already in the Vietnam-Singapore market could be a deterrent for VietJet. But unlike some other potential markets, Singapore is a big destination for Vietnamese passengers. Given that it now has a strong brand in Vietnam as well as a local distribution network, VietJet may be able to make Singapore work despite the competition from Tiger and Jetstar by focusing on Vietnamese clientele. Tiger and Jetstar Asia both currently serve Hanoi as well as Ho Chi Minh.
South Korea and Taiwan are predominately inbound markets for Vietnam. But the lack of LCC competition in these markets could persuade VietJet to enter.
The only LCC currently serving Vietnam from anywhere in North Asia is South Korea's Jeju Air. But Jeju is dropping its service to Ho Chi Minh on 01-Mar-2013, leaving the Ho Chi Minh-Seoul route served only by Korean Air (KAL), Asiana and Vietnam Airlines. The withdrawal of Jeju, which currently has a 14% share of capacity on the Ho Chi Minh-Seoul route, leaves a potential opening for VietJet.
KAL, Asiana and Vietnam Airlines also serve Hanoi from Seoul. In addition, Vietnam Airlines and Asiana link Ho Chi Minh with Busan. VietJet's entry in Seoul and potentially Busan would lead to lower fares in the Vietnam-Korea market, stimulating demand.
VietJet's low fares could also easily undercut the incumbent carriers in the Ho Chi Minh-Taipei market: China Airlines, EVA Air and Vietnam Airlines. All three carriers also operate between Hanoi and Taipei.
VietJet could be particularly successful in the Seoul, Busan and Taipei markets if it is able to work with travel agents as Koreans and Taiwanese passengers often opt for package deals when holidaying. Taipei is currently the fourth largest destination from Ho Chi Minh based on seat capacity while Seoul is the fifth largest. These markets are ripe for LCC penetration as they lack (or in the case of Seoul will soon lack) any LCC service. On the other hand the top three international routes from Ho Chi Minh – Singapore, Bangkok and Kuala Lumpur – already have LCC presence.
Kuala Lumpur would have a different dynamic as VietJet would need to compete with AirAsia as it is now doing in Bangkok. AirAsia's Malaysian unit now operates four daily flights from Ho Chi Minh to Kuala Lumpur, giving the only LCC on the route a 45% share of capacity. The route is also served with three daily flights from Malaysia Airlines and two daily flights from Vietnam Airlines.
AirAsia is now the largest LCC in Vietnam's international market
The AirAsia Group is the largest LCC brand in Vietnam by a wide margin. AirAsia currently offers almost 27,000 weekly seats in Vietnam, giving it a 50% share of international LCC capacity in Vietnam. In addition to serving Ho Chi Minh from Bangkok and Kuala Lumpur the AirAsia Group serves Ho Chi Minh from Jakarta; Hanoi from Bangkok and Kuala Lumpur; and Danang in central Vietnam from Kuala Lumpur.
VietJet originally planned to launch services as an AirAsia affiliate but the proposed partnership was dropped a few months prior to VietJet's launch after VietJet was unable to secure Vietnamese approval to use the AirAsia brand. The AirAsia Group was not interested in investing and launching an affiliate carrier without its brand and website, which is now used by its affiliates in four countries outside Malaysia.
VietJet's local owners proceeded to launch the carrier without AirAsia. VietJet is still willing to consider future investment from foreign companies – from within or outside the airline industry. AirAsia, however, is not a potential future option even if the Vietnamese government relaxes current regulations and allows local carriers to adopt foreign brands. AirAsia recently stated that it is no longer considering establishing additional franchises in Vietnam or anywhere else in Southeast Asia as it believes its current portfolio of four short-haul Southeast Asian LCCs is sufficient to cover the region.
See related articles:
Given that soon 100% of international LCC capacity in Vietnam will be allocated to the Southeast Asian market (once Jeju Air pulls out of the Vietnamese market on 01-Mar-2013), VietJet could be persuaded to focus more on North Asia. In addition to South Korea and Taiwan, Hong Kong and mainland China would also be potentially lucrative markets for a Vietnamese LCC. VietJet had previously indicated it is looking at China but it now appears China is not on its list of potential destinations for 2013.
Vietnam-China is an appealing market but unlikely to be served by LCCs in near future
Vietnam-China is an under-served market, consisting of only about 16,000 weekly seats in each direction. This makes it even smaller than the Vietnam-Singapore market. LCCs could potentially stimulate demand, particularly inbound demand as an increasing number of Chinese citizens now have the discretionary income to afford international travel. Vietnam is also an attractive and relatively cheap tourist destination.
But China can be a challenging market and would likely require working closely with Chinese agents. Jetstar Pacific is also not currently focusing on mainland China and is looking more to Southeast Asia and potentially Hong Kong, where it has a local affiliate launching in mid-2013.
Jetstar already has a presence in Vietnam's international market through Jetstar Asia, which serves both Ho Chi Minh and Hanoi from Singapore. But Jetstar Pacific has not served the international market since it adapted the LCC model in 2007 and shed its prior full-service brand, Pacific Airlines.
Jetstar Pacific has not pursued any growth since the re-branding, which followed Jetstar's acquisition of a 27% stake in the carrier. But an ownership change in 2012, which saw Vietnam Airlines take over a 70% stake, has given the carrier new life. The Jetstar Group, which now has a 30% stake in Jetstar Pacific, has said it is now committed to growing the Vietnamese affiliate with its fleet expected to reach 15 A320s within a few years. Jetstar Pacific carried only 1.9 million passengers in 2012.
See related article: Jetstar Pacific to become Vietnam Airlines' low-cost carrier in salutary move to both
Jetstar Pacific will have the advantage of being able to leverage the Jetstar brand as it expands internationally (the Vietnamese government has allowed the carrier to keep the Jetstar branding, which is somewhat of a sore point with VietJet given the government's earlier rejection of its application to use the AirAsia brand). But Jetstar has lost the first mover advantage it had in Vietnam's fledgling LCC market as VietJet is now the country's largest LCC. VietJet believes it can continue to expand faster as it is independently owned and not slowed down by government ownership.
Vietnam Airlines and therefore the Vietnamese government have to approve any expansion from Jetstar Pacific. The flag carrier could be reluctant to expand the LCC given its domination of the Vietnamese market. Increasing competition with VietJet and foreign LCCs, however, could persuade Vietnam Airlines to accelerate expansion at Jetstar Pacific. The flag carrier's plan to partially privatise through an initial public offering later this year could also be beneficial to Jetstar Pacific.
As the least penetrated of Southeast Asia's major markets, Vietnam offers huge opportunities to LCCs. There should be more than enough demand to satisfy VietJet and Jetstar Pacific in both the domestic and international markets. Challenges remain, including government restrictions on air fare pricing and low internet penetration. But eventually Vietnam should emerge as a large and profitable LCC market.
Background information
VietJet current domestic routes: as of 18-Feb-2013
| Route | Current and upcoming frequency | Launch date | Other current operators |
| --- | --- | --- | --- |
| | Eight times daily | 25-Dec-2011 | |
| | Four times daily | 27-Apr-2012 | |
| | Twice daily | 19-May-2012 | |
| | Twice daily | 24-May-2012 | |
| | Once daily | 01-Oct-2012 | |
| Ho Chi Minh-Vinh | Once daily | 15-Nov-2012 | Vietnam Airlines, Jetstar Pacific |
| Ho Chi Minh-Hue | Once daily | 22-Nov-2012 | |
| Hanoi-Dalat | Once daily | 07-Dec-2012 | |
| Ho Chi Minh-Phu Quoc | Once daily | 20-Dec-2012 | |
VietJet domestic routes ranked by capacity (weekly seats): 18-Feb-2013 to 24-Feb-2013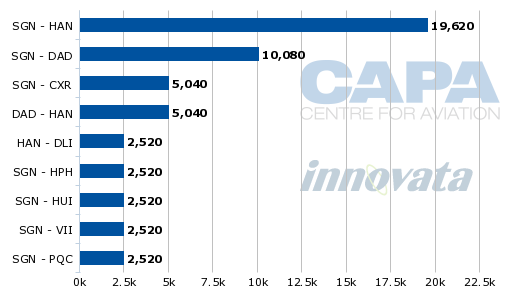 Georgia, 'Times New Roman', Times, serif; font-size: 0.8em;">Source: CAPA – Centre for Aviation & Innovata
Top 10 domestic routes in Vietnam ranked by capacity (weekly seats): 18-Feb-2013 to 24-Feb-2013


Georgia, 'Times New Roman', Times, serif; font-size: 0.8em;">Source: CAPA – Centre for Aviation & Innovata