US Airways-American merger; third strike and they're out. With potential international implications
Analysis
Aside from the baseball metaphor, there's an old superstition dating back to the First World War that may be more relevant to the surprise attack the US Department of Justice launched on the American Airlines/US Airways' merger proposal.
Soldiers in the trenches were incessant smokers, but matches were scarce. The story went that, with the first strike of the precious match the enemy sniper saw the glow; as the second cigarette was lit from it, he took aim; and as the third one drew hard, the sniper fired. So it became third time unlucky.
Whatever the real underlying story behind the Department's move – be it politics, economically sound or simply mistaken theory – there can be no doubt that by the time American arrived at the front there were a number of beads being drawn, as the first two big legacy groups had already consolidated around Delta and United. Increasing concentration in the US airline industry has come with highly unpopular baggage and booking charges, along with generally higher fares and even, shock-horror, industry profits. With the benefit of hindsight, someone should perhaps have sensed a likely backwash.
The DoJ's court challenge is unlikely to prevent the merger, but it will as a minimum substantially delay and dilute it - even derail it. In a fast changing world, domestically and internationally, this will perhaps be as important as killing it. Domestic shifts (including perhaps a new ULCC), global moves and the influence of new generation airlines offer promise of a different countenance in 2014. There are many outside parties watching with great interest as developments unfold.
See related report: American-US Airways merger: the competitive impact on European carriers
DoJ's announcement came just a couple of days before American, in Chapter 11 bankruptcy protection, was expecting the Federal Court's bankruptcy judge to approve its corporate reorganisation and turnaround plan. But a lot of that depended on the US Airways merger going through. So American will now remain in limbo for at least a few months as the new lawsuit is resolved. How long that takes will probably be in inverse proportion to the concessions the two carriers are prepared to make; the deeper the concessions, the quicker the deal.
The Justice Department had previously approved mergers that have created the latest iterations of United (merger with Continental completed 2012) and Delta (completed with Northwest in 2010) without expressing great concern about the possible anticompetitive implications on consumers. Eight years ago there were nine major airlines in the US; after this there would have been only four. Between them United and Delta now control about 39% of the US domestic market by seats, according to Innovata.
A Southwest-AirTran merger, still under way, had a somewhat lower profile and has not attracted intense scrutiny, as Southwest kept away from the more unpopular ancillary moves – even though the combination accounts now for some 21% of domestic seats.
Internationally the picture is a little different. This is in fact where the consolidation would lead to three main groups rather than four, as Southwest remains rooted in the US domestic market. Roughly half of all international seats are provided by US airlines and of these United has 14.5%, American 14.2%, Delta 13.1%, US Airways 5.1% and JetBlue 3.9%.
So an American/US Airways combination would propel it to nearly 20% of total US airline seats in the country's international markets.
United States international capacity share (% of seats) by carrier: 12-Aug-2013 to 18-Aug-2013
Internationally the two carriers operate largely in parallel. The bulk of their seats are headed to Europe. A third of US Airways' international seats are on Europe and 17.7% of American's.
Canada accounts for 23.8% of US Airways' international seats and 16.9% of American's, while the Caribbean/Central America make up 38.1% of US Airways and Caribbean/Latin America for 42% of American's. North Asia occupies a tiny proportion of American's seats (US Airways has none), but American is able to rely on its ATI-protected joint venture with Japan Airlines to augment this.
American now remains exposed to outside forces for several months. This may change the outcome
The shock of DoJ's intervention is still being absorbed, but it is clear that a hiatus in the merger plans – and American's emergence from Chapter 11 – will extend for several months. All the work that has gone into preparing the way for a combined airline, on the brink of being realised, will now be re-evaluated.
The careful steps taken over the past year to patch together unlikely alliances between unions, management, creditors and the rest will meanwhile run the risk of unravelling, as opportunists see new possibilities or as the compromises previously accepted now become less palatable. Cracks will inevitably appear and the eventual outcome will be different from the way it appeared to be headed just a few days earlier.
Most of the discussion in coming months will inevitably be about the competitive balance in the US domestic market, where the tendency is to seek a stable equilibrium in which the major airlines can be profitable. The unions involved have already leapt into the fray to attack the DoJ action.
However, despite the lust for stability within, outside the US the international market is a bubbling cauldron of change and opportunity. And several of the bigger players responsible for the international heat will be watching the latest developments with great interest.
For example, CAPA elaborated on 11-May-2013: "As American emerges from its relatively brief hibernation in Chapter 11, now under new ownership, it finds itself at the centre of a love triangle in what could be pivotal moves in the worldwide alliance regime.
American has an important and extensive codeshare agreement with Etihad; meanwhile its British Airways partnership and oneworld membership point it in the direction of oneworld member-elect Qatar Airways. Yet, as part of Emirates' new approach to US expansion, Emirates CEO Tim Clark, last year publicly expressed hopes that a deep partnership could be established between his airline and American.
The intriguing prospect that American/US Airways now faces is the opportunity to partner with all three of the Gulf carriers. In a previous world, this would have been unthinkable, with such a formidable assortment of potential conflicts. Today perhaps the real issue is how to manage those conflicts, not how to avoid them. If conflict management becomes the corporate thinking, there will indeed be a revolution afoot."
See related reports:
The setback to the American/US Airways merger plans does not necessarily alter that proposition. However, in the meantime, Etihad for example has bought a substantial minority share in Serbia's national airline, Jat Airways, to go beside its purchases of similar shares in India's Jet Airways, Virgin Australia, Air Berlin, Air Seychelles and Aer Lingus. A small taste of American might even be appealing.
Emirates is following a non-equity trail in its global expansion, but is no less conscious of the need to move on alliances before too many doors are closed. American's oneworld friends will also be intrigued, none more than British Airways/IAG and Qantas, each of whom relies on American's partnership to distribute traffic behind the US' fortress gateways.
They – and perhaps others – may be encouraged to pursue new avenues with American in the near term, disrupting the near-balance that US Airways had developed with American.
Is a merger really the best option for US Airways?
At the same time the action freezes plans by US Airways, a marginal member of the Star Alliance, to migrate to oneworld as its merger with American is now on hold. It leaves the smaller carrier very much in limbo too.
Having committed massive resources to the merger and making extensive plans to work with American, it is now left in the position of having to carve out an independent existence for an uncertain period into the future.
US Airways is no basket case in its own right. As CAPA noted on 24-Jan-2013, "Despite having the bulk of its attention diverted to aggressively pursuing a merger with American Airlines during 2012, US Airways recorded a strong financial performance on a stand-alone basis, boasting that its annual profit for the year was the highest in the airline's history. Presently, company management believes the profitability momentum should carry over into 2013 as demand remains solid and its corporate bookings continue to grow."
See related report: US Airways forecasts favourable 2013 results as it gains traction with corporate customers
If nothing else, this delay may encourage analysts to revisit whether the ambitious plans by the minnow to swallow the whale are more reflections of executive macho than of good shareholder value.
US Airways share price: Aug-2012 to Aug-2013
Certainly the carrier's share price had nearly doubled since the merger prospect became more likely. But then again, Delta's and United's had doubled over the same period, perhaps partly with further consolidation in view, but also in their own right. The apparent clarity of vision that consolidation would be good for everyone may not be as durable as expected.
Even the market may start to see another view, as compromises are imposed
The momentum for industry consolidation has occupied much of the market's attention this past year, as the majors forged into new and profitable territory. American-US Airways became the next "logical" next step in reducing competition in the marketplace, thus allowing a new balance to develop; and the fever heightened as it came closer to reality.
But now that a breathing space has been forced on this next step, alternative voices will very likely begin to find reasons why other options should be preferred.
There are careers at stake here, across many levels, not to mention the investment of massive emotional energy and time over many months. But as the dust settles, the initial outrage and opposition to the DoJ's action may well give way to a partial willingness to seek alternatives, rather than repeat the whole process.
A sensitive time, when alternative possibilities may be reawakened
In the immediate wake of this assault, lawyers and executives will be strenuously focussed on seeking compromise, a resolution of the roadblock. But, the DoJ, having taken this substantial step, is hardly likely to fold quickly into a heap.
The consequent process of compromising – giving up many of the benefits that the respective managements had built into their plans - will inevitably cause reassessments, both large and small. The carefully and sometimes precariously constructed compromises made in recent months will suddenly become more challenging.
The reluctant voices that were previously suppressed will gain another airing. Other options on each side that had previously been discarded in the united force towards its goal will now resurface.
American, now to remain in Chapter 11 for months more than expected, will be forced to adopt new – temporary – moves to shore up its interests. Undoubtedly its creditors will be obliged, for corporate governance reasons if nothing else, to reassess their positions, as will the bankruptcy court. All of American's partners, domestic and international, will be looking for reassurance that their own interests will be preserved.
In short, a period of great uncertainty and instability is an ideal time for outside interests to offer up alternatives.
DoJ's hypothetical conclusions deserve significant scrutiny
As to the merits of the DoJ's move, whatever the practical implications of the now-inevitable delay, it might be seen merely as an extravagant effort to coerce US Airways and American to make divestitures in order for the merger to be anointed. Indeed that is probably the most positive glow to place on it, for those so anxious for it to proceed.

The department highlighted Washington National airport as a particular market of concern in their argument that the proposed merger would be detrimental to consumers, concluding that, once the proposed merger is complete US Airways and American would hold roughly 69% of the airport's slots. Presently, US Airways accounts for 55% of National's slots after completing its slot swap with Delta in late 2011.

DoJ stated that, hypothetically, a monopoly of slots at National would likely increase ticket prices by "at least a small but significant and non-transitory amount". Since the slot swap with Delta gave US Airways a commanding share at Washington National, enplanements increased by 4.5% year-on-year from CY2011 to CY2012, according to data from the US FAA. With respect to fares, statistics from the US Department of Transportation (DoT) show that average domestic itinerary fares from National for 1Q2013 (adjusted for inflation) were USD372. Average domestic fares at Washington Dulles, where United holds 75% of the domestic seat share (based on Innovata data for the week of 12-Aug-2013 to 18-Aug-2013) was USD493.

While the combined share of the merged US Airways and American could increase the possibility of higher fares at the airport, US Airways dominance has so far not pressured fares. DoT data show that the average fare at National actually dropped 5.7% year-on-year from 1Q2013 to 2Q2013.

Interestingly, fares at Chicago Midway, where Southwest holds nearly 89% of the domestic seats on offer, jumped 4.6% year-on-year during 1Q203 to USD315. Fares at nearby Chicago O'Hare grew 2.1% to USD391. Data from Innovata show that United accounts for 47% of the domestic seats on offer from O'Hare and American represents 40%.

Overall, DoJ's argument that allowing the merger to move forward would result in significantly higher ticket prices contrasts with DoT data that show average US domestic fares on annual basis were USD373 in 2008, the year that Delta and Northwest tabled their merger.
During 2012 they increased just USD5 to USD378 and only increased 3% year-on-year from CY2011 to CY2012, which was after the close of the mergers between Delta-Northwest and United-Continental.
Annual U.S Domestic Average Itinerary Fare in Current and Constant Dollars: 1995 to 1Q2013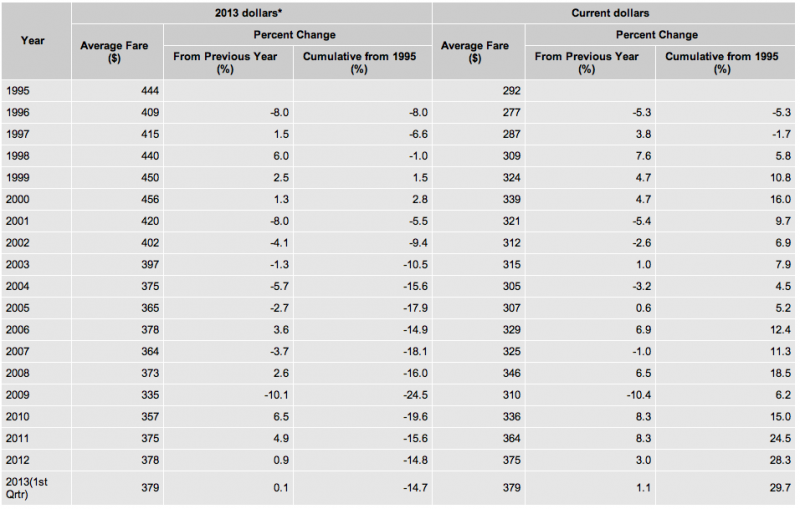 This analysis might however be qualified by the fact that short haul fares in most other leading markets outside the US have actually fallen considerably during this period; also the ticket prices do not reflect the very substantial ancillary revenues which have been added, as airlines began charging for elements which were previously free of charge.
Ancillary revenues, while unpopular, have sustained industry profitability
In quoting from CEO statements about how they had been able to leverage new market power to generate these ancillaries, the DoJ established a presumption these upward pressures would increase as American and US Airways joined forces. This may or may not be correct.
From an industry perspective, such an analysis does however downplay the enormous impact of volatile and rapidly increasing fuel prices. Product unbundling that began in 2008 as oil prices climbed to historical highs actually helped to preserve industry profitability and fuel prices have remained volatile since that time. A major contributor in US Airways recording profits during 2011 and losing money in 2008 (when its fuel costs were roughly the same) was its ability to boost its ancillary revenues.
Data from US airline lobby group Airlines for America (A4A) show that absent USD8.49 in ancillary revenue per enplaned passenger in 2012, revenues would have lagged costs by USD8.12.
US carrier financial results per enplaned passenger: 2012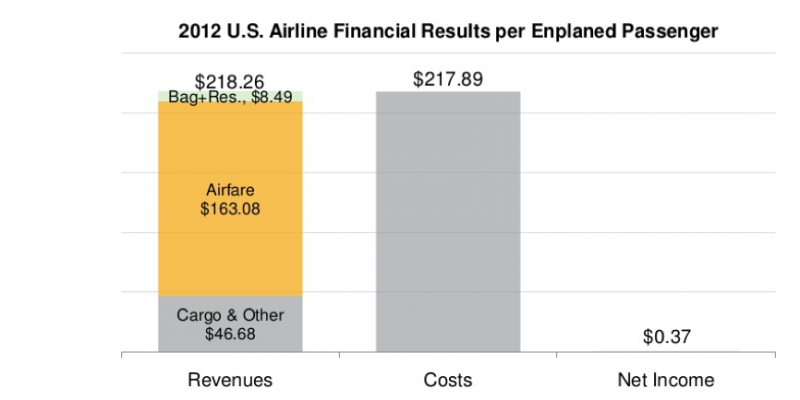 DoJ's argument that fewer legacy airlines will lead to higher fees may be questioned, as it is based on the fact that it concludes all the large network carriers will follow suit. While all the major carriers raised booking change fees earlier in 2013 to USD200, other smaller carriers also raised their fees.
Alaska Air Group recently declared that it would generate an additional USD50 million annually from its planned increased in baggage and change fees. Southwest declared in late 2012 that part of its plan to boost ancillary revenues by USD175 million in 2013 was to tighten flexibility around some of its most restricted fares
See related reports:
Inflating the benefits of "Advantage" fares
DoJ concentrated considerable attention on US Airways' Advantage fares – which US Airways offers on connecting flights that in some cases are 40% cheaper at the last minute than prices charged by other legacy carriers on direct routes. The elimination of those fares would be detrimental to millions of customers, according to the department.
During a call in response to the DoJ's claims, lawyers for the carriers explained that the actual impact in the market place is often quite different from appearances; Advantage seats are actually lower restricted fares that are saved and then sold at higher prices.

Again, DoJ's downplays the increasing sophistication of airline revenue management. Airlines are improving their ability to deepen their nuanced pricing. So, singling out one carrier's pricing strategy fails to take into account cost bases, network breadth and how US Airways prices its product outside of Advantage fares and the actual numerical contribution those fares make to US Airways' revenue. It also fails to take market forces into account when there are three major carriers of relatively the same size offering similar products.
The EU considered the minor slot disposition at Heathrow ample enough for the US Airways-AA merger to proceed
The DoJ's legal action to block the merger comes days after the European Union approved the tie-up between US Airways and American - even though the combination would result in the top three carriers from North America to Europe being based in the US (based on data from the summer high season 29-Jul-2913 to 4-Aug-2013).
Top 20 airlines Europe to North America ranked by seats: 29-Jul-2013 to 04-Aug-2013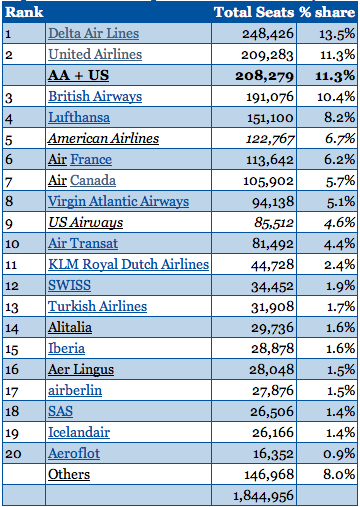 Approval by the EU was contingent on the release of a daily slot pair at London Heathrow to ease the monopoly status oneworld would hold from Heathrow to Philadelphia once the new American is fully folded into the immunised trans-Atlantic joint venture presently held among onworld members British Airways, American in its current form and Iberia. Presently, US Airways and BA offer service from Philadelphia to Heathrow.

But given the delays and the new jeopardy placed on the tie-up by DoJ, the status quo amongst alliances and on the North Atlantic will remain in place.
Delta and United (along with their trans-Atlantic joint venture partners) will remain the leaders across the Atlantic, and price their products according to that leading position. Arguably, with American holding its fifth position and US Airways retaining its ninth place spot, the ability of each carrier to separately garner the advantages and higher-yielding passengers produced by a stronger competitive international network will be compromised. And, conversely, the two strongest carriers across the North Atlantic will continue to have the benefit of pricing traction.
See related report: American-US Airways merger: the competitive impact on European carriers
DoJ downplays management ineptitude at American and deep employee dissent
DoJ suggests that American does not need to merge to thrive, let alone survive, concluding that its proposed stand-along plan, based on substantial domestic and international capacity expansion, would be a huge benefit to consumers. That conclusion ignores the fact that capacity discipline has been one of the fundamental structural changes that has set US airlines a course to sustainability.
The department lauded American for placing "the largest order for new aircraft in the industry's history" during 2011. Yet American orchestrated that USD35 billion order announcement at the same time it reported a USD286 million loss for 2Q2011, a significant widening of the USD11 million loss it reported the year prior.

In its praise for American, the DoJ concluded that the carrier's "experienced and sophisticated senior management", the carrier's restructuring process has positioned it to produce industry leading profitability. This is largely the same management team that oversaw American roughly USD2 billion in annual losses in 2011 and 2012 when all of its legacy counterparts (who have all benefitted from bankruptcy reorganisations) sustained profitability.
American Airlines annual losses: 2010 to 2012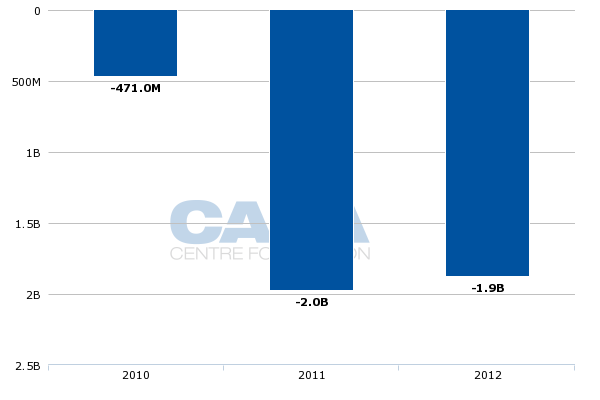 It is also the same management team (absent former CEO Gerard Arpey) that had such a vitriolic relationship with its major labour groups that they almost instantaneously embraced overtures from US Airways management.
Labour was quick to speak out. The Association of Professional Flight Attendants lamented the DoJ's lawsuit as the "height of hypocrisy", noting the the department approved the mergers that now comprise the duopoly held by Delta and United. The Allied Pilots Association reiterated its commitment to the merger, and stated it was disappointed with the DoJ's assessment.
DoJ's action wrought immediate havoc on airline market capitalisation
The market felt the immediate impact of the DoJ's action. The capitalisation of the US airline industry fell USD4 billion overnight, a clear recognition that investors saw a probable extended negative impact on profitability - at least for as long as the issue remains unresolved. There was no recovery bounce the following day either, although prices did stabilise while the implications were adjusted further.
The reaction of the market over the next couple of weeks will be important, as the real ramifications of the court action sink in and as the respective players begin to show their hands.
But it does appear highly likely that uncertainty will persist for several weeks. And that is a perfect breeding ground for opportunists. The outlook for American Airlines and US Airways, as well as for the wider US industry, which seemed to be so clearly framed a few days ago is now once again an open book. The DoJ, now having committed along a path of opposition, will not easily back down and given the clear polarisation of views a speedy resolution is unlikely.
This leaves the two main players in this drama to move forward without a script. In those circumstances and in a changing world, only the brave and the foolish would commit to a belief that this merger will complete – at least on the terms previously agreed.