Alaska trumpets shareholder returns while easing concerns over its capacity growth
Typically low-key Alaska Air Group has opted to aggressively promote its plans to issue a healthy USD0.20 quarterly dividend that supports a pledge by the company to return roughly USD325 million to shareholders between 2013 and 2014. Alaska's impressive financial performance has largely been undervalued by the financial community at large as some of the carrier's growth targets may have spooked would-be investors that view capacity discipline as a key driver in the long-term viability of US carriers in the maturing North American market place.

At the same time it revealed its shareholder reward package, Alaska's management also moved to allay concerns about its proposed 4% to 8% annual growth rate during the next few years, explaining moves it is making in Hawaii and the US transcontinental market to improve its unit revenue performance, which executives admit have lagged the industry average for the last two quarters.
Alaska's flexing of its long-standing financial muscle follows a similar initiative at Delta Air Lines which entails the issuance a US0.06 dividend and a USD500 million stock purchase programme. From a broader perspective the moves hopefully illustrate an airline industry that has finally put its irrational behaviour to rest in lieu of focussing on sustaining profitability and rewarding shareholders against the backdrop of ever-present difficult business conditions.
Alaska Air Group return of capital: 2007 to 2014E
Alaska's strong financial performance usually flies under the radar of investors
Historically, Alaska Air Group has been cautious in touting its sound financial performance that includes exceeding its return on invested capital (ROIC) targets for the last three years and cash generation of nearly USD3 billion for the five years ending 31-Dec-2013.
Alaska Air Group ROIC and cash flow: 2009 to 12 months ending Mar-2013
At the same time Alaska has worked to de-leverage its balance sheet through a reduction in net debt of about USD1.4 billion since 2009 while its adjusted debt-to-capitalisation has decreased from 81% in 2008 to 53% as of 31-Mar-2013. All those metrics have supported annual profits for the last four years.
In parallel to Alaska's low-key approach to achieving and sustaining solid financial metrics, investors haven't lauded the company's financial performance, as evidenced by its valuations relative to its industry peers.
Alaska Air Group's valuation versus its competitors: 2012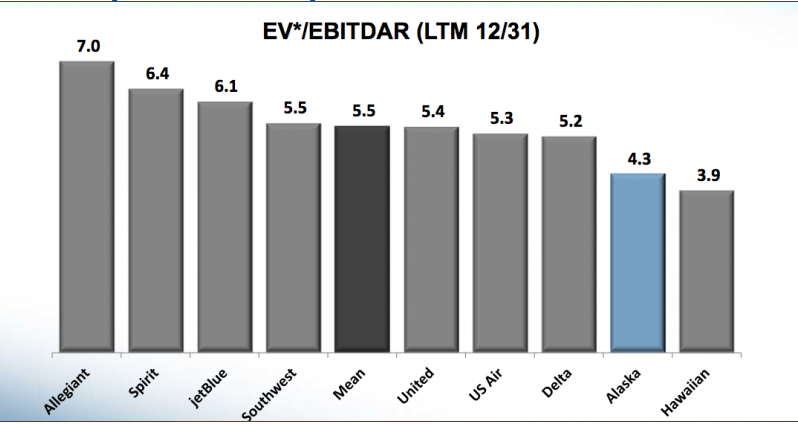 See related report: Alaska continues to face challenges getting investors to acknowledge its solid financial performance
Now the carrier's management is attempting to generate higher awareness of its performance through the shareholder reward scheme it touted during a special analysts update to outline the dividend and stock buy-back programme, capacity adjustments and increases in first checked bag and change fees.

Putting all the moving pieces into the company's long-term perspective Alaska Air Group CEO Brad Tilden remarked: "We wanted to be a good place to invest, not a good place to trade, but a good place to invest."

Part of Alaska's effort in ensuring it has staying power with investors has also entailed a reworking of its fuel hedging programme, which has come under scrutiny recently as one analyst remarked that the price per gallon paid by Alaska was higher than its unhedged competitors. North American carriers that do not opt to participate in fuel hedging schemes include US Airways and WestJet.

Alaska is now working to reduce its hedge spend while keeping its 50% hedge level in place. It estimates a reduction in its hedge expense from USD50 million to roughly USD15 million for 2Q2013, stressing its efforts to reduce hedging outlay began in 2011. The carrier believes it will sustain the USD15 million run rate during the next four years.
Decrease in Alaska Air Group's fuel hedge spend: 4Q2011 to 2Q2013
Alaska Air Group actual and estimated fuel hedge spend: 2009 to 2016
Investors remain spooked over Alaska Air's capacity growth targets
Alaska's shareholder reward plan and its work to reduce fuel hedging expense reflect the company's focus on ensuring its profitability and its strength in other financial metrics remain intact. But investors have also recently become somewhat spooked over the carrier's planned higher-than-average capacity growth, which is roughly about 8% year-on-year for 2013.
The company is opting to address those concerns directly as VP of planning and revenue management Andrew Harrison acknowledged to investors that Alaska's unit revenues for the previous two quarters have lagged the industry. System-wide unit revenues increased 0.8% during 4Q2012 and just 0.3% for 1Q2013. Alaska has previously warned that it would endure challenges during 2Q2013 as new routes it has introduced continue their spool up and pressure from competitive capacity introduced on markets from the mainland to the states of Alaska and Hawaii increases.
Previously, Alaska's competitor Hawaiian Airlines estimated that competitive capacity between the US mainland and Hawaii increased by roughly 13% year-over-year during 2H2012.
See related report: Alaska Air Group faces tough 2Q2013 as competitive capacity hurts yields. Cost crunch looms
Alaska is facing pressure on its routes from the mainland to the state of Alaska as United, Delta, JetBlue and Virgin America are all launching services. Delta and JetBlue are both launching service from Alaska's Seattle hub to Anchorage, while Virgin American is launching service from San Francisco to Anchorage (a route which is not served non-stop by Alaska, but still creates additional capacity from the mainland).
New long-haul route additions from mainland to the state of Alaska: Jul-2013 vs Jul-2012 and Nov-2013 vs Nov-2012
Attempting to rationalise Alaska's unit revenue performance and allay concerns over the company's capacity growth, Mr Harrison remarked that between 2007 and 2012 the company's load factors increased by 10ppt on 14% capacity growth while the US airline industry average during that time increased load factor by 3ppt while capacity remained flat.

The point Mr Harrison stated he was trying to make is: "We will continue to be agile and very disciplined as it relates to our capacity."
Alaska Air Group load factor versus the US industry average: 2007 to 2012
That agility includes a 2% reduction in certain markets in its summer schedule that were underperforming, particularly in Hawaii where the pressures from competitive capacity have been especially pronounced. Mr Harrison concluded that Alaska is recording double-digit unit revenue growth from those cuts as overall demand for the US high summer season remains solid.
Alaska Air Group Summer 2012 year-over-year frequency changes
For the winter 2013/2014 timetable, Alaska is pulling 10 weekly frequencies from Hawaii and eight transcontinental frequencies. "That's a total of 18 aircraft per week that we will not be flying in the winter to better match demand with supply," Mr Harrison remarked.
The carrier is executing those changes through more refined day of week scheduling, maximising its schedule on days where demand is typically higher. "This is the first time we've ever done these day of week cuts," Mr Harrison remarked. "And we'll be watching them closely."
Alaska Air Group winter 2014 schedule changes in Hawaii and transcontinental routes
He seemed unfazed by the spool-up in mainland Alaska capacity during 3Q2013, noting that the added service translated into about 7.5 flights per day from the lower 48 states into Alaska compared with Alaska Air Group's 30-plus flights per day from the mainland to the state of Alaska. He remarked that competitors come and go in the state of Alaska, and the carrier plans to leverage its brand and network strength to manage the "competitive incursions".
Alaska assures new long-haul routes are performing as expected
By year-end 2013 Alaska estimates it will have introduced 35 new markets within a two year timeframe. Some of the new transcontinental routes Alaska has introduced include Seattle to Kansas City, San Antonio and Salt Lake City, San Diego to Orlando and Boston and Portland to Washington National.
Alaska Air Group new route introductions: 2011 to 2013
At the end of 1Q2013 management at Alaska remarked that its new transcontinental and mid-continental routes were still in their development phase, which resulted in their revenues falling below the carrier's system average. Speaking to investors in early Jul-2013 Mr Harrison stressed there have been "no horror stories" with respect to Alaska's new markets. However, he also emphasised the company would cull flights that do not meet its expectations, and do so in a timely manner.
Alaska has proven it can support higher than average capacity growth – for now
Despite the concern regarding Alaska's growth targets, for now the company appears to be comfortable with 4% to 8% growth per annum over the long term, profits permitting. While those goals may seem lofty for a carrier in a maturing US market place which has no plans to branch out into long-haul international service, the carrier has remained profitable even as its supply expansion has trended higher than the US legacy carriers. During 2012 Alaska's overall profits increased 29% on nearly 8% capacity growth, which demonstrates a shrewd approach to business underneath its usually understated persona.