United Airlines forecasts its strong Latin American performance will continue in 3Q2014
United Airlines has a bullish outlook for its Latin American markets in 3Q2014 after recording favourable results in that region in 2Q2014 as its rivals American and Delta, battled soft corporate demand during that period driven by the FIFA World Cup soccer tournament.

But American has also cited capacity oversupply between the US and Latin America, and has opted to cut its supply for 2H2014 to improve its results in the region.

For the moment United has a more positive view of its prospects for Latin America, driven by its hub at Houston Intercontinental, which is the airline's major gateway to the region. One advantage for United is that it is partially shielded from economies within Latin America that have grown weaker during 2014. This should bode well for its results in the region for the remainder of the year.
United grows Latin America unit revenues and yield growth in 2Q2014
As American and Delta faced headwinds from the drop off in corporate demand in their respective Latin American markets in 2Q2014 during the Brazil World Cup soccer tournament, United recorded a strong performance on its routes to Latin America.

United unit revenues in its Latin American entity grew 4% year-on-year in 2Q2014 compared with roughly flat growth at Delta and a 2.5% decline for American. United's yields increased 1.5%, while Delta's remained flat and American's increased 3%. United's 5.6% capacity increase was the smallest among the three major US network airlines. American's capacity to Latin America grew 10% during 2Q2014 and Delta's jumped 24%.
American, Delta and United passenger unit revenue, yield and capacity increase/decrease for Latin America: 2Q2014
| | | | |
| --- | --- | --- | --- |
| Airline | PRASM increase/decrease | Yield increase/decrase | ASM increase/decrease |
| American | -2.5% | 3% | 10% |
| Delta | -0.7% | -0.4% | 24% |
| United | 4.4% | 1.5% | 5.6% |
American is the largest airline operating between the US and Brazil, holding a 35% seat share (week of 1-Sep-2014; OAG). It offers more destinations to Brazil than any other airline, serving Belo Horizonte, Manaus, Recife, Rio de Janeiro, Salvador and Sao Paulo.
American in particular cited weaker corporate demand and a decrease in travellers who would normally vacation in the US who opted to remain in South America for the World Cup, held in Jun-2014 and Jul-2014.
United States of America to Brazil (seats per week, one way, 2-Sep-2013 and 1-Sep-2014)

Delta also cited some softening of corporate in 2Q2014 demand during the World Cup; but with just a 15% seat share to Brazil, its exposure to changing traffic patterns is not as high as American's. The thrust of Delta's capacity increase to Latin America during 2Q2014 was to leverage its partnerships with, and equity stakes in, Aeromexico and Gol.
The airline estimated during 2Q2014 Gol provided one-fourth of Delta's traffic on flights between the US and Brazil and Aeromexico delivered nearly one-fourth of the traffic on Delta's flights into key business markets in Mexico. Delta estimated that traffic generated USD36 million in incremental revenue during the quarter.

Data from CAPA and OAG show that for the week of 1-Sep-2014 Delta's seats on offer to Brazil are up 20% year-on-year and 27% to Mexico, reflecting its strategy of leveraging Aeromexico's leading position in the Mexican domestic market and Gol's stature as Brazil's second largest airline.
United States of America to Mexico (seats per week, one way, 2-Sep-2013 and 1-Sep-2014)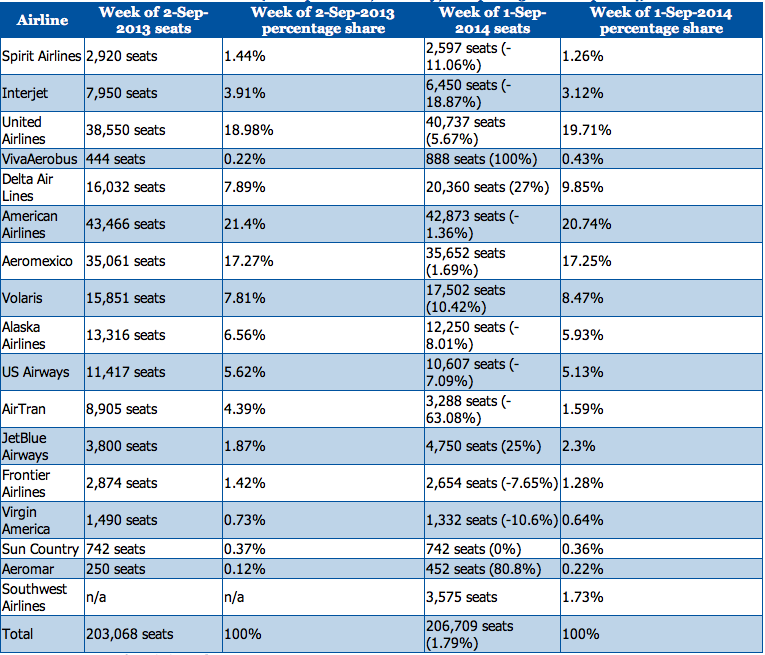 See related reports:
American Airlines' strong 2Q2014 results despite revenue headwinds from Venezuela suspensions
Delta Air Lines puts trans-Atlantic worries to rest as it posts strong 2Q2014 results
United could be benefitting from its smaller footprint in South America
United's solid performance in Latin America during 2Q2014 reverses a negative performance in yields and passenger unit revenue in 1Q1014, which fell 3.6% and 17.%, respectively, on flat capacity.

United has slightly less exposure to the Brazilian market, holding just a 14% seat share for the week of 1-Sep-2014. It seat deployment from the US to Brazil is flat year-on-year, likely owing to Brazil's softening economy (its GDP growth is forecast at 1.8% in CY2014) and the exit of its main Latin American partner TAM from the Star Alliance in Mar-2014.

The airline serves the largest cities in South America – Sao Paulo, Rio de Janeiro, Lima, Buenos Aires and Santiago; but most of its capacity to Latin America is targeted toward Central America, which is not experiencing as weak of an economic slowdown as some Latin American countries. For the week of 1-Sep-2014 Central America represents nearly 17% of United's seat capacity compared with roughly 5% for upper South America.
Mexico is United's second largest country measured by international seat deployment, and for the week of 1-Sep-2014 to 7-Sep-2014 its seat capacity to Mexico has risen 6%.
United Airlines international capacity by region (% of seats): 1-Sep-2014 to 7-Sep-2014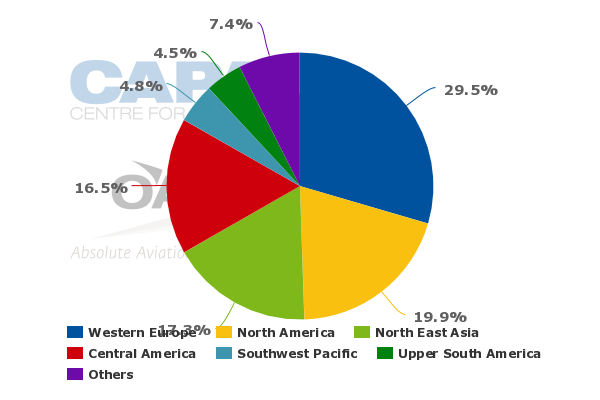 United Airlines international capacity by country (number of weekly seats): 1-Sep-2014 to 7-Sep-2014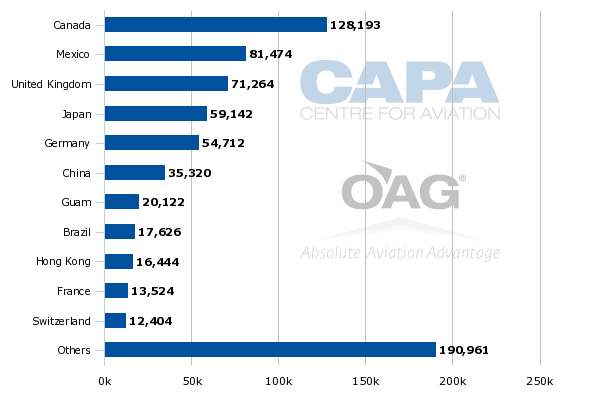 United during the past year has also discontinued its Newark-Buenos Aires flights, which is likely helping to lift its Latin American performance. Argentina's GDP growth is forecast at just 0.5% in 2014, and the country is in the midst of a sovereign debt crisis.
Other airlines serving Argentina have cited declining yields due to the country's economic weakness; on the black market, the USD is trading at twice its official value. LATAM Airlines Group recorded an 8% drop in yields in Argentina for 2Q2014 and Copa posted a 10% decline.

See related reports:
Macroeconomic weakness drags down LATAM Airlines Group's 2Q2014 results and could linger into 2015
Fallout from frozen Venezuela funds dampens Copa Airlines' favourable 2Q2014 performance
United has not been as vocal regarding its exposure to frozen funds held in Venezuela as have American and Delta, both of which have stated that capacity cuts to the country would pressure unit revenues in 3Q2014. As of 30-Jun-2014 American had VEF791 million tied up in unrepatriated funds and Delta had approximately VEF190 million.

To mitigate its continuing losses American in Jul-2014 cut its weekly flights from the US to Venezuela from 48 to ten, and Delta in Aug-2014 cut its daily Atlanta-Caracas service to once weekly.

Beginning in mid-Sep-2014 United is cutting its Houston-Caracas offering from daily to four times a week. Given the oil industry ties between Houston and Caracas it is important for United to keep some presence to ensure it can build its service back up quickly once some stability returns to the Venezuelan market.
United cites strong demand to Mexico as forward bookings to Latin America are strong
United has not outlined any specific revenue pressure from Venezuela during 3Q2014, but has projected overall passenger unit revenue growth of 2% to 4% for the quarter, which is in line with its large US network peers.

Near the end of Jul-2014 United forecast that its advanced booked seat factor in Latin America for the next six weeks was up 4.6 points year-on-year, which is the largest forecast increase of any of its geographical entities. Advanced seat book factor was down 1.5 points in mainline domestic markets, had fallen 0.9 points in the trans-Atlantic and decreased 1.2 points in the airline's Pacific markets.

United cited strong demand in Mexican business markets, and in leisure beach destinations for the strong forward bookings in Latin America.

Although Mexico's economy has been sluggish during the last year, the IMF is forecasting 3% GDP growth in CY2014 after a tepid 1% increase in CY2013. The country's GDP growth projection for CY2015 is 3.5%. Volaris recently stated that during Jun-2014 Mexican exports increased 8% year-on-year, which was the largest improvement since Nov-2011. That could be an indication that demand in Mexican business markets has the potential to remain fairly strong.

See related report: Volaris holds an optimistic view despite a tough 1H2014 in Mexico's domestic aviation market
United concludes Houston Intercontinental is driving its favourable Latin performance
United has concluded that its solid performance in Latin America is driven in large part by its hub at Houston Intercontinental, its major gateway to Latin America. In addition to numerous Mexican destinations United also operates service from Houston to Buenos Aires, Lima, Managua, Rio de Janeiro, Roatan, San Pedro Sula, Santiago, Sao Paulo, San Salvador and Tegucigalpa. United also serves many Mexican beach destinations from its other hubs at Newark Liberty, Washington Dulles, San Francisco, Los Angeles, Denver and Cleveland (which was recently downsized).

Even as Houston likely drives strong local demand for United's flights to Latin America, the airline is planning a re-banking of Houston Intercontinental to optimise connections that is slated for completion in 2015. The goal is to decrease connection times to drive more high yielding connections, which should create some revenue traction for United, given it holds a 78% seat share at Intercontinental.

On a seat deployment basis, Latin America represents a 40% share of Intercontinental's international capacity and nearly 12% of its ASK deployment (based on CAPA and OAG data for the week of 1-Sep-2014 to 7-Sep-2014). Houston's strong oil industry ties and its geographical positioning in southeastern Texas make it a strong connection point for Latin America - which United needs to leverage now that Southwest Airlines plans to launch international service from Houston Hobby in 2015.

Southwest's range of new international service options from Houston is limited by the range of its Boeing 737 narrowbodies; but the added flights to some of the near international markets are likely to pressure United as it works to improve its banking structure at Intercontinental.
United's Latin performance is encouraging given TAM's jump to oneworld
Aside from some revenue headwinds ushered in by its service reduction to Venezuela, Delta also cited strong demand in its Latin American markets during the US autumn period. And despite opting cut its capacity by 5% to Latin America in 2H2014, American has concluded that demand in the region remains fairly strong, with the exception of Argentina.

United's 3Q2014 forecast for the region is also encouraging given that it is without a major partner in Brazil after former Star airline TAM joined oneworld on 31-Mar-2014. As it works to improve its fortunes in its Pacific operations and starts re-banking other hubs including Chicago and Denver, its strong performance should help to sustain some of the positive momentum it started to generate in 2Q2014.
United still has a lot of work to do to generate confidence that it is finally starting to generate benefits from its merger, but it is at last embarking on network optimisation that should start to generate more favourable results across its geographical entities.