Volaris holds an optimistic view despite a tough 1H2014 in Mexico's domestic aviation market
Analysis
Mexico's second largest airline Volaris joined rival and the country's biggest airline Aeromexico in recording a 2Q2014 loss driven by lingering weakness in the Mexican economy which is dissolving pricing traction.

Despite the operating and net losses Volaris recorded in 2Q2014, the airline highlighted sequential improvement in it results from 1Q2014, and is cautiously optimistic that Mexico's economy could be showing slight signs of improvement.

In early 2014 Volaris shaved its capacity growth estimates for the year, and is maintaining its current projections of 11% to 13% growth. During 3Q2014 the bulk of Volaris' supply is targeted toward US transborder international markets, routes where it is more shielded from competition versus the domestic space.
Lack of Mexican consumer confidence creates challenges for pricing traction
Continued weakness in the Mexican economy coupled with a currency devaluation of the MXP against the USD created difficult challenges for Volaris to overcome in 2Q2014. The airline stated that during Jun-2014 consumer confidence in the country fell 2.4%. The MXP also declined by 4% year-on-year during 2Q2014, which also affected Volaris' top-line financial results.

The decline in consumer confidence was evident in the 10% decrease in Volaris' average fare during 2Q2014 to roughly USD85. Volaris also faces aggressive pricing action by Aeromexico, which has adopted a strategy of trading in yield for load factor in order to maintain its commanding market share within Mexico.
Volaris unit revenue, unit cost, and average fare: 2Q2014 vs 2Q2013

See related report: Aeromexico trades domestic and international market share gains for lower yields as 2Q profits drop
Volaris recorded a MXP75 million (USD6 million) loss for 2Q2014 even as operating revenues increased 9%. But its operating expenses increased 16% year-on-year to MXP3.4 billion (USD261 million), which resulted in an operating loss of MXP95 million (USD7 million).
Volaris financial results: 2Q2014 vs 2Q2013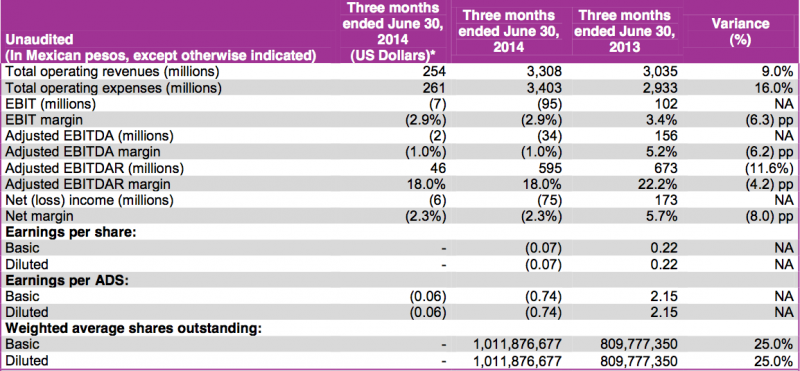 For 1H2014 Volaris recorded a MXP445 million (USD34 million) loss and operating losses of MXP95 million (USD7 million).
Taxes and fees also crimp pricing traction for Volaris and other Mexican airlines
Volaris faced cost pressure in several areas during 2Q2014 as top-line fuel expenses increased 20%, aircraft engine rent expense grew nearly 22% and landing and takeoff fees jumped almost 15%.
Volaris operating revenue, operating expenses and operating income: 2Q2014 vs 2Q2013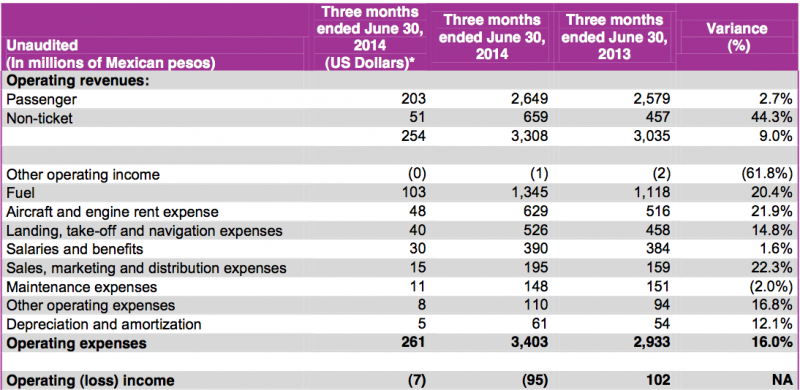 Company executives cited a new value added tax in Mexican border cities that took effect in Jan-2014. Volaris CEO Enrique Beltranena noted the airline was particularly affected as a result of roughly 40% of its capacity deployed into those markets. Volaris holds a 63% share of the ASMs deployed from the border city of Tijuana (according to CAPA and OAG data for the week of 4-Aug-2014).

Mr Beltranena also cited a rise in passenger fees at Mexico City Juarez International Airport, of 38% and 74%, respectively, for domestic and international customers, which is also putting some pressure on demand.
Volaris believes non-ticket revenue can combat some weak market conditions
The lack of pricing traction was evident in Volaris' decrease in average fare during 2Q2014, and was also reflected in the airline's 15% drop in yields and nearly 16% decline in passenger unit revenues.

One lever Volaris continues to pull is ancillary product sales, and its non-ticket revenue per passenger, excluding cargo operations, increased 46% in 2Q2014 to MXP231 (USD19).

After Volaris migrated to a new reservations system in Oct-2013, the airline introduced a carry-on baggage policy that entails charges for items that exceed measurement compartments located in the airline's airports. Volaris also sells buy-on-board, and other amenities as well.

Volaris believes its non-ticket revenue driven by ancillary sales is key to weathering the weak climate in Mexico, and believes it can achieve ancillary revenue per passenger in excess of USD20 in the future as it aims to leverage its existing products and potentially introduces new items in its ancillary product portfolio.
Volaris is encouraged by some sequential improvement in pricing during 2014
Even as Volaris faced challenging conditions in 1H2014 that dragged down its financial performance, executives at the airlines pointed to sequential improvement from 1Q2014 to 2Q2014. Volaris recorded a USD28 million loss in 1Q2014, and a roughly 21% drop in both average fare and yields.

See related report: Tough market conditions for Mexico's airlines continue to drag down Volaris' financial performance

Mr Beltranena was encouraged by the sequential improvement from 1Q2014 to 2Q2014, particularly with the increases in taxes on Mexican air travel. He is cautiously optimistic that Mexico's economy is showing some early signs of an upswing, citing 8% growth year-on-year during Jun-2014 in exports, the largest improvement since Nov-2011.

Volaris is also encouraged by the slot allocation at Mexico City Juarez for the busy high season, as Mr Beltranena concluded that the limitations on capacity imposed by the slot controls would create some strength in pricing.

Even as fares fell year-on-year in 1Q2014 and 2Q2014, Volaris has concluded that fares within the domestic market have rebounded on a sequential basis since Feb-2014, as the airline concluded it is experiencing a "slightly better fare environment", but total unit revenues still remain under pressure.
During 1Q2014 Volaris faced increased competitive capacity from Aeromexico in its second and third largest bases in Tijuana and Guadalajara as its rival ramped up its new Contigo product offering in those markets. Aeromexico debuted Contigo in Oct-2013 as a lower-fare offering in certain transborder routes from Tijuana and Guadalajara, and from those cities to Culiacan.

See related report: Aeromexico looks to pressure Volaris with a new low fare branding exercise, Contigo

In 4Q2013 Volaris estimated that fares in some markets from Guadalajara and Tijuana fell between 30% and 40%, and Volaris opted to shift from capacity in Tijuana to markets where it faced less competitive pressure – Cancun, Chihuahua, Tuxtla Gutierrez and Veracruz.

Mr Beltranena remarked that its competitor (Aeromexico) is exhibiting some capacity discipline in Guadalajara and Tijuana; however, Volaris does continue to experience excess supply on some routes from those airports.
Volaris believes it has a competitive shield in new transborder markets
Volaris' projections of 11% to 13% capacity growth for CY2014 remain unchanged after the airline opted to revise its supply increase downwards from an original forecast of a rise between 12% and 14%.

In 3Q2014 Volaris estimates capacity growth of 10% to 12%, with 19% to 21% of its supply deployed into transborder international markets and 7% to 9% allocated to Mexican domestic routes.

Executives at Volaris believe the deployment of a higher percentage of capacity into US transborder markets is beneficial given that the airline targets visiting, friends and relatives (VFR) routes that have a lower level of competition. Volaris in Jul-2014 launched service from Guadalajara and Chihuahua to Denver, and plans new flights from Guadalajara to Portland beginning in Oct-2014.

Volaris faces no competition on those pairings, and believes its transborder VFR strategy should prove fruitful as its competitors are deploying international capacity from beach markets such as Cancun or more business-oriented markets.
The Mexican domestic market faces a tough climb to a rebound
Volaris' 2Q2014 financial performance is not a huge surprise as the airline has previously warned that its weaker unit revenue performance would persist through 1H2014. The airline's cautiously optimistic view for the remainder of 2014 is underpinned by its conclusions that the second half of the year is historically a stronger demand period.

But Volaris has a lot of lost ground to recover if it is to achieve a rebound in fares and unit revenues. The fundamentals that will drive Mexican domestic air traffic growth over the long term remain intact – a growing middle class that will eventually have more discretionary income for air travel. Yet the short-term challenges within Mexico could linger for the foreseeable future, making a drastic turnaround in pricing traction unlikely.

As Mexico's second largest airline, Volaris holds a solid position once the domestic market rebounds; but its fortunes for CY2014 remain questionable as it works to mitigate the run-off effects of a still-weak economy and a formidable major competitor that has no intention of ceding any ground to the Mexican domestic low-cost airlines working to solidify their presence within the market place.