Aeromexico looks to pressure Volaris with a new low-fare branding exercise, Contigo
Analysis
Mexico's largest carrier Grupo Aeromexico is preparing to launch its new "Contigo" product offering on 1-Oct-2013 in what appears to be an effort to intensify competition with Mexican low cost carrier Volaris on transborder routes from Guadalajara.

The new lower-fare product is not billed as a low-cost carrier within Gruop Aeromexico's operating structure, rather it seems to be a small-scale effort to ensure it offers a competitive product to frequent transborder travellers from Guadalajara. However, with Aeromexico's generally higher cost structure and the track record of these types of experiments at other large global network carriers, Contigo's staying power is suspect.

Contigo debuts just as Volaris completes an initial public offering that netted nearly USD350 million. The IPO occurred as other Latin American carriers, most notably Brazil's Azul, have shelved plans to access the public markets.
Aeromexico is crafting a new product to intensify competition in Guadalajara
Aeromexico Contigo (translated as Aeromexico with you) was tabled by the carrier in Jun-2013 with a targeted Oct-2013 debut. It is a small scale operation with four of Aeromexico's Boeing 737-800 narrowbodies reconfigured in a higher density seating layout of 174 seats (versus a 160-seat configuration on its other -800s that features a premier business section, Tourist Plus and economy).
The four reconfigured aircraft will feature three rows with more legroom and a reclining backrests with the remaining 156 seats will be configured in the standard economy offering. Volaris operates its Airbus A320s with 174 seats, charging a premium for exit row seating, which features more legroom. It also sells exit row seating for a premium on its smaller 144-seat Airbus A319 narrowbodies.

Aeromexico has explained it is targeting migrant customers residing in Mexico or the US with the new Contigo product, whose elements also include a dedicated call centre for those customers and personal check-in assistance at some airports.

Aircraft operated under the Contigo brand are being deployed mainly from Guadalajara on Aeromexico's existing routes to Chicago O'Hare and four destinations in California – Ontario, Los Angeles, Fresno and Sacramento. Based on current schedules in Innovata (16-Sep-2013 to 22-Sep-2013) Aeromexico is also operating Contigo jets from Guadalajara and Culiacan to Tijuana. It appears the Guadalajara-Tijuana is resumption of service while the flights to Culiacan are new.

All of the product attributes are underpinned by a lower pricing scheme for Contigo flights in what would seem as Aeromexico's response to the lower pricing structure of Volaris, who is the largest carrier from Guadalajara based on seats deployed, holding an approximate 38% share.
Guadalajara Miguel Hidal Airport system capacity (% of seats): 16-Sep-2013 to 22-Sep-2013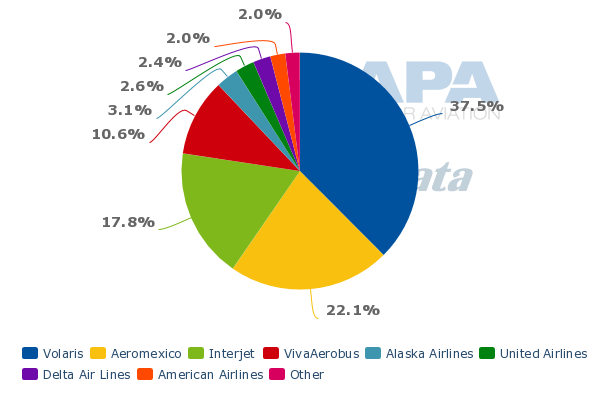 Volaris is also the largest carrier operating international service from Guadalajara, representing roughly 36% of the seats deployed on international routes. Guadalajara-Oakland was Volaris' first international route introduced during 2009 and since that time the carrier has expanded rapidly in the transborder space from Guadalajara, Mexico City and other Mexican cities including Aguascalientes, Toluca, Morelia, Culiacan, Leon and Zacatecas.
Guadalajara Miguel Hidal Airport international capacity (% of seats): 16-Sep-2013 to 22-Sep-2013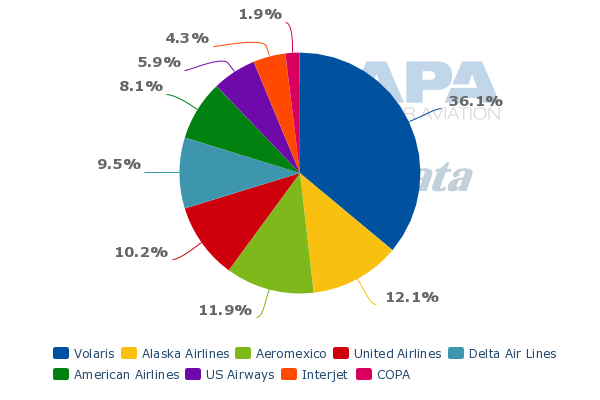 Volaris also competes with Aeromexico on all the markets the Contigo jets are being deployed in with exception of Ontario (which is part of the Los Angeles catchment area). In the Chicago market Volaris serves Midway while Aeromexico operates service from Guadalajara to O'Hare.

Guadalajara is a key market for both carriers as it is serves as the third largest base for Aeromexico and Volaris. It is second largest city in Mexico measured by population and is often referred to the "Silicon Valley of Mexico", so it is not surprising that Aeromexico is attempting to craft a more competitive product on key transborder routes as a means to stymie passengers considering a jump to Volaris.
Aeromexico top 10 hubs/bases/stations by seats: 16-Sep-2013 to 22-Sep-2013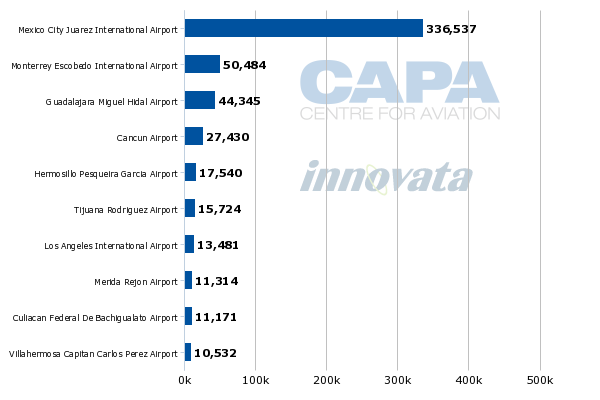 Volaris top 10 hubs/bases/stations by seats: 16-Sep-2013 to 22-Sep-2013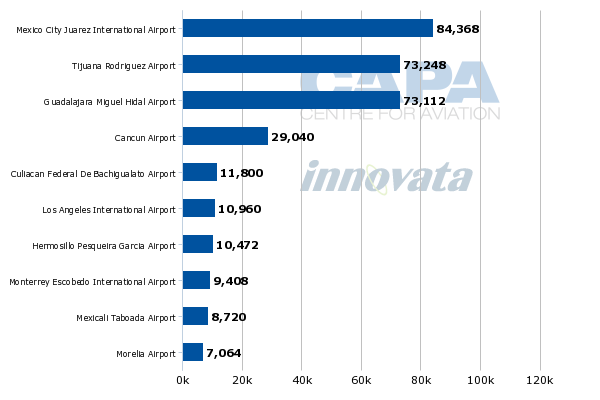 During 2012 Volaris' strategy of building-up Guadalajara included a domestic push with the introduction of new service to Chihuahua, Monterrey, Puebla, Los Mochis and Cancun. Some of those new markets introduced within the last year have helped Volaris to sustain its commanding presence in Guadalajara as those new routes produced some feeder traffic for the carrier's transborder services.

See related report: Mexico's Volaris tweaks transborder flights as it makes a domestic push from Guadalajara
Aeromexico's latest effort seems to be a means to preserve its trans-border edge
Aeromexico's new fare product is debuting amidst softening demand in the Mexican domestic market, according to an assessment of operating conditions issued by the airline at the end of 2Q2013. During the first five months of 2013, domestic passenger growth was roughly 6% compared with an 8% rise the year-prior. A major contributor to the slowing growth is a slight slowdown in the Mexican economy, Aeromexico explained, citing the mere 1.7% increase in the Mexican General Economic Activity Indicator during the first four months of 2013 compared with 5% growth for the same time period in 2012.
That follows commentary by Aeromexico management throughout 2012 of a softer domestic market, which led the carrier to largely focus on international expansion during the latter half of that year as a shield against less favourable market conditions and perhaps pressure from Mexico's three major low cost carriers – Interjet, VivaAerobus and Volaris.

Coinciding with Aeromexico's commentary about a slowdown in domestic demand is the carrier's falling market share within Mexico. During Jun-2013 Grupo Aeromexico (which includes subsidiary Aeromexico Connect) recorded a 3ppt fall in its domestic share to 35%. Volaris grew its share 1ppt to 22% and Interjet recorded a 4ppt increase to 26%.

See related reports:

Aeromexico sees domestic slowdown as it places landmark aircraft order
Mexico domestic traffic grows by 7% in 1H2013 as low-cost airlines eat into Aeromexico market share
It is tough to predict if Aeromexico will quickly recoup its Contigo investment
Perhaps Contigo is a tactic Aeromexico has developed to ensure it sustains a positive performance in its international markets, which represented roughly 45% of the airlines 2Q2013 revenues with domestic operations comprising the remaining 55%.

But given Aeromexico's somewhat higher cost structure, it is tough predict Contigo's longevity against Volaris, which is a younger and presumably more nimble carrier than Mexico's sole legacy network airline.

Data from each carrier show that Aeromexico's unit costs excluding fuel for FY2012 were in the USD6 cent range while Volaris recorded unit costs of USD5.5 cents. While the difference is not astronomical, and with just four aircraft Contigo is a low-stakes gamble, clearly other markets within Aeromexico's network may have to subsidise the fares offered under the Contigo banner. There is also some expense to recoup from essentially revamping a small number of aircraft with a completely different configuration, and if the project has a short shelf-life then those four aircraft will usher in a certain level of inefficiency into Aeromexico's operations.
Aeromexico may be testing low-cost waters but it is far from launching a full assault on Mexican LCCs
It is not clear if Aeromexico has plans to expand the Contigo branding beyond four aircraft. But the move indicates the carrier feels a need to respond to the ever-increasing pressure it feels from the crop of Mexican low-cost carriers that began operations during the middle of the last decade and have been growing rapidly ever since.

Aeromexico held its own relatively well against those airlines compared to its former legacy rival Mexicana. Now it seems Aeromexico is focused on attempting to lower its unit costs as those carriers continue to build up their share of the Mexican domestic market.
The pressure will only continue as Interjet targets some of Aeromexico's domestic markets with new 93-seat Sukhoi Superjet SSJ100s after receiving the first of 20 aircraft in Aug-2013.

At the same time Volaris has opted to move forward with an IPO during 2013 even as Azul and its fellow Mexican carrier Interjet appear to be pushing back their plans to go public. Volaris raised nearly USD350 million in its IPO compared with about USD332 million Aeromexico netted in 2011 when it participated in an initial public offering.

The relatively positive spin-offs of each carrier reflect the market rationalisation that has taken hold in Mexico since Mexicana's demise in late 2010. It is not clear if Contigo is to be a predecessor to a larger scheme by Aeromexico to challenge the country's low-cost carriers, but perhaps it should look in the not too distant past at Mexicana's effort, dubbed Click, to combat the rise of new low cost carriers.
Click was rebranded from Aerocaribe into a low cost carrier in 2005 and three years later became a feeder to Mexicana operating 717s. Two years after that exercise Mexicana ceased operations in Aug-2010.
Aeromexico is unlikely to make any rash decisions given it has somewhat peacefully co-existed with Interjet, VivaAerobus and Volaris prior to and after Mexicana's demise. But with a tenuous Mexican economy Aeromexico is clearly making moves to ensure it retains loyal passengers and maintains its commanding 50%+ market share in international markets among Mexican carriers.
See related report: Volaris makes a move to leapfrog other Mexican LCCs with potential IPO