Tough market conditions for Mexico's airlines continue to drag down Volaris' financial performance
A difficult market climate is persisting in Mexico's aviation business, creating challenges for the country's airlines in gaining pricing traction – a problem that plagued carriers throughout much of 2013 and continues in 2014.

Slow economic growth in Mexico was one factor contributing to a 1Q2014 loss by ultra low-cost carrier Volaris, which also continued to face pressure in some of its markets from capacity increases by its major competitor Aeromexico.

Similar to sentiments Volaris has expressed in the past, the carrier believes there is potential for improvements in Mexico's economy. But the airline is also taking steps to mitigate Mexico's economic weakness to improve its fortunes.
Weak consumer sentiment drives pricing challenges for Mexico's airlines
Volaris' loss of USD28 million in 1Q2014 follows a 4Q2013 loss of USD7 million. Even as the first quarter is a seasonally weak period for the carrier, Volaris noted that consumer confidence among Mexico's residents fell 11% year-on-year during 1Q2014 and government data show that same store sales for supermarkets and department stores fell 1.7%, 0.2% and 2.5%, respectively, in Jan-2014, Feb-2014 and Mar-2014.
Volaris financial results: 1Q2014 vs 1Q2013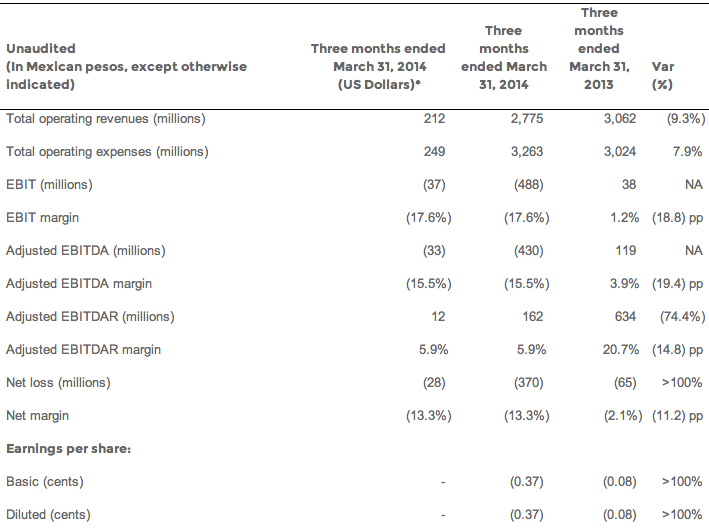 Those less-than-ideal economic conditions reduced the ability of airlines to gain pricing traction during 1Q2014, reflected in Volaris' average fare falling nearly 21% to USD80 and yields plunging 21%. Volaris' break-even fare for the 12M ending Mar-2014 was USD95, which shows the difficulty Mexican carriers face in domestic market pricing. Volaris was also unable to offset some of the weakness in yields with higher load factors as its loads were essentially flat year-on-year at 81%.
Volaris unit revenue and unit cost performance: 1Q2014 vs 1Q2013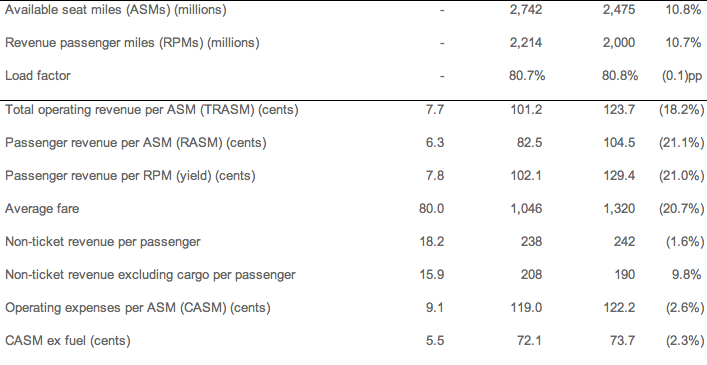 Break-even fare for Volaris versus select other airlines: 12M ending Mar-2014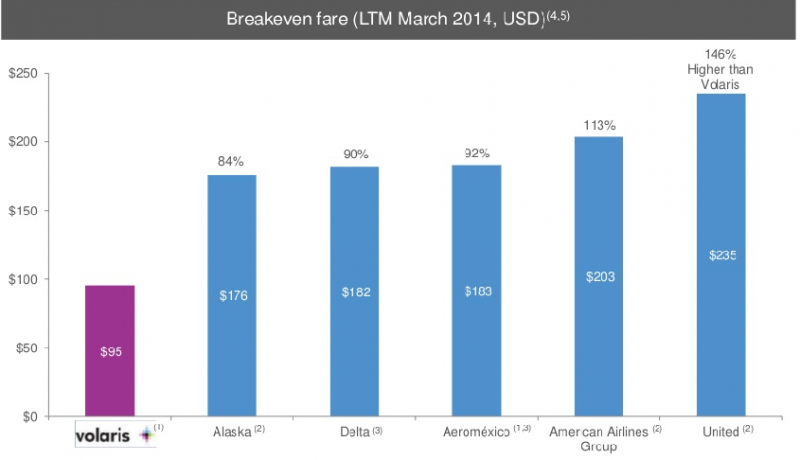 Executives at Volaris noted that presently there is a short term surplus in capacity in some routes from Guadalajara and Tijuana. In late 2013 Aeromexico launched a new low-fare product offering Contigo on certain transborder routes from Guadalajara, and from Guadalajara to Tijuana and Culiacán.

Previously Volaris estimated that fares in certain markets from Guadalajara and Tijuana fell between 30% and 40% in 4Q2013 and concluded that overall pricing reductions in the domestic market were continuing in 1Q2014.

See related reports:

Volaris CEO Enrique Beltranena recently told analysts the carrier was "mindful of growing capacity in Tijuana and Guadalajara, specifically from one large carrier". He declared a short-term surplus of capacity in some markets, which the airline will need to deal with "until supply and demand come back into balance".

To combat some of the pressure created by Aeromexico in those markets Mr Beltranena explained Volaris was relocating capacity to new locations from Tijuana (the carrier's second largest base behind Mexico City, based on seats deployed) to Cancún, Chihuahua, Tuxtla Gutiérrez, and Veracruz. Volaris is the only carrier in all of those markets, so presumably the airline is concluding it can raise prices on those routes to offset some of the pricing weakness created by Aeromexico's increased presence in other routes from Guadalajara and Tijuana. Volaris estimates that roughly 70% of its capacity in 1Q2014 is overlapping with Aeromexico, so it needs to find routes where it can leverage pricing power.
Volaris' competitive capacity overlap: 1Q2014

Volaris is also likely seeing some pricing pressure from changes Aeromexico has instituted in its revenue management scheme that entails discounting fares for travel booked further in advance as a means to capture more cost-sensitive traffic, which is Volaris' targeted traffic segment.

See related report: Aeromexico outlines its revenue and network strategy in an uncertain Mexican market
In Apr-2014 Volaris officially christened Monterrey as its fifth Mexican base, and launched eight new routes from the airport – Chihuahua, Cancún, Ciudad Juárez, Culiacán, Los Cabos, Merida, Puerto Vallarta and Veracruz. In four of those markets – Chihuahua, Cancún, Ciudad Juárez and Veracruz, Volaris becomes the third operating carrier on the route. Aeromexico and VivaAerobus operate service from Monterrey to Chihuahua, Ciudad Juárez, and Veracruz while Interjet and VivaAerobus offer service between Monterrey and Cancún. Volaris competes with VivaAerobus on the remaining routes.

Given Volaris has been operating the new routes for about a month, there is little the carrier could say regarding their performance, other than the unsurprising declaration that most of the new service is ramping up according to expectations.
Volaris also aims to push some capacity into transborder markets
In addition to reallocating capacity around its domestic network to possibly gain some pricing traction Volaris is growing its international capacity during 2Q2014 by 29% as Mr Beltranena concluded the carrier is seeing a better fare environment in those markets. Volaris indicated that pushing some capacity into international markets is a trend that would continue throughout 2014. In Apr-2014 Volaris launched new service from Guadalajara to Ontario, California, a route also served by Aeromexico. Presently Volaris serves about 14 transborder destinations.
Volaris route map as of May-2014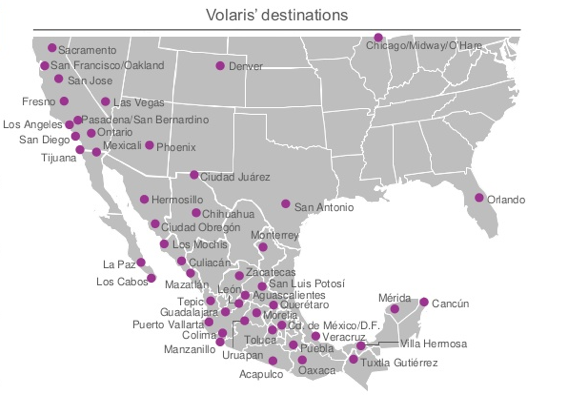 Volaris trims its CY2014 capacity growth to improve Mexico's fare environment
Volaris also appears to be refining its overall capacity targets for CY2014 to 11% to 13% growth from previous estimates of an increase between 12% and 14%. Mr Beltranena emphasised the importance of Volaris' capacity management in order for the fare environment within Mexico to improve.

The carrier does envision a double digit sequential improvement in total unit revenues from 1Q2014 to 2Q2014, but still expects that its unit revenue performance will be weaker year-on-year in 2Q2014. It also believes it will continue to make gains in its ancillary revenue performance in 2Q2014 after growing its non-ticket revenue per passenger excluding cargo by nearly 10% in 1Q2014.

At the end of 1Q2014 Volaris did see some improvement in fares and unit revenue and is adopting an optimistic attitude that a rational mindset will prevail within the Mexican market place and capacity will fall in line with demand. Volaris' largest rival Aeromexico has reduced its planned capacity growth on routes within Mexico from 9% to 12% to an 8% target.
It is hard to share Aeromexico's and Volaris' optimism that Mexico will improve in 2H2014
Both Aeromexico and Volaris recorded losses in the seasonally weak period of 1Q2014 even as passenger volumes in the Mexican domestic market increased by roughly 7% year-on-year from Jan-2014 to Mar-2014.

Each carrier is exhibiting optimism that the domestic market could rebound in 2H2014, but Mexican economic growth has been revised downward to 3% growth for 2014, and it is doubtful that the country's economy will improve enough throughout the remainder of the year to reach those levels.

With consumer confidence falling in the early part of 2014, all Mexican carriers face an uphill climb in achieving pricing traction in the domestic market for the year. The country's two publicly traded carriers Aeromexico and Volaris appear to be taking the necessary steps to mitigate the weak climate; but signs point to continuing challenging times ahead for all Mexican carriers.

As the economy in Mexico remains tenuous, the obvious question arises if the domestic space can support two low-cost carriers (Volaris and VivaAerobus) one hybrid airline (Interjet) and a full-service carrier (Aeromexico). Each carrier taps the untapped potential of the middle class, and the opportunities to migrate passengers from bus to air travel. But until that demand materialises, some of Mexico's carriers may need to temper their enthusiasm and modify their business plans.