Fallout from frozen Venezuela funds dampens Copa Airlines' favourable 2Q2014 performance
Analysis
Effects from the complexities associated with the devaluing of Venezuela's currency continue to plague Copa Airlines as the company works to mitigate the challenges of repatriating funds tied up by the Venezuelan government.

Copa has decided to increase its capacity cuts to Venezuela, which will pressure yields and unit revenues year-on-year in 2H2014 due to a strong performance the year prior driven in part by high-yielding traffic from Venezuela.

The airline's adjustments to minimise the impact of frozen funds in Venezuela has also resulted in downward revisions to its CY2014 operating margin, all of which is overshadowing a strong 2Q2014 performance.
Copa opts to cut its seats to Venezuela by an additional 10% to combat its VEF exposure
Copa ended 2Q2014 with roughly USD1.2 billion in cash, of which USD528 million was frozen in Venezuela for repatriation. Roughly USD446 million was registered at an exchange rate of VEF6.3 to the USD, and US82 million was held under the Sicad I rate which was roughly VEF10 to the USD.

During Jun-2014 Copa received USD43 million in payments from Venezuela at the VEF6.3 exchange rate, which covered repatriation requests from Jan-2013 and Feb-2013.

At one point in 2014 the Venezuelan government was holding nearly USD4 billion in funds owed to global airlines, and several of those companies have significantly cut their capacity to the country.

At the end of 2Q2014 American Airlines estimated it had VEF791 million tied up in Venezuela, and beginning in Jul-2014 cut its weekly flights to the country from 48 to 10.

See related report: American Airlines' strong 2Q2014 results despite revenue headwinds from Venezuela suspensions
Previously, Copa tabled plans to cut its seats on offer to Venezuela by 40% beginning in May-2014 and continuing through Jul-2014. Beginning 1-Aug-2014 Copa cut its seats to Venezuela by an additional 10% as it continues work to minimise its VEF exposure.

Before Copa initiated its seat reduction to Venezuela in May-2014, the country represented roughly 5% of the combined capacity of Copa and Copa Colombia. After the 40% reductions Venezuela represented approximately 3% of the Copa Group's seat capacity. Presently the Copa Group serves Caracas from Panama City Tocumen and Bogota (operated by Copa Colombia) and Valencia Arturo Michelena from Panama City.

See related reports:
Copa slightly adjusts its unit revenue and operating margin forecast for CY2014
At the end of 1Q2014 Copa warned of some margin pressure as the capacity it pulled from Venezuela would be deployed into lower-yielding markets.

Venezuela presents a complex situation for Copa, which needs to keep a foothold in the market, but also in the short term has to reduce its VEF exposure. Unfortunately, the shift of capacity to lower-margin markets coupled with the spool up period for that capacity to make a positive contribution is pressuring Copa's unit revenues and yields during 2H2014.

Copa CEO Pedro Heilbron recently explained to analysts and investors that during 4Q2013 bookings "started shooting up in Venezuela" due to currency and arbitrage between the official rate and the black market rate for the VEF. He also concluded that was also a strong travel period in the region. Essentially, that upside will be absent from Copa's results for the same time period in 2014.

Mr Heilbron stated that Copa shifted capacity away from Venezuela on relatively short notice, so it needs to spool up where it has been redeployed. The airline also needs to adjust its revenue management to reflect different demand patterns in those markets, said Mr Heilbron.

All of the complex, moving pieces of a large portion of Copa's cash remaining stuck in Venezuela have resulted in Copa refining its unit revenue targets for CY2014 from roughly USD13.7 cents to USD13.4 cents and its operating margin from a range of 19% to 21% to 18% to 20%.
Copa Holdings revised and prior CY2014 unite revenue and operating margin outlook

Argentina's economic woes also create yield pressure for Copa
Copa is also seeing some yield weakness in Argentina as the country battles a sovereign debt crisis and faces tepid GDP growth of just 0.5% in CY2014. The airline estimates that presently yields are down 10% in its Argentinean markets. Data from CAPA and OAG show that as of 13-Aug-2014 Copa offers 48 weekly frequencies to Argentina. The airline serves Buenos Aires Ezeiza and Cordoba from its Panama City Tocumen hub.

At the moment Mr Heilbron does not foresee any of Copa's funds getting tied up in Argentina. "We are not accumulating any Argentinean pesos," he stated. Noting that "you learn from experience...we have actions in place that are similar to the actions we took in Venezuela after so much was accumulated. So that's not a risk right now".
World Cup traffic changes create some pressure for Copa in Brazil
During Jul-2014 Copa recorded some weakness in yields on service to Brazil triggered by the World Cup Soccer tournament held in Brazil during Jun-2014 and Jul-2014. Brazilians that typically travel during that time opted to stay in the country and some travellers from other regions in South America opted to drive to Brazil for the matches, said Copa.

The fall-off in traffic could create some slight pressure on Copa's 3Q2014 performance, but traffic flows should return to regular patterns by 4Q2014 as Copa adds its eighth Brazilian market Campinas in Dec-2014. Presently Copa offers service from Panama City to Brasilia, Belo Horizonte, Manaus, Porto Alegre, Sao Paulo, Rio de Janeiro and Recife.
Despite challenges in Venezuela Copa delivers strong 2Q2014 results
All the Venezuela noise overshadowed Copa's strong 2Q2014 results that included a 36% increase in adjusted net income year-on-year to USD116 million. The airline's operating revenues grew 14% to USD674 million, and expenses increased 10% to USD542 million.
Copa Holdings select financial results: 2Q2014 vs 2Q2013 and 1Q2014
On a unit basis Copa's cost excluding fuel notched down 0.9% year-on-year. A nearly 2% rise in yield contributed to a 4.3% increase in passenger unit revenues.
Copa Holdings select operating results: 2Q2014 vs 2Q2013 and 1Q2013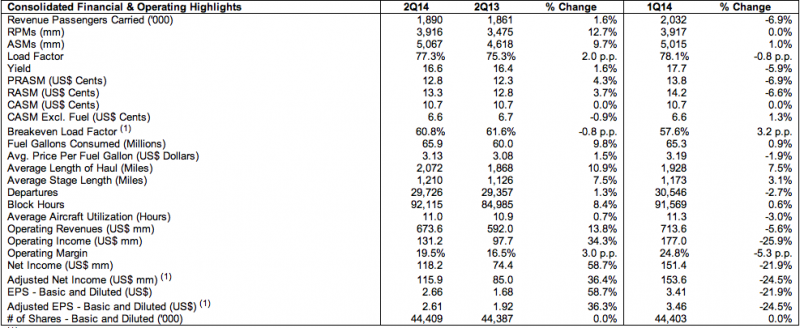 Venezuela will continue to cast shadows over Copa's strong fundamentals
Even with the refined unit revenue and operating margin targets for CY2014, Copa remains poised to deliver strong results for the year, and will maintain its standing as one of the most financially sound airlines in the Americas.

If Copa hits the mid-range of its now projected 18% to 20% operating margin for CY2014, it will be higher than the 17.4% margin the airline recorded in CY2012 and in line with the 19.9% margin it posted in CY2013.

Obviously Copa faces some challenges in redeploying capacity from Venezuela to other markets while ensuring it maintains a reasonable presence in Venezuela so it can capitalise on its position when the currency and repatriation issues are settled.

Although it could take some time for any semblance of normalcy to return to the Venezuelan market, Copa is making the right moves to mitigate the short-term challenges created by Venezuela's complex currency structure.

Even with the short-term yield pressure created by frozen funds in Venezuela, Copa's solid underlying fundamentals remain intact – namely its favourable geographical connection point at Tocumen and a solid financial foundation.