Tiger Airways' pan-Asian ambitions floundering with dire need for growth
Analysis
With progress still to emerge on a series of pan-Asian joint-ventures, Tiger Airways is nearing a tipping point where it must decide if it can be a baby pan-Asian carrier to the more successful AirAsia and Jetstar, or if reality will constrain it to a limited and disconnected franchise network. The implications may make or break the airline group: stalled progress on joint ventures (JV) and a reduced network in Australia saw Tiger instead deploy capacity on its Singapore network. That proved too much, blowing out costs and causing the usually healthy operation to post a SGD12 million (USD9.3 million) loss for the quarter to 30-Sep-2011.
Expected poor performance in Australia as the carrier was impacted from a six-week imposed grounding saw the subsidiary post a SGD27.2 million (USD21 million) loss.
While the outlook in Australia is improving – but with no signs of profitability – there is excess capacity there, too, and the group's addition of five A320s through to Mar-2012 means Tiger is in dire need for one of its joint ventures to succeed. Even if Tiger succeeds in what the airline calls expanding its "paw print" to include "cubs", Tiger's ambitions of rivaling AirAsia and Jetstar are gone.
The group's cost per available seat kilometre excluding fuel rose 10% to SGD4 cents (USD3.07 cents). Cost per seat excluding fuel and foreign exchange increased 24% to SGD63.9 (USD49.19).
Singapore bears grunt of unrealised ambitions
Tiger Airways had planned for operations in Thailand and the Philippines to be launched by May-2011 and had allocated aircraft deliveries accordingly. But with the developments stalled – in the case of the Philippines, two weeks before commencement – Tiger had an excess of capacity it chose to deploy to its Singapore network. The Singapore operation is Tiger's original base and has generally performed financially. Its only other operation, Australia, has had poor financial performance and the airline was cutting back on its network after re-emerging from a six-week grounding in Jul-2011.
Tiger in 2QFY2012 increased its number of flights by 57% with a 64% increase in capacity. Tiger traded yield for revenue, which increased 33%, and capacity outstripped demand. "We are gradually building up the demand," CEO Chin Yau Seng said, adding low margins and poor performance were "because of that lag". Load factors fell – across the group by 7.3 ppts – and was outmatched by a 64% increase in costs.
Tiger Airways Singapore financial results: 2QFY2012 and 1H2012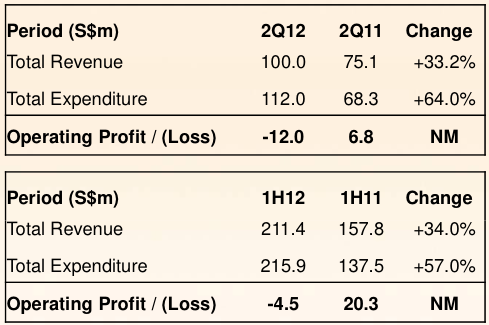 While Tiger's loss in Australia was larger, the Singapore loss holds greater significance. The Australian operation is still increasing fleet utilisation after rebuilding its foundation to ensure the problems that led to its grounding are eliminated. While it will be sometime before the operation is profitable, its financial condition will improve, especially after it adds significant capacity from Dec-2012. But it is not clear how quickly the Singapore operation can return to profitability, especially as fuel prices remain high and the market becomes more crowded. Jetstar Asia is expanding rapidly, including with long-haul services, as is AirAsia, less than an hour north of Singapore by air.
Tiger's traffic statistics for Oct-2011 indicate a 2.7 ppt drop in group load factors from 2QFY2012's already low load factors, suggesting the problems of the 2QFY2012 capacity glut will remain for the duration of the financial year; Tiger is forecasting a lower load factor in 3QFY12 (quarter ending 31-Dec-2011) than the 88% load factor a year earlier.
A more worrying scenario is what Tiger will do with new aircraft if its joint ventures continue to show no progress in becoming operational. The group is due to receive five A320s through Mar-2012 (one existing aircraft will be returned to a lessor for a net increase of four). FY2013 is forecast to see a net increase of eight A320s.
Tiger had planned in Aug-2011 to move two aircraft from Australia to Asia due to Tiger Australia's reduced network and greater potential in Asia. "The plan for Tiger Australia's network at that point was still fluid. We were at that point where we [thought] of flying more in Australia. Since then we've also had developments vis-a-vis our other potential cubs," Mr Chin said in reference to the JVs stalling. Tiger ended up keeping the two aircraft in Australia. "We won't be able to absorb the two aircraft [into Asia] within this calendar year. We decided to leave those two aircraft in Australia to facilitate rotation and it's helping to keep punctuality of on-time performance for Tiger Australia high," Mr Chin said.
Tiger Airways Australia financial results: 2QFY2012 and 1H2012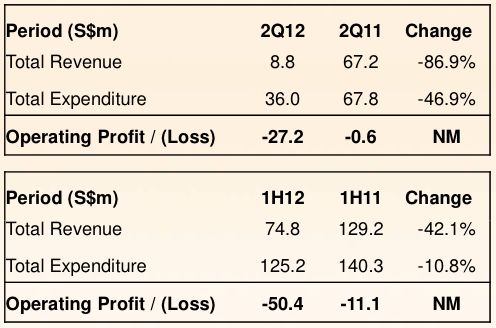 If no growth opportunities emerge through joint ventures, it is very likely Tiger will have to look into delaying the aircraft or leasing them to others, although a recent rights issue has secured the payment necessary to accept the aircraft. Delaying the aircraft or leasing them to others will incur penalties but will be far less than a death wish of deploying the capacity into its already too-light Singapore and Australian networks. Those networks will be further pressured in FY2013 as Scoot, Singapore Airlines' low-cost long-haul carrier, offers new markets.
The Singapore operation's loss should have been about 3-4% higher as the two A320s Tiger had planned to send to Singapore were instead kept in Australia and on the Australian subsidiary's books. As long as the aircraft remain unused in Australia, they will add approximately SGD870,000 (USD672,000) in leasing costs per quarter for Australia, based on the carrier's financial results, while shielding the Singaporean operation on paper.
Passenger numbers and other traffic metrics across the Tiger group were down in 2QFY12 due to the Australian operation being grounded for half the quarter. Average passenger fare rose marginally while ancillary revenues per passenger declined. Given the fluctuation of Tiger's operation owing to the Australian grounding, it is too early to determine if the fare and ancillary prices are a one-off occurrence or a developing trend.
Tiger Airways key metrics for 2QFY12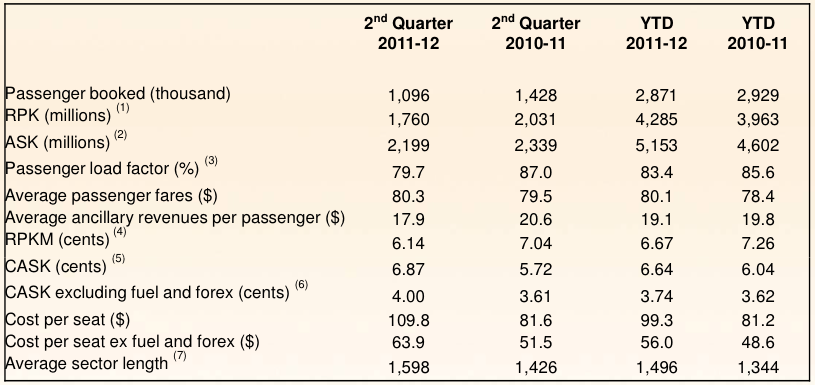 Rights issue maintains ownership level
Shares in Tiger's 1.75x over-subscribed rights issue with allotted on 3-Nov-2011. The ownership was unchanged, with Singapore Airlines maintaining its 33% stake and Dahlia its approximate 7% stake. Tiger gained SGD155.2 million (USD119.5 million) of capital.
No direct benefit from Scoot
Scoot has said it will look for feed from anyone and anywhere for its medium/long-haul flights. Mr Chin said Tiger did not plan at this stage to offer connecting services between Tiger and Scoot except for those where passengers self-connect.
"We don't intend to compromise our LCC model. We focus on point-to-point traffic," Mr Chin said. Connections introduce a great deal of complexity on reservation and IT systems, but at Changi, the base of Tiger and Scoot, terminal layout poses another problem, Mr Chin said. Tiger is based at the low-cost terminal while Scoot will be based at Changi's main terminals, which are detached from the low-cost terminal and a bus ride away, unlike Changi's main terminals that are all connected.
Mr Chin said in the future there may be an airside bus link between the terminals but that passengers would still have to purchase separate Scoot and Tiger tickets and would have to self-connect. "There are discussions between Scoot and Changi to facilitate some sort of solution for connections. If that happens, it will make connections easier. But that still means people will be buying sector fares from Tiger if they want to connect." Mr Chin downplayed the prospect of Singapore's low-cost terminal being expanded to accommodate widebody aircraft. "It's much easier to transfer airside," he said.
Still working to re-activate Mandala AOC

In May-2011, Tiger acquired a 33% stake in Indonesia's Mandala Airlines, who suspended operations earlier this year. Mandala was due to re-launch by the end of this calendar year using Tiger's low-cost model, but Mr Chin said "the start-up won't be [operational by] the end of this year". This places doubts on even an early 2012 launch despite Mr Chin saying Mandala is aiming for a Jan-2012 launch. This is concerning given the reliance Tiger has placed on Mandala to absorb new A320s. "The additional deliveries are largely earmarked for our joint-ventures, in this case Mandala," Mr Chin said.
He was unsurprisingly upbeat about the JV, saying "at the present moment it's all systems go", although the carrier is still working to re-activate its frozen Air Operator's Certificate. While the Indonesian market holds enormous growth potential, it is never easy re-launching a bankrupt carrier – some say it is easier to start afresh – especially as Indonesia clamps down on regulations. Within those involved in the re-launch, there is doubt about the carrier becoming operational again. While AirAsia has an Indonesian subsidiary, it predominately focuses on international services, whereas Mandala is expected to take up a greater share of the domestic market than Indonesia AirAsia.
Mandala's stakeholders, who also include Indonesia's Saratoga Group with a 51% stake and creditors holding the remaining 16%, are still yet to resolve with Airbus the pre-delivery payments Mandala has made as part of its 2007 order for 25 A320s. Tiger intends to have Mandala use its A320s. Mr Chin said Mandala hoped its pre-delivery payments would be refunded – but that is unlikely to occur in full.
Positive sign for launching domestic operations in Philippines – but competition a different story
The Filipino regulator, the Civil Aeronautics Board (CAB), has lifted its cease and desist order against SEAir's domestic operations, Tiger CFO Chin Sak Hin said. The order was imposed in May-2011 two weeks before Tiger and local carrier SEAir were due to commence domestic Filipino flights under a marketing agreement in which SEAir leases its aircraft from Tiger and sell its tickets through Tiger's website. SEAir's competitors complained this was effectively cabotage. The CAB's decision clears Tiger and SEAir to legally resume their marketing agreement, but Tiger did not specify when domestic flights under the agreement would commence. "As a result of this recent development, SEAir is reviewing its route network, which includes international routes," Mr Chin said. SEAir was awarded rights to serve China and Malaysia.
Tiger already leases two A319s to SEAir, which in Dec-2010 launched a Tiger-branded international division. Mr Chin said Tiger is looking to complete a 32.5% equity investment in SEAir, but did not provide a timeline.
While the CAB may have cleared Tiger and SEAir to legally commence their marketing agreement, profitability may be elusive. SEAir will be up against stiff competition from several low-cost carriers including Cebu Pacific, Philippine Airlines LCC partner AirPhil Express and AirAsia, which is planning to launch its own domestic operation early next year.
Thai Tiger becoming a moot point
Thai Tiger, a proposed joint venture between Tiger and Thai Airways, has been all but dead for a few months. The Thai Government has not given approval, Thai Airways has said the JV will not occur and the JV terms have expired. Tiger now appears ready to acknowledge this reality.
"There was no government approval coming. So that's where we left it. Subsequently we agreed to stay in touch and at some point meet and agree what to do with this project," Mr Chin said. While Mr Chin did not say if Tiger had planned to hold conversations with Thai Airways during the past month, he said floods in Thailand had put pressure on Thai. "The last couple of weeks has been a very bad time for us to speak with Thai Airways," Mr Chin said.
Australia, once the basket case, rebounding
Approximately half of Tiger's 2QFY2012 saw the Australian subsidiary grounded, which at the time Tiger said would cost SGD2 million (USD1.5 million) per week, putting the total six-week grounding at an estimated loss of SGD12 million (USD9 million). The remaining SGD15.2 million (USD11.7 million) loss from the subsidiary's total SGD27.2 million (USD21 million) loss was incurred as the carrier re-launched flights with weak load factors. Notably, Tiger's post-grounding fare prices – AUD49.95 (USD50.41) for Melbourne-Sydney one-way – have been sustainably higher than pre-grounding when lead-in fares were AUD29.95 (USD30.23) or AUD39.95 (USD40.2). "I guess that shows that customers in Australia are willing to pay those fares," Mr Chin said.
Tiger was permitted to resume operations but limited to 18 sectors per day for August, a restriction in place to ensure Tiger once again did not grow too quickly and so the Australian safety regulator could closely watch the carrier's operation. The carrier gradually built up its network to operate by late Sept-2011 up to 22 sectors per day. The additional sectors were approved by the Civil Aviation Safety Authority (CASA).
Tiger in its 2QFY2012 results was eager to portray itself and further growth as being subject to the whim of CASA looking for good behavior from Tiger. When asked about profitability in Australia, Mr Chin said that "will be determined by how much flying that we can do. Certainly at 22 sectors a day there's no way we can make money".
The evening after the results briefing, Tiger eagerly announced it received approval from CASA to operate 10 additional sectors, providing the airline with a much-needed boost after poor financial performance group-wide and a stagnating strategy.
But CASA approval and its impact on profitability is becoming a non-issue. Tiger received approval for the sectors prior to the results briefing and has been able, at any time, to apply to CASA for additional sectors. CASA has so far not rejected any of Tiger's requests for growth. Tiger still has certain conditions on its AOC until early next year and has not yet re-opened its web check-in, which CASA forced Tiger to shut down until it could better address the capability of passengers assigned to sit in exit rows. Mr Chin said there "other priorities" than resuming online check-in.
The additional sectors will be used not to open new destinations but increase capacity on all of Tiger's existing routes from Melbourne to Brisbane, Gold Coast, Perth and Sydney. Once the increase takes effect in Dec-2011, Tiger will be operating 43% of its pre-grounding available seat kilometres.
Any profits from Tiger's current flights are off-set by leasing costs of the under-utilised fleet. Tiger's current schedule could be operated by about half of its current Australian fleet (10 A320s). If the fleet size is to remain the same and current pricing strategy remains in place, Tiger would likely need to double its Australian capacity (effective 16-Dec-2011) before looking at a return to profitability at the operating level. Given the large costs Tiger has so far incurred in Australia, recouping start-up costs and losses will not occur for at least one or two years.
Tiger Airways daily average available seat kilometres (in millions): weeks ending Jun-2011 to 23-Dec-2011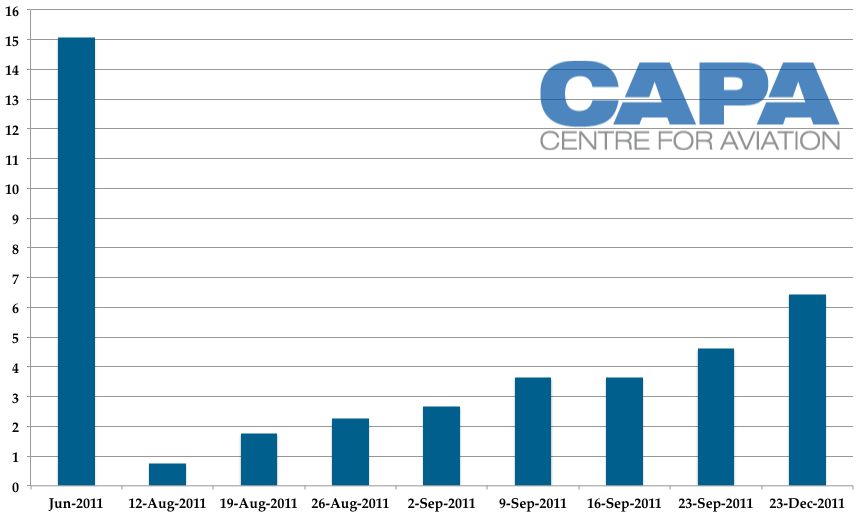 Tiger's new schedule will see it nearly resume its full pre-grounding schedule to its current four destinations, except on mid-week travel.
Tiger Airways Australia pre- and post-grounding weekly flights from Melbourne (weeks commencing 16-Dec-2011 v 6-Jun-2011)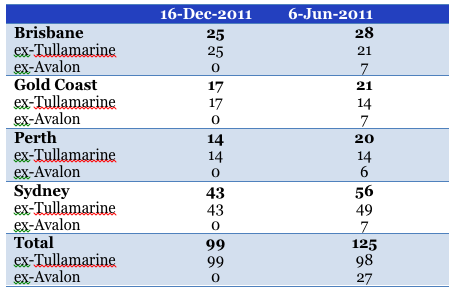 Mr Chin said Tiger Australia would continue to build on "core domestic routes". With the carrier to offer its previous schedule on peak days, Tiger will have to await response to the additional flights to see if it can add further capacity – either mid-week travel or grow beyond its pre-grounding schedule – or if it needs to resume operations to its other markets. Various destinations have said they have been promised an eventual return by Tiger.
Despite having four bases prior to its grounding, Mr Chin affirmed Tiger would for now stick with Melbourne Tullamarine as its only base. Other bases, he said, are "not in the immediate future".
In Jun-2011 Tiger announced it would close its virtual base at Sydney as flights out of there were prone to knock-on delays. Tiger was also planning to exit its Adelaide base and is still in discussions with the South Australian government over repaying an AUD2.25 million grant for an early exit. Upon resuming operations, Tiger announced it would suspend its base at Avalon, further away from Melbourne than Tiger's main base at Tullamarine. Mr Chin said Avalon remains suspended. Tiger is not expected to resume services there for at least a year. Prior to Tiger's grounding the carrier planned to move some Avalon flights to Tullamarine.
In terms of its former destinations, only Alice Springs is currently served by a single other carrier – full-service Qantas – making the route potentially ripe for Tiger. Melbourne-Adelaide and Melbourne-Canberra are the most popular domestic routes from Melbourne that Tiger does not currently serve.
Competition on unresumed routes Tiger Airways Australia ex-Melbourne Tullamarine not flagged for cancellation

Elusive profitability but ample on-time performance
Until the 2QFY2012 results briefing, Tiger had said its focus in Australia was to return the operation to profitability. But now, Mr Chin said, "Our immediate target is to get the operation to a break-even level". That suggests a profit may be further off than previously planned.
One number that has gone up positively for Tiger is its on-time performance in Australia. Previously the worst performing domestic carrier, earning the airline notoriety from the public, Tiger in Sep-2011 was the best-performing carrier with 91% of flights on-time with no cancellations. Mr Chin did note that was based on a reduced operation. The performance was helped by keeping two A320s in Australia as operational spares.
Tiger places confidence in Andrew David for Australia, but elsewhere needs silver bullets
Although Tiger Australia's new CEO Andrew David – who replaced the group's founder, Tony Davis, who has left the company – has been on the job for only a month, Mr Chin placed great confidence in him to lead the Australian operation, although Mr David is understood to have come into a bit more than he bargained for. His reputation to cross Ts and dot Is will see Tiger Australia occupy a sustainable and safe operation that works its way towards break-even and the now more elusive goal of profitability.
"We believe we got the best candidate around. He has very high expectations to meet," Mr Chin said of Mr David. "Given his experience, we're quite confident he can take the airline to very high levels but it's still early days."
But elsewhere Tiger is out of luck. Its venture in Thailand can be considered off while there have been no announced projections for the Mandala or SEAir partnerships, despite SEAir and Tiger being able to market flights once again. Even if those ventures are realised, their next struggle will be with competition as Tiger's larger pan-Asian competitors AirAsia and Jetstar reach into new and bigger markets. This first sailing of the Asian LCC boat has departed without Tiger, which must now contend with a second-tier status – if it can be maintained.
Currency conversion: 1 SGD = 0.77 USD
See related articles: