Tiger Australia settles in for medium-term with new director but growth restrictions and lower fares
Analysis
Tiger Airways Australia is settling in for the medium-term with a re-launched network it has built up, which is now approximately one-third of its Jun-2011 pre-grounding size. The immediate future will see former Virgin Blue executive Andrew David take the reigns from Tony Davis, who is leaving the company.
Tiger is also lowering its lead-in fares to pre-grounding levels, but no headline fares of AUD15 inclusive or zero (plus taxes) have been offered yet, and may not be as long as Tiger faces no price undercutting and seeks to build network volume with requisite approval from the Civil Aviation Safety Authority (CASA). Its growth outlook is focused on Melbourne Tullamarine, with service resumption from Melbourne Avalon unlikely in the next year.
Tiger operating at 31% of previous ASKs, 15% of sectors
Since re-launching services from Melbourne Tullamarine to Sydney on 12-Aug-2011 after a reprieve from CASA, who grounded the carrier on 1-Jul-2011 over safety concerns, Tiger has built up its Australian network to include 33 weekly services to Sydney, thrice-daily to Brisbane, double-daily to Gold Coast and daily to Perth. Tiger is now operating an average 4.6 million available seat-kilometers per day, 31% of the 15.1 million ASKs it operated in Jun-2011 prior to its grounding. These 75 weekly sectors represent 15% of Tiger's pre-grounding sectors.
The disparity is for two reasons. A CASA condition to restrict Tiger to operating a maximum of 18 sectors a day for August – implemented to help Tiger correctly steer itself and for CASA to carefully watch the carrier – meant Tiger had to choose which routes to operate. It has so far favoured major routes from Melbourne to Brisbane (1379km away), Gold Coast (1328km) and Perth (2706km) that are longer than Tiger's pre-grounding average sector length of approximately 900km. CASA's sector restriction also incentivised Tiger to operate routes that would give it the largest cash flow; Tiger estimates the six week grounding cost it SGD2 million (USD1.5 million) per week.
Tiger Airways daily average available seat kilometres (in million) for week ending: Jun-2011 to 30-Sep-2011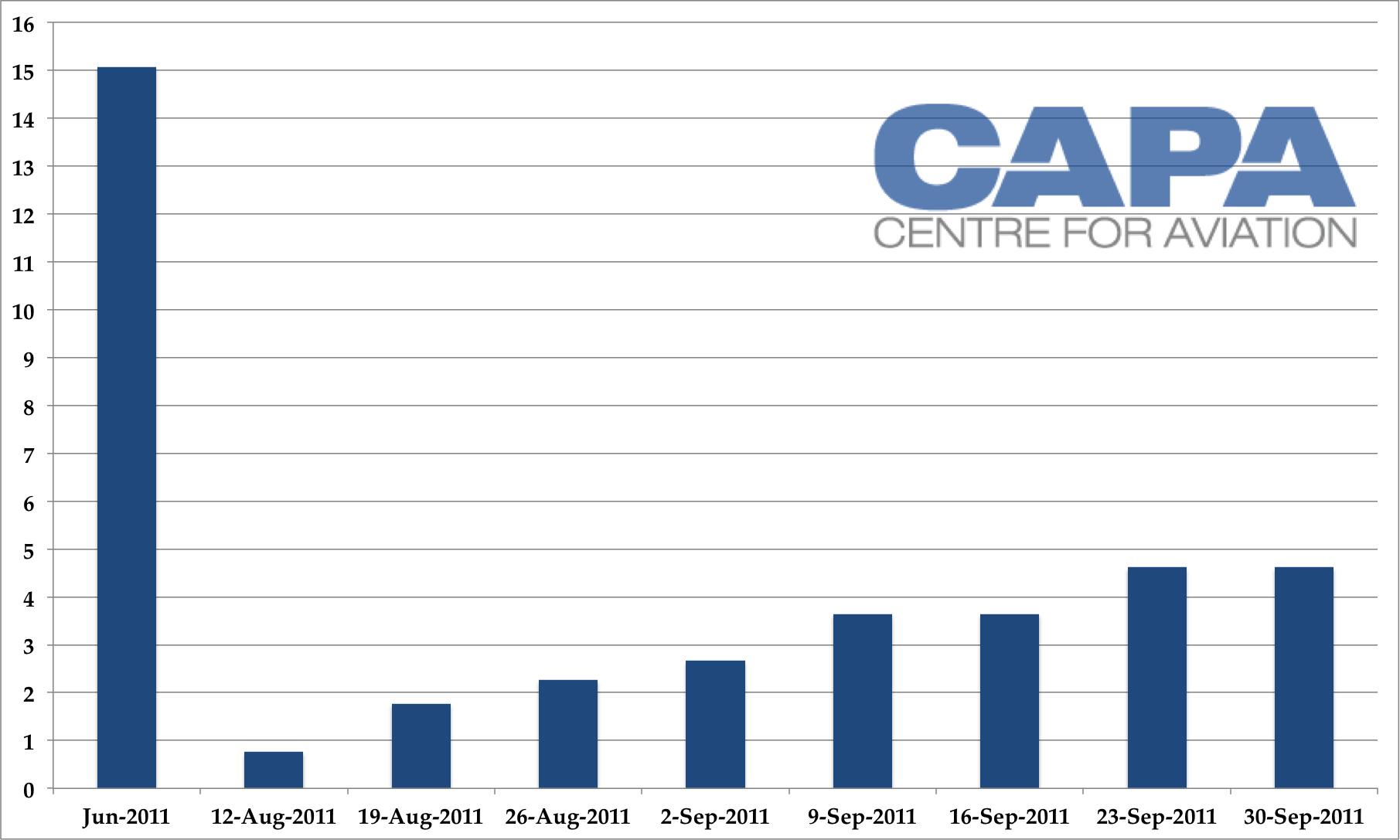 Overcoming growth restrictions
CASA has kept the 18 sector restriction on Tiger but with the addendum that additional services above that can be operated with the safety regulator's permission. This arrangement – as well as CASA's close scrutiny of Tiger's operations – is expected to remain in place for the duration of the year. CASA has so far acquiesced to Tiger, who is operating 150 weekly sectors, whereas under the cap of 18 a day it would be restricted to 126 weekly sectors.
Service from Avalon airport unlikely in next year
Tiger is not expected to resume flights in the next year from Melbourne Avalon, a base it opened in Nov-2010. While Tiger resumed flights post-grounding only from Melbourne Tullamarine, it did express hopes of returning to Avalon – "very much so" was the description Tiger Australia CEO Tony Davis gave at the carrier's Aug-2011 re-launch.
Prior to its grounding Tiger expected to shift three of its Avalon flights – Adelaide, Brisbane and the Gold Coast – to Tullamarine, leaving Avalon with only daily Perth and Sydney services. While the airport offered reduced landing fees, it also required fuel to be trucked in at a premium of 7-8 cents a litre. The additional base also added complexity, which Mr Davis said Tiger wants to reduce.
Andrew David brings 'local' experience to Tiger
Former Virgin Blue chief operating officer Andrew David – who announced his departure on 1-Jul-2010, prior to the company's May-2011 re-branding – is the latest addition to Tiger's senior management, effective 17-October-2011, following founder and CEO Tony Davis disclosing his intention to leave the group. Following Tiger's grounding Mr Davis took over the Australian operation from local manager Crawford Rix, who left the company during the grounding.
In head office in Singapore Mr Davis was replaced by Chin Yau Seng, who will continue as group CEO. The appointment of Mr David to replace Mr Davis gives the group a complete management team for the future. Prior to Virgin Blue Mr David held a number of positions at Air New Zealand, including General Manager Pacific Airline, VP Group Strategy and Planning, Chief Information Officer and Operations Business Performance Manager.
Between Mr Davis's departure announcement and Mr David's appointment, local reports indicated the group was looking for a manager with "local" experience. Nationally, carriers are falling under public scrutiny for being "un-Australian", with only Virgin Australia – who is on-shoring jobs and creating new local jobs – avoiding this negative publicity. Additionally, Tiger Australia's managers have been predominantly British-born: Chris Ward, Crawford Rix and Tony Davis as well as South African-born Shelley Roberts.
Although CASA has publicly faulted Tiger for not growing its operations commensurate with safety, Tiger's managers have proved themselves in growing the operation, increasing passenger numbers and in one year coming close to break-even.
It should be noted Tiger's hunt for a local manager has largely only been possible recently. As is typical of leadership changes, John Borghetti's appointment as Virgin Australia CEO effective May-2010 was followed by departures from senior managers and executives, creating an available talent pool for the first occasion in recent times.
Incoming Tiger Australia managing director Andrew David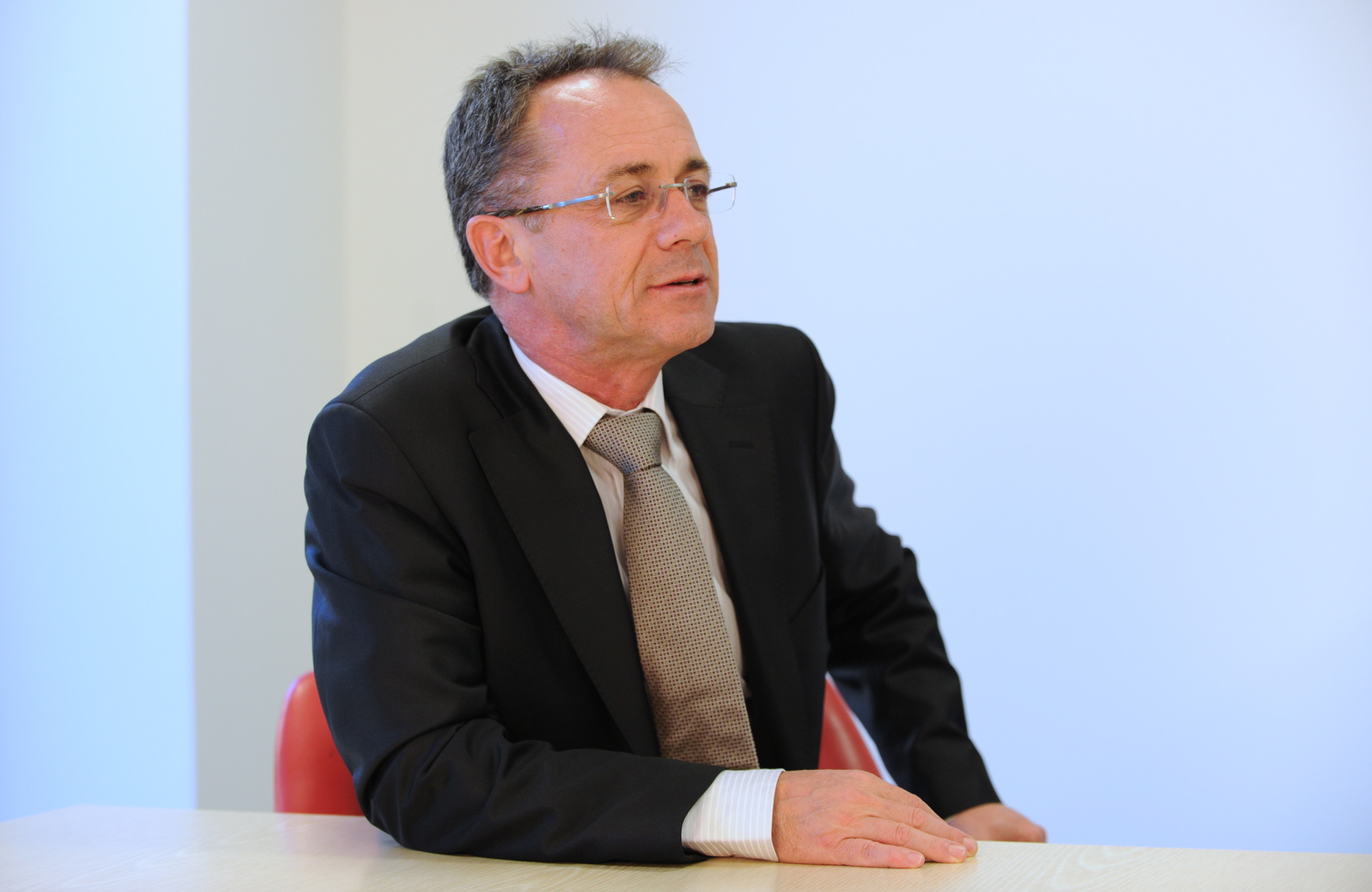 The calls for local experience could also signal Tiger wanting to capture part of the corporate market and its associated high-yield fares. Tiger already offers an ancillary option that permits changes to flight times. Virgin Blue in the middle of the last decade made a similar push into the corporate market, and globally low-cost carriers including easyJet, jetBlue, Southwest and Vueling are positioning themselves to capture the corporate market. Tiger receives some business travellers – especially on its Melbourne-Sydney route – but a further push would require the personal connections and knowledge of market nuances someone like Mr David would possess. While 49% stakeholder Singapore Airlines has partnered with the up-market Virgin Australia, who would not want to see Tiger encroach in its new territory, the global evolution of LCCs targetting the corporate market in large or small numbers is undeniable.
Well-regarded Mr David ready for the Tiger challenge
Mr David is held in high regards. He is described as savvy yet suave and is well liked and respected by the industry and colleagues. Morale boosting at tight-knit Tiger is in order following the grounding, which saw some staff paid fractions of their salaries while casuals including ground staff and cabin crew were not paid as there were no flights.
Most importantly, Mr David is seen as motivated and ready for a challenge after leaving Virgin Blue. Mr David brings the largest credentials Tiger Australia has seen from a long-term director, as well as some of the top credentials to the entire Tiger Group – a type of experienced leadership that perhaps should have been the status quo hitherto. It is an earnest move from the Tiger Group, helped along by reputable shareholder Singapore Airlines, and demonstrates how staunch Tiger is of its commitment to the Australian market.
Continued upward pressure on fares difficult to discern
Tiger's Jul-2011 grounding prompted an immediate increase in fares, an upward pressure that continued this month with the cheapest available fares 20.3% higher than a year ago, as measured by Australia's Bureau of Infrastructure, Transport and Regional Economics (BITRE) in its Domestic Air Fare Index. But the larger picture – if fares are continuing to increase or are plateauing at a higher level than in the past – is harder to discern.
Best available fares in Sep-2011 are 20.1% higher than the proceeding month, an increase commensurate with the 19.0% increase in fares from Aug-2010 to Sep-2010. Increases over this time are typical due to school holidays making the month a popular travelling period. An increase this year that is approximately the same as last year's suggests fares are plateauing out, albeit at a higher base level than in past years. The commensurate increase is notable as BITRE calculates the fares for travel on the last Thursday of the month, which this year was only two days away from the major sporting match, and travelling event, for the Australian Rules Football grand final, where as last year the match was the week before fares for the month were calculated.
Lowest best discount domestic Australian fare, Aug/Sep/Oct-2010 vs Aug/Sep-2011 (July 2003=100)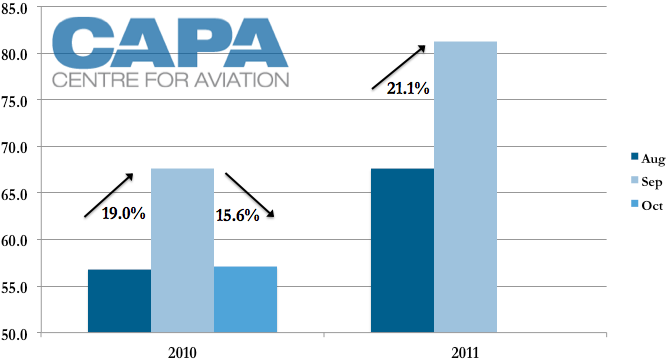 Attention in BITRE's Oct-2011 fare index should be given to the percentage difference from Sep-2011. A decrease of approximately 16% would suggest averages fares are plateauing, but a larger decrease (>16%) would suggest the post-grounding upward pressure is dissipating, while a smaller decrease (<15%) would suggest fares are continuing to increase. Fuel price, however, can be a compounding factor as it is typically included in the base fare.
In concession, Tiger lowers fares
This general upward pressure – now fluctuating according to historical trends – is created by the higher lead-in fares that emerged after Tiger resumed operations in Aug-2011. On the Melbourne-Sydney route for example, Tiger prior to its grounding offered lead-in fares of $39 and even $29 before the recent rise in fuel costs. Headline fares, which are harder to consistently purchase, had even been $15 with tax or $0 plus taxes. After Tiger resumed operations, its re-launch fares were $49. Only recently have they decreased – on selective days and times – to $39, indicating its re-launch pricing strategy has not generated the demand Tiger hoped for.
Tiger's initial service resumption pricing strategy was to increase fares, a tactic it reckoned it could sustain in the highly competitive low-end market as its competitors increased fares during its grounding. Tiger, which has not turned a profit in Australia and incurred losses during its grounding, needed to shore up revenue. "We're making sure we're offering a price that's appropriate to the marketplace. If you look at what our competitors are charging at the moment, $49 for Melbourne-Sydney is a pretty good price," Mr Davis said at the time of Tiger's re-launch.
Tiger was banking on those sticker prices generating demand without substantial marketing, which it never previously undertook in great strides. "There's certainly an awareness issue, but cheap fares are clearly what Australians want and that's what we'd like to give them," Mr Davis said. But consumer uptake was low. The load factor across the Tiger Group, which includes Tiger Airways Singapore, dropped 10 percentage points in Aug-2011 compared to Jul-2011.
"Given the short lead time to market the capacity, load factors were markedly lower than the same period last year. However, the load factors had improved during the course of the month and the positive trend is encouraging," Mr Chin said in a statement, which also attributed the decline due to the effect on its Asian operations of lower demand surrounding Ramadan. On 13-Sep-2011 Tiger disclosed it had "an average load factor of close to 80% for all available seats".
Anecdotally, some evening flights between Melbourne and Sydney – peak demand times – have had load factors of 25-33%. Dropping lead-in fares, if demand is properly forecast, can stimulate greater sales and, importantly for the bottom line, corresponding ancillary revenue.
Missing growth opportunities – where Tiger will fly to next
Tiger will not in the short-term be able to fully replicate its pre-grounding network, although it is under pressure to utilise the eight A320s it leases. The carrier has consistently said it is "earmarking" a return to other destinations.
Prior to its grounding Tiger announced it would end Sydney-Brisbane, Sydney-Sunshine Coast, Melbourne-Mackay and Melbourne-Rockhampton flights. Pre-grounding Tiger was also exploring to leave its Adelaide base, which was confirmed after the grounding was lifted. These changes would have collectively reduced Tiger Australia's ASKs to 85.7% of its pre-grounding network.
Tiger did not announce replacement routes to utilise the spare capacity, and in the case of closing its Adelaide base, Tiger opted to move two A320s from its Australian operation to its Asian operations. (Further aircraft re-allocation to Asia may be possible if Tiger's prospective new subsidiaries and growth opportunities gain clearance; progress is finally showing on Tiger's partnership in Indonesia with Mandala Airlines.)
The carrier did plan to open a Brisbane base around Mar-2011, but that was delayed due to the Queensland floods at the start of the year, and then blocked shortly thereafter when a show cause notice restricted Tiger from expanding. Tiger since the grounding has shown interest in operating from a single base, Melbourne Tullamarine.
Service by other Australian carriers on routes Tiger has not resumed (3-Oct-2011)

Tiger has not resumed its Melbourne-Alice Springs route, which it served four times a week prior to its grounding. It is the only one of its un-resumed services that faces competition from just a single other airline, Qantas.
Qantas serves the route daily with a B737. The four-weekly services represents 2.5% of Tiger's pre-grounding ASKs. Northern Territory tourism minister Malarndirri McCarthy intends to push for a timeline on the service, which she says Tiger has expressed interest in resuming.
Of the other routes Tiger has not resumed services to, Melbourne-Adelaide is the most popular nationally, with 45,880 seats available this week, making the route the fifth most popular domestic service in the country, according to CAPA's Route Analyser Tool. The route would be in line with Tiger's "focus on popular and profitable routes". Prior to its grounding Tiger served the route three times daily from Tullamarine airport and once daily from Avalon airport, comprising 6.1% of its pre-grounding ASKs.
The next most popular route is Melbourne-Canberra, which is the eleventh most popular in the country with 28,231 weekly seats. Tiger served the route once a day prior to its grounding, comprising 0.5% of ASKs.
Rounding out the possibilities are Melbourne-Hobart, the sixteenth most popular route with 22,321 weekly seats and which Tiger served once a day prior to its grounding (for 1.7% of its ASKs), as well as Melbourne-Cairns, the twenty-sixth most popular route with 12,820 seats and which Tiger also served once a day before its grounding (for 2.8% of its AKSs). Tiger also served Melbourne-Sunshine Coast, the thirty-fifth most popular domestic route with 8,102 seats, four times weekly prior to its grounding (for 1.3% of ASKs).
Additional frequencies
In terms of expansion by adding frequencies, Tiger is already at its pre-grounding frequency on Melbourne-Brisbane (thrice daily). With four to five flights a day to Sydney, Tiger could – pending demand – increase services to its pre-grounding frequency of seven times a day (from Tullamarine; Tiger also had one daily flight from Avalon).
On the Melbourne-Gold Coast route, Tiger is already serving its two pre-grounding daily Tullamarine services, but not the daily service from Avalon Tiger planned in June to move to Tullamarine. Likewise on the Perth route, Tiger is currently flying one of its two pre-grounding services from Tullamarine but none of its six-weekly Avalon services.
Outlook: Mr David to carry Tiger forward
While Tiger's focus has been a return to growing its operation commensurate with safety, the focus has also been on a sustainable operation not plagued by the delays and cancellations Tiger became infamous for. By mid-September Tiger reported an on time performance of 96% with no flight cancellations. "The airline is on track to deliver what it said it would," an accompanying statement said.
As Tiger ticks the boxes of what it needs to achieve to create a sustainable base for future growth, it increasingly needs to look at the end outcome it is trying to achieve: growth that brings profitability. With Tiger ruling out additional bases and the carrier unable to fly internationally since it is foreign-owned, Mr David's options for growth look limited unless he can make a case for a new base.
Another option may be to keep the network but adjust focus – say to capture some of the corporate sector. While Tiger itself has yet to achieve profitability, its presence in Australia has caused yields to suffer from the incumbent carriers. Waiting in the wings is Mr David with a potential scenario Virgin Australia has already brought and which Qantas would not want to experience a second time: a highly-skilled and respected but passed-over executive taking the leash to show his might. And on that leash Mr David has found no better animal awaiting a turnaround.