Tiger Australia looks to future but risks forgetting past
Analysis
Tiger Airways Australia has a clear message about its future after the end of a six-week grounding: it is effectively starting over with the aim to build a foundation it can expand from without the safety and operational immaturity that resulted from growing capacity but not associated safety support, a past it does not want to talk about. But to achieve its new objective, Tiger must remember and continue to address its mistakes, as doing so is the first step in the long track towards profitability.
Foundation first, then profitability
"What we're trying to do is build a solid foundation with an infrastructure and management team that is capable of growing the business into a larger operation in the future," CEO Tony Davis said at the 12-Aug-2011 re-launch, his first public appearance since the 01-Jul-2011 grounding.
Tiger has reduced complexity by closing its Adelaide base and suspending services from Melbourne Avalon, on top of its pre-grounding decision to close its virtual base at Sydney for flights to Queensland. "That gives us a centralised operation. It's simpler," Mr Davis said.
Although the Civil Aviation Safety Authority (CASA) is permitting Tiger to operate up to 18 sectors a day this month, Tiger has shown no rush to quickly reach that threshold. The carrier resumed with three round-trips to Sydney, building to five daily return services, and from 18-Aug-2011 will re-commence a second route, a daily return to Brisbane, increasing next week to double daily when Tiger will use 14 of its allotted 18 sectors and operate 15% of its pre-grounding schedule based on available seat kilometers. Further increases will see Tiger achieve an aircraft utilisation rate Mr Davis said "will be in line" with the pre-grounding rate.
As of the resumption of Brisbane services, Tiger reports it has operated all flights and done so with 100% on time performance (defined as arriving within 15 minutes), an achievement certainly to be hoped for given the reduced schedule, but especially notable given the carrier's historically weak on-time performance – often falling last in place – an unreliability that lost them favour with the market. "I think the key thing is that gradual ramp-up. It's not to try to operate too many services too quickly," Mr Davis said.
Now Mr Davis has to continue growth while maintaining performance parameters, but declined to comment when the new approach could generate the subsidiary's first profit, explaining that getting the right structure for the future would precede immediate profitability. "The key right now is to build a solid foundation. Once that's occurred, clearly the business needs to be profitable."
With that approach Tiger's board continues to show long-term confidence about Australia despite mounting losses: the carrier said the grounding cost it SGD2 million (USD2 million) a week. Tiger Australia also had a first-quarter loss of SGD23.2 mil (USD19.2 million) after last year's annual loss of SGD7.1 million (USD5.9 million). It is projected to post a loss for the financial year through 31-Mar-2012 and impact the group's overall profitability.
"I believe that our airline has a significant role to play in the future of Australia's domestic aviation industry, but I acknowledge we have to earn this…[and] we can only achieve [it] once we've restored confidence," Mr Davis said.
Tiger Airways Australia route network: then and now
| Pre-grounding route network in Jun-2011 | Route network as of 18-Aug-2011 |
| --- | --- |
| | |
The selection of Sydney and Brisbane as Tiger's first resumed destinations reflects the carrier wanting to enter proven high-demand markets – Sydney and Brisbane are the two largest markets from Melbourne – that can quickly fill its A320s, rather than pursue its launch strategy of flying thinner and underserved routes.
The decision could reflect a dogmatic change, with Tiger no longer following the low-cost carrier mantra of maintaining the lowest possible cost base but instead pursuing a legacy carrier strategy of chasing yields. In Tiger's early days the industry talked of the carrier serving the Sydney area via low-cost Bankstown instead of high-priced Sydney International, although Tiger said its operation was too small. "Given our current size, we have better opportunity with some of the thinner routes than trying to take on these three routes," Mr Davis said after Tiger's original launch.
Top ten domestic routes from Melbourne Tullamarine by seats (15-Aug-2011 to 21-Aug-2011)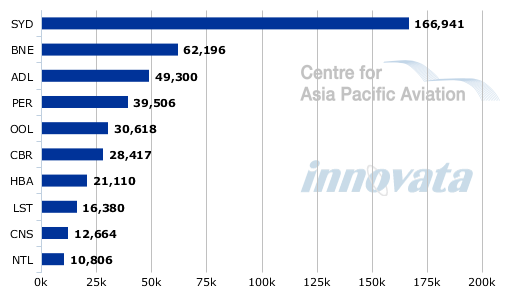 Tiger still impacted by grounding's causes
Mr Davis is now focusing on the future, and aside from acknowledging that unspecified mistakes have been made, does not want to dwell on the actions that resulted in the unprecedented action of CASA grounding the entire operation. "My focus now is going forward, is the future. I don't think it's helpful at this stage to go into what the causes might have been with CASA," Mr Davis said.
However, the grounding's causes continue to have implications large and small. The 18 sectors CASA has restricted Tiger to flying this month are a 74% drop from the 70 daily services Tiger operated upon its grounding. A review is forthcoming, but with no unconditional guarantee to lift the cap. CASA has placed other restrictions on Tiger's air operator's certificate, some with long lead times or end points as far as the end of the year. Tiger will also be subjected to heightened CASA checks.
Further implications became evident through disclosures from CASA after it completed its investigation of Tiger, during which time the regulator remained tight-lipped. CASA Director of Aviation Safety John McCormick tells of an airline that grew beyond its capability.
Tiger Airways Australia's ASKs pre- and post-grounding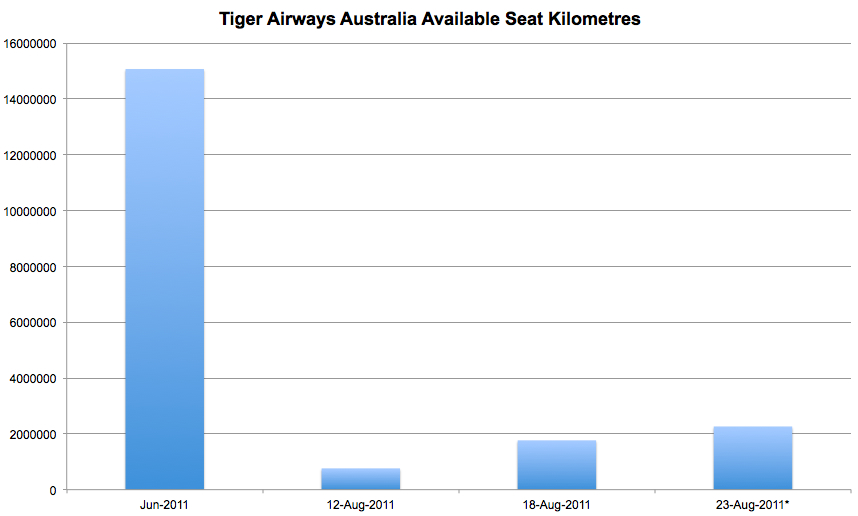 CASA scrutiny started a year ago
Tiger came under increased CASA scrutiny in mid-2010, well before a Mar-2011 show cause notice and the Jul-2011 grounding, when the carrier had a number of small incidents, including the disclosure in Aug-2010 that Tiger failed to report, as it was legally obligated to do so, a 2008 aileron oscillation incident with one of its A320s. The matter only became known to safety investigators when the same aircraft experienced the same fault eight months later.
CASA's show cause notice to Tiger said the carrier "on a number of occasions" breached its air operator's certificate by breaking undisclosed provisions of the Civil Aviation Act, Civil Aviation Regulations 1988 and Civil Aviation Orders.
CASA also found a "paucity in the record keeping" affecting pilot license renewal checks, manual amendments, lack of information dissemination, crew rostering, and fatigue management, Mr McCormick said. In some instances records were non-existent and others would not be updated timely.
Tiger increases personnel, and operating cost
Mr McCormick partially attributed the inadequate record keeping and other deficiencies to insufficient personnel, some who were not appointed quickly enough into vacant positions and others whose positions were not created quickly enough. "There was very little change in the personnel side of it with four aeroplanes to ten," he said. Tiger launched in the Australian market in Nov-2007 with three A320s, quickly increasing to five A320s, and reached ten A320s last year.
"Their manpower, their systems, their management et cetera didn't keep pace with that increase in airline size," Mr McCormick said. "Any growth model requires commensurate expenditure in support functions and personnel." Tiger quickly sought to address that once it had been put on notice.
Tiger disclosed in May the carrier had recently re-structured its operations department by increasing the number of local maintenance management employees at its Melbourne base. Such roles were previously based at Tiger's global headquarters in Singapore. Last month the carrier made the high-profile appointment of Chris Manning, a former Qantas flight operations general manager, to the part-time role of safety advisor.
"My role so far is to give a few hints and advice here and there on what's required to get an airline to the standard that's required," Mr Manning said. "There's no reason why this airline can't be right up there. No reason at all."
Tiger also had one-off costs of CASA requiring all of its approximately 110 pilots to undergo simulator training sessions and other checks prior to resuming services. CASA was not always satisfied with the level of training, and poor record keeping made it difficult to ascertain which pilots to clear. "The safest bet was to put everybody back through the simulator," Mr McCormick said.
These appointments and one-off training sessions have resulted in additional expenditure, increasing Tiger's cost per available seat kilometer by an undisclosed amount, but Mr Davis downplayed the cost. "It's not an enormous amount of money. I think the grounding of the aircraft was far more significant," he said. "It's not significant in terms of the overall expenditure." Tiger's 1QFY12 results state staff costs across the group account for SGD26.4 million, or 14% of Tiger Holding's total expenses.
Ancillary revenue affected
CASA's check on Tiger's haphazard growth has even resulted in Tiger closing its web check-in, as CASA was not satisfied check-in procedures, and particularly seating able-bodied passengers at over-wing exit rows, were adhered to. The action has financial consequences as Tiger was able to use web check-in to reduce ground costs and increase ancillary revenue by charging passengers without checked luggage to use airport check-in at a cost of AUD10-15.
Mr Davis is not overtly concerned saying, "It's not a critical component to the business. That will be something that we'll bring back shortly." When asked of any revenue impact, he gives a two word answer implying the loss is not great due to the carrier's small launch schedule: "three flights".
Operationally, however, the check-in matter shows how thorough CASA has been with Tiger and how wide-reaching and diverse problems were across multiple areas of the business. Tiger's website officially explains the closure of web check-in "allow us to more efficiently process refunds for affected passengers", suggesting that Tiger still needs to improve transparency.
Tiger can now charge higher fares, with the new industry benchmarks

Tiger says that during its six-week grounding competitors raised fares, a claim supported by data from Australia's Bureau of Infrastructure, Transport and Regional Economics showing the best discount economy fares during Tiger's grounding were at a two-year high. Mr Davis said this increase is to Tiger's advantage as the carrier has a higher benchmark to undercut from, resulting in a Sydney-Melbourne fare of AUD49.95, and not the AUD29.95-39.95 standard offering prior to its grounding.
"We're making sure we're offering a price that's appropriate to the marketplace. If you look at what our competitors are charging at the moment, AUD49 for Melbourne-Sydney is a pretty good price," Mr Davis said.
Low fares will remain the carrier's selling point and way to simulate demand, even if Tiger needs to also promote itself and resumption of services, Mr Davis said. "There's certainly an awareness issue, but cheap fares are clearly what Australians want and that's what we'd like to give them."
Mr Davis disclosed Tiger in its first day of sales sold 1500 seats, even with its limited schedule, bringing in much needed revenue. Assuming Tiger sold many cheap fares as well as high fares, the carrier would have brought in at least AUD100,000 in its first day of ticket sales. The 1500 seats, at an 80% load factor, would have filled ten flights, the number of Sydney sectors it is operating each day this month. There were also reservations made before Tiger suspended ticket sales. "So we're not starting from scratch in terms of bookings," Mr Davis said. The carrier is looking to sell tickets past 29-Oct-2011, currently the last date on sale in its booking system.
Australia domestic air fares (best discount) typically dip in August compared to June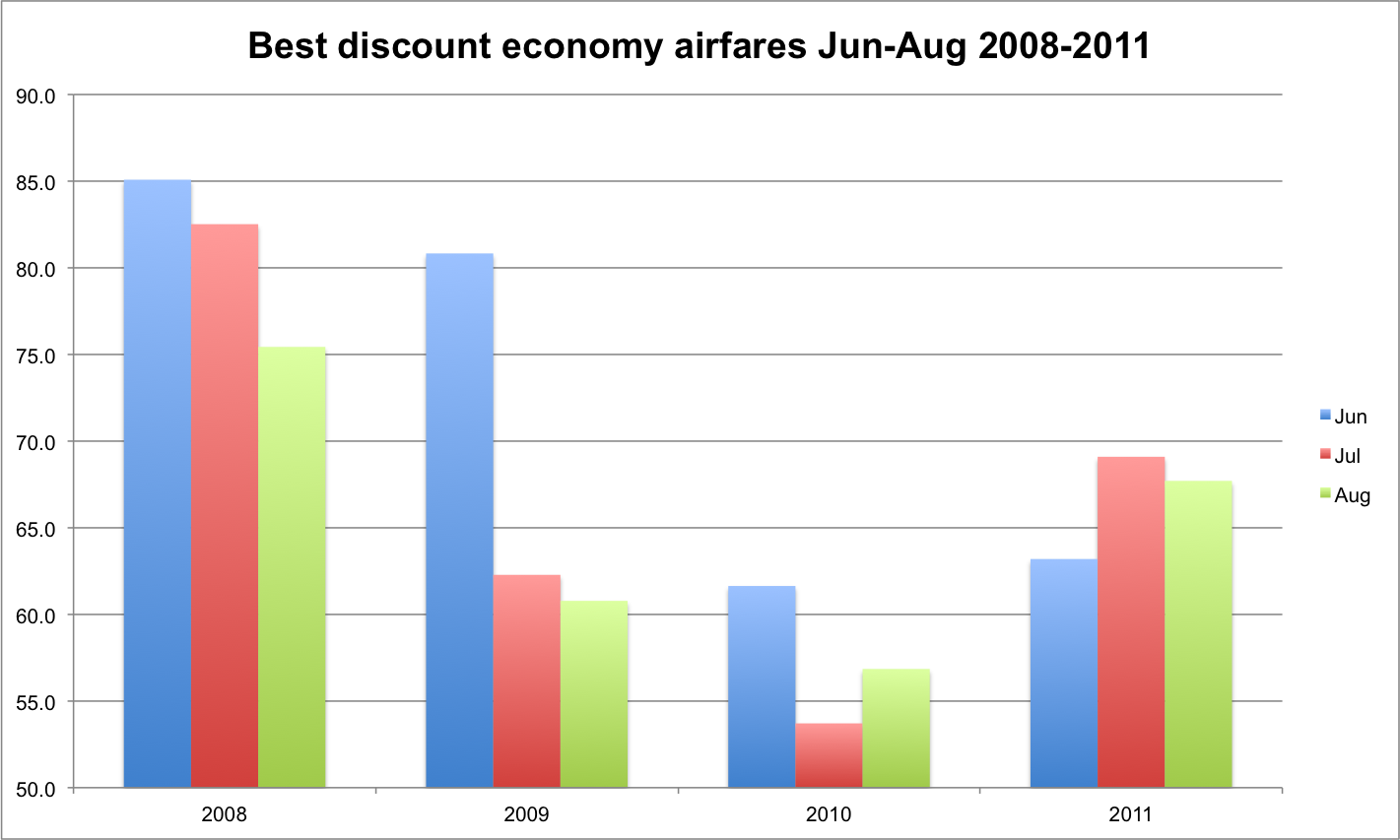 Not bullish on new growth opportunities
The Australian market at the start of the year was bullish on growth opportunities, particularly as a result of misperceptions that Virgin Australia's move upmarket would see it cede some of the leisure market. "We see great opportunities for Jetstar, particularly in the domestic market as our competition changes their focus," Qantas chief executive Alan Joyce said in Feb-2011 when announcing additional aircraft for its low-cost subsidiary. It has turned out so far to be a non-opportunity, with Qantas and Jetstar reducing domestic growth from 8% to 5.5% and reducing new aircraft inductions.
Tiger is seeing the same potential Qantas saw, but is less bullish on definitive growth. "The market in Australia is fragmenting into Virgin and Qantas being at the top end and people like ourselves taking the bottom end," Mr Davis said. "If some of our competitors go upmarket, that could create opportunities for us."
Tiger hopeful of resuming Avalon services
Mr Davis said he and Tiger "very much hope" to resume services out of Melbourne Avalon. While the airport has higher fuel costs and Tiger would have to negotiate a complete withdrawal – as it is doing with the South Australian government for its closed Adelaide base – Tiger faces capacity restrictions at Melbourne Tullamarine, forcing the carrier to look elsewhere to base aircraft.
Tullamarine can support up to six A320s, after which aircraft would have to be flown in, former managing director Crawford Rix previously said.
Tiger will dispatch two of its ten Australian A320s to unspecified branches of its pan-Asian network, a decision made for commercial reasons and not at the insistence of CASA, Mr Davis said. The reduction follows two A320s that were due to open a Brisbane base but in May-2011 were sent to Asia as CASA restricted Tiger's growth following the show cause notice. The remaining eight A320s are two more than the level Tullamarine can handle without operational changes, and so could be used to support flights out of Avalon.
Fleet growth and reductions for Tiger Airways Australia over the past five months
Perth link under consideration
Tiger is still evaluating which additional destinations to resume services to – it has four daily sectors remaining this month at its disposal – and Perth "is certainly one of the destination we'll be looking at", Mr Davis said. Prior to Tiger's grounding Perth was the only point served by both Tiger Australia and Tiger Singapore (there was briefly a connection via Darwin). Commercial benefits from such a tie-up are low, with Mr Rix having said Australia-Singapore/Asia connectivity "is not our core".
Davis to continue to head Australian operations
Mr Davis said he will continue to oversee Tiger Australia, having arrived in the country the weekend after Tiger's 01-Jul-2011 grounding. He assumed the role of Tiger Australia chief executive after Mr Rix announced his resignation on 06-Jul-2011. Mr Davis has stepped down from his day-to-day operations across the group but is still a director of the board. "I think it was appropriate that as the most senior executive in the company I took personal charge of the situation," Mr Davis said. But he is coy about how long he will remain in Australia – and indeed, perhaps with the company. "I have committed to the board that I'll stay here as long as it takes to make sure we get that foundation."
No re-branding
A re-branding, in whole or in part, of Tiger Airways "is definitely not going to happen", Mr Davis said, despite interim Tiger Holdings CEO Chin Yau Seng previously refusing to rule out the possibility. Sticking with the Tiger name and brand makes it unlikely there will be any brand connection to Singapore Airlines' forthcoming medium/long-haul low-cost carrier, eliminating the opportunity to replicate AirAsia and AirAsia X's sister-company branding.

Outlook: Tiger maturing for the better but must remember safety
Tiger Australia has finally taken heed of CASA's long-running warnings about the carrier's operations. Some measures are forced, but elsewhere Tiger is showing voluntary conservatism to, as Mr Davis is fond of saying, establishing the right foundation missing since the launch. Without a solid foundation Tiger built a large network and came close to breaking even. Tiger should be able to replicate and improve those facets, but the question now is if the foundation being built can address what Tiger has lacked: safety, reliability and customer service. If the first two come together, it is not far fetched to see Tiger use its low cost base to attract the low end of the corporate sector as its peers, in particular easyJet and Southwest, have achieved.
Yet it cannot be understated that if Tiger Australia seeks to start afresh by building a mature operation on a solid foundation, the first step is starting over with CASA, and this time respecting the safety regulator. Only then can improved operations win passengers and, one day, bring profitability.