Tiger records pre-grounding loss; outlook darkens as new JVs face delays
Analysis
Heavy losses at Tiger Airways Australia in the three months prior to its grounding drove the Tiger Airways Group into the red for the first time since its Jan-2010 IPO. The Singapore-based low-cost carrier group incurred a net loss for the three months ending 30-June of SGD21 million (USD17 million), compared with a net profit of SGD2 million in 1QFY2011, and its outlook for the rest of the year looks bleak due to the recent troubles in Australia.
Tiger's longer-term outlook also appears rather bleak as it continues to experience delays in its planned joint ventures in Indonesia, the Philippines and Thailand while rival Asian low-cost carrier groups have been much more successful in their expansion pursuits.
The Tiger Group on 4-Aug-2011 reported a SGD23 million 1QFY2012 operating loss for Tiger Australia, compared with a SGD11 million operating loss in 1QFY2011. The performance, which was exacerbated by flight disruptions in Jun-2011 caused by volcanic ash, was so poor that Tiger Australia's financial situation has only slightly degraded since its grounding.
Tiger Australia to continue losing SGD2m per week until grounding is lifted
Tiger says its Australian subsidiary continues to incur weekly losses of SGD2 million as a result of the grounding, which has been in effect since 1-Jul-2011. On a quarterly basis that translates into an operating loss of SGD26 million, or only 12% more than the loss during 1QFY2011.
Tiger's Singaporean operation continues to perform "credibly" despite high fuel prices, which even drove a small operating loss at the mainline operation of Tiger shareholder Singapore Airlines in 1QFY2012. Tiger Singapore recorded an operating profit of SGD8 million, down 44% compared with 1QFY2011.
Tiger Airways Australia financial performance, 1QFY2012 vs 1QFY2011

Tiger Airways Singapore financial performance, 1QFY2012 vs 1QFY2011

As profits in Singapore were not enough to again overcome losses in Australia, as was the case in FY2011, the group was back in the red with a SGD12 million operating loss, compared with a SGD1 million operating profit in last year's typically weak fiscal first quarter. Group revenues were up 23% to SGD179 million but costs shot up 31% to SGD191 million.
Passenger yields improved 6% as both average fares and average ancillary revenues per passenger increased. Load factors also improved by 1.6ppt to 85.8% in 1QFY2012 as an 18% increase in traffic outpaced a 16% increase in capacity. But the higher yields and improved load factors, as well as a 2% reduction in ex-fuel unit costs, were not enough to offset a 47% increase in oil prices.
Tiger Airways Group financial highlights, 1QFY2012 vs 1QFY2011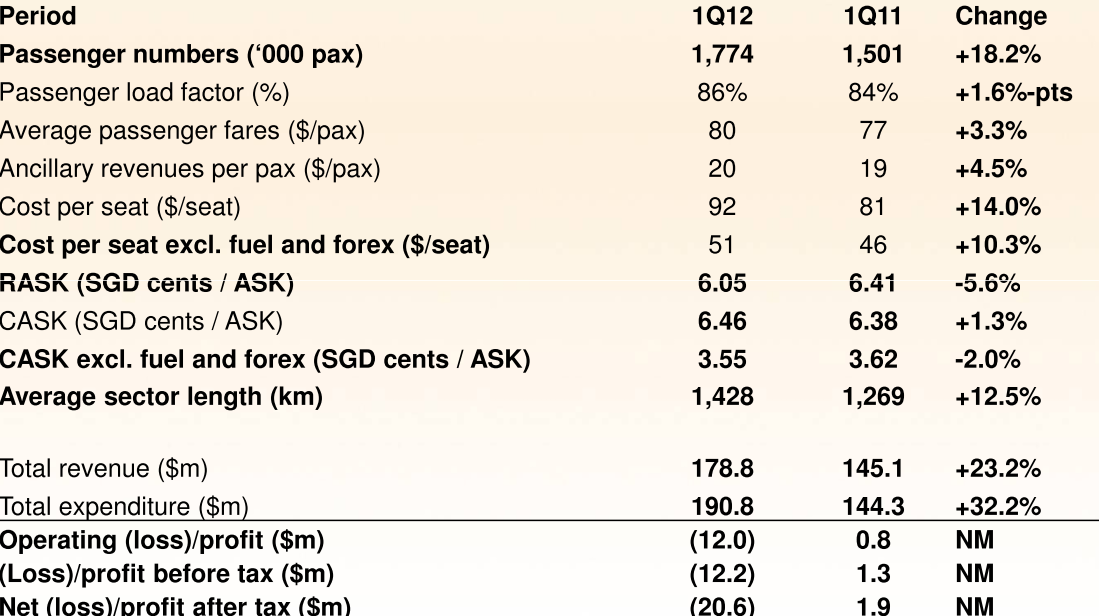 The outlook for the remainder of FY2012 is positive for Tiger Singapore as the group says forward bookings at the Singaporean carrier have not been at all affected by the grounding in Australia. Tiger continues to rapidly expand in Singapore, where its fleet is now slated to grow from 14 to 20 aircraft during FY2012. Two of these aircraft were added during 1QFY2012, allowing Tiger to increase capacity on several of its existing routes. Singapore is a relatively small market but demand for more low fares seems almost limitless as Tiger along with other LCCs have been expanding this year in Singapore at clips exceeding 30% while still improving load factors.
Profits in Singapore may not offset losses in Australia
Tiger, however, acknowledges the group's financial performance will be significantly affected for the remainder of FY2012 by the expected full-year loss in Australia. It expects continued profits at Tiger Singapore but says it is unclear if the full year profits in Singapore will be sufficient to offset the losses in Australia.
Another SGD10 million in operating losses have already mounted at Tiger Australia during the five weeks since the grounding began. Once it finally receives the green light from Australian regulator CASA to resume services, Tiger Australia aims to improve profitability by focusing only on profitable routes. But it will need to incur re-launch costs and rebuild its image, which has been tarnished in Australia by the negative media attention the grounding has caused. Lower utilisation of Tiger Australia's 10-aircraft fleet is also expected which will help improve reliability of the operation but also result in higher unit costs.
In the best case scenario, profitability in Australia could be achieved next year. But as Tiger has never had a better than break-even result in Australia and now faces the daunting task of rebuilding its brand, continued losses are a more likely outcome. The Australian market needs Tiger as fares have already shot up since its grounding. But it remains to be seen if Australian consumers can still be persuaded by Tiger's generally lower fares.
Analysts remain highly sceptical Tiger Australia will be able to turn the corner and achieve profitability, in particular in the current environment of high fuel prices. Exceptional weather related events, including floods and volcanic ash, were partly responsible for Tiger Australia losses in 4QFY2011 and 1QFY2012. But the bulk of the losses over the last two quarters were driven by Tiger Australia's generally unprofitable network. Tiger Australia will re-launch with a restructured network, which will be unveiled once the carrier secures approval to resume services, but the changes may not be enough to generate the sustained profits Tiger management still believes the Australian operation is capable of delivering.
Tiger remains committed to Australia - for now
Although it will likely never make money in Australia, Tiger needs to re-launch its Australian subsidiary to protect its brand globally. Giving up now would send the wrong message. But pulling the plug in several months or a year would not be surprising, especially if Tiger is successful at launching affiliates in other Asian countries, where generally the market opportunities are better.
For now, Tiger's new interim group CEO, Chin Yau Seng, says the group remains committed to resuming operations in Australia. "We are committed to making it work," Mr Chin told reporters after Tiger announced its 1QFY2012 results, adding that "in the Australian market, the consumers welcome competition". He acknowledged that it will take some effort to restore Tiger's brand but the carrier "will spare no effort ... to win back the confidence of consumers".
Mr Chin declined to predict when Tiger Australia may resume operations other than to say it will be "at the soonest possible time". He declined to comment on reports that CASA is seeking to extend the grounding for at least a few more weeks. He said for now a court hearing on Tiger's grounding is scheduled for 5-Aug-2011 and discussions between Tiger and CASA are progressing. These discussions are being led Tony Davis, Tiger's former group CEO who was posted to Australia and took over as Tiger Airways Australia CEO shortly after the grounding to help resolve the issues facing the carrier.
Mr Chin also gave an update on Tiger's planned joint ventures or affiliates in Indonesia, the Philippines and Thailand. Unfortunately for Tiger, the status in all three cases is exactly the same as it was three months ago when the group reported its 4QFY2011 earnings.
Due diligence of Mandala continues
In Indonesia, Tiger has been planning to invest in a reinvigorated Mandala, which suspended operations early this year and aims to re-launch following Tiger's low-cost business model. A term sheet agreement covering Tiger's acquisition of a 33% stake in Mandala was signed in May-2011. At the time Tiger said the deal, which also includes a 51% investment by Indonesia's Saratoga Group while the remaining 16% stake will be owned by Mandala's creditors, was subject to due diligence.
Mr Chin says due diligence work at Mandala and discussions with the potential partners are still progressing. But he wouldn't give a timeframe for completing the deal or re-launching Mandala.
Tiger had an opportunity to invest in Mandala a few years ago, back when both airlines were owned partly by US investment firm Indigo and were thriving. The investment now is much trickier as Mandala is in the process of restructuring while in bankruptcy. There is tremendous opportunity in Indonesia, where AirAsia already operates a franchise, but re-launching a bankrupt airline is never an easy proposition, especially in a country which in recent years has significantly tightened regulations on start-up carriers.
Tiger continues to push for JV with Thai
In Thailand, Tiger's plans for launching a joint venture LCC with Thai Airways has been on hold for several months pending government approval. Thai Tiger was initially slated to launch services in 2Q2011 with Tiger owning a 39% stake. But the previous Thai government refused to decide on Thai Tiger's application to launch and Tiger said three months ago that while it remained committed to the project it would have to wait until after the Jul-2011 elections in Thailand to seek approval.
Mr Chin says progress with Thai Tiger is still on hold pending approval from the new government, which has now taken office. He said there will be "meeting with partners over there in coming weeks". While both Tiger and Thai are publicly pressing ahead with the long-delayed approval process, securing approval seems increasingly unlikely. Industry sources in Thailand expect the application to ultimately be rejected, leaving Tiger without a Thai affiliate.
Complications in the Philippines as SEAir splits off turboprop operation
In the Philippines, Tiger announced in Feb-2011 plans to acquire a 32.5% stake in SEAir. Tiger said three months ago it was still conducting due diligence on the proposed acquisition and was expecting the deal to be completed shortly. Mr Chin now says due diligence is still progressing and Tiger and SEAir continue to work on the partnership agreement. The deal has proven rather complex as it involves splitting off SEAir's existing turboprop operation.
SEAir will continue to independently operate small turboprops on regional routes while the joint venture with Tiger is limited to a low-cost operation with A320 family aircraft. SEAir has been operating two Tiger-branded A319s since Dec-2010 as part of a marketing partnership with Tiger. The aircraft are subleased from Tiger and operating on international routes.
SEAir was planning to add two Tiger A320s in Jul-2011 and launch domestic services. But the Philippine government forced SEAir to suspend the launch of Tiger-branded domestic flights pending the investigation of a cabotage claim by competing Philippine airlines. Mr Chin said Tiger remains confident this investigation will conclude positively for Tiger and the new joint venture carrier will be able to compete on domestic routes.
Mr Chin added without a domestic operation the investment wouldn't make sense for Tiger and the deal will not be completed until approval is secured for domestic services. Be he expects this will not be an issue as he is "engaged in discussions with the relevant people over there" and is "working on getting the issue resolved". However even if Tiger can succeed at establishing the new domestic carrier despite stiff opposition from existing Philippine carriers, it will then also have to overcome stiff competition from several low-cost carriers including Cebu Pacific, Philippine Airlines LCC partner AirPhil Express and AirAsia, which is planning to launch its own Philippine affiliate later this year.
SEAir also recently applied for rights to launch service from Clark airport outside Manila, where the two A319s are based, to four cities in Malaysia. Mr Chin said overall the intention is to grow the Philippines-based A320-family fleet but the number of aircraft the new affiliate receives this year will depend on route allocations.
Tiger still needs to allocate three of its additional A320s for FY2012
Overall Tiger is planning to grow its group fleet to 35 aircraft by the end of FY2012, up from 26 at the end of FY2011 and 28 currently. For now six of the additional nine aircraft have been allocated to Tiger Singapore, giving it a fleet of 20 A320s by the end of the fiscal year, while Tiger Australia is now earmarked to keep its current fleet of 10 A320s. The remaining three aircraft being added this year could be allocated to any of the three new joint ventures but the Philippines seems the most likely beneficiary as SEAir already operates two of Tiger's 28 aircraft.
Tiger is now committed to expanding its fleet by eight more aircraft in FY2013 and growing its group fleet to 68 aircraft by Dec-2015. Where these aircraft end up depend on Tiger's progress in setting up its three planned joint ventures and potentially other new affiliates in Asia.
Tiger also has in place a contingency plan to sublease to other carriers some of its newly delivered aircraft, as well as potentially some of the 10 A320s in Australia should that operation be reduced in size, if all three of its three planned joint ventures are unable to launch this fiscal year. While Tiger Singapore could potentially take another aircraft or two beyond current plans, the Singapore market and Changi's low-cost terminal would not be able to support the group's entire fleet.
Tiger Airways fleet plan, FY2011 to FY2013

While Tiger remains confident that its efforts to grow its portfolio of carriers will succeed, giving it several options as the fleet grows, the group's offshore track record is far from stellar. Previous plans to set up affiliates or joint ventures in the Philippines and South Korea failed.
Mr Chin said while Mr Davis, who previously was leading efforts to grow Tiger's cub programme, has shifted focus entirely on Australia he has been working on progressing the planned partnerships. He said after spending some initial time to "calm things down," Tiger's potential partners are now "quite comforted" and all three ventures are still on track.
Mr Chin is confident Tiger's problems in Australia will not lead to any resistance in completing the deals or securing regulatory approval to establish new carriers in other countries. He pointed out that the regulator in Singapore has publicly stated it has no problems with Tiger's operation. "We never compromised safety," Mr Chin said. "Safety is paramount for us. The message continues to be true."
Tiger risks falling further behind AirAsia and Jetstar in establishing a pan-Asia footprint
Tiger is already behind its chief competitors, AirAsia and Jetstar, in establishing a footprint throughout Asia. If it falls further behind it risks being regulated to second-tier status among Asia's LCCs. AirAsia and Jetsar, which have powerful brands and first mover advantage in that they launched before Tiger, have emerged as Asia's two LCC powerhouses. Tiger should survive and remain a major force in the Singapore market, but it has a long and difficult path ahead in its quest to also become a leading Asian LCC group.
While Tiger has struggled to set up affiliates in Asia, the Malaysia-baed AirAsia Group currently has thriving affiliates in Indonesia and Thailand as well as an operation in Singapore, where it has been able to match Tiger's 7% market share without a local AOC. Two new AirAsia affiliates in the Philippines and Vietnam will be launched at the end of this year and a third in Japan will launch in 2012. Australia-based Jetstar now has affiliates in Singapore and Vietnam and is close to establishing a joint venture in Japan with new affiliates in Indonesia and the Philippines to potentially follow.
In terms of passengers carried, AirAsia is about five times larger than Tiger and Jetsar is about three times larger. In terms of revenues, Jetstar is the largest LCC group in the Asia-Pacific region and is four times larger than Tiger while the AirAsia Group is about three times larger than Tiger.
Top 10 LCC groups in Asia Pacific by passengers carried, 2010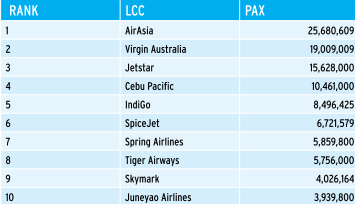 Even in its home market, Tiger has not emerged as the largest low-cost carrier. Tiger, AirAsia Group and Jetstar all currently have roughly equal market shares at Singapore Changi.
While Tiger is expanding its Singapore-based fleet to 20 A320s by next March, Jetstar will grow its fleet to 17 A320s and four A330s by December. AirAsia also plans to start basing aircraft in Singapore later this year, allowing it to further grow an already large operation which is now served by flying in and out aircraft based in lower-cost Indonesia, Malaysia and Thailand. As a result, Tiger could become Singapore's third largest low-cost carrier in terms of capacity share by the end of 2011.
AirAsia and Jetstar will not control the entire LCC Asia Pacific market, but they will likely continue controlling about 40%. There will still be room for several other LCCs, including relatively large single market carriers in big countries such as China, India, Indonesia and the Philippines along with some smaller single market carriers in smaller countries. Having already fallen significantly behind AirAsia and Jetstar, which have developed very powerful and well regarded brands across the region, Tiger now risks being the odd man out.
Background information
Tiger Airways load factor and passenger figures, FY2005 to 1QFY2012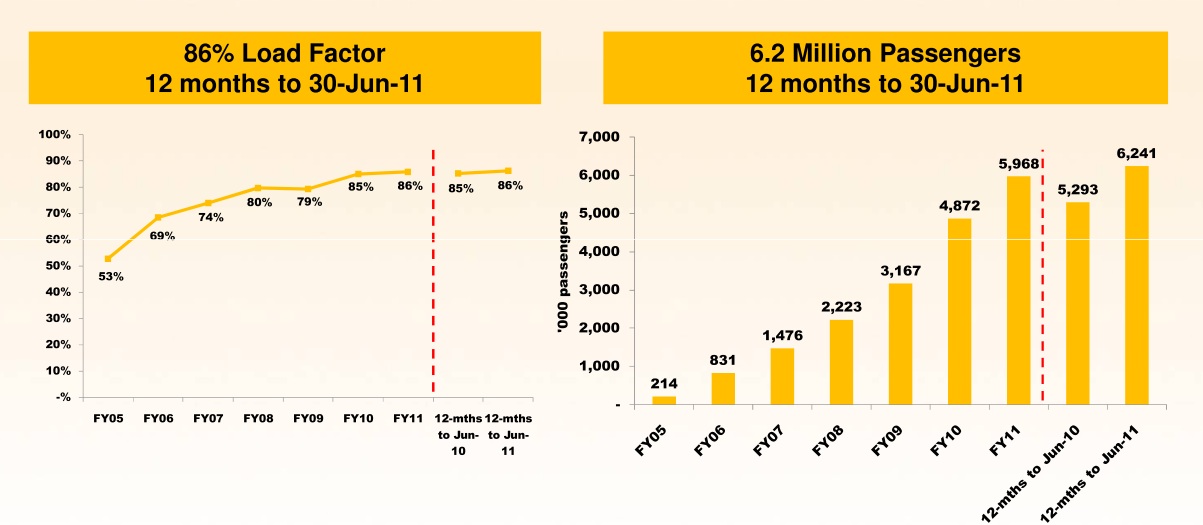 Tiger fuel price and fuel expenditure, Q3FY2009 to Q1FY2012