Thai Lion Air expands domestic network, intensifying competition with Nok, Thai AirAsia & Thai Smile
Analysis
Thai Lion Air is pursuing further domestic expansion with the new LCC launching four more trunk routes from its Bangkok Don Mueang base. The expansion threatens to exacerbate the overcapacity situation in Thailand's domestic market, which has become unprofitable in 2014 despite continued double digit passenger growth due to intense competition pressuring yields.
Thai Lion, which launched services in Dec-2013, has so far focused almost entirely on the domestic market. By early Oct-2014 Thai Lion will have captured about an 8% share of domestic capacity and be competing on six of Thailand's seven largest domestic routes.
The expansion at Thai Lion comes ahead of the planned launch of Thai VietJet Air, which plans to become the fourth LCC in the domestic market. Thai VietJet's entrance could exacerbate the current overcapacity situation and make it even more difficult for a return to profitability.
| | |
| --- | --- |
| | CAPA's Asia Aviation Summit and LCC Congress will he held at the Capella, Sentosa in Singapore 13/14 October, followed by a Corporate Travel Day on 15 October. To hear about Lion Air's latest developments and learn about China's new LCC movements as well as the latest on all of Asia's key aviation markets and players, and meet 20 airline CEOs, click here: CAPA Asia Aviation Summit |
Thai Lion focuses on domestic market
Thai Lion Air, a new affiliate of Indonesia-based Lion Group, launched services in early Dec-2013 with a fleet of two 215 seat all-economy 737-900ERs. The initial business plan called for a relatively even mix of domestic and international capacity. In mid Dec-2013 its schedule consisted of two daily flights to Chiang Mai in northern Thailand, two daily flights to Jakarta and one daily flight to Kuala Lumpur.
But Thai Lion quickly noticed a lack of demand on Bangkok-Jakarta and cut back to one daily flight, which freed up capacity to expand Bangkok-Chiang Mai to four daily frequencies. As two more 737-900ERs were added in Mar-2014, Thai Lion decided to further focus on domestic expansion as conditions in the international market were less favourable due to the political instability in Bangkok.
The third and fourth 737 were used to expand Chiang Mai to eight daily flights and commence Bangkok-Hat Yai, which was increased to seven daily flights within a few weeks of its launch. Meanwhile Thai Lion dropped Bangkok-Kuala Lumpur entirely in Apr-2014 and reduced Bangkok-Jakarta to only three weekly flights, a schedule it maintains currently.
As CAPA previously suggested, Thai Lion's decision to focus on building up scale on two major domestic trunk routes rather than enter several markets at once was sensible. Thai Lion has been able to maintain its eight daily flights to Chiang Mai and seven daily flights to Hat Yai, an indication it has succeeded at gaining traction and a significant share of both markets.
See related report: Thai Lion Air focuses on domestic expansion, quickly gains scale on Bangkok to Chiang Mai & Hat Yai
Thai Lion is currently the capacity leader on Bangkok-Hat Yai. Thai Airways LCC affiliate Nok Air also currently has seven daily flights (but with smaller 737-800s) while Thai AirAsia has six daily flights and Thai Airways full-service regional subsidiary Thai Smile has five daily flights, according to OAG data.
Thai Lion and Nok currently have roughly equal shares of capacity on Bangkok-Chiang Mai (Nok has one more daily frequency but total capacity is almost identical as Nok uses a smaller aircraft). Thai Airways/Thai Smile is the market leader with nine daily flights, including four with widebodies. Bangkok Airways has seven daily flights and Thai AirAsia currently has six daily flights, according to OAG data.
Chiang Mai and Hat Yai are the second and third largest domestic destinations from Bangkok based on current seat capacity. Phuket is a slightly larger market but Thai Lion was unable to initially access Phuket due to slot restrictions.
Thai Lion's focused domestic strategy appears to have been successful with its low fares stimulating demand in the Chiang Mai and Hat Yai markets despite the political instability.
According to Airports of Thailand (AoT) data, domestic traffic at Chiang Mai was up 11% through the first seven months of 2014 to 2.9 million passengers. Thai Lion currently accounts for about 17% of domestic seat capacity at Chiang Mai, according to CAPA and OAG data.
Chiang Mai domestic capacity share (% of seats) by carrier: 22-Sep-2014 to 28-Sep-2014
Domestic traffic at Hat Yai was up 26% in 2Q2014 to 739,000 passengers and 40% in Jul-2014 to 255,000 passengers, according to AoT data. As with most Thai airports, domestic traffic at Hat Yai was already trending up before Thai Lion entered the market. But the rate of growth has clearly accelerated after Thai Lion's Mar-2014 entrance, with Hat Yai recording 25% growth in Apr-2014, 22% in May-2014 and 33% in Jun-2014.
Apr-2014, the first full month of Thai Lion's Hat Yai operation, marked the first time Hat Yai has exceeded 260,000 domestic passengers in a single month.
Hat Yai monthly domestic passenger traffic: Jan-2012 to Jul-2014
Thai Lion currently has a leading 28% share of domestic capacity at Hat Yai, putting it slightly ahead of Nok and Thai AirAsia. As Chiang Mai's domestic market is almost twice the size of Hat Yai, Thai Lion has had a bigger impact in Hat Yai.
In addition to the six daily 737-900ER flights to Bangkok, Thai Lion has five weekly ATR 72-600 turboprop flights from Hat Yai to Hua Hin and three weekly ATR 72-600 flights from Hat Yai to Surat Thani. (About 95% of Hat Yai's current domestic capacity is to Bangkok while about 84% of Chiang Mai's domestic capacity is linked to Bangkok.)
Thai Lion is adding a fourth domestic route at Hat Yai on 3-Oct-2014, when it plans to launch 737-900ER flights to Udon Thani. This further indicates Thai Lion's confidence in the Hat Yai market and will push up its domestic capacity share to about 30%.
Thai Lion also operates three weekly international flights from Hat Yai to Medan in Indonesia with ATR 72s. (But it has suspended its other international route from Hat Yai, a four times weekly ATR 72 service to Kuala Lumpur Subang Airport.)
Thai Lion launches four more domestic trunk routes
Thai Lion is again focusing on domestic expansion as it adds two more 737-900ERs for a total of six. But its strategy is slightly different this time around as the carrier launches five routes in a span of less than a month with each being served with two daily flights or less.
Bangkok Don Mueang to Phuket and Udon Thani were launched in mid Sep-2014 following the delivery of Thai Lion's fifth 737-900ER. Bangkok Don Mueang to Krabi and Surat Thani are slated to be launched on 3-Oct-2014, according to Thai Lion's online booking engine. The carrier is expected to receive its sixth 737-900ER by early Oct-2014, enabling the launch of Bangkok-Krabi, Bangkok-Surat Thani as well as Hat Yai-Udon Thani.
According to Thai Lion's booking engine, Krabi and Phuket are initially being served with one daily flight while Udon Thani and Surat Thani are initially being served with two daily flights. Hat Yai-Udon Thani, a route not currently operated by any carrier, will be initially served with three weekly flights.
Thai Lion Air route network and competitors: as of 3-Oct-2014
| | | | |
| --- | --- | --- | --- |
| Route | Launch date | Current Frequency | Other scheduled carriers |
| Bangkok-Chiang Mai | Dec-2013 | 7 daily | Bangkok Airways, Nok Air, Thai Airways, Thai Smile, Thai AirAsia |
| Bangkok-Jakarta | Dec-2013 | 3 weekly | Indonesia AirAsia, Garuda, Thai Airways |
| Bangkok-Kuala Lumpur | Dec-2013 | Suspended | N/A |
| Bangkok-Hat Yai | Mar-2014 | 6 daily | Nok Air, Thai Smile, Thai AirAsia |
| Hat Yai-Hua Hin | Mar-2014 | 5 weekly | No competitors |
| Hat Yai-Surat Thani | Mar-2014 | 3 weekly | No competitors |
| Hat Yai-Medan | Apr-2014 | 3 weekly | No competitors |
| Hat Yai-Kuala Lumpur | Apr-2014 | Suspended | N/A |
| Bangkok-Phuket | Sep-2014 | 1 daily | Bangkok Airways, City Airways, Nok Air, Orient Thai, |
| Bangkok-Udon Thani | Sep-2014 | 2 daily | Bangkok Airways, Nok Air, Thai Smile, Thai AirAsia |
| Bangkok-Surat Thani | Oct-2014 | 2 daily | Nok Air, Thai Smile, Thai AirAsia |
| Bangkok-Krabi | Oct-2014 | 1 daily | Bangkok Airways, Nok Air, Thai Airways, Thai Smile, Thai AirAsia |
| Hat Yai-Udon Thani | Oct-2014 | 3 weekly | No competitors |
The decision to go with several routes this time is logical as it allows Thai Lion to quickly enter several markets prior to the launch of Thai VietJet. Thai Lion also now has the advantage of being in the market for nearly a year, giving it a more recognised brand and reducing the risk of new domestic launches.
Phuket expansion limited by slot constraints but Krabi provides alternative
Thai Lion would be keen to operate several flights to Phuket but is unable to due to slot restrictions. Securing one slot pair would have been challenging and probably only became feasible after another airline dropped a flight. The one flight allows Thai Lion to get a foothold in the Phuket market until the airport is expanded, freeing up more slots.
Bangkok-Phuket is Thailand's biggest domestic market and is currently served with 39 daily flights. This includes 12 from Thai Airways/Thai Smile, 12 from Thai AirAsia, eight from Bangkok Airways, four from Nok and one each from Thai Lion, City Airways and Orient Thai. (City Airways and Orient Thai are small leisure carriers mainly operating in the international market.)
With less than a 3% share of total capacity Thai Lion does not have a meaningful presence in the Bangkok-Phuket market. But Phuket is an important addition to the Lion Group's network map. Offering a connection to Phuket could particularly help when Thai Lion launches services to southern China, which is expected in late 2014 or early 2015.
Krabi is also a popular beach destination and is close enough to Phuket (about two hours by car) to be combined in one trip. Krabi has been one of Asia's fastest growing airports over the past couple of years, driven in part by the constraints at nearby Phuket. There are currently 13 daily flights between Bangkok and Krabi, including four from Thai Airways/Thai Smile, four from Thai AirAsia, three from Bangkok Airways and two from Nok.
See related report: AirAsia, Nok Air, Bangkok Airways, MAS & soon Finnair drive rapid growth at Thailand's Krabi Airport
Krabi is also only initially being served with one daily flight but should be able to accommodate additional frequencies. Thai Lion may look to add flights to Krabi as it takes an expected two more 737-900ERs by the end of 2014, giving it a fleet of eight jets.
Thai Lion may also use its seventh and eighth 737 to resume international expansion, with China on the radar. But China flights could be operated at night, providing spare capacity to expand at Krabi as well as potentially at Surat Thani and Udon Thani.
Thai Lion to serve six of Thailand's top seven domestic markets
Udon Thani currently has 19 daily flights to Bangkok, including seven from Nok, four from Thai Smile, three each from Thai AirAsia and Bangkok Airways and two from Thai Lion. Surat Thani is a slightly smaller market with 12 daily flights from Bangkok, including five each from Nok and Thai AirAsia and two from Thai Smile. (All figures based on OAG data for week commencing 22-Sep-2014.)
Bangkok-Udon Thani is the fifth largest domestic market in Thailand based on seat capacity for early Oct-2014. Bangkok-Krabi is the fourth largest market and Bangkok-Surat Thani is the seventh largest.
As a result Thai Lion will soon have a presence in six of the top seven markets. The eighth largest, Bangkok-Samui, is not an option for Thai Lion as the Samui Airport is owned by Bangkok Airways and currently does not have any available slots due to environmental restrictions.
The sixth largest market, Bangkok-Chiang Rai, is a likely future route for Thai Lion. The ninth and tenth largest routes, Bangkok to Khon Kaen and Ubon Ratchathani are also potential Thai Lion routes.
Top 10 domestic markets ranked by seat capacity: 6-Oct-2014 to 12-Oct-2014
Rank
Origin
Destination
Total Seats
Thai Lion share
1
Bangkok
Chiang Mai
128,190
16%
2
Bangkok
Phuket
117,502
3%
3
Bangkok
Hat Yai
71,512
25%
4
Bangkok
Krabi
50,988
6%
5
Bangkok
Udon Thani
48,608
12%
6
Bangkok
Chiang Rai
37,730
N/A
7
Bangkok
Surat Thani
36,772
16%
8
Bangkok
Koh Samui
36,512
N/A
9
Bangkok
Khon Kaen
31,136
N/A
10
Bangkok
Ubon Ratchathani
28,434
N/A
Most of these routes could potentially support additional frequencies from Thai Lion. But more frequencies would further intensify competition with Thailand's other LCCs, further pressuring yields.
Thailand's domestic market has struggled in recent months
Thai Lion's launch and expansion has coincided with rapid domestic expansion from both Nok and Thai AirAsia. Nok is almost entirely a domestic operator and has continued to expand rapidly in 2014, recording a 30% growth in ASKs in 2Q2014. (But RPKs were up by only 17% as overcapacity impacted both load factors and yields, which were down by 9%.)
Thai AirAsia has a roughly even mix of international and domestic capacity but has been expanding more in the domestic market this year due to the unfavourable conditions in the international market. Thai AirAsia domestic passenger numbers were up by about 20% in 2Q2014 while its international passenger numbers were up by 10%.
As CAPA previously analysed, Nok and Thai AirAsia both reported rare losses in 2Q2014 as the domestic market experienced overcapacity. While Thailand's international market has contracted so far this year, driven by a decline in visitor numbers from other Asian countries, domestic demand has continued to grow (albeit at a slower pace as political instability led to reduced consumer confidence). But domestic capacity has grown at a much faster clip than demand, forcing Thailand's LCCs to lower fares to fill up seats.
See related reports:
Nok and Thai AirAsia have been optimistic that domestic market conditions will improve as the political and economic environment have already started to stabilise. But Thai Lion's launch of another four trunk routes will likely put pressure on fares in more markets, making it difficult to raise overall yields.
Thai Lion is offering promotional one-way fares on all its domestic routes starting at about THB550 (USD17) including taxes. Regular everyday fares are only THB800 (USD25) to THB1100 (USD34) including taxes. Thai Lion includes one checked bag with all fares but sells drinks and snacks. (Nok has a similar baggage policy and also offers complimentary snacks while Thai AirAsia follows a purer LCC model.)
Thai Lion's expansion will raise its share of domestic seat capacity to about 8% compared to about 28% for Thai AirAsia and about 27% for Nok. Thai Airways and Thai Smile combined have about a 22% share of capacity in Thailand's domestic market while Bangkok Airways has about a 14% share.
Thailand domestic capacity share (% of seats) by carrier: 6-Oct-2014 to 12-Oct-2014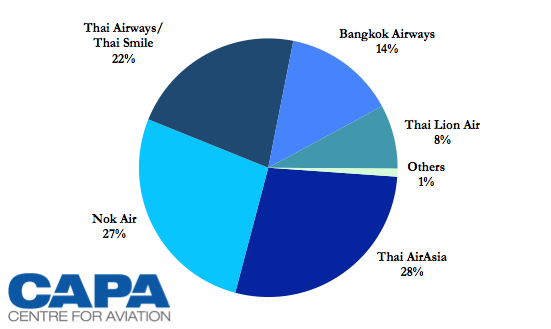 Nok, Thai AirAsia and Thai Lion operate from Bangkok Don Mueang while Thai Airways and Bangkok Airways are at Bangkok's newer airport, Suvarnabhumi. Thai Smile had been at Suvarnabhumi since it launched in mid-2012 but began moving some flights to Don Mueang in Aug-2014, further intensifying competition for Thailand's LCCs.
Thai Smile currently serves three domestic routes from Dom Mueang including two Thai Lion routes – Chiang Mai and Phuket. It is shifting several more routes to Don Mueang at the end of Oct-2014, including Thai Lion's other four domestic routes from Bangkok – Hat Yai, Krabi, Surat Thani and Udon Thani.
The move to Don Mueang is intended to improve Thai Smile's competitiveness in the local point to point domestic market as many Thais prefer Don Mueang as it is closer to downtown Bangkok. Don Mueang has recorded rapid domestic growth with passenger numbers up 32% through the first seven months of 2014 to 8.3 million, according to AoT data. Suvarnabhumi domestic traffic slipped by 3% to 5 million during this period and is expected to shrink more as Thai Smile moves to Don Mueang.
As CAPA previously suggested, the shift to Don Mueang has a huge drawback for the Thai Airways Group because Thai Smile will no longer be able to feed Thai's international flights. Thai Smile was established as a regional full-service feeder, following the model of SilkAir (under Singapore Airlines) and Dragonair (under Cathay Pacific).
Thai Airways will continue to operate some domestic flights from Suvarnabhumi but as Thai Smile moves to Don Mueang several domestic markets will no longer have any Thai connection with Suvarnabhumi including Udan Thani and Surat Thani. The top four domestic markets – Chiang Mai, Phuket, Hat Yai and Krabi – will still be linked to Suvarnabhumi with Thai widebodies but the number of frequencies and therefore connection options will be reduced as Thai Smile had been supplementing Thai Airways on Suvarnabhumi to Chiang Mai and Phuket and operating most flights to Hat Yai and Krabi.
See related report: Thai Airways will restructure after a large 2Q2014 loss. Using subsidiaries and partners essential
Bangkok Airways is likely the biggest beneficiary of the change of strategy at Thai Smile as Bangkok Airways is left as the only carrier serving some domestic routes from Suvarnabhumi. Bangkok Airways already works closely with most non-Star carriers and potentially will now be able to also feed Star carriers (including even Thai Airways) on some domestic routes.
Thai VietJet also could potentially benefit as it plans to operate from Suvarnabhumi rather than Don Mueang, particularly if Thai VietJet develops relationships with foreign carriers. But even with Thai VietJet differentiating itself from other LCCs by using Suvarnabhumi, the start-up faces tough challenges.
Thai VietJet launch would further intensify competition in Thailand
Thai VietJet was initially planning to launch operations in 3Q2014 and operate several routes by the end of 2014 with an initial fleet of three A320s. While a launch date for Thai VietJet has not yet been set there are no indications the project has been dropped. VietJet could be waiting for a more stable political environment and an improvement in market conditions.
The delay could be sensible given the turmoil in Thailand this year. But it has given Thai Lion an opportunity to establish a sizeable domestic operation, making it potentially harder for Thai VietJet when it finally is ready to enter the market.
Thailand has potential for further domestic growth, driven by an expanding middle class and a huge tourism industry which is expected to recover over the next few months. But competition is already intense and capacity levels are already very high. The Thai domestic market may not be able to support four LCCs over the long term.