Ryanair and Stansted. Brexit may have increased the LCC's bargaining power over its biggest airport
Analysis
Ryanair's plans for nine new routes and increased frequency on 13 routes at London Stansted Airport in summer 2017 mark a further chapter in the relationship between the two. Stansted is Ryanair's biggest airport and Ryanair is Stansted's biggest airline customer. However, Ryanair dominates Stansted, while Stansted's importance to Ryanair is diminishing.
When Ryanair took exception to what it considered to be excessive airport charge increases it severely cut its capacity at Stansted, severely denting the airport's traffic base between 2007 and 2012. The subsequent growth in passenger numbers following Stansted's acquisition by Manchester Airports Group in 2013 is the direct result of a deal with Ryanair over reduced airport charges. In 2016, Stansted's traffic recovery was complete and it handled more passengers than at its 2007 peak.
Ryanair's summer 2017 expansion plans at Stansted point to further growth in the airport's passenger numbers. However, Ryanair has reduced its growth in the UK as a result of Brexit uncertainty, and this is likely to mean slower growth for Stansted. Ryanair is even modestly cutting its capacity at the airport this winter. Ryanair has consistently been a critic of Brexit, but it may have further increased its bargaining power over its biggest airport.
Ryanair's new routes and frequency increases at Stansted
Ryanair announced (12-Jan-2017) a new "growth deal" with Stansted's owner Manchester Airports Group (MAG), under which it will open nine new routes from the London airport in summer 2017. The routes are to Beziers, Cagliari, Clermont-Ferrand, Copenhagen, Grenoble, Naples, Nice, Nimes and Strasbourg.
In addition to the nine new routes, Ryanair's growth plans at Stansted include increased frequencies on 13 routes from the airport from summer 2017.
Ryanair's increased frequency routes from London Stansted: summer 2017
This builds on a long term deal signed in 2013 between Ryanair and Stansted, under which Ryanair committed to traffic targets in exchange for undisclosed price incentives on airport charges.
See related report: Ryanair's new growth deal with London Stansted Airport: mutual love-in?
Ryanair the only operator on four of the new summer 2017 routes
On a city pair basis, Ryanair already serves four of these destinations from other London airports: Beziers, Cagliari, Copenhagen and Nimes. In addition, Ryanair already serves Grenoble from Stansted in the winter only.
Ryanair only launched a Cagliari service from London Luton in Jan-2017 (and previously operated to the Sicilian city from London Gatwick in winter 2013/2014).
In the case of two more of these destinations, Ryanair's summer 2017 service will really be a resumption of previously operated routes from Stansted: Clermont-Ferrand and Strasbourg (both routes most recently operated by Ryanair in summer 2015).
On a city pair basis, Ryanair will face competition on six of the nine routes, but will be the only operator on three routes: Beziers, Nimes and Strasbourg (source: OAG). It will also be the only summer operator on London-Grenoble.
In addition, it will also be the only operator from Stansted to Clermont-Ferrand (but Flykiss flies there from Luton) and Copenhagen (but there are four other airlines operating the London-Copenhagen city pair).
On a city pair basis, there are multiple competitors on four routes in summer 2017. Nevertheless, with lower unit costs and a much bigger network from Stansted, Ryanair is well placed against any competitor on these routes.
Three of the new Ryanair routes from Stansted will involve direct airport to airport competition with easyJet: Cagliari, Naples and Nice.
Ryanair's new routes from London Stansted: summer 2017 (week of 10-Jul-2017)
| Destination | Weekly frequency | Airlines operating on city pair ranked by seat capacity* |
| --- | --- | --- |
| | 3 from 02-Jul-2017 | Ryanair (LTN) |
| | 3 from 01-Apr-2017 | easyJet (STN), British Airways (LGW), Ryanair (LTN) |
| | 2 from 03-Jul-2017 | Flykiss (LTN) |
| | 21 from 26-Mar-2017 | British Airways (LHR), Norwegian (LGW), SAS (LHR), Ryanair (LTN), easyJet (LGW) |
| Grenoble** | 3 from 03-Jul-2017 | easyJet (LGW, LTN, STN), British Airways (LGW), Ryanair (STN), Norwegian (LGW), Monarch (LGW), Thomas Cook (LGW), Thomson (LGW) |
| | 7 from 01-Jul-2017 | easyJet (LGW, LTN, STN), British Airways (LGW), Thomson (LGW, LTN), Monarch (LTN), Meridiana (LGW), Thomas Cook (LGW), |
| | 7 from 01-Jul-2017 | British Airways (LHR, LGW, LCY), easyJet (LGW, LTN, STN) |
| | 4 from 26-Mar-2017 | Ryanair (LTN) |
| | 2 from 26-Mar-2017 | None |
London Stansted Airport is Ryanair's largest base, accounting for approximately 50% more of its seats in the week of 30-Jan-2017 than at its home airport of Dublin, where the airline's head office is located.
Nevertheless, Ryanair's dependence on Stansted is diminishing. Before Ryanair began a period of capacity cuts at Stansted after 2007, detailed later in this report, it deployed 23% of its seats at the airport. In Jan-2016 10% of the airline's seats were at Stansted, and this has fallen to 9% in Jan-2017.
By contrast, Ryanair's dominance at Stansted has increased over time. From 2006 to 2016 Ryanair's share of summer seats at the airport rose from 59% to 80%. Moreover, in 2016 Ryanair became Europe's number one airline group by passenger numbers.
See related report: Ryanair's 117million pax in 2016 tops European airline groups. The first time an LCC topped rankings
Ryanair top 10 airports by seats: week of 30-Jan-2017
| Rank | Airport | Share of Ryanair seats |
| --- | --- | --- |
| 1 | | 9.0% |
| 2 | | 5.9% |
| 3 | | 4.4% |
| 4 | | 3.0% |
| 5 | | 3.0% |
| 6 | | 2.7% |
| 7 | | 2.6% |
| 8 | | 2.6% |
| 9 | | 1.8% |
| 10 | | 1.7% |
MAG acquisition returned Stansted to traffic growth after previous decline…
MAG's acquisition of Stansted in Feb-2013 has had a dramatic impact on passenger volumes, with growth of 12% in 2014, 13% in 2015 and 7.8% in 2016. This owes much to the deal with Ryanair – the dominant airline at the airport.
After losing more than 6 million annual passengers from its 2007 total of 23.8 million to a low of 17.5 million in 2012 (a fall of 26%), the airport then added almost 7 million to reach a record 2016 total of 24.3 million (an increase of 39% from 2012).
The slowing of Stansted's passenger growth rate in 2016 from 13% to 8% partly reflects a more cautious stance to the UK from Ryanair in the winter 2016/2017 schedule (discussed further below).
London Stansted Airport – annual passenger numbers: 2001-2016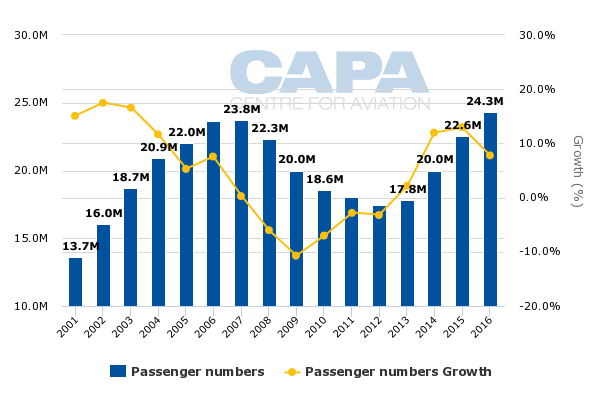 …growth driven by Ryanair
Just as Ryanair drove the traffic fall at Stansted, it has also been the cause of the return to growth.
As highlighted by previous CAPA analysis, Ryanair cut its Stansted seat capacity by 21% from summer 2007 to summer 2013. From summer 2013 to summer 2016 its capacity increased by 41%, taking it comfortably above its previous peak before starting to cut.
See related report: London Stansted: traffic growth is resurgent thanks to lower airport charges; Ryanair dominates
In summer 2016 Ryanair capacity was up by 9.5%, and total Stansted seat capacity was up by 8.9% (data source for summer capacity: Airport Coordination Limited start of season reports).
Seats at London Stansted Airport ('000): summer season 2002 to 2016*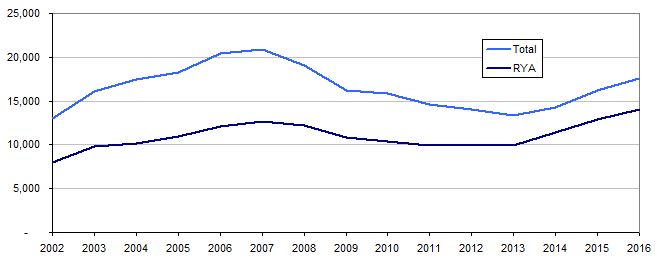 Ryanair's seat share at Stansted has been up every summer since 2006
Other airlines cut their capacity at an even greater rate than Ryanair in summer 2007 and summer 2013, so in that total summer season the seat numbers at Stansted fell by 36% during this period. Ryanair increased its share of seats at Stansted through the period of contraction – from 61% in summer 2007 to 75% in summer 2013.
Since then its summer capacity has outgrown that of other airlines, and Ryanair's summer 2016 seat share was 80%. Number two easyJet's share was 11% in summer 2016 - a drop from 21% in summer 2011.
The share of all other airlines at Stansted has remained at 9% for the past four summer seasons. The airport has attracted some high profile new airline customers in recent times, including British Airways and Jet2.com, and it will be hoping that it can reduce its reliance on Ryanair.
See related reports:
Share of seats (%) at London Stansted Airport summer season: 2002 to 2016*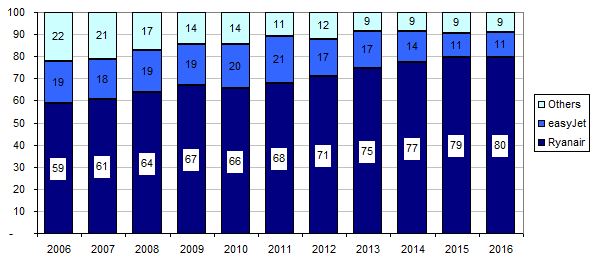 Renewed traffic growth is related to lower airport charges
The capacity reduction by Ryanair at Stansted between 2007 and 2012 was a response to a dramatic increase in airport charges. As an illustration of the scale of charge increases, the average aeronautical revenue per passenger received by the airport company almost doubled from GBP3.32 in 2006 to GBP6.51 in 2008, before rising further to GBP7.64 in 2012.
The overall increase in charges from 2006 to 2012 was a spectacular 130%.
This at an airport whose main customer is Europe's biggest, and most cost conscious, LCC. Not for the first time (or the last), Ryanair switched capacity away from an airport that did not see things Ryanair's way.
Following MAG's acquisition of Stansted and the subsequent new deal with Ryanair, the average aeronautical revenue per passenger fell by 20% from GBP7.64 in 2012 to GBP6.10 in 2015. Passenger numbers at Stansted jumped by 29% over the same period.
Financial data for 2016 are not yet available, but the continued growth in passenger numbers (an increase of 7.8% in 2016) is likely to have been accompanied by a further fall in airport charges.
London Stansted Airport aeronautical income per passenger (GBP) and passenger numbers (million): 2006 to 2016*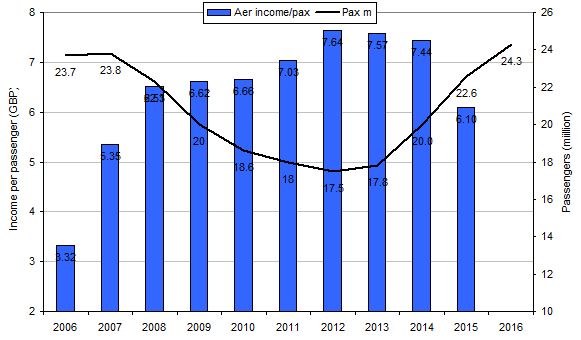 Ryanair's winter 2016/2017 capacity has been reduced after Brexit vote
The current winter schedule has marked something of a stutter in Ryanair's rapid return to growth at Stansted following the MAG acquisition.
Data from Airport Coordination Limited show that Ryanair's seat capacity in winter 2016/2017 has dropped by 0.7% year-on-year, and total Stansted capacity is only just above flat this winter (+0.7%). Last winter, Ryanair's seat growth of 8.3% was fractionally faster than the airport's overall 7.8% increase.
Ryanair's winter 2016/2017 seat share is 82.2% – a fall from 83.3% last winter.
After the UK's 23-Jun-2016 referendum vote to leave the European Union, Ryanair predicted "a considerable period of political and economic uncertainty in both the UK and the EU".
As a consequence, and pending further clarity, it said it would "pivot" its growth away from the UK and focus more on growth in the EU over the next two years.
At the same time, Ryanair has indicated renewed growth plans in other markets, including Germany and Italy.
See related reports:
London Stansted Airport: Ryanair and total seat numbers ('000), winter 2015 and winter 2016*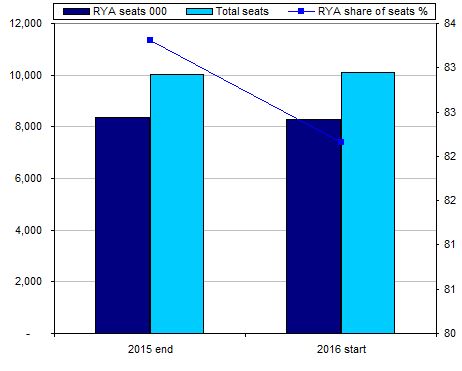 Ryanair to grow at Stansted in 2017, but growth is slowing
Full summer 2017 schedules data is still pending, but the available evidence is that Ryanair will grow at Stansted this summer and over the course of 2017.
Ryanair expects to carry more than 20 million passengers to/from Stansted in the current year, compared with 13.2 million in 2013. According to the airline, it will have a total of 140 routes at Stansted in summer 2017 – a 5% increase compared with 129 flagged in its summer 2016 route announcement.
Ryanair's growth at Stansted since it announced a ten year growth deal with MAG in 2013 has been more rapid than the airport's owner anticipated. In Sep-2013 MAG said that it expected Ryanair's passenger numbers at Stansted would reach 18 million by 2018 and 21 million by 2023.
Nevertheless, the annual figure of 20 million passengers expected this year is the same figure targeted by Ryanair for the past year when it announced its summer 2016 schedule from Stansted. Allowing for some rounding of the figures, the likely conclusion is that Ryanair will generate traffic growth at Stansted this year, but its growth is slowing.
Indeed, this can also be inferred from MAG's statement. Its Divisional CEO at London Stansted, Andrew Cowan, hailed Ryanair's summer 2017 plans as "fantastic news", and predicted that the airport would handle "well over 25 million passengers" within the next 12 months.
After 13% in 2015 and 8% in 2016, a traffic figure between 25 and 26 million would represent growth of between 3% and 7% in 2017. While still healthy, growth rates in this range are probably slower than would have been achievable without Brexit uncertainty. Ryanair's own network wide passenger targets call for growth of 12% in the financial year to Mar-2017 and 9% in the year to Mar-2018.
The last regulatory settlement on charges at London's leading airports, concluded in Jan-2014, took Stansted out of price regulation altogether as the Civil Aviation Authority judged that the airport no longer had substantial market power.
At the time, MAG CEO Charlie Cornish welcomed the decision, which was influenced by the long term agreement struck by Stansted with Ryanair (and similar deals with easyJet and Thomas Cook Airlines). Ryanair took a typically robust view, saying that the CAA had put "the foxes in charge of the chicken coop", and raising fears that Stansted could again increase charges in the future.
See related report: CAA's final decisions on London airport prices shift the balance back towards the airlines… for now
In fact, Stansted has become ever more reliant on Ryanair, while Ryanair's reliance on Stansted has diminished.
It would seem that Brexit has further tilted the balance of power in the relationship between Ryanair and Stansted in favour of the airline. Further price discounts may be on the table.