Ryanair, with costs 60% below Lufthansa's, begins an onslaught on domestic Germany
Analysis
Ryanair returned to the German domestic market on 3-Sep-2015, after a four year absence. Its Cologne/Bonn-Berlin service, on the largest domestic city pair outside Frankfurt and Munich, is an advance party ahead of an onslaught that will increase its seat capacity in Germany by more than 40% this winter, when it will launch eight new international routes.
This follows a capacity increase in Germany of more than 10% this summer, when five new routes took its German total to 171 for the season (source: OAG). By comparison, Lufthansa has 203 intra-Europe routes (of which 27 are domestic), Germanwings has 276 (25 domestic) and airberlin has 271 (31 domestic).
Ryanair has thrown large numbers of seats into Germany before, most recently in 2013, only to cut capacity again in 2014. In the past, Ryanair's simple charms have not suited the more refined tastes of the German market as much as in other parts of Europe, where it has a higher market share. However, as its recent FY2016 profit guidance upgrade indicates, its charms are now appealing to more people across Europe. Its latest expansion comes just as both the German market and Ryanair have become more mutually compatible than ever before.
Ryanair has a lower share in Germany than in Europe's other major markets
Ryanair has a market share of 10.2% of seats across all of Europe, but only 4.7% in Germany.
Europe's largest airline by seats ranks as the fourth largest in Germany, after Lufthansa/Germanwings (41% combined share of seats) and airberlin (13%).
Airlines in Germany ranked by seats 7-Sep-2015 to 13-Sep-2015
| Rank | Airline | Share of seats |
| --- | --- | --- |
| 1 | | 31.9% |
| 2 | | 12.6% |
| 3 | | 9.2% |
| 4 | | 4.7% |
| 5 | | 3.6% |
| 6 | | 3.2% |
| 7 | | 2.5% |
| 8 | | 2.3% |
| 9 | | 1.8% |
| 10 | | 1.5% |
Germany is Europe's second largest aviation market by seats, but is only Ryanair's fifth largest market and its share of seats here is less than it has in Western Europe's other four major countries.
The Irish LCC has 13.9% of seats in the United Kingdom (where it is third), 16.2% in Spain (where it ranks number one), 6.2% in France (where it is number three) and 20.3% in Italy (where it is number one) (data source: OAG, week of 7-Sep-2015).
Ryanair seats by country 7-Sep-2015 to 13-Sep-2015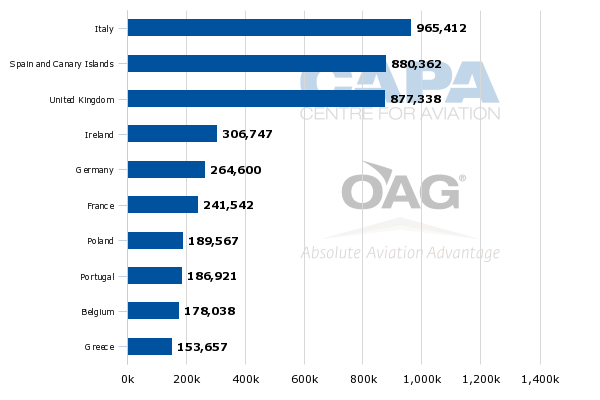 Europe top ten countries by airline seats 7-Sep-2015 to 13-Sep-2015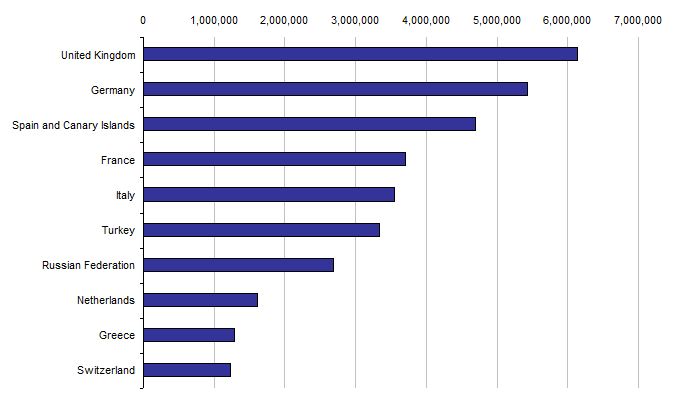 Ryanair's market share in the 13 German airports where it operates is higher than its share in the country as a whole, averaging 15%. At its two biggest German airports, Frankfurt Hahn and Duesseldorf Weeze, Ryanair dominates, with market shares of 88% and 100% respectively.
It also has more than half of seats at Karlsruhe/Baden Baden (51%) and Memmingen Allgaeu (63%). It has a double digit market share in eight airports and a low single digit share in five airports (see table below).
Ryanair's airports in Germany ranked by number of Ryanair seats 7-Sep-2015 to 13-Sep-2015
| Rank | Airport | Ryanair seats | Total airport seats | Ryanair share |
| --- | --- | --- | --- | --- |
| 1 | | 60,102 | 68,208 | 88% |
| 2 | | 52,164 | 52,164 | 100% |
| 3 | | 37,800 | 30,6070 | 12% |
| 4 | | 33,264 | 199,385 | 17% |
| 5 | | 26,082 | 73,422 | 36% |
| 6 | | 17,010 | 33,469 | 51% |
| 7 | | 16,632 | 26,328 | 63% |
| 8 | | 9,072 | 48,514 | 19% |
| 9 | | 4,158 | 100,905 | 4% |
| 10 | | 3,780 | 430,635 | 1% |
| 11 | | 2,268 | 313,551 | 1% |
| 12 | | 1,512 | 65,874 | 2% |
| 13 | | 756 | 27,625 | 3% |
| | Total | 264,600 | 1,746,150 | 15% |
Ryanair cut German capacity in 2014, but is growing again in 2015
The large majority of Ryanair's seat capacity in Germany is deployed on routes to/from Western Europe, which accounts for around 90% of its seats in the country, with Eastern/Central Europe making up the balance. Western Europe is set to remain its main focus for German routes, although its growth in Eastern/Central points to the potential for it to drive further growth in Germany by adding more routes to that region in the longer term.
In summer 2015, Ryanair increased its seat capacity in Germany by a low double digit percentage compared with summer 2014, when it had heavily cut its capacity versus summer 2013 (based on data from OAG). This summer Ryanair added five routes to/from Germany (Frankfurt Hahn-Vilnius, Cologne/Bonn-Alicante, Memmingen-Faro, Stuttgart-Manchester and Bremen-Prague).
In spite of its growth this year, its summer seat capacity in Germany is still around 10% to 15% below the level it reached in 2013 (which was a peak for Ryanair in Germany and when it opened 47 new routes in Germany).
However, growth is set to accelerate in the coming winter season.
Schedules data currently available from OAG indicate that Ryanair will have around 40% more capacity in Germany in winter 2015/2016 compared with the previous winter.
Germany-Western Europe one way weekly seats for leading airlines 19-Sep-2011 to 28-Feb-2016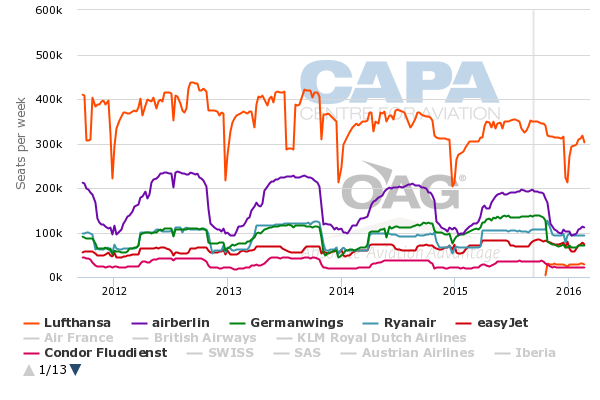 Nine new German routes for Ryanair in winter 2015/2016, including a return to domestic market
Ryanair is to launch nine new routes in Germany in winter 2015/2016, of which seven will be from Cologne/Bonn and two from Hamburg. These new routes will be the main driver of Ryanair's growth in Germany this coming winter, although it is also increasing frequencies on three routes (Cologne/Bonn to Rome Ciampino, London Stansted and Tenerife Sur). This growth will be very slightly moderated by the withdrawal from routes from Bremen and Franfkurt Hahn to Tampere.
Among its new German routes, perhaps the highest profile is Ryanair's new service from Cologne/Bonn to Berlin Schoenefeld. Launched ahead of the winter schedule in early Sep-2015, it marks Ryanair's return to the German domestic market after a four year absence. This city pair used to be around twice its current size, but both of the incumbents, Germanwings and airberlin (which operate to Berlin Tegel), made significant capacity cuts on the route at the end of the summer 2013 season.
Germanwings is stepping up its capacity on this city pair this winter in response to Ryanair's entry through the addition of a Schoenefeld service and will overtake airberlin as the leading airline on the city pair.
Nevertheless, Ryanair's 30 times weekly frequency gives it a significant share of around 20% of seats on Cologne/Bonn-Berlin. Moreover, Cologne/Bonn-Berlin is the third biggest domestic city pair in Germany behind Frankfurt-Berlin and Munich-Berlin and the largest excluding those involving Lufthansa's two main hubs.
Even with Germanwings' increased capacity and the addition of Ryanair, total seat capacity on the city pair will still be around 40% less than it was three years ago, suggesting the potential for further growth, particularly if demand is price-stimulated. Ryanair's entry into this important city pair certainly appears to be a strong signal of intent in the German domestic market and in the German market overall.
Ryanair will be number one by seats on seven of its new German routes
On Cologne/Bonn to Milan, Germanwings halved its weekly capacity at the end of 2013 and Ryanair's service to Bergamo from the end of Oct-2015 will make the Irish airline the leading provider on the city pair.
On Cologne/Bonn to Copenhagen, Warsaw and Valencia, Ryanair will be the only operator, although other competitors used to operate these city pairs in the past (Germanwings withdrew from Cologne/Bonn to Copenhagen in 2012 and Warsaw in 2014; airberlin withdrew from the Valencia route in 2011). Ryanair will also be a monopoly supplier on Cologne/Bonn to Porto and Valencia.
The leisure route from Cologne/Bonn to Gran Canaria is one of the most competitive of Ryanair's new German routes. When Ryanair enters at the start of the winter schedule, it will face three competitors, TUIfly, airberlin and Germanwings, each of which will have close to three times Ryanair's seat capacity on the route. Germanwings is resuming this service after suspending it over the summer season, while Norwegian will suspend it at the start of the winter. TUIfly will further increase its capacity by one third in Dec-2015.
In addition to these new services from Cologne/Bonn, Ryanair will also launch two new routes from Hamburg this winter.
Its planned daily service from the northern German city to Madrid will make it the leading airline by seats on this route, ahead of Eurowings (which will take over from its sister company Germanwings this winter as the Lufthansa group's operator on the city pair) and Iberia. Norwegian will cease operating this route, which it entered in Jun-2014, at the end of the current summer schedule. Iberia only entered Hamburg-Madrid at the start of the summer 2015 schedule and gradually increased its capacity over the season from three to six times weekly, but the winter schedule will see it cut its service from back to three times.
Ryanair will also be number one by seats on its new Hamburg to Barcelona service, ahead of Vueling and Germanwings.
Norwegian is to discontinue this route, which, as with Hamburg-Madrid, it operated for three seasons starting from summer 2014.
Ryanair's new German routes for winter 2015/2016
| Origin | Destination | Weekly freq | Date effective | Ryanair rank by seats on city pair* | Competitors on city pair ranked by seats* |
| --- | --- | --- | --- | --- | --- |
| | | 30 | 03-Sep-15 | 3 | 1 airberlin (to TXL), 2 Germanwings (to TXL), 3 Ryanair |
| | | 14 | 25-Oct-15 | 1 | 1 Ryanair, 2 Germanwings (to MXP), 3 Eurowings (to MXP, from 26-Oct-15) |
| | | 7 | 25-Oct-15 | 1 | Ryanair monopoly |
| | | 7 | 25-Oct-15 | 1 | Ryanair monopoly |
| | | 4 | 25-Oct-15 | 1 | Ryanair monopoly |
| | | 3 | 27-Oct-15 | 1 | Ryanair monopoly |
| | | 1 | 31-Oct-15 | 4 | 1 TUIfly, 2 airberlin, 3 Germanwings, 4 Ryanair |
| | | 7 | 04-Nov-15 | 1 | |
| | Barcelona | 7 | 09-Nov-15 | 1 | 1 Ryanair, 2 Vueling, 3 Germanwings |
Several factors have helped Ryanair in Germany. Germanwings' growth has opened the door to LCC acceptability
Ryanair's expansion in Germany, particularly on new routes, comes as a result of a number of factors. These include capacity cuts by incumbents on particular routes, creating space for Ryanair's entry on existing city pairs.
In the market between Germany excluding Frankfurt and Munich and Europe, airberlin cut its capacity from 2010 to 2013, although it returned to modest growth in 2014, and the airline is cutting capacity once more in 2015. For Lufthansa, capacity cuts by the mainline parent company have been broadly balanced by growth in its LCC subsidiary Germanwings.
Seer related report: Germanwings has preserved Lufthansa's market share, but still has too many legacy issues for a LCC
In addition to Ryanair's exploiting capacity cuts by incumbents, it has also taken the opportunity to create new routes by linking two destinations (one in Germany and one elsewhere) already in Ryanair's network and where its presence has grown.
Incumbent German airlines, Lufthansa in particular, have also helped Ryanair's cause in another crucial way.
In the past, Germany tended to see itself as a premium market, where a full service offer was expected and where unbundled low fares were treated with some suspicion.
This attitude has provided Lufthansa with a defensive wall to some extent and helps to explain the relatively low penetration of Ryanair (and LCCs in general) in Germany. Ryanair has expanded in Germany before, as in 2013, only to retreat and regroup for another attempt.
See related report: No hamburgers or frankfurters, but Ryanair will be serving Germany more
Now, however, Lufthansa has altered the German attitude towards the LCC business model irrevocably. It has spent two years transferring all of its European routes not involving its Frankfurt and Munich hubs to its Germanwings LCC subsidiary, changing the travel habits of a significant segment of the market (the transfer represents almost a quarter of the combined Lufthansa/Germanwings short haul seat capacity).
The German market is now far more receptive to unbundled low fares and a "no-frills" experience on short haul point to point. Although Germanwings' fare categories include bundled options with features such as bag check and seat selection as part of the fare, its successful growth has increased the market's embrace of price as a key criterion for choosing a short haul point to point operator.
Airberlin, through its revised fare categories and frequent retructuring, has also contributed to this process.
See related reports:
Airberlin: another restructuring from another CEO after another loss in 2014
Airberlin: narrower 1Q loss helped by lower fuel prices, revenue growth as 2Q below "expectations"
Ryanair has added features more likely to appeal to German travellers
If, to some extent, Ryanair can thank its biggest German competitor for its renewed opportunity, its own strategic development has helped too, over the past couple of years. As in other markets, price is not the only criterion, even if it has moved further up the ranking of what is important to German air travellers. Two other very important factors to the discerning passenger are schedule (frequency) and the quality of an airline's airport network.
In recent times, Ryanair has improved its business on both of these factors. It has moved to increase frequencies on many routes, particularly those of importance to business travellers, and to increase the proportion of primary airports in its network.
The stars are now aligned for Ryanair in Germany
In spite of Ryanair's moves towards a more customer service oriented and business friendly operation, it remains the lowest cost operator among European airlines.
According to CAPA's CASK Database, Ryanair's unit cost is around 60% less than Lufthansa's and around 50% less than airberlin's (without taking account of Ryanair's shorter average trip length, which, all other things being equal, should lead to a higher unit cost). Lufthansa has not published separate data for Germanwings for a number of years, but previous CAPA analysis suggested that its unit cost, while lower than Lufthansa's, was quite a bit higher than the level associated with a genuinely low cost operator.
See related report: Germanwings rebrands: you say you want a revolution? To be led by cost and operations
Ryanair can significantly under-price the German airlines
Ryanair's massive unit cost advantage ensures that it can significantly under-price its competitors on German routes (as elsewhere), while its newly improved customer proposition should increase its attraction to German travellers on other dimensions influencing customer choice.
Although factors such as customer loyalty may provide the Lufthansa group with some comfort in its battle with Ryanair (Germanwings and Eurowings are part of Lufthansa's Miles & More FFP), Lufthansa's market share success with Germanwings has increased the focus on price and this factor cannot now be relegated.
Lufthansa's decision now to transfer much of Germanwings' network to the lower cost Eurowings indicates that it understands this. Again, there are no separate data from which to calculate Eurowings' CASK, but it should be able to be profitable with lower fares than those of Germanwings. However, it is likely that Eurowings will also be unable to compete with Ryanair on price alone.
Ryanair CEO Michael O'Leary's recent prediction of "the mother and father of all fare wars" this winter is a familiar refrain (and it says it still expects downward pressure on fares and yields this winter, even after its upgrade to FY2016 profit guidance), but will nevertheless cause a few jitters in the boardrooms and revenue management departments of Frankfurt and Berlin.
Setting aside the challenge of establishing yet another relatively unknown brand, and the fifth column in its midst, Lufthansa will be hoping that the combination of its group's network, schedule, fare options and loyalty programme will help to offset the price disadvantage that Eurowings will take into its fight with Ryanair.
Nevertheless, Ryanair's price discount is so large that there will always be routes and passenger segments where this outweighs all other criteria. Ryanair's growth in Germany has never been easy, but now it now seems that the stars are aligned to favour it.