London Stansted: traffic growth is resurgent thanks to lower airport charges; Ryanair dominates
Analysis
In 2013, Stansted and its biggest customer Ryanair signed a 10 year agreement over lower airport charges and increased traffic targets that led to a resumption of growth at the airport. This followed a multi-year traffic slump caused by strong airport charge increases. The effect of the new agreement has been dramatic. After losing more than 6 million annual passengers from 2007 to 2012 (a fall of 26%), the airport had recovered 5 million annual passengers by the end of Nov-2015 (an increase of 29%), bringing the total close to 23 million.
As Ryanair's biggest base, London Stansted airport claims the title of Europe's largest airport for low cost airline seats in the current northern winter schedule (based on data from OAG for the week of 4-Jan-2016), although it slips to third behind the more seasonal Barcelona and Gatwick in the northern summer schedule.
Nevertheless, the dominance of Ryanair makes for an unequal relationship and the airport is keen to attract a legacy airline. As the UK continues to delay a decision over new airport capacity, no wonder Stansted's owner Manchester Airport Group is keen for its planning cap of 35 million passengers to be lifted in order to facilitate more airline competition at the airport.
Ryanair is by far the biggest airline at Stansted, with almost 85% of seats in the week of 4-Jan-2016. Number two easyJet is a long way behind, with 10% of seats. The two Lufthansa-owned LCC brands, Germanwings and Eurowings, have 2% between them.
The only other airline with more than 1% of seats is Turkish LCC Pegasus. Nearly all seat capacity (99%) at Stansted is operated by low cost airlines, with charter airlines making up the rest (full service carriers have a negligible share).
London Stansted Airport: airlines by share of seats: 4-Jan-2016 to 10-Jan-2016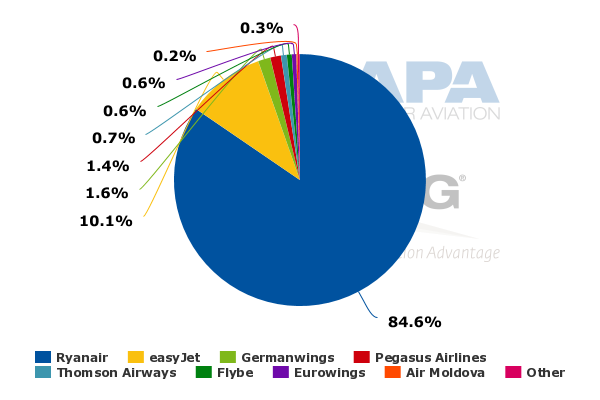 Ryanair has driven a return to growth at Stansted since 2013 after many years of contraction
Ryanair's dominance at Stansted has meant that it has been the most important driver of overall capacity and traffic at the airport. Its 2013 agreement with Stansted led to a resurgence of growth for the airport, driven by Ryanair's return to growth there. According to data from Airport Coordination Limited, which allocates slots, Ryanair had cut its Stansted seat capacity by 21% from summer 2007 to summer 2013 after a sharp increase in airport charges.
See related report: Ryanair's new growth deal with London Stansted Airport: mutual love-in?
However, other airlines cut their capacity at an even greater rate and total seat numbers at the airport fell by 36% between summer 2007 and summer 2013. This more rapid cut by other airlines was due not only to the increase in airport charges, but also to the diminished appeal of an airport with reduced connectivity as a result of Ryanair's cuts.
Seats at London Stansted Airport ('000) northern summer season: 2002 to 2015*
As a result of its cutting capacity less rapidly than other airlines, Ryanair increased its share of seats at Stansted through the period of contraction. In summer 2007, Ryanair had 61% of seats and this grew to 75% in summer 2013.
Ryanair's reversal of capacity cuts led to a 29% increase in its seat numbers at Stansted between summer 2013 and summer 2015. However, other airlines did not match this growth and total seat numbers at the airport were up by 21% over this period. Nevertheless, this was a strong return to growth for the airport, driven by the new agreement with Ryanair.
Ryanair's share of seats has continued to grow
The Irish LCC's more rapid growth further increased its seat share to 79% in summer 2015.
Number two airline easyJet had initially increased its market share during the period of Stansted's shrinking, rising from 18% of seats in summer 2007 to 21% in summer 2011, but its share then fell steadily down to 13% in summer 2015.
Note that the more seasonal nature of many routes operated by Ryanair's competitors at Stansted means that its share of seats in the winter season is higher than in the summer. Data from Airport Coordination Limited show its share of seats to be 83% at the start of northern winter 2015/2016 (and, as noted above, it has 85% in the week of 4-Jan-2016).
Share of seats (%) at London Stansted Airport summer season: 2002 to 2015*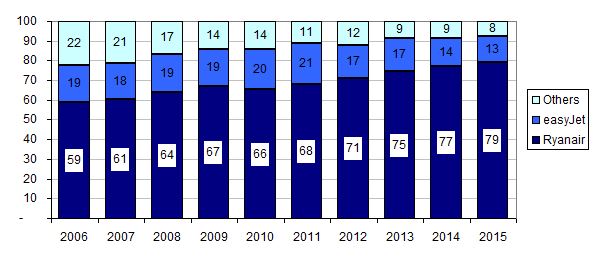 Growth has been stimulated by reduced airport charges following MAG's acquisition of Stansted
The reason for the period of capacity reduction at Stansted was a dramatic increase in airport charges. The average aeronautical revenue per passenger received by the airport company almost doubled from GBP3.32 in 2006 to GBP6.51 in 2008, before rising further to GBP7.64 in 2012. The overall increase from 2006 to 2012 was a dizzying 130%.
For an airline such as Ryanair, for whom costs have always been central to every strategic decision, such an increase was unacceptable, even at its biggest and most important base.
The change of direction in both airport charges and traffic at the airport followed a change of ownership at Stansted. The airport was sold by Heathrow Airport Holdings to Manchester Airport Group after the UK's competition authority effectively ordered the break up of the old BAA monopoly of London's largest airports. The new owner fairly quickly reached a 10 year agreement with Ryanair over airport charges and traffic targets.
The details of the new charges made available to Ryanair have not been made public, but Ryanair stated in 2013 that it expected its passenger numbers in the first year of the deal (2014) to be 14.5 million, compared with 13 million in 2012. In addition, MAG said at the time that Ryanair's passenger numbers would grow to more than 18 million by 2018 and then to nearly 21 million by 2023. Ryanair would only have committed to such passenger growth targets if it had been given an incentive in the form of lower airport charges.
Although the exact terms are not public, there is now some evidence from the details of Stansted's revenues and passenger numbers that have been published by MAG. From these figures, CAPA calculates that the average aeronautical revenue per passenger fell by 7% from GBP7.64 in 2012 to GBP7.11 in 2014 and that passenger numbers at Stansted jumped by 20% over the same period (note that Stansted's year end changed from December to March after its acquisition by MAG and so 2014 refers to the year ended Mar-2015).
According to the most recently available data, passenger numbers for the 12 months to Nov-2015 were 22.4 million, up 13.6% year on year (although growth had slowed to 6.9% for the month of Nov-2015 itself).
This was 29% higher than the equivalent figure of three years earlier. It is clear that lower airport charges have had a significant positive effect on traffic at Stansted.
London Stansted Airport aeronautical income per passenger (GBP) and passenger numbers (million): 2006 to 2012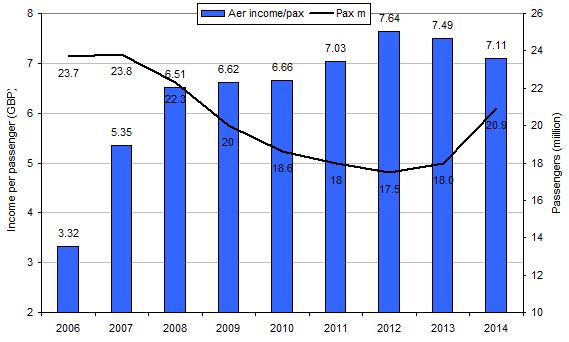 Stansted Airport's aeronautical revenue per passenger is between those of Gatwick and Luton
Stansted's aeronautical revenue per passenger was 17% below that of London Gatwick Airport in 2014 (in 2012, it had been only 9% below Gatwick's).
Stansted remained more expensive than the nearer, but smaller, London Luton, but its premium in terms of aeronautical revenue yield fell from 22% in 2012 to 23% in 2014. All three have significantly lower airport charges than London Heathrow.
Stansted is entirely short/medium haul
Of course, Ryanair only operates short and medium haul flights and Stansted's reliance on the Irish LCC means that the airport's scheduled flights are currently only short and medium haul. According to data from OAG for the week of 4-Jan-2016, 73% of scheduled seat capacity at Stansted operates to Western Europe, 25% to Eastern Europe and less than 2% to North Africa.
In terms of flight duration, 54% of flights are of less than two hours and 96% are under four hours. Nevertheless, although capacity is dominated by the single continent of Europe, Ryanair's very wide network means that routes are well diversified across 33 countries, one third of which account for at least 2% of seats.
London Stansted Airport: seat capacity by region: 4-Jan-2016 to 10-Jan-2016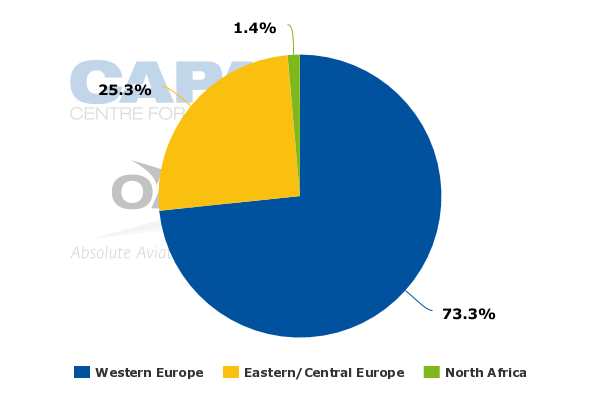 There have been limited long haul services in the past (including the Americas), but there are none currently indicated in schedules data from OAG. However, Stansted's MD Andrew Harrison has reportedly said that long haul leisure services could treble in 2016 and he anticipates a full service carrier could commence service as soon as winter 2016 with a route to the US.
More significant levels of long haul activity could develop from Stansted if and when Ryanair starts to facilitate feed into other airlines' long haul networks at other airports, something it has been widely reported to be considering. This could prompt long haul airlines to establish operations at Stansted, with feed from Ryanair.
In addition, Ryanair CEO Michael O'Leary's long deliberated plans to establish a trans-Atlantic operation could at some point lead to long haul operations from Stansted. For now, however, Stansted looks likely to remain a predominantly short/medium haul airport.
Whether or not Stansted would have eventually lowered its airport charges without the catalytic effect of a change of ownership can only be the subject of speculation. The regulatory price cap regime allowed it to impose the dramatic increases after 2006, but Stansted previously had a track record of pricing well below the allowed cap.
Stansted is Ryanair's biggest base and perhaps the pre-MAG management of the airport assumed that it would not carry out its threat to cut capacity if price increases were imposed. When Ryanair did start to cut capacity, perhaps the airport felt that it would quickly come back with its tail between its legs.
But Ryanair stuck to its guns and the reality is that Ryanair is more important to Stansted than Stansted is to Ryanair. Around four out of five airline seats deployed at the airport are operated by Ryanair. In contrast Ryanair's business is far more diversified. In addition to Stansted, Ryanair operates to a further 163 airports across Europe and North Africa and bases aircraft and crew at 75 of them.
Ryanair significantly reduced its dependency on the UK and Stansted during the period of Stansted's airport charge hikes, when the airline was cutting its capacity there. In the year to Mar-2006, the UK accounted for 48% of Ryanair's. In the year to Mar-2015, this had fallen to 27%. Before its capacity cuts there, Stansted accounted for 23% of Ryanair's seats, whereas, today, only 10% of Ryanair's seats are deployed at Stansted. This has risen from 8% two years ago, but still leaves Ryanair with a highly diversified airport network.
Ryanair's top ten airports by seats: 4-Jan-2016 to 10-Jan-2016
| Rank | Airport | Percentage of Ryanair's seats |
| --- | --- | --- |
| 1 | | 10.4% |
| 2 | | 6.3% |
| 3 | | 4.7% |
| 4 | | 3.2% |
| 5 | | 3.0% |
| 6 | | 2.8% |
| 7 | | 2.8% |
| 8 | | 1.9% |
| 9 | | 1.8% |
| 10 | | 1.6% |
| | All others | 61.6% |
MAG CEO Charlie Cornish expects that the resumption of traffic growth at Stansted will follow a quicker path than the forecasts in the airports commission report, bringing passenger numbers close to the 35 million planning cap in around five years.
With the UK government continuing to delay its decision over where and when to build new runway capacity, Mr Cornish sees an opportunity for Stansted to press its claim for expansion and, in so doing, to create space for it to reduce its reliance on Ryanair. "When they consider the Heathrow question, we do want the government to respond to the short-term measures – because there's going to be no new runway capacity in London for the next 15 years whatever happens" (The Guardian, 04-Dec-2015).
Nevertheless, for now, it is still clear where the balance of power lies in the relationship between Ryanair and Stansted.