Ryanair's 117million pax in 2016 tops European airline groups. The first time an LCC topped rankings
Analysis
For the first time ever in Europe, in 2016 a low cost airline carried more passengers than any other airline or airline group, as Ryanair's 117 million passengers pushed Lufthansa Group's 110 million into second place. Ryanair had beaten Lufthansa itself, but not the whole Lufthansa Group. IAG's first full year of including Aer Lingus helped it to take third place from Air France-KLM. Europe's number two LCC, easyJet, was ranked fifth.
The big five can be expanded into a big seven to include Turkish Airlines and the Aeroflot Group, although these two had contrasting growth rates in 2016. A chasing pack of middle sized airline groups includes three LCCs (Norwegian, Pegasus and Wizz Air) and three legacy airlines with varying challenges to establishing sustainable profitability (SAS, Air Berlin Group and Alitalia).
Most of the faster growing airline groups in the top 20 are LCCs and the main growth drivers for Europe's big three legacy groups are their LCC subsidiaries. Just outside the top 20 are some fast growing legacy airlines in Eastern Europe, demonstrating the potential there. Nevertheless, unless there is a big merger or acquisition, Ryanair looks set to remain at number one for some time.
Ryanair top European airline group; pushes Lufthansa into second as IAG leapfrogs AF-KLM; easyJet fifth
In calendar 2016 Ryanair carried more passengers than any other airline or airline group in Europe. The LCC's 117 million passengers, an increase of 15%, took it above the Lufthansa Group for the first time. Europe's largest airline group by passenger numbers in 2015 grew its traffic by only 1.8%, to just below 110 million.
In third place, and leapfrogging Air France-KLM, was IAG, which beat the 100 million mark for the first time. IAG carried almost 101 million passengers, boosted by the acquisition of Aer Lingus in Aug-2015. Its reported growth rate of 14.0% would have been 6.3% if Aer Lingus had been included in the whole of 2015.
Fourth ranked Air France-KLM increased its passenger numbers by 4.0%, to a little over 93 million.
The big three legacy airline groups formed the meat in a sandwich enclosed by Europe's two largest LCCs. If Ryanair formed the first slice of bread, easyJet provided the second slice, growing by 6.6% to nearly 75 million passengers in calendar 2016.
Top 20 European airline groups by passenger numbers: calendar 2016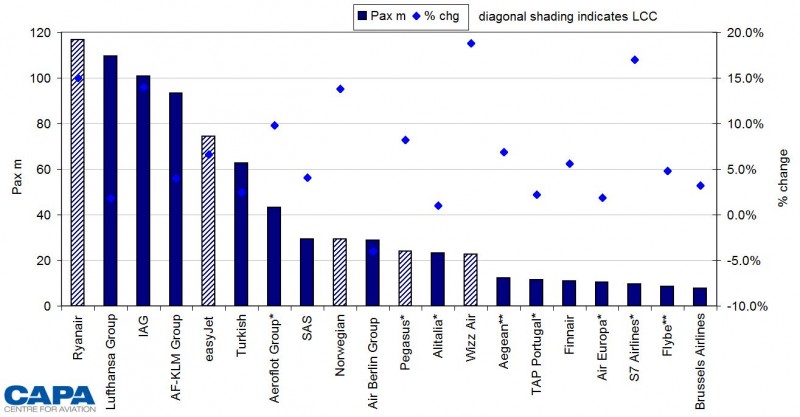 Turkish and Aeroflot join Europe's big five to make the big seven
Ryanair, Lufthansa Group, IAG, Air France-KLM and easyJet are often correctly referred to as Europe's big five. Indeed, it was this quintet that founded the new airline trade body Airlines for Europe in Jan-2016; a move that was soon followed by a number of other airlines.
However, it is now becoming more relevant to talk of a big seven, with number six Turkish Airlines and number seven Aeroflot Group earning their place among the European premier league, by passenger numbers.
Turkish Airlines carried almost 63 million passengers – an increase of just 2.5% after many years of double digit growth as it adopted a more cautious approach in response to weaker demand in Turkey
See related report: Turkish Airlines and Pegasus to take unprecedented capacity decisions as Turkey air traffic slumps
CAPA estimates that the Aeroflot Group carried in the region of 43 million passengers, based on its reported 11M2016 growth rate of 9.8% (at the time of writing, Aeroflot's Dec-2016 traffic data are not yet published).
Next are six airline groups with passenger numbers between 20 million and thirty million in 2016.
In the battle to be Scandinavia's largest airline by passenger numbers, Norwegian grew by 13.8% and drew level with its rival SAS on 29 million passengers – an increase of 4.1% (although SAS took eighth place with 29.4 million to Norwegian's 29.3 million).
Norwegian's growth plans will almost certainly take it ahead of SAS in 2017.
See related report: Norwegian Air part 1: a second UK long haul base at Edinburgh. Matches Virgin on Gatwick-US seats.
On almost the same figure, the Air Berlin Group ranked in tenth place, but was the only member of the top 20 that suffered a drop in passenger numbers: a fall of 4.0%. The Tegel based group's restructuring will result in a new core airberlin with half the fleet and so, it looks set to fall outside the top 10 in 2017.
See related report: Airberlin: airline's latest, more radical, restructuring gets help from TUIFly and Lufthansa
The other three twenty something million passenger groups are Pegasus, Alitalia and Wizz Air. Pegasus has yet to report its Dec-2016 figures, but carried an estimated 24 million, based on the 8.2% growth rate reported for 11M2016.
OAG data indicated that Alitalia's scheduled seat numbers grew by 1.0% in 2016, leading to an estimate of 23 million passengers. This was just above the traffic figure reported by 13th placed Wizz Air, which enjoyed growth of 18.8%, the highest in the top 20.
See related reports:
There is then a drop of more than 10 million passengers to a cluster of airline groups with traffic levels in the region of 10 million passengers.
Leading this pack is 14th ranked Aegean Airlines Group, which has yet to report FY2016 data, but which grew by 6.9% to 12 million passengers in the rolling 12 months to Sep-2016. This was just above the figure estimated for TAP Portugal, calculated by applying its 2.2% seat growth rate from OAG to its 2015 passenger numbers.
Close behind Aegean and TAP, 16th placed Finnair carried 11 million passengers, an increase of 5.6%, and 17th ranked Air Europa, with an estimated 10 million derived by applying its 2.2% seat growth rate from OAG.
See related reports:
The second highest growth rate among the top 20 probably came from S7 Airlines, which has yet to report FY2016 figures, but which grew passenger numbers by 17.0% in 11M2016. If this growth continued for the full year, S7 carried an estimated passenger count of just below 10 million.
See related reports:
The top 20 is completed by Flybe and Brussels Airlines. Flybe, the only regional airline in the list, grew its passenger numbers by 4.8% to almost 9 million in the 12 months to Sep-2016 (calendar 2016 data is not available). This traffic growth fell short of its seat growth of 10% for the same period.
Flybe's growth rate accelerated through the 12 month period and OAG data indicate that its seat growth of 19% in winter 2016/2017 will be the fastest of any European airline group.
See related report: Flybe: largest regional airline in Europe leads the airline capacity growth charge in winter 2016/17
Brussels Airlines, in its final year before becoming wholly owned by the Lufthansa Group, carried just under 8 million passengers – an increase of 3.2% in spite of the terrorist attacks in Mar-2016. Brussels Airlines fully joined the Lufthansa Group at the start of 2017 and will be integrated into its Eurowings low cost operation.
See related report: Lufthansa folds Brussels Airlines into Eurowings, keeping dual brands. LH has many balls in the air
Ryanair and easyJet are top two individual airlines for passenger numbers; Turkish third
Ryanair's achievement in topping the list in 2016, beating all of the big three legacy airline groups, was all the more remarkable given that its three nearest rivals by passenger numbers are all groups containing three or four airlines each.
Breaking the top seven airline groups into their constituent operating airline brands, the top two were both LCCs (and both are the only airline brand in their respective groups). Ryanair was bigger than number two easyJet by 42 million passengers, and almost twice the size of number three airline Turkish.
Although Turkish slowed its growth in 2016, its position among the top three individual European airlines by passenger numbers, alongside LCCs Ryanair and easyJet, demonstrates a significant change in the hierarchy over recent years.
Top seven European airline groups and their subsidiary airlines by passenger numbers: calendar 2016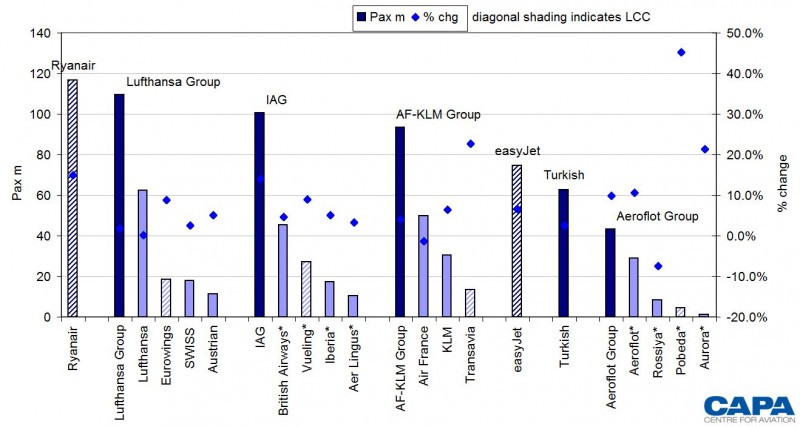 The large European 'flag carriers' are falling behind
The national airlines of Europe's larger countries that once dominated European aviation, historically known as 'flag carriers', are still sizeable, but have fallen behind the top three in the ranking of passenger numbers carried by individual airlines.
Lufthansa was the number four individual airline in Europe, with 62 million passengers, an increase of just 0.1%. Air France was fifth, with a 1.4% decline to 50 million, and British Airways sixth, with an estimated 45 million (passenger numbers are not yet available for individual IAG airlines; this BA figure is an estimate based on the 4.7% seat growth rate indicated by OAG data).
KLM's 30 million passengers rank it seventh among the individual airlines of the top seven European groups. It is followed by Aeroflot's 29 million (a CAPA estimate based on its 11M2016 growth rate of 10.6%), which places the Russian national airline on broadly the same number of passengers as SAS, Norwegian and the Air Berlin Group).
Big three legacy groups: LCC subsidiaries are main growth engines
The Lufthansa Group's main growth engine was its low cost Eurowings division, which also includes operations carried out by Germanwings, with an 8.8% increase in passenger numbers to 18 million. This made Eurowings the number two airline brand in the group after Lufthansa itself, and fractionally ahead of SWISS, which recorded growth of 2.5% to 18 million passengers. Austrian grew by 5.1% to 11.4 million.
IAG has not reported the breakdown of its pro forma passenger growth of 6.3% (i.e. including Aer Lingus in the base 2015 figures for the full year) into its individual airlines. The highest passenger growth among IAG airlines is likely to have been achieved by the LCC Vueling, estimated by CAPA at 9%, with the others in the range of 3% to 5%.
In the Air France-KLM Group, which increased passenger numbers by 4.0% in 2016, Air France's 1.4% fall in passenger numbers was the only decline among the constituent airlines of the top seven European airline groups. KLM grew by 6.4% to 30 million passengers and the main growth driver was Transavia, with a 22.7% increase to 13 million.
Most of the fastest growing airlines are LCCs
Among the constituent airlines of the top seven groups, the fastest growth rate was recorded by Aeroflot's LCC subsidiary Pobeda, with an increase of 47% in 11M2016.
Other LCCs also achieved relatively high passenger growth rates, namely Transavia (22.7%), Ryanair (15.0%), Lufthansa's LCC brand Eurowings (8.8%) and Vueling (9.0%, a CAPA estimate).
Among the top 20 airline groups in Europe, most of the fastest growing participants are LCCs. After adjusting for IAG's acquisition of Aer Lingus in 2015 (i.e. taking its reported growth rate of 14.0% down to 6.3% on a pro forma basis), all those in the top twenty with double digit passenger growth were LCCs, with the only other exception being S7 Airlines.
Airline groups trying to join the top 20
A number of airlines/airline groups were just outside the top 20 by passenger numbers in 2016, with passenger numbers in the range of 3 million to 7 million.
These included six with passenger growth rates expected by CAPA to be in the double digits in 2016. Among these, four are based in Eastern Europe: UTair Aviation (18.9% growth in 11M2016); Ural Airlines (17.5% growth in 11M2016); Ukraine Airlines (17% growth targeted by the company; 20.8% seat growth recorded by OAG for 2016); and LOT Polish (24.0% seat growth recorded by OAG).
See related reports:
The two others just outside the top 20 that had double digit passenger growth in 2016 are Icelandair (18.6% growth reported) and Volotea (35% to 40% growth targeted by the company).
See related reports:
By contrast with these fast growing airline groups, Virgin Atlantic and Monarch Airlines (also just outside the top 20 by passenger numbers) experienced a fall in traffic in 2016. Virgin's traffic growth was affected by the closure of its Little Red short haul operation in 2015, while Monarch underwent a further refinancing round in 2016.
See related reports:
European airline groups just outside the top 20 by passenger numbers: calendar 2016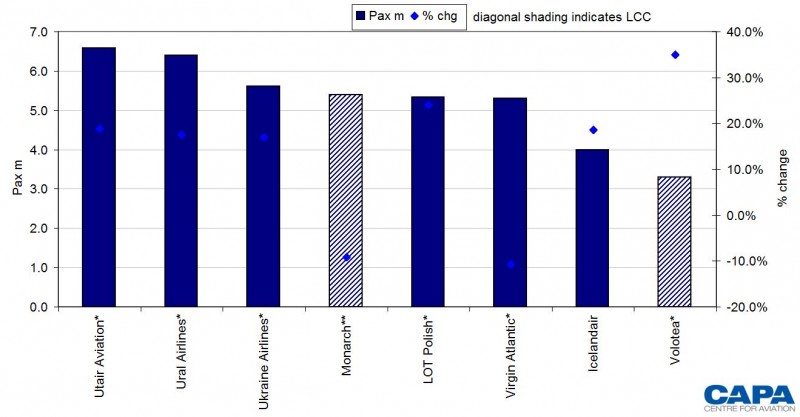 Lufthansa's acquisition of Brussels Airlines would add enough passengers to take its total to 117.4 million, fractionally ahead of Ryanair's116.8 million, based on 2016 traffic.
However, the acquisition only became effective from the beginning of Jan-2017 and so did not effect 2016 traffic totals. Moreover, 2017 growth plans are likely to result in a growing gap between Ryanair and the Lufthansa Group, even with Brussels Airlines.
Ryanair expects passenger growth of 9% in its financial year to Mar-2018, following 12% growth in the year to Mar-2017, giving roughly 10% growth to around 128 million for calendar 2017.
The Lufthansa Group plans ASK growth of 12.5% for 2017, with 4% organic growth and a further 7ppts from the Brussels Airlines acquisition and 1ppt from the wet lease of 38 aircraft from airberlin.
If its passenger growth equals this 12.5% ASK growth (perhaps unlikely, since its plans indicate slightly faster growth on long haul than on short/medium haul), the Lufthansa Group's 2017 passenger numbers could total around 123 million.
Top 20 European airline groups by passenger numbers, with Brussels Airlines added to Lufthansa Group, calendar 2016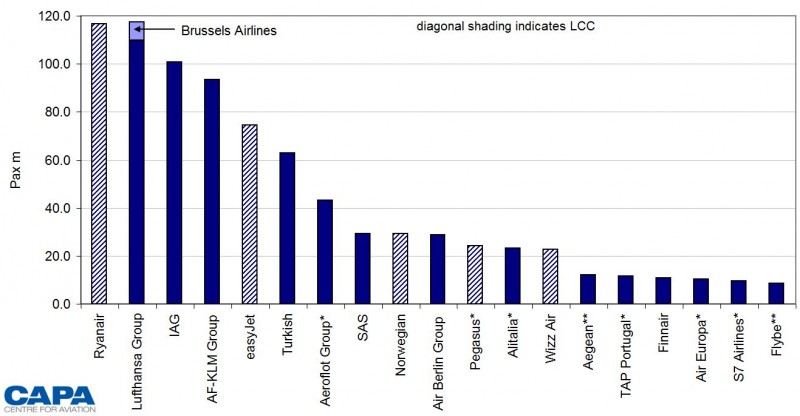 Absent a big M&A deal, Ryanair is set to retain its European passenger numbers crown
Among the top 20 European airline groups by passenger numbers the legacy airlines still carry the majority of passengers, 59%, compared with the LCCs' share of 41% (33% for independent LCCs and a further 8% for the LCCs owned by the three big legacy groups).
However, Ryanair's ascension to the top of the European traffic league is a significant moment in being the first time that an LCC has occupied this position. Furthermore, LCC growth rates in Europe in 2016 were typically faster than those of legacy airlines, and are likely to remain so in 2017 and beyond.
The Lufthansa Group's loss of its number one position to Ryanair will be difficult to regain. The only realistic way in which any European airline group that is a rival to Ryanair could wrestle the Irish LCC's newly claimed passenger numbers crown from its grasp in the short to medium term is by acquisition.
Europe's airline industry remains relatively fragmented, so further consolidation is likely, but significant deals are hard to come by. Meanwhile, organic growth by Ryanair and other leading LCCs is the most likely form of meaningful consolidation.
See related reports
In the absence of a significant merger or acquisition, expect Ryanair to carry more passengers per year than any other European airline group for the foreseeable future.