Norwegian implements further steps to become Europe's first low-cost network airline
Analysis
Buoyed by a 27% increase in net profits and a 25% hike in revenue for 3Q2012, Norwegian Air Shuttle is starting to slowly lift the veil on its strategy behind the massive firm order for 222 narrowbody aircraft as it confirmed plans to open a base of operations in London Gatwick and in Alicante in spring 2013. The Oslo-based LCC has also launched a base at Las Palmas Airport as part of its new winter 2012-13 timetable. In Mar-2012 Norwegian opened a first base in Spain at Malaga Airport.
The broadening of the airline's base network from Scandinavia to central and south Europe is coinciding with Norwegian's preparations to commence long-haul flights with Boeing 787s. The first Dreamliner is now scheduled to join the LCC's fleet in Apr-2013 and preparations are in full swing to set up a crew base for its long-haul operations in Bangkok, while also establishing a separate subsidiary Norwegian Long Haul AS. The airline set up the separate company to protect its existing operations if its long-haul operations were to go wrong. Meanwhile, Norwegian's application for US service was made public by the US Department of Transport on 16-Oct-2012.
Norwegian has not officially detailed its first long-haul services, but they are likely to be New York JFK and Bangkok Suvarnabhumi airports from its two largest bases at Oslo Airport and Stockholm Arlanda Airport. A Miami service is expected to follow towards the end of 2013. While the airline plans to open a base in Bangkok in 2013, it has said initial 787 flights will not be operated with bases outside its home market.
Low-cost long-haul to meet low-cost short-haul
Norwegian's steady move towards becoming a long-haul Boeing 787 operator, alongside a growing European short-haul network, promises to make it a serious low-cost network airline. The airline has gradually built an extensive route portfolio covering 120 destinations in 36 countries across Europe, north Africa and the Middle East.
With 15.7 million passengers in 2011, Norwegian is the third largest low-cost airline in Europe and it has clear ambitions to narrow the gap with its larger peers Ryanair and easyJet. Norwegian, which only launched as an LCC in Apr-2002, placed Europe's biggest order ever in Jan-2012 for 100 Airbus A320neos, 100 Boeing 737 MAX8s and 22 737-800s along with purchase rights on another 100 MAX8s and 50 Neos.
The agreements make the LCC the European launch customer for the 737 MAX and a first-time Airbus customer. The transaction lifted Norwegian's orders, commitments and purchase rights to a total 427 airplanes, including 55 previously ordered 737-800s. The new aircraft are scheduled to enter service in 2015.
In May-2012, Norwegian signed an agreement with ILFC (International Lease Finance Corporation) to lease two additional 787-8s, securing a delivery of a total of eight Dreamliners. According to its most recent results presentation on 25-Oct-2012, three 787s will be delivered in 2013 and five in 2014. Norwegian has lease agreements for five 787s and is purchasing three of the aircraft outright.
See related article: Norwegian's orders make it a candidate to join a global alliance – or a Gulf carrier
In an article published in the Norwegian newspaper Dagbladet in May-2012, the airline revealed that its 787s will be fitted with 291 seats, with 32 seats in the front of the cabin in a 3-3-2 layout offering slightly more legroom and slightly wider seat width. The rest of the cabin will have a 3-3-3 configuration.
The 787s of European leisure operator Thomson Airways will also be configured with 291 seats. The UK subsidiary of the world's largest travel group TUI Travel Plc will begin operating its first two 787s in May-2013. Thomson Airways' first 787 routes will be Orlando Sanford and Cancun from Gatwick, Manchester, East Midlands and Glasgow.
Norwegian's 3Q2012 results are 'best ever'
Norwegian reported a strong 3Q2012 result bolstered by double-digit gains in revenue and passenger numbers and despite a steep increase in operating costs related to increased production and higher fuel prices, and start-up cost for its new international bases in Thailand and Spain. The result for the Jun-Sep-2012 quarter, seasonally the carrier's strongest, was the company's "best ever" quarterly result and the figures show "that the growth has been well adapted to the market demand," Norwegian CEO Bjørn Kjos asserted.
The airline reported a consolidated net profit of NOK628 million (EUR84 million) for 3Q2012, a 27% year-on-year increase. Operating profit fell 23% to NOK707.6 million (EUR94.7 million) as the increase in operating expense outstripped the increase in revenue, but EBIT margin still stood at a healthy 16.8%. Net margin for 3Q2012 was almost 15%.
Norwegian Air Shuttle selected financial results (NOK million): 3Q2012 vs 3Q2011
| | 3Q2012 | 3Q2011 | % change |
| --- | --- | --- | --- |
| Operating Revenue | 4,224 | 3,376.2 | +25% |
| EBITDAR* | 1,097.7 | 1,206.2 | -9% |
| EBIT | 707.6 | 923.3 | -23% |
| Profit /(Loss) after tax | 628 | 494.9 | +27% |
Operating expenses excluding leasing and depreciation increased by 44% to NOK3.13 billion (EUR419 million) owing mainly to a 20% production increase (ASK) combined with higher fuel costs denominated in NOK. The company's fuel bill in 2Q2012 rose 20% to NOK 1.07 billion, accounting for almost a third of its operating expenditure despite the use of more fuel efficient 737-800Ws compared to the year-ago period when Norwegian deployed a higher number of older 737-300s (16 vs 10 in 3Q2012).
The new 737NGs have saved the airline NOK28 million (EUR3.7 million) in fuel costs compared to 3Q2011 but these were offset by an additional bill of NOK25 million (EUR3.3 million) as a result of Avinor's (Norway's civil aviation authority) lack of air traffic controllers at airports in Norway. Mr Kjos was unequivocal in criticising these cost, and said: "We've had a number of necessary costs this quarter related to the establishment of new operational bases in Thailand and Spain, as well as increased production in Denmark following the bankruptcy of Cimber. We are prepared for costs related to the company's growth, but we are not prepared to accept the bill from Avinor when they lacked air traffic controllers this summer."
CASK rose year-on-year 19% to NOK44 (EUR5.88 cents) in 3Q2012 and unit cost ex fuel and hedges rose only 2% to NOK0.28 (EUR3.74 cents). The ticket revenue per unit produced in the quarter was NOK0.48 (EUR6.42 cents), up 5% compared to NOK0.45 (EUR6.02 cents) for the same period last year. The RASK development compared to last year reflects higher yield (+8%) despite an increased sector length of 5%, and reduced load factor.
The strong 3Q2012 net result keeps Norwegian firmly into the black for the year-to date period, propelling the NOK255.4 million (EUR34.2 million) it earned in the year-ago period by 70% to NOK433 million (EUR57.9 million) for the first nine months in 2012.
Norwegian Air Shuttle selected financial results (NOK million): Jan-Sep 2012 vs Jan-Sep 2011
| | Jan-Sep-2012 | Jan-Sep-2011 | % change |
| --- | --- | --- | --- |
| Operating Revenue | 9,753.6 | 7,995.8 | +25% |
| EBITDAR* | 1,525.4 | 1,323.4 | +15% |
| EBIT | 455.3 | 501.3 | -9% |
| Profit /(Loss) after tax | 433 | 255.49 | +70% |
Sustained double-digit passenger and revenue growth
Operating revenue in the quarter was NOK4.22 billion (EUR565.3 million), a 25% year-on-year increase, which outpaced the 13% growth in passenger numbers. Revenue gains were mainly driven by the international segment, which recorded a stellar 30% jump compared to the year ago period to NOK3.15 billion (EUR421.9 million) on the back of strong international expansion at Stockholm Arlanda, Copenhagen and Helsinki airports.
Norwegian has increased its market share of international passenger throughput at these three Nordic airports on a year-to-year basis. At its home base at Oslo Airport, Norwegian's share of international passengers remained stable at 38% (see Background Information).
Domestic revenues grew year-on-year by 12% to NOK1.07 million (EUR143.3 million), reversing the 3% decline recorded in the year-ago period. The revenue growth posted on domestic routes in 3Q2012 however remains well below the 27% year-on-year increases recorded in 3Q2010 and 3Q2009.
3Q Norwegian revenue performance (domestic, international, total): 2009 to 2012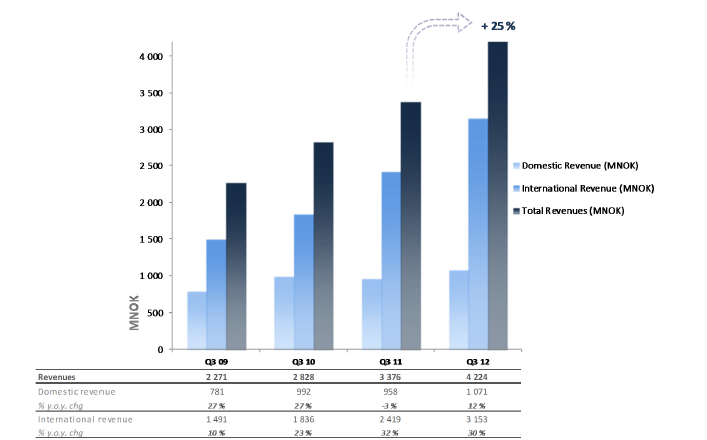 707" height="440" />
The airline reported robust passenger traffic growth in 3Q2012, with passenger numbers rising 13% to 5.2 million and RPKs up 17% on a 20% increase in capacity expressed in ASKs. The seat load factor slipped 2ppt, although remained high at 82% for the quarter and averages 79% for the year-to-date period. The carrier has been living on a diet of double-digit percentage growth in passenger numbers for several years now, which has often come at the expense of SAS and Finnair which are concentrating on returning their operations to profitability.
Norwegian passenger growth: 3Q2003 to 3Q2012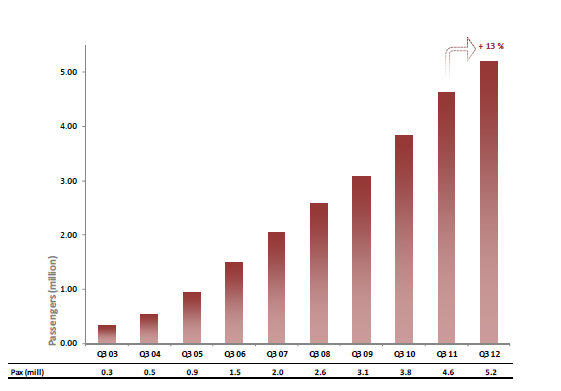 Norwegian has also benefitted from the collapse of several smaller competitors in the Nordic region in 2012, such as Danish carrier Cimber Sterling and Sweden-based Skyways Express and City Airline in May-2012. Norwegian added two 737-800s to its base at Copenhagen following Cimber Sterling's collapse.
See related articles:
Sales generated through the internet dropped 4ppt to 80% in line with its strategy to win a greater share of the corporate sector from full-service competitors SAS and Finnair. Norwegian's ancillary revenues accounted for 10% of total revenues in 3Q2012.
Norwegian turns to Darwin's wisdom to lower employee costs
As part of its drive to lower CASK on a long-term basis and achieve cost leadership in its primary markets, Norwegian is stepping up efforts to place an increasing part of its operations offshore and adopt cost levels of the local market, hence the establishment of foreign bases – in Thailand for its long-haul operations and in the UK and Spain for its European operations.
In the carrier's 2011 financial report, Mr Kjos highlighted that Norwegian, being based in a high salary region, has the second highest salary cost in the industry on a worldwide benchmark, about three times the salary cost level of some of its closest European competitors.
"To gain a stronger edge on our most efficient European competitors in the future, we must change. Future growth must come at local salary levels," Mr Kjos emphasised while referencing Charles Darwin who once said, "It is not the strongest of the species that survives, nor the most intelligent that survives. It is the one that is the most adaptable to change."
To increase its competitive edge, Norwegian during 2013 will have more than a quarter of its capacity expressed in ASKs produced from bases outside Scandinavia.
Norwegian 2013 projected ASK production by base country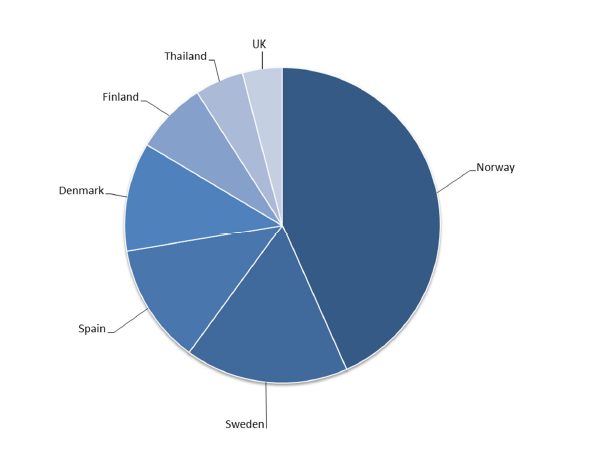 With the start of the new winter schedule 2012-13 Norwegian Air Shuttle elevated its presence at Gran Canaria Las Palmas Airport to a base, launching over 10 new routes to several Nordic countries. New routes include Ålesund, Evenes, Haugesund, Rygge and Tromsø in Norway, Billund in Denmark and Oulu in Finland. Norwegian also already serves four destinations in Sweden from Las Palmas – Karlstad, Malmö and Umeå.
Norwegian network at Las Palmas: Winter 2012-13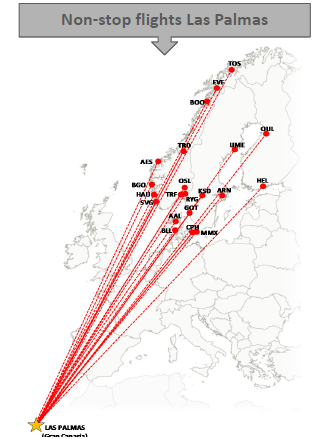 The airline hired local crew at Las Palmas in line with its strategy to lower employee costs and achieve growth through competitive local terms. According to Spanish media, approximately 70% of the 84 pilots and flight attendants at the new Las Palmas base are Spanish. Many of those employed at the new Norwegian base previously worked for Spanair, which suspended operations earlier in 2012.
Prior to launching its Las Palmas base on 29-Oct-2012, Norwegian operated just 20 weekly frequencies to/from the airport producing some 3,700 seats, according to schedules in Innovata for the week of 22-Oct-2012 to 28-Oct-2012. The airline accounted for an approximate 6% capacity share of international seats whilst Ryanair had a leading capacity share of about 24%.
After opening its base, Norwegian became the largest operator on international routes at Las Palmas, overtaking Ryanair. The Nordic LCC now represents a near 20% capacity share of seats deployed on international routes to/from Las Palmas, ahead of Ryanair which has an approximate 18% share.
Gran Canaria Las Palmas Airport international capacity share (% of seats) by carrier: 22-Oct-2012 to 28-Oct-2012
Gran Canaria Las Palmas Airport international capacity share (% of seats) by carrier: 29-Oct-2012 to 04-Nov-2012
Gran Canaria Las Palmas international weekly frequencies by carrier: 29-Oct-2012 to 04-Nov-2012
Three bases in Spain in 2013
Las Palmas is Norwegian's second base in Spain. The airline established its first Spanish base at Malaga Airport in Mar-2012 and it now has an approximate 6% share of capacity at the airport in terms of seats deployed on international routes. Ryanair is by far the largest international operator at Malaga Airport and easyJet the second largest airline accounting for a capacity share (international seats) of about 29% and 17% respectively, based on schedules in Innovata for the week of 29-Oct-2012 to 04-Nov-2012.
Malaga international capacity share (% of seats) by carrier: 29-Oct-2012 to 04-Nov-2012
Norwegian is planning to establish a third base in Spain in spring 2013 at Alicante Airport. Planned operations at Alicante include routes to Ålesund, Bergen, Billund, Copenhagen, Gothenburg, Harstad/Narvik-Evenes, Haugesund, Helsinki, Karlstad, Malmö, Molde, Oslo, Oslo Rygge, Oslo Sandefjord, Oulu, Stavanger, Stockholm Arlanda, Tromsø, Trondheim and Umeå.
The airline at present operates 60 weekly frequencies to/from the airport from 12 Nordic airports, including Ålesund, Bergen, Copenhagen, Gothenburg, Helsinki, Oslo, Oslo Rygge, Oslo Sandefjord, Oulu, Stavanger, Stockholm Arlanda and Trondheim.
Norwegian planned network at Alicante Airport: summer 2013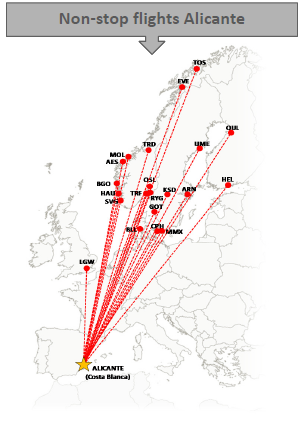 Norwegian will establish a new base of operations at London's Gatwick Airport in spring 2013, initially with three 737-800s and increasing to four aircraft by the end of the year. Gatwick will be the airline's first base in the UK, which is still Europe's largest air travel market with 219 million passengers passing through the country's airports in 2011, up 4.1% from 2010, according to data from the UK Civil Aviation Authority.
Pilots and cabin crew will be recruited locally to benefit from the lower labour costs in the UK while still serving the Nordic markets. The airline currently operates to London from 11 gateways in Norway, Sweden, Finland and Copenhagen and the British capital is Norwegian's most popular destination outside its home market.
The LCC sees a major passenger potential in London and surrounding areas not only on a point-to-point basis but also to "better meet the head-on competition from Asian and European carriers in the long-haul market".
Norwegian will also start offering flights from London Gatwick to several Mediterranean destinations in spring 2013. The airline did not name specific routes but the map included in the company's 3Q2012 results presentation to analysts includes Tenerife Sur Airport, Gran Canaria Las Palmas, Fuerteventura and Lanzarote Airport on the Canary Islands; Faro in Portugal; Malaga, Alicante, Palma de Mallorca Airport and Barcelona El Prat in Spain and the Balearic Islands; Marseille and Nice in France; Rome Fiumicino in Italy; and Split and Dubrovnik Airport in Croatia.
Norwegian planned network at London Gatwick 2013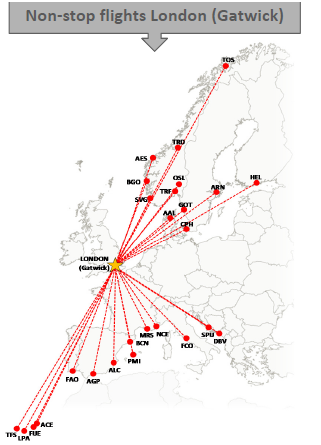 In the statement on 25-Oct-2012 announcing the new UK base, Mr Kjos said that by "establishing a new base in London, Norwegian will be positioned to meet the future competition on short-haul routes within Europe as well as long-haul routes globally. Growth and volumes are necessary to stay competitive in the airline industry."
But the new endeavor will come with strong competitive pressures for Norwegian. Gatwick is easyJet's domain and the UK LCC accounts for a 44% capacity share of seats deployed on international routes at Gatwick. easyJet operates some 1,517 weekly flights to/from the airport, based on schedules in Innovata for the 29-Oct-2012 to 04-Nov-2012.
Also British Airways and Monarch Airlines have a strong presence at the airport and the latter has a specific focus on leisure routes. Norwegian currently has an approximate 6% share of seats produced on international routes to/from London Gatwick. The LCC operates around 192 weekly flights and this is to increase by 70%, with up to 320 weekly flights by late summer 2013.
London Gatwick Airport capacity share (% of seats) by carrier: 29-Oct-2012 to 04-Nov-2012
Norwegian's new summer 2013 routes from London Gatwick do not yet feature in the GDS displays, but if the airline effectively launches the 15 mentioned routes to the Mediterranean it will have to compete with easyJet on 13 of them, with easyJet and Monarch on eight routes and with easyJet, Monarch and British Airways on five of the routes. It is unlikely that easyJet, or Monarch Airlines or BA, will give up their market share without a fight.
Norwegian Air Shuttle planned new London Gatwick routes: summer 2013
Is Big Beautiful?
Norwegian remains in a strong position to continue rapid traffic growth and its approach to off shore the crew base for its planned long-haul operations to Thailand shows that the target to keep unit cost low, or further lower it, is deeply imbedded in its DNA.
Equally, Norwegian's plans to take advantage of the dire environment in Spain and better leverage its low-cost base, a strategy other European LCCs - most notably Ryanair - have been doing for some time with success, makes sense.
Ambition, while necessary to grow, can be dangerous. With over 100 737 MAX8 and 100 A320neo narrowbodies lined up, Norwegian naturally will enter Europe's largest aviation market. But setting up a base in London Gatwick and launching service to a range of Mediterranean leisure destinations is a daring venture. easyJet will not likely give up its dominance at the airport and BA is also building up its presence there, while Thomson Airways and Monarch Airlines are well established brands at Gatwick.
Maybe Darwin was right: "It is not the strongest of the species that survives, nor the most intelligent that survives. It is the one that is the most adaptable to change." So far Norwegian has proven it is very adaptable to change.
Background Information
Norwegian 3Q market share of international passenger throughput at several airports: 2007 to 2012