Norwegian Air's NAI gets tentative US rights as common sense prevails. Objectors: time to move on
Analysis
On 15-Apr-2015 Norwegian's Irish-registered subsidiary Norwegian Air International (NAI) received tentative Department of Transportation (DoT) approval of its Dec-2013 application for a US foreign air carrier permit. NAI faced strong opposition from labour organisations and a number of US and some European legacy airlines, which led to the unprecedented delay.
The main weapon deployed by NAI's opponents was Article 17 bis of the US-EU open skies agreement, aimed at upholding labour standards. Unions representing airline employees (overwhelmingly at airlines other than Norwegian) claimed concern that NAI's business model undermines labour rights. In a peculiar alliance with these unions, airlines led by the US big three used the same arguments in a thinly veiled attempt to restrict competition from a new, dynamic, and more flexible long haul low cost model.
The DoT now concludes that Article 17 bis cannot be used to deny NAI, a conclusion reached after consultation with its own legal counsel, that of the US Department of State and the Office of Legal Counsel. Opponents have 21 days from 15-Apr-2015 to raise objections, without which the DoT's approval will switch from tentative to final. It's not over yet, but the DoT's conclusion looks like a - very belated - triumph for common sense.
Airlines and labour groups joined as allies to oppose NAI's application
Most notable among NAI's opponents are the big three US airlines (America, United and Delta), two of Europe's big legacy groups (Air France-KLM and Lufthansa) and Norwegian's major Scandinavian competitor SAS and a number of labour groups. These groups included ALPA, the Allied Pilots Association, the Southwest Airline Pilots Association, the US cabin crew union APFA, the Scandinavian cabin crew union PARAT, the European Transport Workers Federation and the European Cockpit Association.
See related report: Norwegian Air Shuttle's long-haul business model. "Flag of convenience" or fair competition?
The ostensible reasons for their opposition related to NAI's labour policies, although for its airline opponents it seemed more likely that a greater concern was increased competition.
The principal stated concern was that: in attempting to operate trans-Atlantic routes with an Irish-registered airline Norwegian would be able to circumvent labour protection laws that apply in Norway.
As an Irish company, NAI certainly allows greater flexibility in recruitment than a Norway-registered airline would. An arguably greater advantage for Norwegian is that, as an EU airline, NAI can serve both the trans-Atlantic and the Europe-Asia markets with traffic rights held by the same operator. This increases its flexibility in the deployment of aircraft and crew.
NAI's opponents have frequently cited Article 17 bis of the US-EU open skies agreement (which also includes Norway and Iceland, even though they are not EU member states). This clause stresses the social dimension of the agreement and the benefits of high labour standards, noting that "the opportunities created by the Agreement are not intended to undermine labour standards or the labour-related rights and principles contained in the Parties' respective laws".
But NAI's application received extensive support from other important parties
However, the European Commission's Director of Aviation and International Transport Affairs made the EU's view on this very clear in Jul-2014, when he said that Article 17 bis did not provide a legal basis for unilaterally denying an application for a US foreign carrier permit. This view was publicly supported by the two officials who originally led the EU-US open skies negotiations – John Byerly on the US side and Daniel Calleja on the EU side.
Norwegian subsequently offered to employ cockpit and cabin crew only from Europe and the US on NAI's trans-Atlantic flights, except "if compelled by extraordinary and unforeseen operational reasons". In this way, it hoped to address a key element of its opponents' objections.
In addition to gaining support from the European Commission, NAI's application was backed in DoT filings by a number of US airports, consumer lobby groups, travel trade bodies and airlines including FedEx and Atlas Air.
Three former US secretaries of Transportation (Andrew Card, Norman Mineta and Mary Peters) also backed NAI, saying that "opponents are using the opportunity of Norwegian's application as a means to block competition and deny choice to consumers in transatlantic air travel".
See related report: Norwegian Air Shuttle renews its attempt to obtain US rights for NAI. Part 1: the arguments
DoT: NAI meets the necessary conditions and Article 17 bis cannot be used to deny approval
The US Department of Transportation (DoT) has now tentatively concluded that NAI meets all the conditions necessary for the grant of a foreign carrier permit under the EU-US agreement. Specifically, it is financially and operationally fit; safety regulation by the Irish regulatory authorities satisfies US and ICAO standards; and NAI is "substantially owned and effectively controlled" by EU nationals.
None of this was ever in doubt and it did not need more than two years to reach this conclusion.
The DoT's order continued, to say that the objections over NAI's hiring and wage practices and the multi-jurisdictional nature of its business plan are "important issues that warrant proceeding with caution and careful consideration".
This prompted the DoT to take the unprecedented step of seeking the legal views of the Department of State and the Office of Legal Counsel in the US.
As a result of these consultations, and reflecting the analysis of its own legal advisers, the DoT now says that there is "no doubt that Article 17 bis cannot be decisional in this proceeding". It adds that there are no grounds for considering whether or not the grant of a licence is in the public interest, since NAI meets all the normal licensing standards under the terms of the US-EU agreement.
Again, there is no clarification why it needed more than two years to come to this conclusion, begging the question of whether the issue's politically controversial nature intervened to slow the administrative process.
No public interest analysis necessary, but granting NAI a permit brings many public interest benefits
In its analysis of 17-Mar-2016, DoT's General Counsel also emphasised that the Department was legally required to grant the NAI application regardless of its proposed employment practices.
Moreover, although stressing that no public interest analysis was necessary, DoT's General Counsel said that, even if the public interest were to be examined, "it would be very difficult to construe promoting the competitive position of United States carriers as a compelling reason to outright reject a fit foreign competitor".
Its analysis added that "it would be entirely novel and legally unsustainable" to find that this and the labour issue outweigh all the other public interest factors supporting NAI's application, including:
the availability of low-priced services,
maximum reliance on competitive market forces,
avoiding unreasonable industry concentration,
freedom to offer prices corresponding to demand,
elimination of operational and marketing restrictions,
opportunities for foreign carrier services in exchange for comparable rights and
action consistent with international agreements
The legal adviser to the US Department of State, in a letter to the DoT's General Counsel dated 14-Apr-2016, stated not only that the issuance of a foreign carrier permit to NAI was consistent with the US-EU Agreement, but also that it was in the US' foreign policy interests.
Norwegian Air UK not included in the NAI approval
Moreover, the State Department's legal analysis also backed a similar application for a US foreign carrier permit – filed in Dec-2015 by Norwegian Air UK (NUK), the UK-registered subsidiary of the Norwegian group. NUK has access to traffic rights under the UK's bilaterals in addition to those available at the EU level.
Its application has predictably met with similar objections to those faced by NAI. The DoT decision to grant tentative approval to NAI does not include NUK but the arguments are similar, and it is difficult to see the DoT reaching a different conclusion with respect to NUK.
See related report: Norwegian Air Shuttle furthers its struggle to make legitimate use of EU-US open skies rights
North Atlantic market is highly concentrated in immunised JVs
DoT's legal analysis that the public interest is served by avoiding unreasonable market concentration is well taken. As noted in a CAPA Analysis report in Mar-2016, in summer 2016 77% of all ASKs between North America and Europe are controlled by joint ventures with antitrust immunity (the three JVs within the three global alliances plus the Delta-Virgin Atlantic JV).
This will increase to 78% if Aer Lingus joins the oneworld JV (data source: OAG Schedules Analyser).
Share of Europe-North America ASKs that are operated within all joint ventures* and by other main categories of airline, summer schedule 2011 to 2016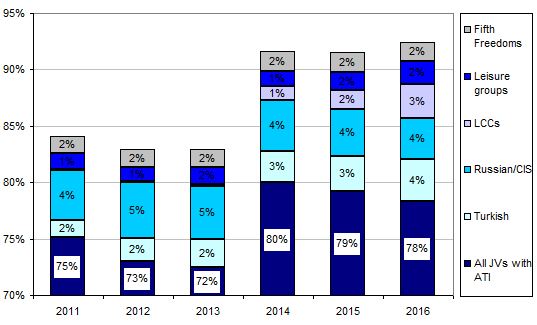 Although the share in JVs has come down a little from its peak of 80% in summer 2014, this still represents a high degree of market concentration. (The share on US-EU routes would be even higher.)
See related report: North Atlantic airline market. Closed JVs to have 78% of ASKs in 2016. Weighing the benefits
The three biggest US legacy airlines that led the objections to NAI's application – Delta, United and American – together have 32% of ASKs between North America and Europe in summer 2016.
Of North Atlantic ASKs: LCCs have just 3%, Norwegian less than 2%, but growing fast
By contrast, and to provide some further perspective, LCCs have just 3.0% of ASKs on North America-Europe routes in summer 2016, although this is up from 1.6% in summer 2015. Norwegian is the largest LCC on the North Atlantic, but only has 1.9% of total ASKs in summer 2016. Nevertheless, Norwegian is growing rapidly in this market, increasing ASKs by 47% compared with summer 2015 (data source: OAG Schedules Analyser).
Other LCCs are also growing very quickly. Canada's WestJet's ASKs will increase sevenfold and Icelandair's more than four times on the North Atlantic in summer 2016.
Lufthansa's LCC subsidiary Eurowings' foreign carrier permit was approved in a matter of months and with no objections raised by US labour unions, in spite of the fact that its long haul network is operated under wet lease by SunExpress Germany.
From a standing start, Eurowings will have 0.5% of North Atlantic ASKs in summer 2016.
See related report: Lufthansa's Eurowings goes to America; will the pilots unions allow US DoT to issue an exemption?
Other competitors are now also growing fast
In addition to LCCs, other operators are also growing rapidly on the North Atlantic. Turkish Airlines has 3.7% of ASKs this summer, more than all the LCCs combined, and will grow by 36% compared with summer 2015. Its summer 2016 North Atlantic ASKs will be almost double the summer 2013 level.
The combined scheduled ASKs of two large European leisure groups, Thomas Cook Group and TUI Group, will grow by 40% in summer 2016, when the figure will be almost 80% higher than in summer 2013. The leisure groups' combined 2.1% ASK share is not far behind that of the LCCs (if charter capacity were included, it may even be higher).
It is interesting that the US big three chose to object so vocally to Norwegian's application, while apparently having no concern about these other, arguably more significant, competitors.
Norwegian has grown rapidly without NAI, but US permit will increase its flexibility
Norwegian's ASK plans in summer 2016 demonstrate that the lack of a foreign carrier permit for NAI has not held Norwegian back from growing on the North Atlantic. It has achieved this through the parent airline, Norwegian Air Shuttle, which has traffic rights thanks to Norway's participation in the US-EU agreement.
However, although Norwegian Air Shuttle is permitted to travel from anywhere in the EU/Norway to anywhere in the US, its traffic rights to other long haul destinations, notably in Asia, are limited to those available under the relevant bilateral agreements negotiated by Norway, which typically only allow flights between Norway and other countries.
What NAI now gives Norwegian is the opportunity to fly both east and west with the same operating airline, and with EU traffic rights in both directions. This will increase the operational flexibility and cost efficiency of its long haul operations.
By the end of summer 2016 Norwegian will serve ten destinations across the Atlantic from six European cities (including two destinations in the Caribbean), but only one in Asia (Bangkok), and this only from the three Scandinavian capital cities.
Norwegian's long haul network summer 2016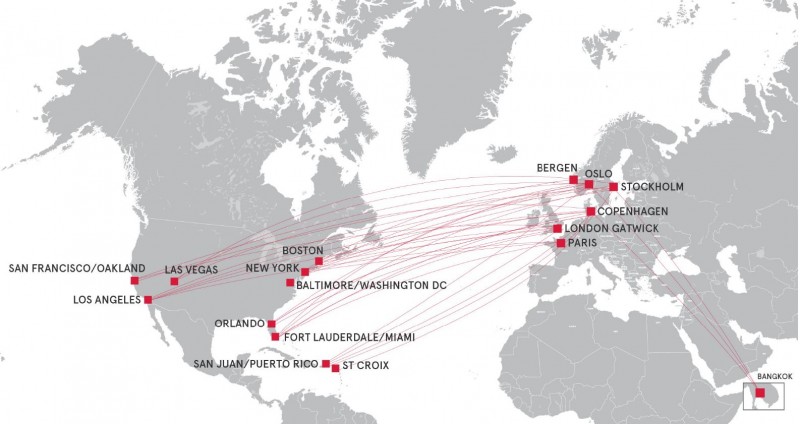 Ironically, before receiving NAI's US permit, the resultant traffic rights asymmetry and operational inflexibility had encouraged Norwegian to focus its long haul growth on US destinations, increasing the competition posed to some of those airlines objecting to NAI.
If the tentative approval becomes final, it may start to balance this with long haul growth in other parts of the world (although its opportunities in certain parts of Asia may continue to be limited by restrictions on Russian overflight rights). Indeed, Norwegian's plans to grow long haul ASKs at a compound average rate of 40% pa from 2016 to 2020 (compared with 10% pa for short haul and 20% pa overall) will require some expansion into other regions.
See related report: Norwegian Air back in profit, signals aggressive long haul expansion. DoT help would be welcome
Even airlines that overlap with Norwegian's Atlantic network acknowledge the benefits of NAI competition
Among those objecting to NAI's application, only SAS has significant overlap with Norwegian on its US network. Airlines such as British Airways and Virgin Atlantic have a significant level of overlap, but have not opposed NAI.
See related report: Norwegian Air Shuttle's attempt to obtain US rights for NAI. Part 2: Traffic impact on competitors
Moreover, Willie Walsh, CEO of British Airways parent company IAG, has publicly supported Norwegian's attempts to establish a new business model using NAI. At CAPA's Airlines in Transition summit in Dublin in Apr-2014, only a few months after NAI filed its application for a US permit, but when there was no sign that approval would be forthcoming, Mr Walsh argued that regulations designed to increase liberalisation were being used to block efforts by Norwegian.
He said then that a "strong and powerful" argument was mounting against the carrier and its CEO Bjorn Kjos. "Regulators should hang their heads in shame," remarked Mr Walsh, adding that he was pleased to "see Bjorn be more ambitious than anyone else".
See related report: CAPA's Airlines in Transition: limits on ownership, legal knots, labour and long haul
NAI's opponents should now concede defeat after their attempt has backfired
The attempt by the US big three to limit competition, by using Article 17 bis of the US-EU agreement to persuade the DoT to deny NAI's application has clearly backfired, even before the tentative approval.
Perhaps they hoped that their stance, made in an unholy alliance with labour groups, would provide them with sustenance in their other attempt to use the regulatory system for protectionist purposes – namely, their battle against the Gulf three.
See related reports:
Such alliances with labour may not he helpful to the US big three (and other airlines among NAI's opponents) in the long run, as they divert attention from improving their own competitiveness by tackling important internal priorities.
It is unfortunate that the leading representatives of the world's most profitable region for the airline industry should choose to pick fights without real substance to their argument, combatting operators that pose a relatively small competitive threat.
CAPA made the following observation in a previous discussion of NAI's application, but it equally applies to the US big three's attacks on the Gulf airlines:
…legalistic attempts to use regulation to ward off competition betray the wrong kind of mindset. Such thinking is likely to lead to ever decreasing defensive circles. Airlines that embrace the catalytic benefits of competition not only to stimulate internal change, but also to take advantage of external opportunities, are far more likely to build long term success.
The DoT's 'order to show cause' invites interested parties "to show cause why our tentative decision […] should not be made final", giving 21 days from 15-Apr-2016 for any objections to be filed.
Some US labour organisations have already publicly raised some predictable objections to the tentative approval, although with no new arguments. At the time of writing, none of the airlines that previously opposed NAI's application had publicly responded.
NAI's opponents should now concede defeat graciously and focus on internal improvement in order to build their long term success.