CAPA's Airlines in Transition: limits on ownership, legal knots, labour and long haul
Analysis
At CAPA's Airlines in Transition 2014 conference in Dublin, the opening session included high profile industry figures debating a key area of airline industry transformation (or not): national ownership controls. The panel included IAG CEO Willie Walsh, Norwegian Air Shuttle CEO Bjorn Kjos, AirAsia co-founder and Dublin Aerospace Chairman Conor McCarthy, European Commission Director Aviation and International Transport Policy Matthew Baldwin and Irish Aviation Authority CEO Eamonn Brenan.
John Byerly, former Deputy Assistant Secretary for Transportation at the US State Department and a major negotiator in the EU-US Open Skies agreement, set the context for the discussion with a review of the "archaic" restrictions on foreign ownership and control. All panellists, airline executives and regulators alike, agreed that the current system is "stupid".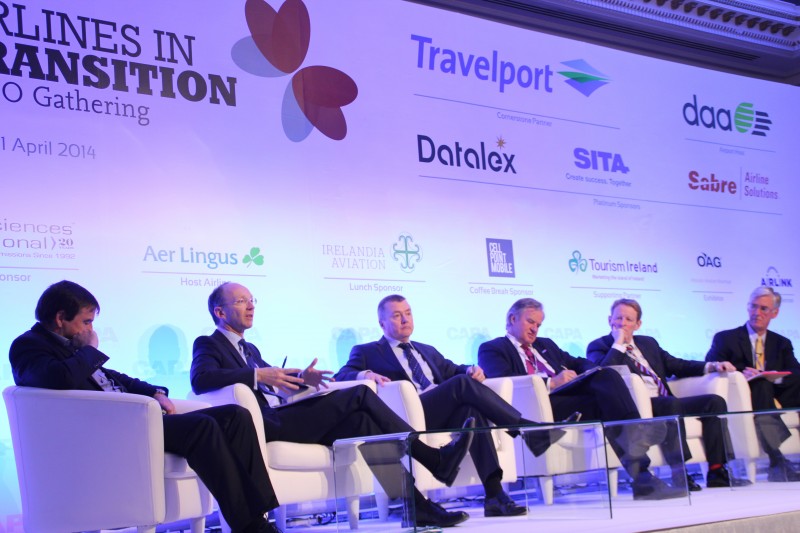 (From left: Dublin Aerospace, Executive Chairman and Co-founder AirAsia, Conor McCarthy; European Commission, Director Air Aviation and International Transport Policy, Matthew Baldwin; International Airlines Group, CEO, Willie Walsh; Norwegian Air Shuttle, CEO and Co-founder, Bjorn Kjos; Irish Aviation Authority, Chief Executive, Eamonn Brennan; US State Department, Former Deputy Assistant Secretary for Transportation, John Byerly)
Byerly: an industry tied in "legal knots"
In a global industry, customers want global services and suppliers of the service (in this case, airlines) also benefit from economies of scale and scope, from purchasing power and better diversification of risk. In other global industries, participants can merge and create international subsidiaries to achieve these benefits, but the aviation industry is "tied in legal knots".
There are statutes limiting foreign ownership and control. For reasons of national pride, defence, labour interests and inertia, these limits remain in place. These prevent cross-border mergers, or at least make them risky, and mean there is no right of establishment for airlines abroad. While ownership is relatively easy to determine, control is more blurred and air service agreements preclude "effective control" by foreign entities, even if they only have a minority ownership position.
Mr Byerly sees "dim prospects" for legal changes to this system. The EU-US Open Skies treaty missed the opportunity to pursue a liberalisation of foreign ownership restrictions, even though it loosened the restrictions on markets access for airlines from the two sides of the Atlantic. In Mr Byerly's judgement, there has been no progress since this agreement. "I am not putting money on success", he said.
Moreover, he noted that the existing rules on nationality are being observed and enforced by regulators, citing as an example the difficulties initially faced by Virgin America in establishing its operations in spite of the UK's Virgin Groups only having a minority stake. Enquiries by the EU into Etihad's investment in Darwin Airlines and Delta's investment in Virgin Atlantic are further examples of regulators at least checking whether or not foreign investment breaks the control regulations.
Mr Byerly described a "patchwork" of solutions, akin to "threading the legal needle". These include mergers via a holding company, for example IAG and Air France-KLM, cross-border families, such as TACA and AirAsia, and subsidiaries such as Qantas/Jetstar and Singapore Airlines' LCCs.
In addition, airlines have sought closer co-operation through the alliances; through minority equity stakes (being sure to remain below 49%) of the kind taken by Etihad in a number of carriers and by Delta in Virgin Atlantic; through "tailored" partnerships, such as Qantas/Emirates and through links between FSCs and LCCs (examples include Emirates/JetBlue/easyJet for Dubai/Milan/New York flights).
The value of alliances is limited to revenue synergies, but they bring costs of membership. Mergers are better at adding cost synergies and giving a more unified vision, in addition to longer term stability. My Byerly posed the question: do labour costs drive mergers? Other costs are less controllable and, he suggested, managements may pursue mergers and the establishment of new subsidiaries in order to reduce labour costs. "Unions seem to think so", he said, adding that ALPA's Lee Moak calls for "fair skies, not open skies".
What will be the next development? Will it just be a case of "muddle on"? In what is seen by many as a battle for survival, rather than a battle between labour and management, there is a need to confront the new protectionism displayed by a number of constituents in the aviation industry.
IAG's Willie Walsh: Regulators should hang their heads in shame
IAG CEO Willie Walsh told delegates that he's argued consistently for many years that foreign ownership restrictions need loosening, and during recent years he felt confident that would happen. But Mr Walsh is now less confident that reform of ownership restrictions will occur. "The environment is even more restrictive today," he said. "Restrictions across the trans-Atlantic and globally are far too restrictive."
Opponents of Norwegian Air Shuttle's efforts to expand its low-cost long-haul operations between the EU and US claim the carrier is violating labour stipulations included in the second phase of the EU-US Open Skies agreement that took effect in 2010. Mr Walsh argued that regulations designed to increase liberalisation are being used to block efforts by Norwegian, and a "strong and powerful" argument is mounting against the carrier and CEO Bjorn Kjos. "Regulators should hang their heads in shame," remarked Mr Walsh. He is pleased to "see Bjorn be more ambitious than anyone else".
Norwegian dismisses any arguments that its plans to base Norwegian Air Shuttle in Ireland with some crews sourced from Asia violates any regulatory framework. Mr Kjos remarked that many airlines come from "parts of the world" that are too small for growth, citing the 700,000 passenger catchment area of Oslo as an example. "The choice is should you go into other areas and create jobs...or should you try to give it away to the Asians or others".
Mr Kjos countered that opening up competition creates a large volume of jobs in both the aviation and tourism industry, particularly hotels and restaurants. By lifting protectionist barriers, jobs are created not only for pilots and flight attendants, but also "where you really need them" in hotels and restaurants.
Taking a broader view of Norwegian's plans, Director of Air Aviation and International Transport Policy for the European Commission Matthew Baldwin remarked regulators look at new entrants, they must regulate based on the "laws on the books". In many cases if a carrier is attempting to do something different, existing airlines will say those ambitions should be stopped. But Mr Baldwin concluded that "we should pause before we say should stop it".
Revived protectionism threatens to diminish efforts to lift foreign ownership restrictions
Opponents of Norwegian Air Shuttle's low-cost, long-haul expansion plans using the EU-US Open Skies treaty in their attempts to disintegrate the carrier's efforts is creating some scepticism over the agreement delivering new levels of liberalisation it once promised.
Mr Byerly told delegates that CEOs of large US carriers have "no fire in their belly" to change foreign ownership rules. Mr Walsh warned that current sentiment could result in a regression in liberalising ownership as stakeholders "try to establish a new starting position for the next phase".
Norwegian's efforts to take advantage of the Open Skies agreement that allows operations from any point in the EU to any point in the US have triggered a new campaign created by The Air Line Pilots Association (ALPA) urging the US to "identify unfair state-created competitive advantages and account for them in these [Open Skies] agreements, and by looking at Open Skies agreements already in place", union President Lee Moak recently declared.
Mr Byerly cautioned that ALPA's declarations appeared to be a move back to protectionism, and noted the union's view are echoed by Delta, where Moak was a former pilot and head of the carrier's ALPA group.
Is there a way to solve labour-management conflict to further globalisation?
Labour's opposition to foreign ownership and widespread globalisation in the airline industry is driven in part by the threat of a potential merged carrier from two different regions exploiting disparate labour laws. Mr Byerly questioned if any solutions can be reached to alleviate concerns of various labour groups. "Is it simply a matter of paying more for globalisation," he queried.
ALPA first vice president Sean Cassidy argued the carrier's drive to level the competitive playing field was not a call for protectionism. "Our industry is not afraid of competition as long as it is on established guidelines," he stressed.
However, Mr Cassidy charged that "my relatives in Oslo would probably disagree that the purpose of having a profitable enterprise is to supply employment for hotel and restaurant workers. My Norwegian relatives would also hope there would be Norwegian airline employees flying those planes as well."
"Labour's job is not to create employment"
The obvious labour-management conflict, said Mr Walsh, is that labour protects employment while airlines create employment. Ultimately airlines are interested in becoming more efficient and growing. "Through growth you create employment," Mr Walsh concluded. The job of labour groups is to protect terms and conditions for existing employees "not to create employment" he said.
IAG's CEO believes liberalisation "will create future employment. Liberalisation may expose people in areas where they may have restrictive practices to competition", Mr Walsh concluded. "That it is a positive and we need to get on and tackle these issues."