Norwegian Air's NAI awaits final approval of US rights. Credibility of US-EU open skies is at stake
Analysis
All objections and further comments on the tentative grant of a US foreign air carrier permit to Norwegian's Irish subsidiary Norwegian Air International (NAI) by the Department of Transportation (DoT), on 15-Apr-2015, have now been made. Not surprisingly, a number of labour organisations and some US senators filed to reiterate their opposition. Many supportive comments were also received.
The opponents' central contention is that NAI's business model contravenes the US-EU open skies agreement's Article 17 bis, aimed at upholding labour standards. This is merely a retread of the argument rejected by the legal counsels of the DoT and the US State Department, and by the Office of Legal Counsel. Some also repeat the unfounded claim that NAI poses a threat to safety. Both positions forget that NAI's employment and safety regulations are those of Ireland, an EU nation. They also forget that NAI will create new jobs in the US and EU.
It would be remarkable if the DoT were to reverse its tentative approval, reached after more than two years of deliberation. The US-EU agreement was designed to stimulate competition, to the benefit of consumers. Approval for NAI is essential to its ongoing credibility. A final decision now awaits.
DoT's tentative approval: NAI meets the necessary conditions and using Article 17 bis to deny it is a big ask
The OLC's legal counsel agreed with the view of the DoT on the crucial issue of whether or not Article 17 bis is sufficient to reject an application for a US foreign air carrier permit. According to OLC's Karl Thompson, "if an air carrier of a Party to the Agreement is otherwise qualified to receive a permit, Article 17 bis does not provide an independent basis upon which the United States may deny the carrier's application".
The DoT also concluded that NAI's application meets all the normal licensing standards under the terms of the US-EU agreement. Specifically – it is financially and operationally fit; safety regulation by the Irish regulatory authorities satisfies US and ICAO standards; and NAI is "substantially owned and effectively controlled" by EU nationals.
As a result, the DoT concluded that NAI is qualified for approval under the US-EU agreement and that this means that the question of whether or not a grant would be in the public interest does not arise.
The DoT decision to grant tentative approval to NAI did not include Norwegian Air UK (NUK), the UK-registered subsidiary of the Norwegian group. However, the arguments are similar, and it is difficult to see the DoT reaching a different conclusion with respect to NUK.
See related report: Norwegian Air Shuttle furthers its struggle to make legitimate use of EU-US open skies rights
Many submissions to DoT following 'show cause' order, from both supporters and opponents
The DoT's tentative approval on 15-Apr-2016 came more than two years after NAI made its application for a US foreign air carrier permit, but even then the decision was not final. Rather, the DoT issued an order to interested persons to show cause why the tentative approval of the application should not be made final.
See related report: Norwegian Air's NAI gets tentative US rights as common sense prevails. Objectors: time to move on
The original deadline for submissions was 6-May-2016, but the DoT subsequently extended this to 16-May-2016. Answers to objections then had to be filed with the DoT by 23-May-2016. A large number of respondents, both supporting and objecting to NAI's application, have made comments to the DoT since.
NAI's application received a significant number of supportive comments following the so-called 'show cause' order (see box below). These came from every sector of the travel and tourism industries, including local Chambers of Commerce, airports, travel agencies, tour operators, airport support workers, hotels, and rental car operators.
Supportive comments were filed from the following organisations: Cork Airport, Failte Ireland (National Tourism Authority), Greater Orlando Aviation Authority, Chambers Ireland, Aer Rianta International North America, Clark County Department of Aviation (owner of McCarran Airport), daa plc (owner of Dublin and Cork airports), Deirdre Clune (an Irish member of the European Parliament), Cork Chamber of Commerce, Charleville Chamber of Commerce, Cork Business Association, Cork Institute of Technology, Cork Regional Chambers, Mallow Chamber, St Patrick's Distillery, Tyco Ireland, Trend Micro EMEA Ltd, Cork Convention Bureau, London Gatwick Airport, Copenhagen Airports, Las Vegas Convention and Visitors Authority, Milwaukee County General Mitchell Airport, Travelers United, Clonakilty Chamber of Commerce, Eli Lilly - Irish Branch, Energy Cork, National Maritime College of Ireland, PwC, Tyndall National Institute, European Low Fares Airline Association, Ibec, Baltimore/Washington Airport, Ryanair, Boston Scientific Limited, Carbery Group, Coachhouse Catering Limited, Cork Inovates Partnership, Dairygold Co-Op Society, Global Shares, Irish Hotel Federation Cork, Nicholas Ryan (Owner of The Walter Raleigh Hotel), BAM Contractors, Tommy Fox's Public House, Mayor of Rockford IL, Rockford International Airport, Winnebago County Board, Cork County Council, American Society of Travel Agents, FlyersRights.org, Alpha Flight Ireland, Department of Transport Tourism and Sport (Ireland), Ireland West Airport, Irish Aviation Authority, KPMG Cork, Cork City Council, Assembly of European Regions, Greater Boston Chamber of Commerce, IDA Ireland, Dara Murphy (Member of the Irish Parliament), Sligo Chamber of Commerce, Billy Kelleher (Member of the Irish Parliament), Michael McGrath (Member of the Irish Parliament), Waterford Chamber, Washington Airports Task Force, Jim Daly (Member of the Irish Parliament), Port of Oakland, Atlas Air, Oslo Airport, Federal Express
NAI has also had support from both local and national government in Ireland - on whose flag carrier the competitive impact is most marked. Moreover, the European Commissioner for Transport, Violeta Bulc, has expressed her support for NAI's application and President Obama has confirmed that there is no political impediment to it.
In spite of the strength of the arguments given by the DoT in favour of granting a permit to NAI, a number of (mainly US) labour organisations reiterated their opposition to NAI's application in new DoT filings objecting to the 'show cause' order.
These were the Allied Pilots Association, European Social Partner, Irish Air Line Pilots Association, Southwest Airline Pilots Association, AFL CIO Maritime Trades Department, Maritime Labour Parties, Unions General (representing 24 US labour organisations) and a group under the banner of Labour Parties (ALPA, AFL-CIO TTD, AFA-CWA, International Association of Machinists and Aerospace Workers, TWU, European Cockpit Association).
There were also letters of objection from a group of 32 US Senators, a Captain Stephen Coleman and Congressman Sander Levin.
There were no objections filed before the 16-May-2016 deadline from airlines that had previously registered their opposition to NAI. These had included the big three US airlines (America, United and Delta), two of Europe's big legacy groups (Air France-KLM and Lufthansa) and Norwegian's major Scandinavian competitor SAS. However, SAS did reiterate its opposition in time for the 23-May-2016 deadline for answers to the objections. Perhaps the others knew that there was nothing new to say.
See related report: See related report: Norwegian Air Shuttle renews its attempt to obtain US rights for NAI. Part 1: the arguments
Supporters: economic and consumer benefits from increased trade, tourism, competition and job creation
Those supporting NAI in comments to the DoT pointed to the US-EU open skies agreement's aims in promoting increased competition, to the benefit of consumers. They argued that the grant of a foreign carrier permit to NAI would have a number of positive effects.
These would include the stimulation of trade and tourism, the increased availability of low fares, increased competition, additional consumer choice, innovative service levels, new services to underserved communities, and job creation.
With specific reference to NAI's proposed new routes between Ireland and the US, these benefits can be summed up as being positive for the Irish and US national economies and local economies at either end of the route.
More broadly, in addition to the economic benefits that arise from the opening of new air routes, there are further benefits to the US (where almost all the objectors are), coming from the fact that NAI operates US-manufactured Boeing aircraft. Any further expansion by NAI will bring further benefits to the US economy. In particular, job creation in the US would not only come directly from NAI's recruitment of aircrew, but also across the travel and tourism sector and in aerospace manufacturing.
Irish government: NAI's critics oppose innovation and new competition
The Irish government, clearly annoyed by the repeated arguments against NAI's application, made its frustration clear in a filing with the DoT by its Department of Transport, Tourism and Sport. Referring to "the very protracted decision making procedure", it said that NAI's critics were opposed to innovation and new competition in the airline market.
The Irish government accused opponents of making "irresponsible, unfounded and damaging public statements about the standard of social and employment protection in Ireland and about the capability of the Irish regulatory authorities to effectively oversee the safety of NAI's operations."
The Irish Aviation Authority's submission to the DoT said that NAI is regulated to the highest international standards, as set out by ICAO and the European Aviation Safety Agency. "The IAA sees no credible safety concern that should exclude it from securing its foreign air carrier permit," it said.
Travelers United: coordinated doublespeak
Travelers United said that the approval had been delayed because of "airline and airline union coordinated doublespeak".
If airline unions object to NAI's use of more flexible and cost-efficient labour contracts in Ireland than are available to the parent Norwegian Air Shuttle in Norway, it is difficult to understand why they do not also object to labour contracts in the US that commonly "see regional pilots getting paid close to minimum wage for flying planes between major airline hubs and smaller airports".
The hackneyed phrase 'flag of convenience' is frequently used by NAI's opponents who object to its making use of laws and regulations in jurisdictions outside its parent's home market. Ironic then, that airlines such as Delta (alongside a very large number of US companies in many industries) choose to incorporate and site their legal headquarters in the state of Delaware.
Travelers United asked, would Delta move its HQ to Atlanta? "Heck no," said its DoT filing, "The corporate law in Delaware, not served at all by Delta, is too favourable".
Far from being a flag of convenience operation, NAI is an Irish company, is lawfully registered in Ireland and operates throughout Europe. Its traffic rights are legitimately established under the European Common Aviation Area (ECAA) Agreement (for European routes), under the US-EU open skies agreement (for Europe-US routes) and under other bilaterals either at the level of the EU or Ireland (for other international routes).
The flurry of objections to NAI's business model has coincided with attempts to block the increase in competition from Gulf airlines. Moreover, the same coalition of labour groups and airlines in the US has led the attacks in both cases.
See related reports:
The wider significance of these objections was highlighted by The Greater Orlando Aviation Authority, which was troubled by "a coalescing of various US aviation interests seeking to undermine competition and calling for the US Government to abdicate its long-standing global leadership role opening international air service markets".
Anti-NAI Bill introduced in US Congress
In response to the DoT's tentative approval for NAI, four members of the US Congress introduced a bipartisan Bill on 28-Apr-2016 aimed at stopping it.
The press release announcing the Bill said that it is designed to prevent the Department of Transport from permitting a foreign air carrier to operate between European countries and the United States unless the , "complies with basic, fair US and/or EU labour standards". According to its authors, "NAI established itself in Ireland, where labour laws permit the airline to hire its pilots and flight attendants on individual employment contracts under non-European law in order to cut costs".
Setting aside the fact that NAI made a commitment that it would only employ crew from the EU and the US on its trans-Atlantic routes, this wording suggests that the Bill would also seek to prevent any Irish airline from operating to the US. That would be wholly incompatible with the US-EU agreement.
In a submission to the DoT, the European ultra-LCC Ryanair (which does not operate on the Atlantic) called the new Bill "[the] anti-consumer and anti-competition". It was concerned that it would stifle competition in an "ill-advised attempt to protect the incumbent airlines on the transatlantic market at the expense of consumers".
Opponents: Article 17 bis is central to the argument
As before, the majority of NAI's opponents cited Article 17 bis of the US-EU open skies agreement (which also includes Norway and Iceland, even though they are not EU member states).
This clause stresses the social dimension of the agreement and the benefits of high labour standards, noting that "the opportunities created by the Agreement are not intended to undermine labour standards or the labour-related rights and principles contained in the Parties' respective laws".
The submission of the Labour Parties expressed disappointment that the "groundbreaking" Article 17 bis – designed to contribute to high labour standards – was being cast aside on its first test.
They argued that the DoT failed to apply fundamental principles of treaty construction to its interpretation of the article and applied "laws and rules that normally govern permit applications in an unprecedented manner that is arbitrary, capricious and not in accordance with law".
Labour Parties: Article 17 bis is a basis for denying NAI
In the opinion of the Labour Parties, and contrary to the DoT's conclusion, Article 17 bis of the US-EU agreement does provide an independent basis for denying NAI's application. This was based on a lengthy and highly legalistic set of arguments in its submission, much of it turning on the interpretation of the word "shall".
Article 17 bis includes a phrase saying that the principles contained in the article "shall guide the Parties as they implement the Agreement". The Labour Parties argued that "shall" has implications that are mandatory, rather than merely hortatory – as stated by the DoT.
IALPA/Labour Parties: not necessary to approve NAI to generate promised consumer benefits
According to the Irish Air Line Pilots Association, NAI is "a carrier whose business model is predicated on undermining EU labour standards".
It also argued, as did the Labour Parties, that Norwegian Air Shuttle and Norwegian Long Haul already have rights to fly from EU countries to the US and that, therefore, it is not necessary to approve NAI's application in order to generate the consumer benefits promised by NAI.
Without NAI approval, Norwegian's incentive to launch new US-EU routes is reduced
However, without a US foreign carrier permit for NAI, Norwegian has a considerably reduced incentive to launch new routes between the US and EU countries. The creation of new jobs and the additional benefits to consumers will be much more limited if Norwegian can only use the airlines in its group that are registered in Norway.
There are two factors that limit the ability of its Norwegian operating platforms to offer low fares and have contributed to the group's decision to establish NAI.
High labour costs in Norway
Firstly, there is the burden of very high labour costs in Norway.
According to the Labour Parties, this is not a sufficient reason to allow NAI's model: "To the extent that NAI might be able to provide a service less expensively only because of its employment model, that is precisely the type of undermining of labour standards that the Parties are committed to deter as they implement the Agreement".
This seems to be an argument for using regulatory barriers to prevent competition from any airline whose business model and labour productivity legitimately gives them lower costs than those of US airlines. It would set a worrying precedent for the development of competition in the airline industry if this argument were used to deny NAI. (Obliquely too, this argument impliedly recognises/ignores the fact that Norway's labour conditions actually impose higher costs than the US airlines are subject to.)
NAI brings additional crew and network efficiency gains
Moreover, NAI's ability to provide lower fares would not be only because of its "employment model".
The second factor is the additional efficiency gains from using a single airline, with rights to operate from EU member states both to the US and to other long haul destinations. This provides additional efficiencies in terms of aircraft utilisation and crew rostering and expands route selection options.
This can only be achieved through an EU-registered subsidiary, such as NAI, but not one from Norway (Norwegian itself has traffic rights between the EU and the US, since the US-EU agreement specifically includes Norway even though it is not an EU member state, but Norwegian does not have rights between the EU and countries in Asia, for example).
NAI is subject to Irish employment laws, as are other Irish airlines
Moreover, the suggestion that NAI is undermining labour standards by creating new jobs in the US and the EU is puzzling, to say the least. As an Irish-registered airline, NAI is subject to the same employment laws in Ireland that apply to all other Irish airlines, including Aer Lingus, which has been flying the Atlantic for decades.
In a comment filed with the DoT in response to objections, the Mayor of County Cork said, "In Ireland, we have stringent employment legislation in place to protect employees. Norwegian has given written assurances that it will only employ crews from the EU or the US; it cannot be made any clearer and this assurance has been accepted by Government authorities on both sides of the Atlantic".
It is unarguable that Norwegian wishes to use NAI to avoid labour laws in the parent company's home country. However, this is quite different from attempting to argue that the employment laws applicable in Ireland undermine labour rights.
NAI would create new jobs in US and EU
Furthermore, NAI would create new jobs in the US. As NAI said in its response to the 'show cause' order, approval "will result in hundreds of US crew members being added to the approximately 400 already working in the US".
The point here is that NAI enables the Norwegian group to launch services that would otherwise not be profitable and so – would not be launched at all. As a result of enabling new routes, NAI allows Norwegian to create new jobs regulated under the laws of a respectable EU member state and in the US. Without NAI, these new jobs would not be created.
The intent behind Article 17 bis was not to prevent new jobs being created, even if some of them are in a jurisdiction whose labour laws may be regarded by some unions as less favourable than those prevailing in other parts of an airline group's network.
Article 17 bis designed to preserve existing employee rights…
Article 17 bis was designed to preserve the existing rights of airline employees. So, for example, if NAI's business model were all about moving existing workers from Norway to Ireland and changing their terms, or sacking them and replacing them with new employees in Ireland, then Article 17 bis should legitimately work to prevent this.
However, this is not the case. NAI is all about creating something, including jobs, that would otherwise not exist.
…and to contribute to high labour standards
In addition to preserving the existing rights of airline employees, Article 17 bis also had the purpose of ensuring that the implementation of the US-EU agreement contributed to high labour standards.
As discussed above, approval for NAI will lead to the creation of new jobs both in Ireland and in the US. It is difficult to argue that the laws governing aviation employment in Ireland, laws to which the US has never previously objected, are inconsistent with this aim. Moreover, do NAI's opponents also believe that newly created US jobs undermine labour standards?
Misconceptions about NAI have reached the Presidential race
Misconceptions about NAI, promulgated by the misleading and scare-mongering campaign led by the unions in league with the leading US airlines, have penetrated deep into the US establishment. Presidential candidates Hilary Clinton and Bernie Sanders have opposed NAI.
Ms Clinton's team said on 20-May-2016, "Workers in the U.S. airline industry deserve rules of the road that support a strong workforce with high labour standards – not attempts by airlines to flout labour standards and outsource good-paying jobs".
However, this betrays a fundamental misunderstanding. NAI's model is nothing to do with outsourcing jobs, but everything to do with creating them.
Numbers of US Senators perpetuate another misunderstanding
Mr Sanders was one of 32 US Senators who signed a letter to President Obama on 16-May-2016, in which they perpetuated another misunderstanding: "We understand that NAI does not plan to locate significant operations in Ireland and may hire some employees under Singaporean or Thai employment contracts."
The use of the phrase "we understand that" betrays the Senators' lack of groundwork in verifying these false claims. These claims are just plain wrong.
NAI employs a staff of 80 at its headquarters in Dublin and, according to the CAPA Fleet Database, has 43 aircraft registered in Ireland, of which six are Boeing 787s and 37 are 737s.
According to OAG, NAI currently operates between Dublin and Helsinki. Once granted a DoT permit, it plans to launch a Cork-Boston service later this year. Looking further ahead, it plans services to New York in 2017 and is also considering US routes from Shannon. NAI will progressively locate more operations in Ireland if it gains approval to operate to the US.
Norwegian's Asian-based employees are deployed on routes from Scandinavia to Asia (currently only Bangkok) and will not be used on US routes. Moreover, as noted elsewhere in this report, Norwegian has given assurances that it will only employ crews from the EU or the US on its US routes.
What is more, criticism of this nature selectively ignores the fact that a number of the joint venture and alliance partners to US airlines do employ crew from third party nations in Asia. NAI is not a unique operation, but it appears to attract a unique level of attention.
Approval ... with conditions
The Labour Parties suggested that DoT could approve NAI's application subject to conditions to ensure that it operates in a manner that is consistent with Article 17 bis.
It proposed that such conditions could include the basing of NAI's aircrew in Ireland on contracts with an Irish company and with the right to choose a representative for collective bargaining. Similar conditions were also suggested by European Social Partner.
Setting aside the inconsistency that the Labour Parties' conditions would preclude NAI from employing aircrew in the US (although the conditions suggested by European Social partner also included basing crew in the US), it would not be appropriate for the US DoT to dictate the employment practices of a legitimate EU airline already regulated by the authorities of an EU member state. This is another way to raise unnecessary regulatory barriers to a liberalised market.
Some opponents claim safety concerns arise from NAI's employment practices
An argument put forward by Captain Stephen Coleman, whose filing said that he had worked at two separate airlines in the Norwegian Group, was that 'atypical' employment practices undermine safety standards and, "European regulators are unable to competently oversee the Norwegian Group".
'Atypical' employment refers to employment on terms other than an open-ended employment contract; these include self-employment, fixed-term work and work via temporary work agencies, as well as zero-hour contracts and pay-to-fly schemes.
The Southwest Airline Pilots Association made similar claims: "…NAI's labour standards will compromise the safety and economic security of its own workers."
The Irish Aviation Authority oversees NAI and its pilots, which all have European licences. According to the Business Travel Coalition, in 2015 the IAA was ranked fourth in the world by ICAO for compliance with safety oversight standards (incidentally – ranked higher than the US FAA).
The IAA strongly refuted SWAPA's claims, saying, " SWAPA's assertion that there is a safety issue is completely false and SWAPA has no place in making such damaging statements. …there is no credible safety concern that should exclude it from any market or route".
Labour Parties: NAI is not qualified for approval under the US-EU agreement
In another lengthy passage the Labour Parties' submission asserted that NAI is not qualified to be awarded a foreign air carrier permit under the US-EU agreement because it does not comply with the whole of the agreement, including Article 17 bis.
They maintained that: "its proposed business model is directly at odds with the intent of the Parties [to the agreement] – as stated in the very agreement under which the carrier is applying for operating authority – that the agreement will be implemented in a manner that does not undermine labour standards".
Much of this part of their argument appears to turn on the precise legal interpretation of wording in the US-EU agreement.
Labour Parties: approval of NAI is against public interest
Given that, in their opinion, NAI is not qualified under the agreement, the Labour Parties continued to say that the DoT is required to make a public interest consideration. Furthermore, they argued that a public interest finding is necessary even when an airline is qualified. Again, this contradicted the DoT's view that a public interest test is not required.
Moreover, in the Labour Parties' view, approval would not be consistent with the public interest because of two main factors: "the adverse effect of approval on wages and working conditions and on the competitive condition of US carriers would significantly outweigh other public interest factors."
Given that, far from undermining labour standards, NAI would create significant numbers of new jobs in well-regulated employment jurisdictions, the Labour Parties' assertion that approval of NAI's application would have an adverse effect on wages and working conditions is puzzling.
An anti-competitive agenda is clearly revealed
Less puzzling – indeed, revealing of the true intent behind the coalition of unions and airlines opposing NAI – is the Labour Parties' statement that NAI would have an adverse effect on the competitive condition of U.S. airlines.
Their submission to the DoT expressed their concern that "EU carriers are able to avail themselves of alternative regulatory regimes in a manner that US carriers are not", enabling them "to competitively disadvantage US carriers". If this provides an argument that approving NAI is against the public interest, then surely this is a basis for denying rights to all EU airlines.
Indeed, all competition from airlines based in any jurisdiction that allows lower labour costs than those of the US should be prevented by this argument.
The creeping anti-competitive agenda of NAI's opponents reveals itself here quite starkly.
See related reports:
It seems that one of the side effects of US consolidation has been to concentrate considerable political power (in addition to market power) in the hands of the three major legacy airline groups. The US big three have benefited hugely from consolidation and from the US-led open skies movement, which provided the context for the anti-trust immunity of the powerful North Atlantic joint ventures that dominate that market.
Now, faced with a new competitor developing a new business model, they have joined forces with their own labour unions and are seeking to shut the door on competition.
DoT's General Counsel: many public interest benefits
In its analysis of 17-Mar-2016, DoT's General Counsel stressed that no public interest analysis was necessary, but "it would be very difficult to construe promoting the competitive position of United States carriers as a compelling reason to outright reject a fit foreign competitor".
Its analysis added that "it would be entirely novel and legally unsustainable" to find that this and the labour issue outweigh all the other public interest factors supporting NAI's application, including:
the availability of low-priced services;
maximum reliance on competitive market forces;
avoiding unreasonable industry concentration;
freedom to offer prices corresponding to demand;
elimination of operational and marketing restrictions;
opportunities for foreign carrier services in exchange for comparable rights and
action consistent with international agreements
North Atlantic market is highly concentrated in immunised JVs
DoT's legal analysis that the public interest is served by avoiding unreasonable market concentration is well taken. As noted in a CAPA Analysis report in Mar-2016, 77% of all ASKs between North America and Europe are controlled by joint ventures with antitrust immunity in summer 2016 (the three JVs within the three global alliances plus the Delta-Virgin Atlantic JV).
This will increase to 78% if Aer Lingus joins the oneworld JV, based on summer 2016 capacity (although Aer Lingus is not expected to join until 2017). The share on US-EU routes would be even higher.
Share of Europe-North America ASKs that are operated within all joint ventures* and by other main categories of airline, summer schedule 2011 to 2016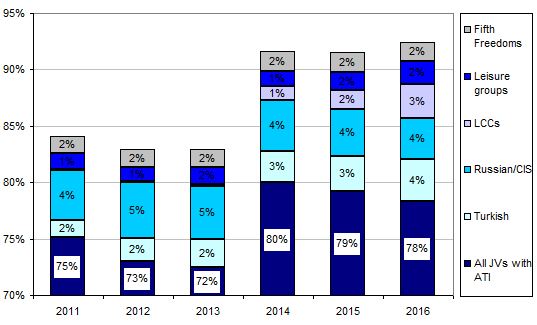 Although the share in JVs has come down a little from its peak of 80% in summer 2014, this still represents a high degree of market concentration. Moreover, the share in immunised JVs has increased from 55% in summer 2010 and 23% in summer 2007.
See related report: North Atlantic airline market. Closed JVs to have 78% of ASKs in 2016. Weighing the benefits
The three biggest US legacy airlines – Delta, United and American – who led the objections to NAI's application, together have 32% of ASKs between North America and Europe in summer 2016.
LCCs have just 3% of North Atlantic ASKs, and Norwegian less than 2%, (but growing fast)
By contrast, and to provide some further perspective, LCCs have just 3.0% of ASKs on North America-Europe routes in summer 2016, although this is up from 1.6% in summer 2015.
Norwegian is the largest LCC on the North Atlantic, but only has 1.9% of total ASKs in summer 2016. As a small player, battling the might of the immunised JVs, Norwegian is receiving a great deal of attention. Moreover, it is growing rapidly in this market, increasing ASKs by 47% compared with summer 2015.
Other LCCs are also growing very quickly. Canada's WestJet's ASKs will increase sevenfold and Icelandair's more than four times on the North Atlantic in summer 2016.
The foreign carrier permit of Lufthansa's LCC subsidiary Eurowings was approved in a matter of months and with no objections raised by US labour unions, in spite of the fact that its long haul network is operated under wet lease by SunExpress Germany. From a standing start, Eurowings will have 0.5% of North Atlantic ASKs in summer 2016.
See related report: Lufthansa's Eurowings goes to America; will the pilots unions allow US DoT to issue an exemption?
Other competitors also growing fast
In addition to LCCs, other operators are also growing rapidly on the North Atlantic. Turkish Airlines has 3.7% of ASKs this summer, more than all the LCCs combined, and will grow by 36% compared with summer 2015. Its summer 2016 North Atlantic ASKs will be almost double the summer 2013 level.
The combined scheduled ASKs of two large European leisure groups, Thomas Cook Group and TUI Group, will grow by 40% in summer 2016, when they will be almost 80% higher than in summer 2013. The leisure groups' combined 2.1% ASK share is not far behind that of the LCCs (if charter capacity were included, it might even be higher).
It is interesting that the US big three chose to object so vocally to Norwegian, while apparently having no concern about these other, arguably more significant, competitors.
Norwegian has grown rapidly without NAI, but a US permit will increase its flexibility
Norwegian's ASK plans in summer 2016 demonstrate that the lack of a foreign carrier permit for NAI has not held Norwegian back from growing on the North Atlantic. It has achieved this through the parent airline, Norwegian Air Shuttle, which has traffic rights thanks to Norway's participation in the US-EU agreement.
However, as described above, although it is permitted to travel from anywhere in the EU/Norway to anywhere in the US, Norwegian Air Shuttle's traffic rights to other long haul destinations, notably in Asia, are limited to those available under the relevant bilateral agreements negotiated by Norway, which typically only allow flights between Norway and other countries.
What NAI now gives Norwegian is the opportunity to fly both east and west with the same operating airline and with EU traffic rights in both directions.
This will increase the operational flexibility and cost efficiency of its long haul operations, thereby allowing it to offer lower fares on a greater number of routes than with its existing long haul operating companies.
By the end of summer 2016, Norwegian will serve ten destinations across the Atlantic (including two in the Caribbean) from six European cities, but only one in Asia (Bangkok), and this only from the three Scandinavian capital cities.
Norwegian's long haul network summer 2016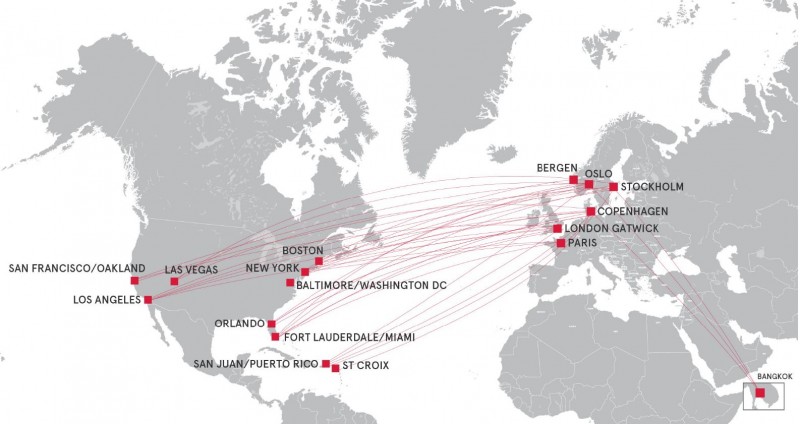 Ironically, before receiving NAI's US permit, the resultant traffic rights asymmetry and operational inflexibility has encouraged Norwegian to focus its long haul growth on US destinations, increasing the competition posed to some of those airlines objecting to NAI.
If the tentative approval becomes final NAI will be able to add a greater number of EU-US routes, but it may also then start to balance this with long haul growth in other parts of the world (although its opportunities in certain parts of Asia may continue to be limited by restrictions on Russian overflight rights). Indeed, its plans to grow long haul ASKs at a compound average rate of 40% pa from 2016 to 2020 (compared with 10% pa for short haul and 20% pa overall) will require some expansion into other regions.
See related report: Norwegian Air back in profit, signals aggressive long haul expansion. DoT help would be welcome
Airlines with large overlap with Norwegian's Atlantic network have not objected
Among those objecting to NAI's application, only SAS has significant overlap with Norwegian on its US network. Airlines such as British Airways and Virgin Atlantic have a significant level of overlap but have not opposed NAI.
See related report: Norwegian Air Shuttle's attempt to obtain US rights for NAI. Part 2: Traffic impact on competitors
Willie Walsh, the CEO of British Airways parent company IAG, has publicly supported Norwegian's attempts to establish a new business model using NAI. At CAPA's Airlines in Transition summit in Dublin in Apr-2014 – only a few months after NAI filed its application for a US permit, but when there was no sign that approval would be forthcoming – Mr Walsh argued that regulations designed to increase liberalisation were being used to block efforts by Norwegian.
He said then that a "strong and powerful" argument was mounting against the airline and its CEO, Bjorn Kjos. "Regulators should hang their heads in shame," remarked Mr Walsh, adding that he was pleased to "see Bjorn be more ambitious than anyone else".
The credibility of the US-EU agreement requires that DoT make the NAI approval final
The DoT's tentative approval of NAI's application demonstrates that this is a regulator now prepared to hold its head up in support of the consumer benefits arising from the well-established US-EU air services agreement against growing anti-competitive forces attempting to ring-fence the high profitability of the leading US airlines.
Ireland's Department of Transport, Tourism and Sport summed this up in its DoT filing on 11-May-2016: "As the global debate continues on the liberalisation of international aviation, it is apparent that certain well organised and vociferous interests, both in the US and the EU, would like to reverse this process".
NAI observed in its 23-May-2016 filing that its opponents had added no new arguments to those already disposed of by the DoT and by the legal opinions of the Department's General Counsel, the Legal Adviser of the Department of State, and the Office of Legal Counsel of the Department of Justice.
The US-EU agreement contains mechanisms for dispute resolution, but denial of NAI's application could eventually lead to retaliatory measures by the EU if the US were considered to be in breach of the agreement. The continued credibility of the US-EU agreement, and of the US' role in leading the global liberalisation of aviation, requires that the tentative approval of NAI's application be made final.
As FedEx has stressed in more than one filing, "agreements cannot be rewritten unilaterally because of 'buyers' remorse', or changed economic circumstances. It is far too valuable an agreement – for all US stakeholders – to be abused in that way."
There is no officially defined timeline governing the next step. The US Transportation Secretary Foxx must now choose between the narrow interest of the leading US legacy airlines and their unions and the wider benefits to the consumer, to jobs, to trade and to the US economy.
The rest of us will have to watch and wait.