IndiGo launches international services - targets 15% of seats in this segment by Mar-2012
Analysis
IndiGo commences its much-anticipated international air services today (01-Sep-2011) after completing the mandatory five years of wholly domestic operations. The LCC, the largest in the domestic Indian market, marks the start of its foray into international markets with direct service to Dubai, followed by Singapore and Bangkok in the first phase - all key global business hubs.
Following this launch phase, the carrier will expand rapidly in the international arena. IndiGo President Aditya Ghosh said the LCC plans to allocate 15-16% of its total capacity on international routes by Mar-2012. Mr Ghosh added the carrier's fleet is expected to increase from 43 to 55 aircraft over this period, including 10 dedicated to international operations.
IndiGo aims to grow the overall market by stimulating fresh demand with low fares. "There is a huge potential for Indian carriers to fly overseas. There is no reason why people won't fly with us if we keep our costs and fares low," Mr Ghosh said. Only 34% of the international rights to operate internationally from India are utilised by Indian carriers providing "tremendous scope for Indian carriers on this front". He added the carrier believes it can "give good value to passengers who were paying astronomical fares to international players".
With IndiGo, India will have four home-grown international LCCs covering 16 international destinations.
SpiceJet (scheduled), IndiGo, GoAir and JetLite international networks: Aug-2011
| Destination | | | | |
| --- | --- | --- | --- | --- |
| | * | | | |
| | * | | | |
| | * | | | |
| | | | * | |
| | * | * | | |
| | * | | | |
| | * | | | |
| Doha | * | | | |
| | * | | * | |
| | | * | | * |
| | * | | | |
| | * | | | |
| | * | | | |
| Salalah | * | | | |
| | * | | | |
| | * | | * | |
Indian international LCC operations have to date been dominated by Air India Express, which has focused on serving the expatriate labour market in the Gulf. Air India Express is the fifth largest operator of international capacity (ASKs) to/from India after Air India, Jet Airways, Emirates and Lufthansa, according to CAPA's Airline Rankings Tool
Top 20 airlines by India international capacity (ASKs): 29-Aug-2011 to 04-Sep-2011
| Rank | Airline | Total ASKs |
| --- | --- | --- |
| 1 | | 615,343,153 |
| 2 | | 405,915,508 |
| 3 | | 259,957,098 |
| 4 | | 201,039,434 |
| 5 | | 172,291,833 |
| 6 | | 167,362,150 |
| 7 | | 111,529,245 |
| 8 | | 110,051,434 |
| 9 | | 101,875,082 |
| 10 | | 96,411,308 |
| 11 | | 83,515,212 |
| 12 | | 81,581,370 |
| 13 | | 78,621,044 |
| 14 | | 68,706,750 |
| 15 | | 64,930,412 |
| 16 | | 57,831,712 |
| 17 | | 49,251,116 |
| 18 | | 42,088,396 |
| 19 | | 39,686,916 |
| 20 | | 37,284,131 |
A number of foreign LCCs including Air Arabia, AirAsia, Tiger Airways and AirAsia X are building increasingly extensive leisure networks to/from India covering services to Southeast Asia and the UAE, taking advantage of the great potential for expansion in the wider Asian and Gulf markets.
India International LCC weekly system capacity: 29-Aug-2011 to 04-Sep-2011
| Rank | Airline | Total Seats |
| --- | --- | --- |
| 1 | | 67284 |
| 2 | | 33696 |
| 3 | | 12600 |
| 4 | | 8640 |
| 5 | | 8206 |
| 6 | | 8064 |
| 7 | | 5040 |
| 8 | | 3600 |
| 9 | | 2646 |
| 10 | | 2366 |
| 11 | | 1440 |
International expansion aimed at improving financial position
The international expansion is aimed at improving IndiGo's already solid financial position. The carrier reportedly achieved a 25% profit margin on its domestic operations in the 12 months ended 31-Mar-2011, generating a profit of approximately USD132 million.
Apart from higher fares, international operations will also enable IndiGo to save on fuel costs. A differential tax scheme has meant that ATF fuel in India is around 23% cheaper for international services. Meanwhile, ATF prices are around 60-80% more expensive in the domestic Indian market than the prices charged at airports such as Bangkok, Singapore and Dubai. Considering that ATF represents around 40% of IndiGo's cost basis, there could be considerable scope for improved profitability for international operations after the initial start-up costs are covered.
IndiGo aims to achieve load factors of between 80% and 90% on its international routes, with a focus on maintaining competitive fares on the international sectors.
LCCs changing the India international market
IndiGo will become the seventh Indian airline to operate international services, a market currently dominated by Jet Airways (37% of total passenger traffic carried by Indian airlines) and Air India (34%). Air India Express (17%) and Kingfisher (10%) also have a growing international presence, with JetLite and SpiceJet having limited overseas activity at this stage.
India international passenger numbers during 1H2011
Carrier

1H2011 int'l
passenger numbers

% total

2,494,877

36.7%

2,313,443

34.0%

1,154,126

17.0%

651,596

9.6%

131,072

1.9%

54,780

0.8%

Total

6,799,894

100%
The entry of IndiGo into the international market and SpiceJet's increasing presence is changing market dynamics, forcing the full service players to respond with similar low-cost offerings on popular and previously profitable routes. This is not good news for the incumbents, with the increased competition from their low cost peers (and international rivals) likely to place downward pressure on international yields. Lucrative international routes have, until now, helped Indian carriers offset often loss-making domestic routes.
However, the entry of IndiGo, and the expansion by SpiceJet, is good news for consumers and the nation's airports, as it will stimulate growth in the market. The LCCs are seeking to create a new market with a new type of passenger who has not previously flown internationally, with demand to be stimulated by lower fares.
For example, IndiGo will offer return fares from INR9999 (USD220) on its initial international routes. By comparison, and as an example, network carriers are charging anywhere from USD318 to USD725 for economy class Mumbai-Bangkok fares and USD310 to USD600 on the Delhi-Dubai sector.
Return Mumbai-Bangkok Suvarnabhumi return economy fares (most convenient route) (USD): Nov-2010 to Oct-2011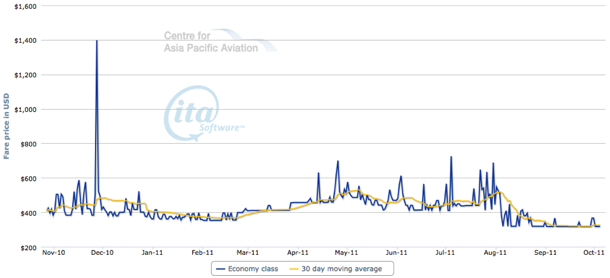 Return Delhi-Dubai return economy fares (most convenient route) (USD): Nov-2010 to Oct-2011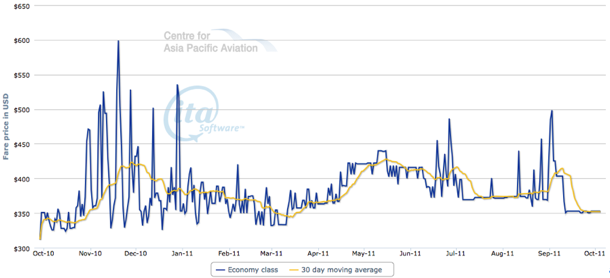 SpiceJet, like IndiGo, is planning to expand its international presence in the future. SpiceJet, with just six international flights now among its 200 daily flights, has applied for several international routes, CEO Neil Mills said. As part of its new phase of international expansion from Aug-2011, the carrier is adding destinations in west and Southeast Asia. The carrier already operates flights to Kathmandu and Colombo and has also received approval to operate to Dhaka and Male in the Maldives. Despite the new routes, the carrier will remain focused on the domestic market, with international operations to account for less than 10% of total revenue.
Jet Airways chief commercial officer Sudheer Raghavan noted that "globally the push towards low-cost is real". The carrier is reacting to the trend with plans to utilise narrowbody aircraft for low-fare, short-haul international operations. Mr Raghavan did not disclose the possible overseas destinations, but said the services would cater to destinations that are less than five hours' flying time from India. Nearly three quarters of Jet Airways tickets sold locally are in the low cost segment, while Kingfisher Airlines is expanding domestic connectivity under its low fare brand Kingfisher Red.
The launch of international services by the new crop of Indian carriers has taken several years because of the regulation which requires that private airlines complete five years of domestic operations and attain a fleet size of 20 aircraft before being permitted to expand overseas. The reason provided by the government is that international operations are complex and therefore airlines should achieve operational competence domestically before taking on the additional challenge of going overseas.
To face competition from incumbents on each new international route
IndiGo's first international route will be Delhi-Dubai, followed by Delhi-Bangkok (08-Sep-2011) and Delhi-Singapore (15-Sep-2011). This will be followed by services from Mumbai to Dubai (02-Oct-2011), Bangkok (02-Oct-2011), Singapore (10-Oct-2011) and Muscat (10-Oct-2011).
IndiGo initial international network

The carrier will face competition with up to seven airlines on its initial international routes.
IndiGo's launch international destinations and competitors
| Route | Launch | Weekly frequency | Competitors (see appendix for more information) |
| --- | --- | --- | --- |
| | 01-Sep-2011 | 7 | Will be the fifth carrier on the route after Emirates, Air India, Kingfisher Airlines and Jet Airways. It will offer the ninth daily frequency on the route |
| | 08-Sep-2011 | 7 | Will be the eighth carrier on this route after Thai Airways, Cathay Pacific, Thai AirAsia, Air India, Jet Airways, Kingfisher Airlines and Philippines Airlines. There are currently 51 weekly services on the route |
| | 16-Sep-2011 | 7 | 4th carrier on the route after Singapore Airlines, Air India, and Jet Airways. It will be the fifth daily frequency on the route |
| | 02-Oct-2011 | 7 | 7th carrier on this route, after Thai Airways, Jet Airways, Air India, Kingfisher Airlines, Bangkok Airways and Cathay Pacific. There are 48 weekly services on the route at present. |
| | 02-Oct-2011 | 7 | Will be the fifth carrier on the sector after Emirates, Jet Airways, Air India and Kingfisher Airlines. The carrier will offer the 12th daily frequency on the route |
Describing the carrier's international plan, Mr Ghosh stated: "Basically, we are going to look at South-East Asia and the Middle East as our territory. That's why Dubai, Bangkok, Singapore and Muscat will be our first few sectors, as there is a large Indian population in these markets". In an interview with The Economic Times, Mr Ghosh said there is huge scope for low-cost traffic between India and West Asia and India and South East Asia.
He also indicated the carrier could connect these cities with major Southern Indian markets, commencing with Kerala. "We would love to add one or two more flights on the same sector. And then probably add Jeddah and Kathmandu to this. It is the Middle East, South East Asia and Asia (that will be our priority)," he added.
IndiGo's GSA in Thailand, Pakin International Co, stated IndiGo is anticipating load factors of 80% on its proposed Delhi-Bangkok service, with 70% of bookings expected from Indians, and 30% from Thai passengers. Discussing the India-Singapore market, Mr Ghosh stated India-Singapore passenger traffic has potential for further growth without competing airlines "eating into each other's market share."
The India-Singapore route recorded a 14% year-on-year increase in passenger traffic to 5.1 million in 2010, according to the Changi Airport Group. The India-Singapore route is served by eight airlines operating 352 weekly services to 11 destinations, including Delhi and Mumbai. The airlines include Air India, Jet Airways, Kingfisher Airlines, Singapore Airlines and Qantas.
IndiGo sees Gulf as 'natural extension' to operations
Mr Ghosh said the "Gulf is the natural extension" to its operations, adding it sees Muscat as a key market and it will be targeting the large Indian population based in the eastern Gulf country. Services between India and Oman are currently dominated by Oman Air, with Air India Express, Air India and Jet Airways also present in the market, according to CAPA's Route Analyser Tool. IndiGo is also considering launching services from Thiruvananthapuram, Kochi and Chennai to Muscat by Jan-2012.
India to Oman (seats per week, one way): 04-Jul-2011 to 19-Feb-2012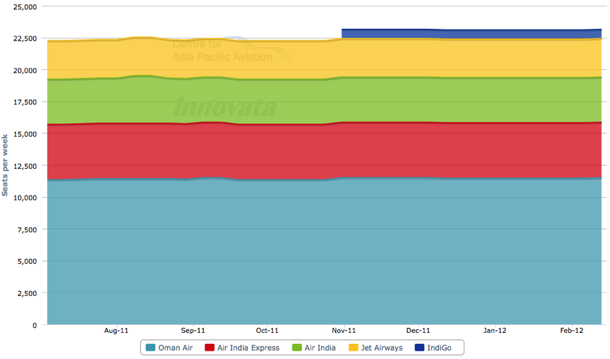 Mr Ghosh added the carrier would look at "no less than five or six destinations in the Middle East". "After Dubai and Muscat, we would look at Abu Dhabi, Sharjah, and possibly Kuwait, Qatar and Bahrain. We would also be looking at some markets in Saudi Arabia. We are currently focusing on how the next 12 months, and then these destinations will follow over the next three to four years. That's also when we would be close to a 100-aircraft airline. So we will have the capacity to be able to expand into this region," he told Gulf News.
The carrier is also considering services between Dubai and Thiruvananthapuram, Kochi and Kolkata "mostly by the winter time this year". He added the LCC is "absolutely looking at increasing frequencies on the Dubai route. We will start with a daily service. We want to then take it up to double-dailies and probably triple-dailies in the next 12 months".
The carrier estimates load factors will be in the mid-80s on Dubai services in the first year of operations. IndiGo will be the only Indian LCC operator on the Delhi-Dubai sector, a route dominated by Emirates. Route authorities on the Indian side are "highly under-utilised, according to IndiGo, "meaning we can offer more services on the same routes than the competition can".
The UAE has attracted Indian workers since the oil boom in the 1970s, which saw the first movement of labourers from India to UAE, capitalising on the region's economic growth. An estimated 1.5 million Indians live and work in the UAE, comprising some 42.5% of the Gulf state's labour force.
International operations from Delhi Terminal 3
IndiGo will operate its international services from New Delhi Indira Gandhi International Airport's Terminal 3 after initially planning to operate them from Terminal 1D, upon the request of the Ministry of Civil Aviation.
The move may hurt IndiGo, which will have to pay higher charges at T3. It also increases operational complexity and increases cost.
Kingfisher and Jet Airways, which also use T3, have recently complained to the ministry that they are being unfairly charged higher rates at T3, while IndiGo and SpiceJet pay lower charges at the Terminal 1D. They had requested they be enabled to move to Terminal 1D, which was their base of operations before T3 was constructed. The additional costs relate to the supply of fuel from the underground system and new baggage screening.
IndiGo becomes the fastest growing airline in India; expanding fleet by 50% over 18 months
IndiGo has become the fastest growing airline in the country. The carrier, launched in Aug-2006, has handled over 32 million passengers on over 223,000 flights in the past five years.
The carrier reported a 39% expansion in traffic in FY2011 with average load factors above 80%. Mr Ghosh stated the size of the Indian aviation market has almost tripled in six years, with traffic growing at a rate of 15-20%. "In 2004, the size of Indian aviation market was 18 million and today it is more than 50 million. Even if we grow at a low 10-12%, capacity is not growing at that pace and hence there is that demand for us to cater to," he said.
IndiGo has a fleet of 43 aircraft, which will expand to over 80 aircraft by 2014/15. IndiGo on 22-Jun-2011 firmed up its order for 180 Airbus narrowbody aircraft. In Jan-2011, the carrier signed an MoU with Airbus for 150 A320neo-family aircraft and 30 A320s. Deliveries will occur between 2016 and 2025. This order, valued at USD15.6 billion at list prices, is on on top of a firm order for 100 A320s placed Jun-2005. Out of the 2005 order, 44 aircraft have already been delivered.
The launch of international services marks the start of an exciting new phase for an airline whose pace of domestic expansion over the past five years has been breathtaking. Over the next six months alone, the airline is looking to recruit over 1000 employees to support its expansion, including 200 pilots and more than 900 cabin crew. At present, IndiGo has staff strength of 4056 employees.
This 20% surge in manpower over the next six month require military-style precision, backed by efficient systems and induction processes. So far IndiGo's management has proven it can handle the task, but international services do have an added level of complexity that can upset even the best laid plans, as Kingfisher, Jet Airways and SpiceJet would attest. In IndiGo's favour are Air India's ongoing crisis and general inefficiency as well as the cost advantage it enjoys over its high quality Gulf and Asian flag carrier rivals. IndiGo has the right product for short hops. International rights couldn't come soon enough.
APPENDIX:
Delhi Indira Gandhi International Airport to Dubai International Airport (seats per week, one way, 4-Jul-11 to 19-Feb-12)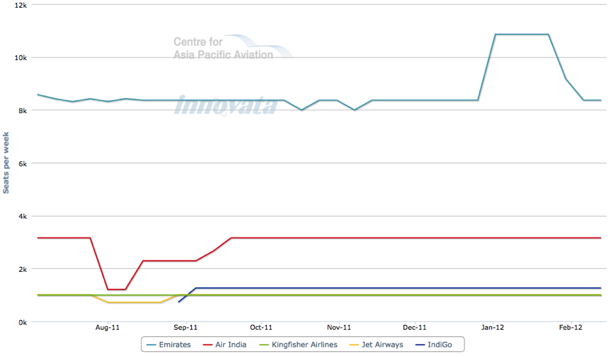 Delhi Indira Gandhi International Airport to Bangkok Suvarnabhumi International (seats per week, one way, 4-Jul-11 to 19-Feb-12)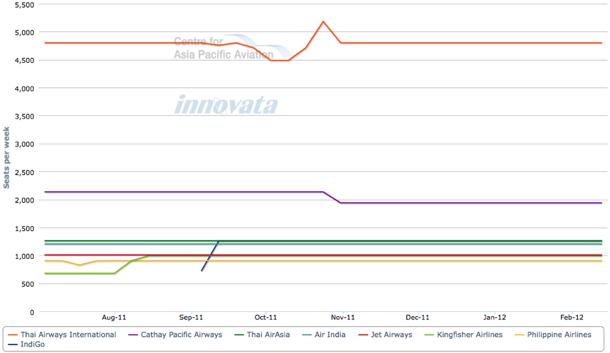 Delhi Indira Gandhi International Airport to Singapore Changi Airport (seats per week, one way, 4-Jul-11 to 19-Feb-12)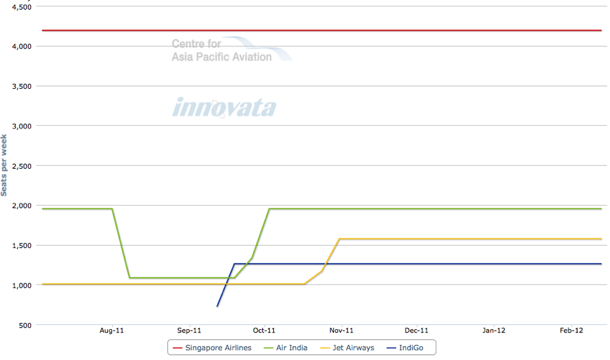 Mumbai Airport to Bangkok Suvarnabhumi International (seats per week, one way, 4-Jul-11 to 19-Feb-12)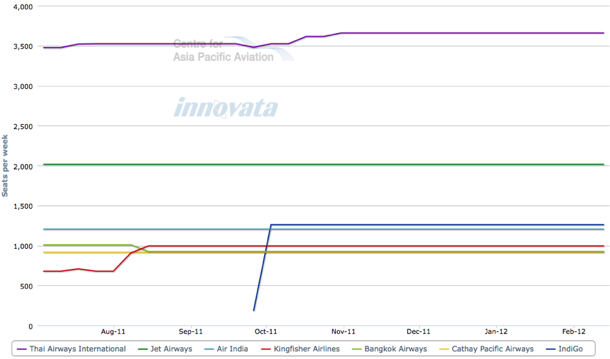 Mumbai Airport to Dubai International Airport (seats per week, one way, 4-Jul-11 to 19-Feb-12)