After the White Paper. Time for the US major airlines and Gulf carriers to kiss and make up
Analysis
Although US global network airlines American and Delta have recently revived rhetoric in the Big 3 versus the Gulf 3 imbroglio that remained a mainstay in industry discourse throughout 2015, the efforts by American, Delta and United to stymie growth by Emirates, Etihad and Qatar can be deemed anything but a success. More than anything their march against the Gulf airlines has raised serious questions about the future of liberalisation in the global airline industry, and, arguably, damaged the US' stature as the global leader in trumpeting open skies pacts.

By-products of the Big 3's subsidy claims include a splintering among US airlines as jetBlue, Hawaiian and others united to form a fierce opposition in the subsidy argument, claiming that the efforts by the Big 3 would jeopardise the more than 100 open skies agreements that the US has forged worldwide. Those Big 3 airlines responded with the counterargument that the immunised joint ventures created by American, Delta and United with their alliance partners had resulted in higher fares and less consumer choice, and they requested the US government to review the passenger benefits of those tie-ups. As the two opposing sides squared off, Delta chose to leave the major US airline lobbying group 'Airlines For America'; almost consequently, the application by Norwegian Air Shuttle to launch low cost trans-Atlantic flights endured a years-long limbo, a delay driven in parallel with the Gulf debate.

The US government is making no promises over when it will render a decision to hold talks with the UAE and Qatar on their specific open skies policies, and the upcoming presidential election adds a huge element of uncertainty to the process. But a recent decision to grant Norwegian approval for its new service suggests that the government may avoid slipping into an outdated protectionist mindset.
Before the Big 3's anti-Gulf airline campaign, the US airline industry was more united
The now-famous White Paper delivered by American, Delta and United in early 2015 – claiming that Emirates, Etihad and Qatar had received USD42 billion in illegal subsidies – was arguably a more forceful tactic to garner US government attention than any previous lobbying efforts to create national airline policy.

Speaking at the recent CAPA Airlines in Transition conference, the jetBlue SVP of government affairs and associate general counsel, Robert Land, explained that until American, Delta and United launched their anti-Gulf airline campaign there had been a united front in the US industry (including the Big 3). These airlines were pushing the government for a national airline policy, and the industry had not done a good job in communicating the need for a policy change at the Congressional level.

Perhaps the Big 3, led by Delta, concluded that a more dramatic campaign with a clear enemy would be more effective than their efforts to convince the government that taxes and regulations levied on the US airline industry were a hindrance to airlines effectively competing on the global level.
Gulf airlines draw the Big 3's attention after Emirates uses 5th freedoms on JFK-Milan
In 2004, when Emirates launched its first flight to New York JFK, Delta and Northwest were close to declaring Chapter 11 bankruptcy protection and were laying the groundwork for their eventual merger in 2008. Emirates' growth in the US market during the following years was far off Delta's radar, and arguably did not strike a chord with the US major until Emirates opted to launch fifth freedom flights from Milan to New York JFK in late 2013. As previously reported by CAPA:
It seems the main concern of US airlines is Gulf carrier expansion on fifth freedom flights, and in particular those across the Atlantic, the traditional heart of US carriers' international networks and where the powerful anti-trust immunised joint ventures operate.

Gulf carriers are not new to trans-Atlantic fifths, with past examples including Emirates' Hamburg-New York JFK and Qatar's Brussels-Newark. But the route that rocked the US airlines was Emirates' entry on Milan MXP-New York JFK in Oct-2013.

Mr Hauenstein [now Delta's president] described Milan-New York as "fertile ground", and effectively admitted incumbents had left themselves exposed with poor service quality. Capacity on the route dipped after 2009, in line with Alitalia's reduction. Without Emirates' entry, capacity would have been restored, but with its improved product Emirates also injected growth to the route. This growth was partly through added capacity but also the introduction of a third choice of carrier; the route had effectively comprised only two entities: the Alitalia-Delta JV, and American Airlines.
See related report: US airlines take aim at the Gulf carriers when perhaps they would be better woo-ing them
Data from CAPA and OAG show that (as of mid May-2016) Emirates held a 42% seat share on the JFK-Milan route and the SkyTeam partners Alitalia and Delta held a 39%. Delta's seat counts were down 24%% year-on-year but Alitalia's had risen 11%.
Data from CAPA and OAG comparing seats at the end of Oct-2013 (after Emirates route entry) and the end of Oct-2016 show an increase of just 630 seats, from 6,450 to 7,080.
New York John F Kennedy International to Milan Malpensa (seats per week, one way): 19-Sep-2011 to 31-Oct-2016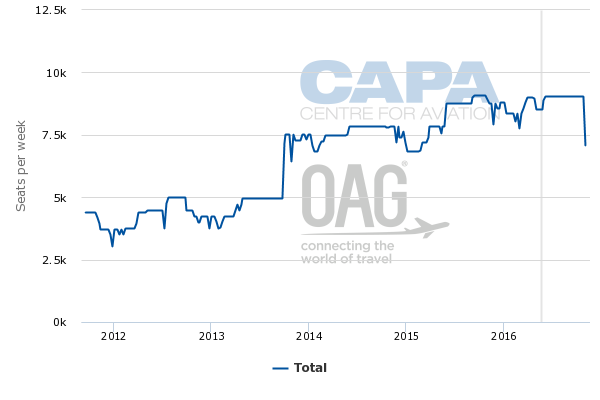 Possible that the Gulf airlines are hindering US airline growth to India; yet United's Indian presence is stable
Obviously the claims by American, Delta and United go far beyond their perceived threat from possible fifth freedom expansion. They believe that the governments of UAE and Doha subsidise loss-making US expansion, and in Apr-2016 Delta's Mr Hauenstein stated that Delta did not believe that Qatar would be successful with its new flights between Doha and Delta's Atlanta hub beginning in Jun-2016, noting that there were fewer than five passengers per day in the market.
The argument put forward by the US Big 3, with fierce support from US labour groups, is that traffic gains by the Gulf airlines have come at the expense of US airlines, rather than from an ability by the Middle Eastern airlines to stimulate new demand.
In comments to the US government supporting the US Big 3, the Air Line Pilots Association (ALPA) stated that the allegedly subsidised Gulf airlines are stealing connecting traffic away from the Big 3 and their alliance partners from European hubs. ALPA noted that the Indian subcontinent was most affected by the share shift.
From a pure geographical perspective, logic dictates that India would be the largest connecting market for the Gulf airlines, and CAPA has previously observed that American and Delta withdrew nonstop service to India long before the Gulf airlines made a push into the US.
With India the largest connecting market by far for Gulf carriers, could Gulf carriers be preventing US carriers from carrying traffic to and from India?

At one point American and Delta served India non-stop from the US, but withdrew – but this was long before Gulf carriers were anywhere near the size in the US they are in 2014. The challenges for US carriers in India are multiple. Flight lengths exceeding 14 hours place an extra burden on fuel, the US-India market is characterised by low-yielding traffic, and US carriers lack an extensive network in India that would allow them to aggregate traffic over a hub. Prior to Air India joining Star Alliance, US carriers did not have any strong partnerships in India (oneworld and SkyTeam are still without an Indian partner).

Gulf carriers also face 14 hour-plus flight times from the US to the Gulf, but their network of destinations ensures premium traffic can also be carried. Gulf carriers can offer one-stop service from key US metropolitans to about a dozen Indian cities, creating hundreds of one-stop city-pairs.
There have also been some recent reports indicating that American could be considering a re-entry into the Indian market, so clearly there are opportunities for US airlines to grow on the Indian subcontinent even with the large presence the Gulf airlines have in the market.
United operates daily flights from its Newark hub to both Mumbai and Delhi; its Star Alliance partner Air India operates service to JFK from Delhi and to United's hubs in San Francisco and Chicago O'Hare from Delhi, and to Newark from Mumbai. Overall seat capacity between the US and India has remained steady during the last three years, which seems to indicate relative stability in the US to India market.
United States of America to India (seats per week, one way): 20-May-2013 to 31-Oct-2016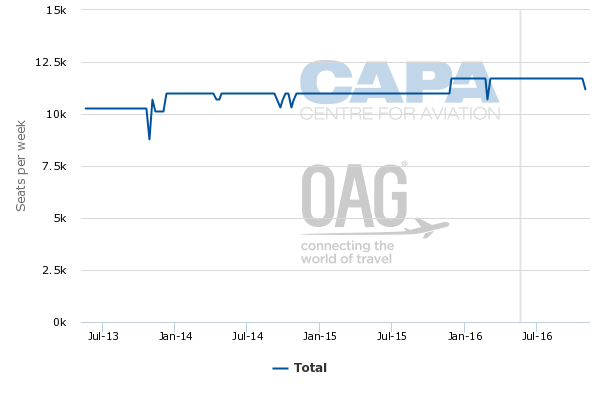 Non-hub airports rally behind open skies since liberalisation remains critical to their growth
It seems the US Big 3 had not accurately judged just how strong the domestic opposition would be for their requests to hold government-to-government discussions regarding open skies agreements with the UAE and Qatar.
The US travel association has stated that the 1.1 million visitors to the US travelling on Gulf airlines contributed more than USD4.1 billion to the country's GDP in 2014. Furthermore, the association estimates that during that same year 30% of Gulf airline passengers transferred to US airlines. Indeed, American enjoys feed from Etihad and its oneworld alliance partner Qatar.
Non-hub airports have also expressed concern over the repercussions from the US Big 3's campaign for open skies agreements. Orlando International airport has been one of the most vocal supporters of open skies during the Gulf debate, and also gained key services from Emirates in Sep-2015.
"In the absence of this free air service trade policy, Orlando International airport would be unable to provide the access for international visitors that our local tourism attractions require to sustain the area economy, support tens of thousands of jobs and realise Central Florida's potential as the premier leisure destination in the world", the Greater Orlando Aviation Authority has said. GOAA estimates that the new Emirates service should drive USD100 million in new economic activity in Central Florida and create 1,500 jobs.
See related report: Orlando International's growth is testament to open skies as Emirates enters
Speaking at the recent CAPA Americas Aviation Summit, the Orlando International airport senior director of marketing and air service development, Vicki Jaramillo, stated that more than 50% of passengers, "on that aircraft [Emirates 777-200LR]", originate in central Florida. That does not seem like a traffic steal by Emirates, but rather a classic example of traffic stimulation in a market where the Big 3 choose not to operate.
"We've been very outspoken on open skies", Ms Jaramillo said. Similarly to Oakland, Las Vegas or San Diego, Orlando's success in international markets is "being a spoke off of an international hub", she said. Since it is rare for a large global US network airline to launch long haul international service from a non-hub airport, "open skies is very, very key", in her view.

See related report: CAPA Americas Summit: Latin America remains promising as open skies drives US international growth
Hawaiian and jetBlue unite to present a different perspective: the detriments of joint ventures
It is reasonable to conclude that the US Big 3 did not anticipate the counter-response to their Gulf campaign launched by Hawaiian, jetBlue and cargo airline FedEx. Perhaps jetBlue offered the most crystallised perspective on the success of open skies by outlining how its partnership with Emirates helped its growth in its focus city of Boston.

The day that Emirates inaugurated flights from Dubai to jetBlue's focus city of Boston in Mar-2014, jetBlue broke Delta's monopoly on flights from Boston to Detroit, lowering fares by 39% in the market. jetBlue's flight to Detroit was made possible due to feed from its codeshare partner Emirates. Arguably, the open skies pact with the UAE allowed jetBlue to initiate competition with a larger competitor, and usher in lower fares in a monopoly market. Since jetBlue's market entry, the ULCC Spirit has also launched flights between Boston and Detroit.

See related report: Hawaiian Airlines and jetBlue combine to oppose the Big 3's Gulf campaign and challenge closed JVs

Part of the argument in the counter-attack by Hawaiian and jetBlue against the Big 3 was the traffic concentration represented by the joint ventures created by American, Delta and United and their respective alliance partners. Hawaiian has previously noted that in the year 2000 airlines participating in immunised pacts across the trans-Atlantic routes represented approximately 41% of the 50.2 million passengers travelling between the US and Europe. By 2014, airlines that were part of joint ventures transported 87% of the 55.8 million customers travelling between those two regions.

Data from CAPA and OAG for mid-May-2016 show that the joint ventures in which American, Delta and United participate with their alliance partners control approximately 78% of the seats between US and Europe. If Virgin Atlantic's seat share is included, the total rises to 82%. Virgin Atlantic and Delta also participate in a trans-Atlantic joint venture.
One-way seat share of airlines participating in immunised JVs from the US to Western Europe, as of mid-May-2016
As an additional point, forward schedules show that in mid-Jun-2016 the Middle East represents just 4% of the overall US international seat capacity, and Western Europe accounts for 30%.
United States of America international capacity by region (% of seats) as of mid-Jun-2016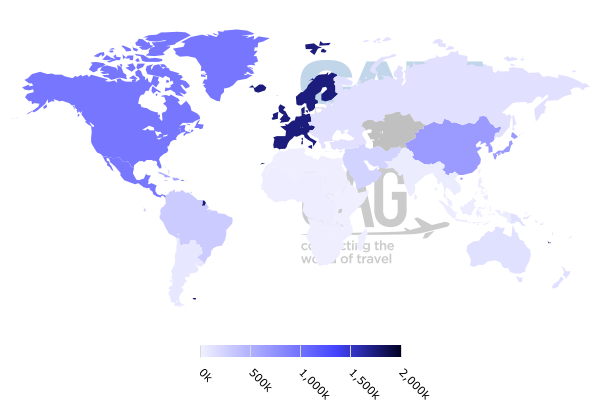 Although each of the three immunised joint ventures have pledged that their tie-ups would generate lower fares, Hawaiian's CEO, Mark Dunkerley, has highlighted that through less competition – resulting from US consolidation and the creation of immunised joint ventures – one-way trans-Atlantic fares were actually 22% higher in 2014 vs 2000 (adjusted for inflation).
Long-awaited approval for Norwegian indicates the Big 3 face an uphill climb in the subsidy row
In today's populist political climate, where even Democrat Presidential candidate Hillary Clinton has about-faced on the TPP, it is a marginal call whether the US government will issue a decision in the subsidies dispute before the country's presidential election in Nov-2016.
Recently, the US Department of State deputy assistant secretary for transportation affairs, Tom Engle, said that the allegations contain more than simply recommending consultation on open skies agreements with the UAE and Qatar. "Some of them [the allegations] are highly controversial," he stated, adding that the government does not apologise for the length of time it is taking to review the allegations.

Mr Engle stressed that there will be no rush into decisions on "this kind of thing" when the overriding principle "has to be the importance of preserving open skies benefits that have been of such value to this industry". Clearly the government is giving equal attention to the arguments of American, Delta and United and the counter-points offered by those entities opposed to the anti-Gulf stance; these include FedEx, jetBlue and Hawaiian.

See related report: Challenges to airline liberalisation. Mindset changes needed: CAPA Americas Summit (VIDEO)

The DoT's recent tentative approval of the application by Norwegian Air International to inject long haul low cost competition between Europe and the US seems to indicate that the arguments by the Big 3 and labour unions are far from gaining a rubber stamp; those being their arguments that the alleged government subsidies for the Gulf airlines are hurting competition and jeopardising US jobs.

It took Norwegian more than two years to gain approval, due in part to its request being engulfed in the subsidy debate. US labour groups also mounted fierce opposition, initially opposing Norwegian's plans to employ crews from Asia on the flights. The Air Line Pilots Association stressed that Norwegian could not violate Article 17 bis of the EU-US Open Skies agreement. This states that, 'the opportunities created by the Agreement are not intended to undermine labor standards or the labor-related rights and principles contained in the Parties' respective laws'.

See related reports:

Subsequently, Norwegian stated that it would employ US and European crews on the trans-Atlantic flights. But the DoT, after consulting with the departments of State and Justice, ultimately determined that Article 17 bis "does not afford an independent basis for rejecting an application that is otherwise qualified to receive a permit".
American and Delta show few signs of backing down from their anti-Gulf airline campaign
Recently American and Delta have suggested they have no plans to relent in their efforts to convince the US government that Emirates, Etihad and Qatar are unfairly subsidised. Delta EVP and chief legal officer, Peter Carter, stated in a CAPA TV interview that the airline was firmly committed to the issue. He said that Delta and its partners would raise the issue with the next administration if President Obama's cabinet did not make a decision about the subsidy allegations.

The American Airlines CEO, Doug Parker, in a wide ranging discussion with Richard Quest during the recent CAPA Americas Aviation Summit, stated that the Gulf airlines were the greatest threat to US commercial aviation he had seen in the business, noting that it was a "huge competitive issue for us and needs to be addressed".
See video: American Airlines CEO Doug Parker in conversation with CNN's Richard Quest
Everyone benefits from open skies – US smaller airlines and the Big 3 alike
The rallying cries of the Big 3's opponents over the jeopardy their campaign places on open skies agreements make one of the most electrifying elements of the debate.
"Open Skies has opened the door to tremendous new opportunities for U.S. airlines including JetBlue – competition that benefits consumers and the economy – and we must oppose calls to roll back that progress and risk reverting to the old days of heavy government regulation of our industry", the jetBlue CEO, Robin Hayes, has warned.

American, Delta and United have also benefitted from the liberalisation ushered in by open skies, and they continue to capitalise on the ability to create joint ventures that are only allowed under liberalised air pacts. Delta and Aeromexico are currently awaiting approval of a joint venture, now that the US and Mexico have a more liberalised air service agreement. American is also waiting to embark on a joint venture with its oneworld partner LATAM Airlines Group covering several Latin American markets, including Brazil, where an open skies agreement with the US is pending.
Advancement in liberalisation, not regression, is key for global aviation in the decades to come
Another potential hazard from the US Big 3's campaign is the possibility of the US reverting to a protectionist stance at a time when the borders that divide various aviation regimes are becoming blurred. Looking past all the rhetoric, the global aviation landscape in 10 to twenty years will be drastically different from the one today.

Advanced liberalisation is key to a viable global aviation business in the decades to come. It is an easy concept to digest in theory, but there are legitimate and complex concerns that need to be addressed in order to exploit the full potential of aviation on a truly global scale.
The US government stands at a crossroads as it weighs the merits of the subsidy debate; its decision will play a crucial role in preserving the existing open skies pacts, and ensuring fair negotiations in future agreements. Part of its dilemma is an awareness that the greatest medium term beneficiaries of open skies are the US airlines themselves; but that seemingly has to be balanced against the short term political firestorm.
The Big 3 have far too much to gain to ignore the potential for Gulf airline partnerships
After such a prolonged period of high level rhetoric it will be hard for the Big 3 to deviate with credibility from their course. The more so because they have taken up arms with the pilots' unions and other labour groups in what has become an often intensely nationalistic argument, with all the logic that usually surrounds such encounters.
But where the unions have little to lose by promoting protectionism, for the airlines the stakes are much higher. The Gulf carriers are not likely magically to disappear; they have become part of the furniture of the international airline scene.
And as the US majors progressively explore their options internationally, partnerships must inevitably be high on the agenda; not just the longer standing branded global alliance relationships, but bilateral linkages as well. In international markets, where competition is much more aggressive than behind the US' domestic boundaries, pragmatism is the order of the day.
The reality is that, behind all the rhetoric, the Gulf carriers pose little threat directly to the US airlines; the geography simply does not permit. In fact their respective networks are highly complementary. Where the Big 3 are sensitive is in the impact it has on their European hub partners, who have such a vested interest in routing traffic over their own hubs and onto the closed JVs of the North Atlantic.
But the advantages to be gained by one or more of the Big 3 breaking ranks and partnering with a Gulf airline are so significant that it can only be a matter of time before one forges much closer links. Already there are, quietly, extensive codeshare and interline arrangements and Delta, American and United must be watching closely as the smaller US airlines capitalise on their Gulf airline traffic feed.