Orlando International's international growth is testament to open skies success, as Emirates enters
Analysis
Orlando International Airport is capping off a couple of years of impressive growth in Sep-2015 with the highly anticipated launch by Emirates of new service from Dubai, opening up strategic access for the airport's passengers to the Middle East and Asia.

The airport during the last year has also welcomed new service to Brazil, Peru, Mexico, Denmark and Ireland. The service additions reflect the unique ability of Orlando International, a non-hub for the large three US global airlines, to attract international service in the post consolidation era of US aviation.

As American, Delta and United ratchet up their anti-Gulf rhetoric, Orlando International is stressing the importance of open skies in its ability to secure new international service. And, ironically, Delta aims to capitalise on the US open skies agreement with Brazil when it launches new Brazilian service from Orlando International in late 2015 as it continues to shake the foundations of the US' open skies regime with opposition to the UAE and Qatar open skies agreements.
Orlando International charts solid passenger growth, with strong international expansion
Orlando International logged 2.7% passenger growth in 2014 to 35.7 million.
Orlando International Airport annual passenger numbers: 2008 to 2014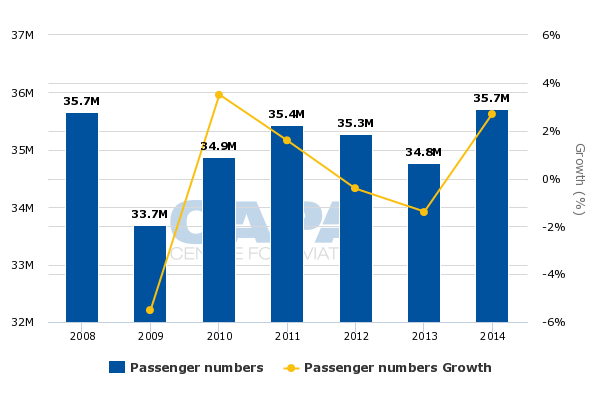 The airport's international passenger throughput jumped 9.6% to 4.3 million and domestic passengers grew 1.8% to 31.4 million.
Orlando International Airport annual international passenger numbers: 2008 to 2014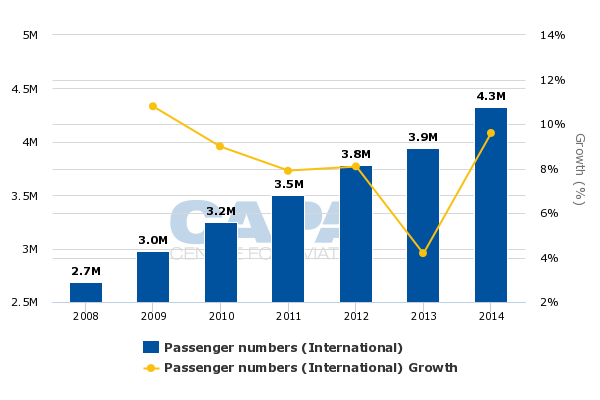 Orlando International Airport annual domestic passenger numbers: 2008 to 2014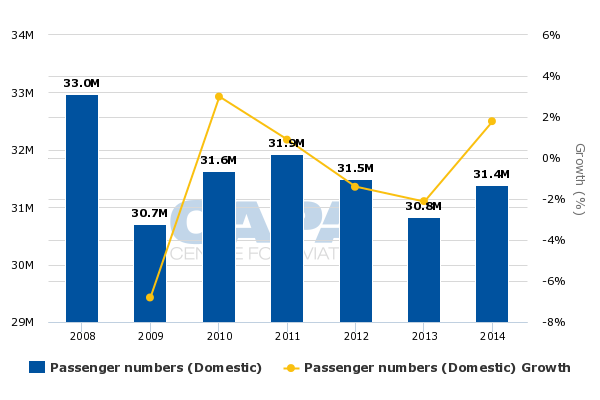 International expansion undertaken by foreign airlines serving Orlando during the last couple of years has been impressive. Brazil's third largest airline Azul launched service from its Campinas Viracopos headquarters in late 2014.
Mexican low-cost airline Volaris added new service during 2014 to Guadalajara and Norwegian introduced service from Oslo.

So far in 2015 (through mid-Aug-2015) LAN has added flights from Lima to Orlando International and TAM has introduced service from Brasilia, and both Thomas Cook and Virgin Atlantic have launched seasonal service to Belfast. Thomas Cook also added some seasonal flights to London Stansted. Norwegian has also expanded its Orlando service offerings to include Copenhagen and London Gatwick, and Island Travel and Tours launched twice weekly charter flights from the airport to Havana in Jul-2015.
In late 2015 Azul is planning to launch new flights from Orlando to Belo Horizonte and Sao Paulo Guarulhos. During 2016 Canadian airline WestJet is launching seasonal flights between Orlando International and Vancouver after launching flights from Kitchener and Charlottetown to Orlando in Dec-2015.

Those new flights are joining existing international services from Orlando to numerous destinations (for the week 24-Aug-2015 to 30-Aug2015) including Aguadilla, Aruba, Bogota, Calgary, Cancun, Dublin, Frankfurt, Glasgow, Kingston, London Gatwick, Manchester, Mexico City, Montego Bay, Montreal, Nassau, Panama City Tocumen, Ponce, Punta Cana, San Jose, Santo Domingo, San Juan, Sao Paulo and Toronto.
Emirates' new Dubai service is a key win for Orlando, offering multiple new connections
Orlando caps off a busy 2015 in international expansion when Emirates debuts a new daily flight to Orlando International from Dubai in Sep-2015. It is a key victory for Orlando, opening up Emirates' vast Asian and Middle Eastern network to Orlando travellers. It is also a strategic addition for Emirates, which has a strong relationship with JetBlue in its focus cities in New York JFK and Boston.
JetBlue's fourth largest base, (measured by seats) Orlando, is a natural progression. As previously reported by CAPA, Orlando has been the largest beyond market in the Emirates-JetBlue relationship.

See related reports:

JetBlue is Orlando International's second largest airline measured by seats on a system-wide basis, and the largest based on international seat deployment. JetBlue uses its Orlando and Fort Lauderdale bases to capitalise on north-south US traffic flows and as connecting points to Latin America.
Its Latin and Caribbean destinations from Orlando include Aguadilla, Bogota, Cancun, Montego Bay, Nassau, Ponce, San Jose, San Juan and Santo Domingo. JetBlue is planning new flights from Orlando to Mexico City Juarez in late 2015.
Orlando International Airport system capacity by airline (% of seats): 24-Aug-2015 to 30-Aug-2015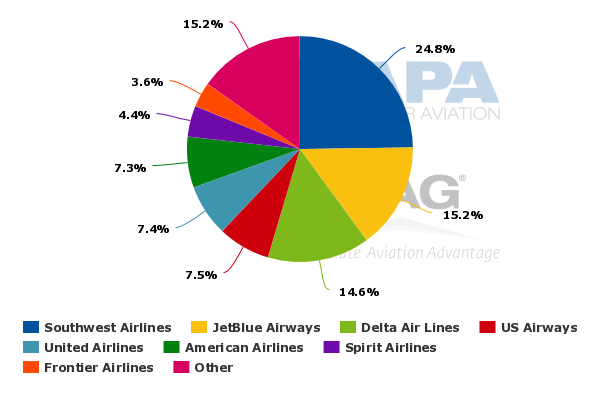 Orlando International Airport international capacity by airline (% of seats): 24-Aug-2015 to 30-Aug-2015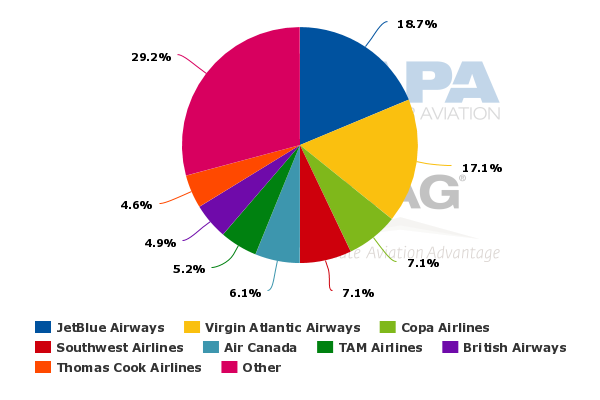 The new Dubai service allows Orlando International to market numerous destinations throughout Emirates' network, including the Indian subcontinent. CAPA has previously concluded that Emirates will be able to link around a dozen Indian cities other than Delhi and Mumbai with one-stop service to Orlando.
Dubai will be a powerful tool in Orlando International's arsenal, and create a competitive edge for the airport over other US airports, whose long-term goals remain securing long-haul service to the Middle East and Asia.

See related report: Las Vegas McCarran charts solid growth as it enjoys a significant increase in international traffic
Orlando joins the growing chorus of stakeholders lauding the value of open skies pacts
Emirates outlined its plan to serve Orlando International as the debate fostered by American, Delta and United (the "Big 3") over alleged subsidies of the three large Gulf airlines was intensifying. Those airlines are urging the US government to request consultations with the home countries of those airlines on the current open skies agreements.

The campaign has driven a wedge between the Big 3 and some smaller airlines including JetBlue and Hawaiian, which have banded together with FedEx and Atlas Air Worldwide to form the US Airlines for Open Skies Coalition. Recently Hawaiian CEO Mark Dunkerley concluded that the Big 3 do not speak for all, or even most US airlines.

See related report: Hawaiian Airlines and JetBlue combine to oppose the Big 3's Gulf campaign and challenge closed JVs

Orlando International has also highlighted the significant benefits it derives from the existing open skies agreements the US has in place with more than 100 entities.
"Literally, open skies has enabled Orlando to become a global tourism and trade destination with non-stop air service links to Europe, Canada, Mexico and Central and South America," the Greater Orlando Aviation Authority (GOAA) recently explained to the US government. "In the absence of this free air service trade policy, Orlando International airport would be unable to provide the access for international visitors that our local tourism attractions require to sustain the area economy, support tens of thousands of jobs and realise Central Florida's potential as the premier leisure destination in the world."
GOAA estimates the new Emirates service should drive USD100 million in new economic activity in Central Florida and create 1,500 jobs.

Offering a concrete example of the benefits of open skies, the GOAA noted that since the liberalisation of air service between the US and Brazil that started in 2011 and culminates with full open skies in Oct-2015, visitors from Brazil to Orlando have jumped from 74,000 in 2004 to 768,000 in 2013.
Data from CAPA and OAG for the week of 24-Aug-2015 to 30-Aug-2015 show that Brazil is Orlando International's fourth largest country measured by international seat deployment.
Orlando International Airport international capacity by country (number of seats): 24-Aug-2015 to 30-Aug-2015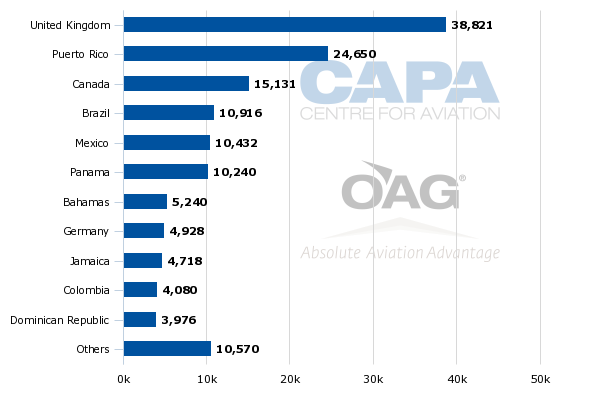 The leader of the Gulf opposition, Delta Air Lines, aims to capitalise on the US-Brazil open skies agreement with plans to add new service between Orlando International and Sao Paulo Guarulhos in late 2015, and is also seeking approval to launch service from Orlando to Brasilia.
Delta has also openly stated that once open skies between the US and Brazil is formalised, it intends to forge a joint venture with its Brazilian partner Gol.
Orlando is a prime example of open skies benefits that the US government should examine
Orlando International in some ways is a burgeoning example of the benefits of the open skies agreements that the US has fostered worldwide. Although Southwest and JetBlue are its first and second largest airlines based on seat deployment, it is not a hub for one of the US majors, and none of the Big 3 offers long-haul, trans-Atlantic service from the airport.

The result is most of Orlando's long-haul service is operated by foreign airlines, which is enabled by the current open skies scheme adopted by the US government.
The airport's international passenger growth is a testament to the success of those agreements, and as the US government evaluates the arguments presented by the "Big 3", it also needs to consider the larger repercussions of wading into the dangerous territory of upsetting decades of liberalised air transport, that has arguably helped propel the Big 3 into the positions of power they currently enjoy.