Hawaiian Airlines and JetBlue combine to oppose the Big 3's Gulf campaign and challenge closed JVs
Analysis
The civil war erupts. The rift between the large three global US network airlines and medium sized airlines operating in the country is growing. Airlines housed in those two sectors are on opposite sides of the Gulf "subsidy" campaign waged by American, Delta and United. This is reflected in the recent partnering of JetBlue and Hawaiian Airlines, along with other airlines, to create the US Airlines for Open Skies Coalition to promote benefits of the open skies agreements the US holds with over 100 countries.

But Hawaiian and JetBlue are also publicly denouncing the detriments of a fundamental tenet of the business strategy adopted by the large three US airlines during the last decade – immunised joint venture agreements. Hawaiian and JetBlue believe joint ventures have resulted in higher fares and decreased consumer choice.

JetBlue has requested that the US government review joint ventures to ensure those pacts benefit consumers. US regulators recently have shown an eagerness to undertake scrutiny of the country's largest airlines, so JetBlue believes it has favourable odds of gaining traction on its request.
Hawaiian and JetBlue band together to promote the benefits of open skies agreements
The public splintering between mid sized airlines such as Hawaiian and JetBlue emerged after the "Big 3" charged that Emirates, Etihad and Qatar are unfairly subsidised, and the US government should examine those subsidies in the framework of open skies agreements that exist with countries where the Gulf airlines are based.

JetBlue has some level of codesharing with all three Gulf airlines, and early in 2015 company CEO Robin Hayes declared that JetBlue's relationship with Emirates has deepened beyond connecting passengers at New York JFK to Boston, and Emirates' new service to JetBlue's focus city in Orlando slated to begin in Sep-2015.

Emirates is adding a second daily flight between Dubai and Boston (JetBlue's second largest base measured by seats) in Nov-2015. Mr Hayes stressed that after Emirates initially launched the route in Mar-2014 traffic flows from around JetBlue's network through Boston onto Emirates and other partners were at rates above expectations.

Mr Hayes also emphasised the effect of JetBlue's partnerships on the US domestic market place. The day that Emirates inaugurated Dubai-Boston, JetBlue broke Delta's monopoly on the Detroit-Boston route. After JetBlue launched the route, fares decreased by 39% and traffic more than doubled, said Mr Hayes, no doubt driven in part by feed from Emirates.

Hawaiian does not have formal partnerships with the three Gulf airlines, but it has undertaken a rapid international expansion during the last few years that is possible through open skies agreements that the US has with more than 100 partners. Hawaiian CEO Mark Dunkerley stressed that the "Big 3" (American, Delta and United) do not speak for all or even most US airlines. He stated the new coalition, which also includes FedEx and Atlas Air Worldwide, believes the US should honour open skies commitments, which promote competition on international and domestic routes.
Hawaiian charges that foreign airlines have trouble accessing connections on US partners
In tandem with their campaign to keep the US open skies framework status quo, Hawaiian and JetBlue are highlighting the detrimental effects that immunised joint ventures developed by American, Delta and United have on consumers.

"For the traveller between the US and Australasia joint ventures between Qantas and American and the other joint ventures in the market place will have the impact of increasing fares and reducing the amount of choice the consumer has," Mr Dunkerley concluded at the recent CAPA Australia Pacific Aviation Summit in Sydney.
Hawaiian Airlines CEO Update
The proliferation of JVs has been driven by a pricing disadvantage of foreign airlines in beyond gateway US markets due to tight connections at major US airline hubs. Mr Dunkerley highlighted that the lowest available fares in US-Asia markets available on Asian airlines are markedly higher than the three US major airlines.
Lowest available fare in US-Asia connecting markets: Big three US airlines versus the three dominant Asian airlines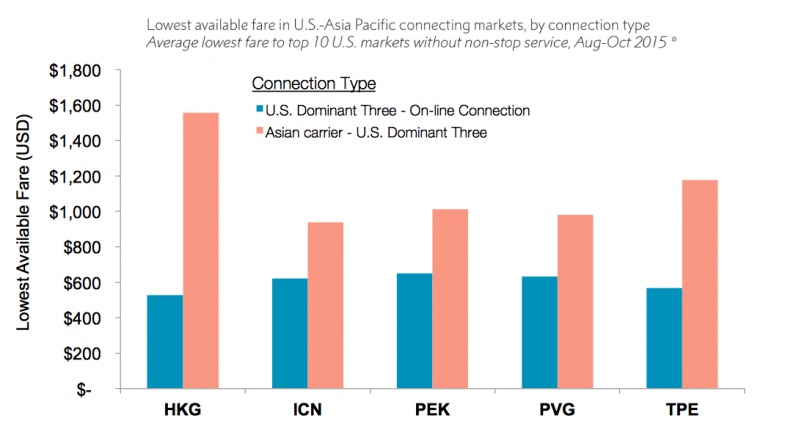 Offering a specific example, he cited the connection from Hong Kong through San Francisco to Washington Dulles, Mr Dunkerley concluded that Singapore Airlines' fare (calculated by the lowest average fare in Sep-2015) of USD2,2329 was 182% higher than the USD826 offered by its Star partner United.
United and Singapore compete on service from Hong Kong to San Francisco, and Mr Dunkerley said the difference in price shows that Asia Pacific airlines may find it hard to access their partner airlines' domestic networks when both airlines compete for the same trans-Pacific traffic.
United Airlines versus Singapore Airlines fare on Hong Kong-Washington, Dulles via San Francisco: Sep-2015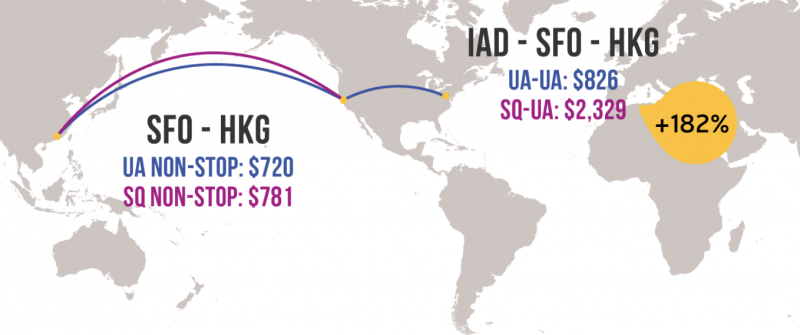 In essence, US airlines have created a scenario where foreign airlines have concluded, "if you can't beat them, join them" in immunised joint ventures, said Mr Dunkerley.
Trans-Atlantic JVs have resulted in higher fares and growing margins for large US airlines
Using the current immunised trans-Atlantic joint ventures that American, Delta and United have with their oneworld, SkyTeam and Star alliance partners to illustrate the negative effects on consumers, Mr Dunkerley concluded that in the year 2000 airlines participating in immunised pacts transported roughly 41% of the 50.2 million passengers travelling between the US and Europe.
By 2014, airlines that were part of joint ventures transported 87% of the 55.8 million customers travelling between the US and Europe.

Data from CAPA and OAG show that for the week of 10-Aug-2015 airlines participating in joint ventures represent 74% of the one-way seats available between the US and Western Europe. SkyTeam has a 26% share, oneworld 25% and Star 23%.
One-way seat share of airlines participating in immunised JVs from the US to Western Europe: week of 10-Aug-2015
Although each of the three immunised joint ventures have pledged that their tie-ups would generate lower fares, Mr Dunkerley highlighted that through less competition resulting from US consolidation and the creation of immunised joint ventures one-way trans-Atlantic fares were 22% higher in 2014 vs 2000 (adjusted for inflation).
Average one-way trans-Atlantic fare: 2000 versus 2014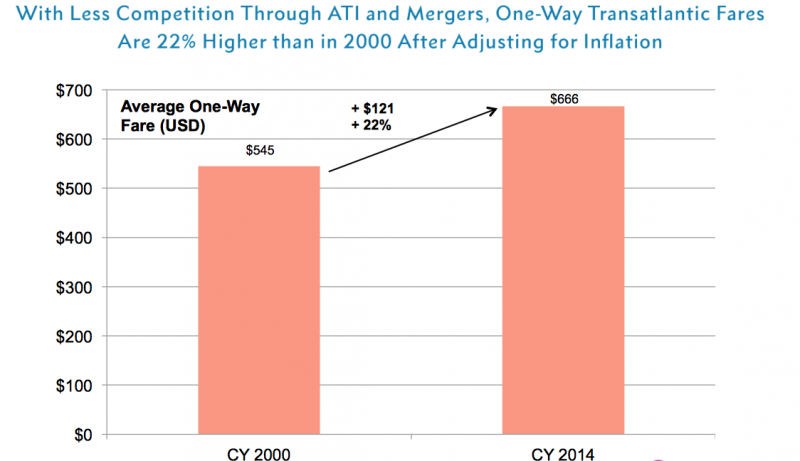 US legacy airline trans-Atlantic operating margins jumped from roughly flat in 2000 to approximately 15% in 2014. Operating profits posted by those airlines in trans-Atlantic markets increased from just over USD1 billion in 2010 to more than USD3 billion in 2014.
The 2009-2010 timeframe was a period when the three current immunised joint ventures were formed.
Operating profit and margins posted by the three large US airlines on trans-Atlantic routes: 2009 to 2014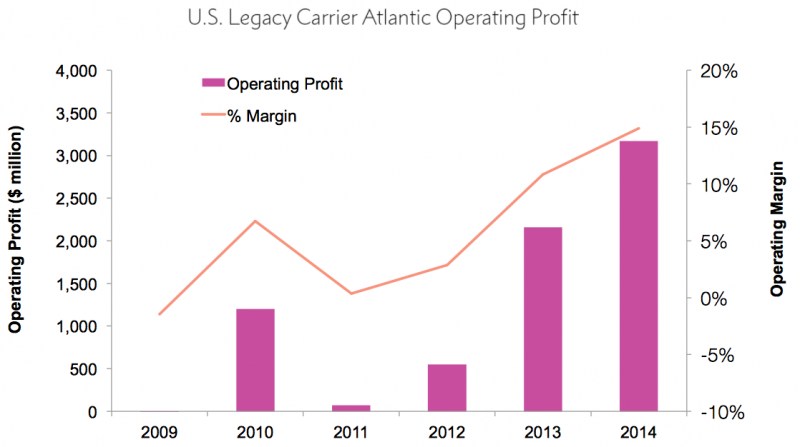 Mr Dunkerley concluded that joint ventures between major airlines reduce travel options between connecting destinations via gateways. He concluded the joint venture process was a step change in the nature of competition" and said, "the consumer is paying the price for the rationalisation of the suppliers".
JetBlue CEO Mr Hayes recently stated the airline has concerns about some joint ventures appearing on the landscape. The airline believes those tie-ups have the ability to "inhibit competition longer term".
Hawaiian believes Asian JVs could wreak more havoc that trans-Atlantic tie-ups
Asia has been a growth engine for Hawaiian during the last few years. Between 2010 and 2014 it launched 10 new routes to Asia, but opted to cut Honolulu-Fukuoka and Honolulu-Taipei to improve returns on it long-haul network.
It capped off expansion in 2014 with new service from Honolulu to Beijing. Data from CAPA and OAG for the week of 10-Aug-2015 to 16-Aug-2015 show that 57% of Hawaiian's international ASMs are deployed to North East Asia.
Hawaiian Airlines international capacity by region (% of ASMs): 10-Aug-2015- to 16-Aug-2015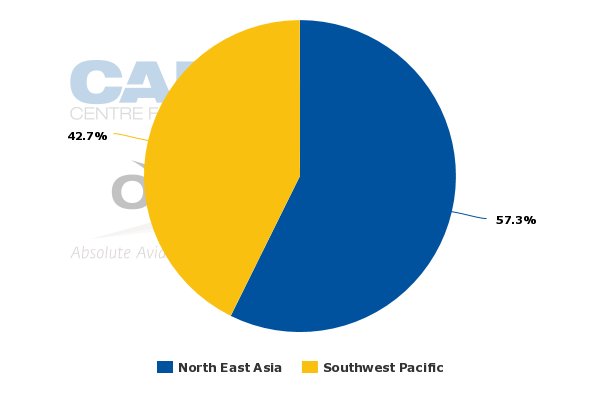 Even as Hawaiian has eliminated some Asian routes due to underperformance, the Pacific will remain a strategic source of growth for the airline. Mr Dunkerley recently stated that the long-term source of visitor traffic to Hawaii would be from Asian countries around the Pacific Rim.

After Japan and the US concluded an open skies agreement in 2010, Star partners United and ANA and oneworld members American and Japan Air Lines formed immunised joint ventures. Data from CAPA and OAG show that for the week of 10-Aug-2015 ANA (7%) and United (15%) represent 22% of the one-way seats on offer between the US and North East/South East Asia. American (6%) and Japan Air Lines (8%) hold a 14% share.

Mr Dunkerley concluded that the potential spread of joint ventures between US and Asian airlines in the trans-Pacific could be much more damaging to consumers than those in place on trans-Atlantic routes due to lower population density and longer routes in Asia Pacific.
There are 18 routes between the US and East Asia/Australia/New Zealand with greater than 250 passengers per day each way, versus 87 routes between the US and Europe with more than 150 passengers per day each way.
O&D market sizes in US international markets: US-Europe, US-East Asia and US-Australia/NZ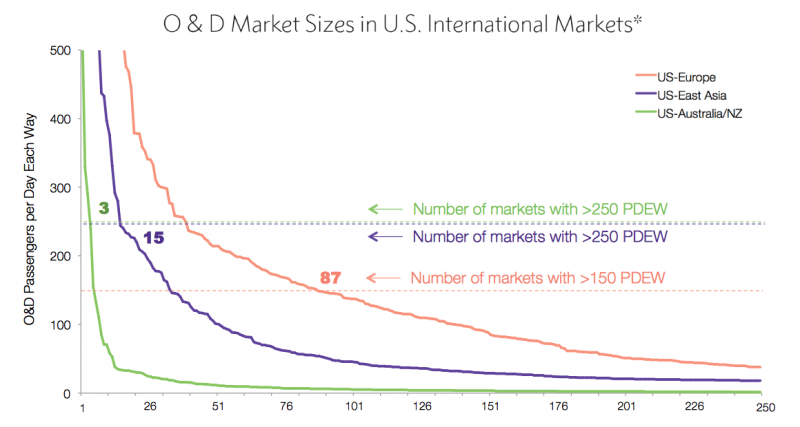 Although Honolulu is a destination for most Asian travellers, Hawaiian has a robust network on the US west coast and has broadened its reach to the east coast with service to New York JFK. As it works to leverage its network utility through connections, it could face formidable challenges from immunised airlines that are allowed to jointly collaborate on capacity and pricing.

China is obviously the big prize in potential Asian joint ventures. Delta, through its strategy of acquiring stakes in airlines as a precursor to forging immunised partnerships, recently took a stake in China Eastern with an eye towards a joint venture if the US and China ever reach an open skies agreement.
China is also a growth market for Hawaiian, and if the airline applies its joint venture logic to potential immunised partnerships between US and Chinese airlines, then it stands at a huge competitive disadvantage.

See related report: Delta plans a China Eastern stake. Will other US airlines follow the foreign equity path?
Hawaiian and JetBlue's concerns will likely generate additional scrutiny of the "Big 3"
American, Delta and United's decision to confront the three large Gulf airlines has created a divide in the US airline industry - between the airlines that opt to control capacity and pricing through joint ventures and other airlines such as Hawaiian and JetBlue, which have both used their unique positions (strength at Honolulu and JFK) to adopt a more organic path to partnerships.

It is a strong possibility that the US government will closely examine Hawaiian and JetBlue's arguments about the negative effects of joint ventures on competition and consumer choice as it weighs the merits of arguments put forward by the "Big 3" that Emirates, Etihad and Qatar have negatively distorted the US market through the help of government subsidies.
US authorities are already investigating whether American, United and Delta have colluded on capacity reduction to keep air fares high, so the penchant to peg anti-competitive practices on those airlines remains robust. The prospects of an adverse finding may be limited, but the action helps define the broader sentiment now apparent in the popular domain.

Hawaiian and JetBlue's opposition to the argument posed by the "Big 3" against the Gulf airlines and their contention that the joint ventures forged by those airlines potentially harm consumers are interesting by-products of the anti-Gulf airline campaign.
American, Delta and United could not have anticipated the robust response from Hawaiian and JetBlue (as well as from the world's largest freight airline, FedEx) but those airlines are taking great care to ensure their voices are heard – creating an important dynamic for the US government to take into consideration as it navigates the state of the US airline industry and its place in the global aviation landscape.