HK Express to grow to 15-20 aircraft in 2016, pursuing LCC hybridity with A321s and interlines
Analysis
HK Express, Hong Kong's only LCC, expects to add A321s to its all-A320 fleet, allowing it to grow, despite constraints on traffic rights and slots. HK Express in Oct-2015 will mark two years as an LCC. HK Express should carry over two million passengers in 2015, and end next year with 15-20 aircraft, including 5-10 A321s.
The carrier has cut over from Travel Sky to Navitaire, enabling connecting itineraries and stronger control over ancillary revenue products. Ancillary revenue accounts for approximately 15% of the airline's revenue, with HK Express CEO Andrew Cowen targeting 20%.
Initial connections between HK Express flights could grow to connecting to/from sister carrier Hong Kong Airlines, with later interlines to/from other carriers that want to use Hong Kong's hub position. HK Express moved into profitability in Dec-2014 and was profitable in the first quarter of 2015, projecting a full year of operational profitability in 2015.
HK Express expects to have 5 to 10 A321s by the end of 2016
HK Express relaunched as a LCC with an all-A320 fleet and in May-2015 operates 11 of the type, according to CAPA's Fleet Database. The LCC plans to take A321s in 2015, building to a fleet of 5-10 A321s by the end of 2016. Additional A320s will join the fleet, and HK Express expects to end 2015 with 13-15 aircraft, and 2016 with 15-20.
Combining Hong Kong Airlines passenger fleet size of 20 in May-2015, the two associates HK Express and Hong Kong Airlines will jointly operate approximately 35-40 passenger aircraft in 2015. This compares to a combined Cathay/Dragonair passenger fleet size of approximately 165 at the end of 2015. (Cathay and Dragonair are both full service whereas only Hong Kong Airlines is full service while HK Express is low-cost.)
HK Express plans to replace five A320s it took from sister carrier Hong Kong Airlines, which has a different ownership structure but is also part of the HNA Group. HK Express' A320s are a mixture of CFM and IAE engined aircraft, while the ex-Hong Kong Airlines' A320s are CFM-powered. Those aircraft also have only 174 seats (all economy) whereas HK Express' other A320s have 180 seats.
Handing back the CFM A320s will streamline the fleet. An all-180 seat configuration will also be easier to manage and sell, with Mr Cowen expecting the 180 seat aircraft to deliver a 4% reduction in unit costs compared to the 174 seat A320s.
On its A321s HK Express plans to seat 220. This is the standard all economy configuration but Airbus improvements on the A321ceo can increase seat count to 230 while the A321neo can seat 241. On the cost side, HK Express will need to staff A321 flights with one more cabin crew while pilots will undergo a half day course.
The average sector length for HK Express is 3h10m. All of its A320s are leased with an average age of 4.5 years, according to CAPA's Fleet Database.
HK Express average sector length: 25-May-2015 to 31-May-2015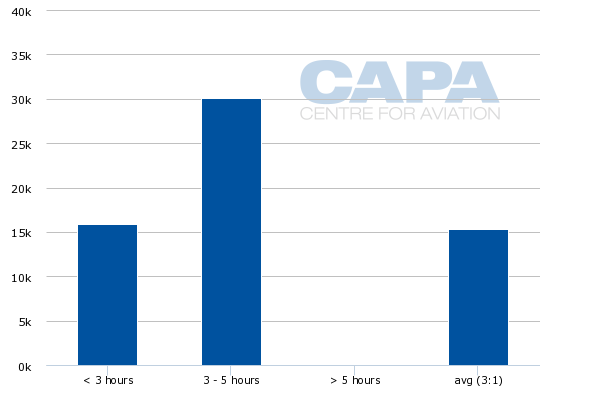 Few LCCs in Asia operate multiple fleet types
LCCs in multiple parts of the world have weighed the benefits and costs of a larger aircraft seating more passengers but at a potentially higher unit cost. The list is few of LCCs that operate multiple fleet types but are not highly hybrid (JetBlue, for example). In Asia the grouping is even less.
Korea's Air Busan operates an inefficient mixture of 737s and A320 family aircraft but is looking to reduce aircraft types. Cebu Pacific, Golden Myanmar, Malindo, Nok and SpiceJet operate turboprops in addition to narrowbody jets, but these are for different market segments and in some instances turboprops serve airports that cannot accommodate jet aircraft.
Likewise there are carriers (the AirAsia Group, Cebu Pacific and Jin Air) with narrowbody and widebody aircraft, but these are also generally for different segments and are excluded from this overview.
China's Lucky Air is transitioning to the LCC model and plans to streamline its A320 and 737 fleet. The Spring Airlines group uses A320s at its main China operation but 737s at its nascent Japan operation.
Tigerair operates a small sub-fleet of A319s in addition to A320s but would ideally like to have a single type. Lion Air has 30 737-800s and 71 737-900ERs. Jetstar has A320s and A321s, but only in Australia, with A321s a small sub-fleet. VietJet has taken its first A321, with six more on order. The carrier also operates 21 A320s with nine on order.
The cost-benefit calculation is different for HK Express for a number of reasons.
Air services agreements are a factor: Tokyo Haneda has no more traffic rights available for Hong Kong carriers, and HK Express sees greater opportunity to possibly up-gauge a Haneda flight rather than add another flight to Tokyo Narita. Tokyo (Haneda and Narita) is HK Express' largest destination based on available seats. Seoul Incheon is not far behind, reflecting the popularity of those two markets as outbound destinations from Hong Kong.
HK Express top 10 international routes ranked on available seats: 25-May-2015 to 31-May-2015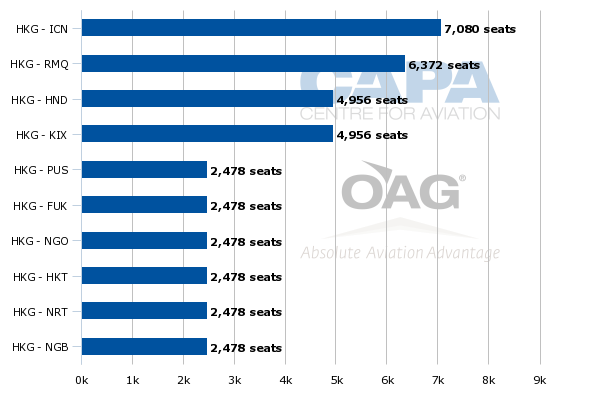 Phuket has load factors in the high 80%/low 90% range. HK Express sees room for growth but does not view it as a priority for another sector (Phuket also has slot restrictions). HK Express is focused on passenger growth to achieve scale, so Mr Cowen wants to grow in Phuket rather than push up fares. "You're not trying to choke off demand," he says. Mr Cowen sees the A321 maximising the airline's Hong Kong slots, but notes the two fleet types could bring complexity the carrier does not appreciate yet.
Asia's other LCCs have a longer history and have already been able to grab market share with a single fleet type while other newer LCCs may not face the restrictions HK Express does in regional markets. There are exceptions: Taiwanese LCC V Air, which launched in 2014, only has A321s for now.
Cebu Pacific's A330s were acquired for medium-haul routes (mostly to the Middle East) but the ability to use them on regional services was a factor. Likewise Korean LCC Jin Air has taken 777-200s with the intent of long-haul service but has mooted regional service.
Navitaire cutover should a provide boost for ancillary revenue and hybridity
In addition to the A321s, a big change for HK Express was its Dec-2014 switch from TravelSky to Navitaire for its PSS. HK Express inherited TravelSky from its sister HNA carriers. Unsurprisingly HK Express found the system too difficult to customise – especially for its needs as an LCC.
HK Express had been planning to develop ancillary revenue streams as well as connections (booked on its website using the TravelSky PSS and not solely through the TravelSky GDS). But the decision to cut over to Navitaire meant it was not worth pursuing changes to TravelSky for only a limited period. HK Express is now looking to build up ancillary options.
Checked luggage is the main component of ancillary revenue, which accounts for about 15% of HK Express' revenue overall. Mr Cowen would like to see that increase to 20%. The average booking window is 50-60 days. Mr Cowen expects moving that further out should allow for further opportunity to up-sell, as well as collect revenue earlier. HK Express is funding growth through forward bookings.
HK Express launches 'GoConnect' transfer service, plans interlines with other airlines
One of the increasingly common features of LCC operations in Asia is their tendency towards greater connectivity. HK Expresss is no exception. The Navitaire cutover enables HK Express to sell connecting itineraries. At around the time of its transformation to an LCC, HK Express hoped for a larger role in the Northeast Asia-Southeast Asia traffic corridor, seeing connecting traffic as not insignificant given limited options to travel between regions, especially between smaller destinations.
However, various factors have seen Southeast Asia's markets lose their lustre while Korea and Japan surge. This has caused HK Express to pull back in Southeast Asia and grow in Northeast Asia, limiting city pair combinations. Approximately 88% of HK Express' capacity is within Northeast Asia, with the remaining 12% in Southeast Asia.
It should be noted there can be transfer traffic within Northeast Asia, mainly from mainland China to Taiwan, Korea and Japan. Japan accounts for 38% of HK Express' seat capacity.
HK Express seat capacity by country: 25-May-2015 to 31-May-2015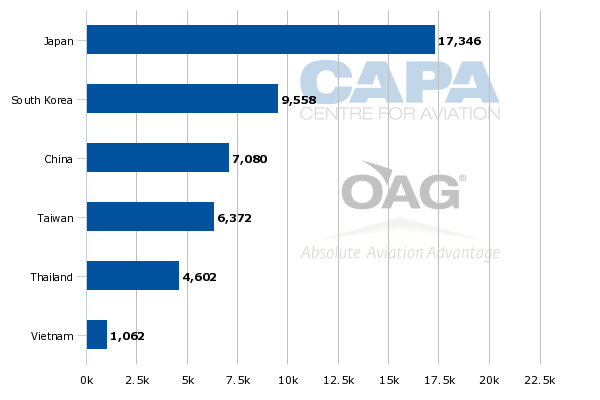 HK Express launched a "GoConnect" service across its network where passengers have luggage through-checked, avoiding the need to clear immigration/customs and then re-check-in. On a sample itinerary from Tokyo to Phuket, the all-in fare was JPY40,760 (USD335). Buying the Tokyo-Hong Kong (JPY22,040/USD181) and Hong Kong-Phuket (HKD1,059/USD137) itineraries separately made for a total of USD318, making the transfer surcharge USD17 (roughly the typical cost to an airline of the handling charges).
The cheapest full service offering was from China Eastern for USD396 including checked luggage and meals, with one-way trip duration of 10-11 hours compared to 12-14 hours for HK Express. The shortest duration itinerary was about nine hours in each direction for USD570 on Japan Airlines connecting through Bangkok with a Bangkok Airways codeshare.
The next phase of connections will be what Mr Cowen describes as the "obvious opportunity" of having one-way connectivity with sister Hong Kong Airlines, which will sell HK Express and thereby assume the responsibility of interline costs. Hong Kong Airlines has a large network in mainland China and will be able to link that with HK Express' network, including Phuket, Tokyo and Seoul. Hong Kong Airlines sells Seoul but on Air India's fifth freedom Hong Kong-Seoul service, which is not offered daily and does not always have ideal connection times.
Depending on the experience with Hong Kong Airlines, Mr Cowen would like to see other airlines sell HK Express, noting "Hong Kong is the London Heathrow equivalent" of Asia as there is a large number of airlines flying into Hong Kong - but most are unable to take advantage of its hub opportunity.
Growth has to be worked around Hong Kong's opaque regulatory environment
Mr Cowen is finding Hong Kong's opaque regulatory environment a challenge. Late night/early morning movements remain restricted, a limitation that was imposed without explanation. It was speculated this was an interim movement to smooth through the approval process for the airport's third runway, but this was approved in Mar-2015.
The process for allocating slots also suffers from a lack of transparency. Mr Cowen is also finding difficulties adding destination designations to its business license. Hong Kong's ATLA has decided not to allow carriers to add new destinations to their licenses, effectively leaving them with whatever they happened to apply for in the past.
In some instances HK Express has been able to find markets with demand, open air service availability and where it can match slots but is unable to open the service because the destination is not on its designation. ATLA's decision is "impeding growth for reasons we genuinely don't understand," Mr Cowen said.
Of HK Express' 18 destinations, four are unique. The others overlap with Cathay/Dragonair
As of May-2015, HK Express plans to have scheduled service to 18 destinations in Oct-2015. All are within North and Southeast Asia. The only destinations not also served by local incumbents Cathay Pacific/Dragonair are Huangshan, Lanzhou, Wuxi and Yinchuan, smaller destinations in mainland China. HK Express' frequency to those four points is limited (twice weekly to Huangshan, once weekly to Lanzhou, four weekly to Wuxi and twice weekly to Yinchuan).
Of HK Express' 14 destinations that overlap with Cathay/Dragonair, HK Express has the same or more frequency than Cathay/Dragonair on six of its routes. HK Express has the same of higher seat capacity on only four routes, reflecting Cathay and Dragonair's use of widebody aircraft. (HK Express does not overlap with sister carrier Hong Kong Airlines.)
HK Express network summary: Oct-2015
18 destinations

Busan

Huangshan

Lanzhou

Nagoya

Osaka

Seoul

Tokyo

Wuxi

Yinchuan

4 destinations not served by Cathay/Dragonair

Huangshan

Lanzhou

Wuxi

Yinchuan

6 destinations with the same or higher frequency than Cathay/Dragonair

Busan

4 destinations with the same or higher seat capacity than Cathay/Dragonair

Busan
HK Express tends to have a higher frequency on secondary, leisure markets (Busan, Chiang Mai) where premium traffic is lighter (to Cathay/Dragonair's disadvantage) and the local market can be stimulated, creating new demand. Cathay/Dragonair have pronounced advantages in major cities like Seoul and Tokyo.
Tokyo is the largest market where Cathay/Dragonair overlap with HK Express. HK Express offers 43% of the frequencies (Haneda and Narita combined) and 23% of Cathay/Dragonair's seat capacity. This is not a small accomplishment for a LCC turning two in Oct-2015.
Where might HK Express fly next within North and Southeast Asia? There are the possibilities of entirely new destinations but also serving an existing Dragonair/Cathay Pacific destination. There are 19 destinations within North and Southeast Asia to which Cathay Pacific/Dragonair have service that HK Express and sister full-service airline Hong Kong Airlines do not serve, according to the data the carriers file with OAG.
Some, like Guangzhou, are unlikely (Guangzhou is almost exclusively to feed Cathay's beyond network) while others (Singapore) may be too competitive. Others may face bilateral restrictions. Mr Cowen noted that for mainland China and Northeast Asia, bilaterals are not an issue but can be in Southeast Asia.
HK Express and Hong Kong Airlines do not overlap on routes. Mr Cowen assures that "nobody is telling us we can't compete" with Hong Kong Airlines, but that the market opportunities dictate it does not make sense to overlap.
The list below excludes destinations (including Kagoshima, Miyazaki and Nanning) that Hong Kong Airlines flies to but Cathay/Dragonair do not. Mr Cowen said growth in China and Vietnam would help support HK Express' transfer traffic.
Vietnam's Jetstar Pacific is making a push into the Hong Kong market too. Mr Cowen says points in Indonesia and the Philippines are interesting but they are not in fashion with the Hong Kong market, or at least not yet. The Hong Kong-Philippines market also has a tight regulatory environment while other potential markets may have visa restrictions.
Cathay Pacific/Dragonair North/Southeast Asian destinations not served by HK Express: Oct-2015
HK Express' 2015 outlook: 2m passengers and first year of operational profitability
HK Express in Oct-2014 started reporting monthly traffic figures with comparisons to figures from the year prior. Traffic figures from the first for months of 2015 show the carrier nearly doubling in size.
HK Express is on track to end the year carrying over two million passengers for the first time. In comparison, Spring Airlines carried 11.4 million passengers in 2014 and Jeju Air 5.5m.
HK Express monthly passenger numbers: 2013-2015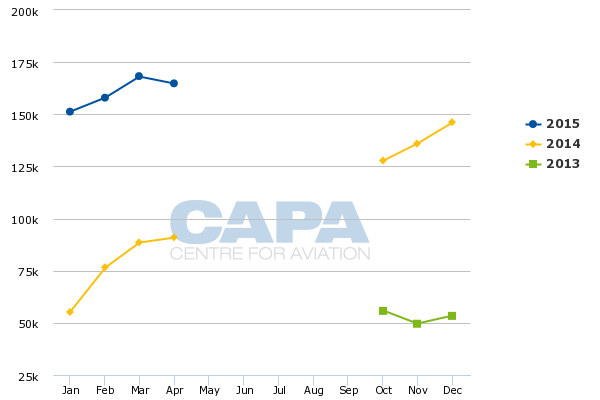 HK Express moved into profitability in Dec-2014 on the back of low fuel prices and expects 2015 to be its first full year of operational profitability as an LCC. HK Express averaged 6.14 aircraft in 2014 and Mr Cowen expects consistent profits when the carrier has nine to 11 aircraft. The carrier was profitable in the first quarter of 2015, according to Mr Cowen, who noted the airline has no external borrowings. Historical internal borrowings will be cleared.
The leisure opportunities from Hong Kong make HK Express upbeat. The spread of holidays equating with travel is not compacted to one period of the year. Mainland China remains a large opportunity. Despite the market being led by agency or group sales, Mr Cowen notes the market is not ready for free and independent travel, but that HK Express still needs to learn about the market, creating some equilibrium. Although a leisure-focused LCC, 5% of the airline's passengers flew more than 25 times on the airline, perhaps creating the foundation for a loyalty programme.
HK Express and Hong Kong Airlines need to weigh opportunities presented by Hong Kong's new mid-field concourse, which could accommodate the entire HK Express and Hong Kong Airlines operation, creating opportunities for co-location but also reducing the need for remote stand boarding via buses. One drawback is that any transfer luggage would have to be sorted at the airport's main terminal, potentially infringing on minimum connection times. Mr Cowen sees benefit with the current bus and remote stand boarding since buses go from the stand straight to the immigration hall whereas passengers arriving at the mid-field concourse will have to take the train to the immigration hall. Hong Kong Airport offers only a small discount on remote stand boarding.
In its relatively short history HK Express has built a not insignificant network and been able to seize leisure demand to/from Hong Kong. Growth has however not occurred exactly as hoped, with regulatory and slot challenges across the region, meaning multiple alternative growth plans are needed. HK Express' first, second or even third choice of growth may not be possible. Interlining with Hong Kong Airlines will bring some element of a dual-brand strategy between the two, which has been awkwardly missing and depriving both of opportunities.
Complicating the low-cost business approach with hybridity and multiple aircraft types, with the introduction of A321s is occurring early in HK Express' history, but is necessary for revenue growth given complications with "pure" capacity growth. As always, hybridity is worth pursuing if the benefits outweigh the costs. On the upside, limited and sleepy competition means there is low risk from hybridity.