CityJet's disposal by Air France-KLM is under way, but what will happen after the Intro?
Analysis
On 19-Dec-2013, Intro Aviation made a firm offer to Air France-KLM to acquire its loss-making regional subsidiary CityJet (including CityJet's subsidiary VLM). The deal is expected to close in 1Q2014 after consultation with employee representative bodies. According to the statement from Air France-KLM, the offer provides for "ongoing commercial co-operation with Air France as part of a new industrial plan".
A wholly owned subsidiary of Air France since 2000, CityJet acquired VLM in 2007 and fully integrated it into its activities in 2009 under the CityJet brand. CityJet is an Irish-registered carrier with its head office in Dublin, although its main base is London City Airport, and VLM is a Belgian company.
CityJet's biggest asset is its leading share of slots at the high yield LCY, which remains an LCC-free airport. Nevertheless, its perennial losses suggest a greater cost focus is required. Intro has a record of turning around under-performing carriers and then selling them. Does it already have an eye on its exit strategy?
Intro turned around dba and LTU before selling them on
CityJet has been for sale since Jun-2012 and Intro reportedly made a preliminary offer in Jun-2013. The Principal of Intro Group, German businessman Hans Rudolf Wöhrl, established and expanded the airline now known as Eurowings (formerly called NFD), before selling to Lufthansa.
The Intro Group's involvement in the airline sector also includes the acquisition of a loss-making German airline Deutsche BA ('dba') from British Airways in Jul-2003. Intro turned dba profitable in Nov-2004 before selling it to Air Berlin in 2006.
In addition, in 2006 Intro acquired the loss-making German long-haul carrier LTU, which it also restored to break even and sold to Air Berlin. Intro also set up an ACMI airline in Germany, which it transferred to the charter carrier Germania in 2011. It now has a majority stake in an Austrian regional airline which focuses on the German, Austrian and North Italian regional markets.
CityJet is the largest operator at London City Airport by air transport movements, according to data from Airport Coordination Limited (the body that allocates slots at slot-restricted airports in the UK). In fact, in the winter season 2013, British Airways has a higher share of slots: 38% to CityJet's 35%, but CityJet led in the summer 2013 season with 39% to BA's 35% and has a slightly higher share across both seasons combined.
CityJet's share, when viewed together with that of its subsidiary VLM, has fallen from a summer season holding of 44.5% of slots in 2009, although it stabilised in 2013. BA has grown its share of ATMs over this period.
See related report: London City Airport talks aviation: 'In the city, there's a thousand things I want to say to you'.
London City Airport share of air transport movements by airline at start of summer season: 2009 to 2013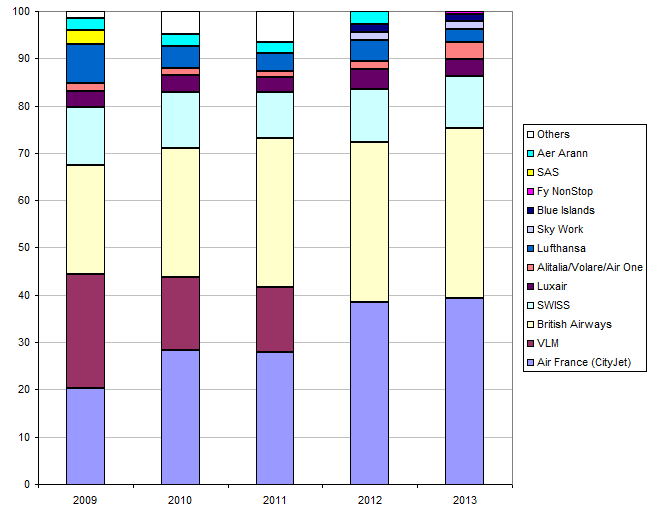 CityJet no longer fits with Air France's regional business
This strong position in the business travellers end of the London market was the main attraction to Air France-KLM of retaining its ownership of CityJet. Nevertheless, once Air France decided to reorganise its regional businesses, effective from early 2013, it was clear that CityJet would not fit into the newly created Hop.
"Hop is a French regional group. We are an Irish airline with a Belgian subsidiary," CityJet CEO Christine Ourmières told CAPA, before adding: "our main hub is based in London City, quite far away from the domestic market." Moreover, CityJet had already been going through its own restructuring plan.
See related report: As CityJet finalises restructuring it might escape Air France's short-haul overhaul
Although the details of CityJet's new industrial plan have not been disclosed, CEO Christine Ourmières told CAPA at its World Aviation Summit in Amsterdam in Nov-2013 that "any change in ownership of an airline will have an impact on strategy". She said that CityJet had moved from the Air France code to operate under its own code earlier in Nov-2013 (all CityJet flights previously used the Air France code) and that the aim was to achieve full operational independence by the end of Mar-2014.
Nevertheless, Air France-KLM's reference to "ongoing commercial co-operation with Air France" may involve a continued franchise arrangement and/or codeshare, in addition to inclusion in the Air France-KLM Group's Flying Blue FFP. It also seems likely that CityJet will retain links with SkyTeam. However, independence from Air France-KLM will also give it more flexibility to work with other partners. These could include other important players at City Airport, such as BA and the Star Alliance carriers SWISS and Lufthansa.
Passenger numbers have declined since 2010
According to data from the European Regions Airline Association (ERA), CityJet scheduled passenger numbers have been declining since 2010, when they totalled 2.3 million. This number fell by 9% in 2011 and by 29% in 2012, when CityJet carried 1.5 million passengers (although these numbers vary from the airline's own reporting - see below).
CityJet's 2012 annual report says that, in 2012, it "lost franchise activity on the Zurich to Paris route and wet-leased activity on the London to Milan Linate route. The loss of flying activity greatly impacted the operating performance of the company and necessitated the initiation of a voluntary redundancy programme."
In the first half of 2013, passenger numbers dropped by a further 23% to 0.6 million. Although load factor has been volatile, it has been following a broadly downward trend, falling from 66.4% in 2010 to 65.6% in 2012 and losing 1.6 ppts in 1H2013 to 63.2%.
CityJet scheduled passenger numbers (million), ASK, RPK (billion) and passenger load factor: 2009 to 2012 and 1H2013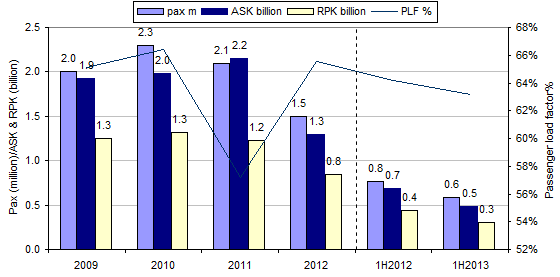 A comparison of CityJet with the other regional airline subsidiaries of the Air France-KLM Group shows it to be the smallest and most rapidly shrinking. Data from ERA show that it carried one third of the number of passengers carried by Hop and less than one fifth of those carried by KLM Cityhopper in 1H2013.
Hop is Air France's regional airline, formed through the merger of Brit Air, Régional and Airlinair, while KLM Cityhopper is KLM's regional carrier. Hop saw a small decline in passenger numbers of 3.8% in 1H2013, but KLM Cityhopper grew by 1.9%, according to ERA data.
CityJet, Hop and KLM Cityhopper passenger numbers (million): 1H2012 and 1H2013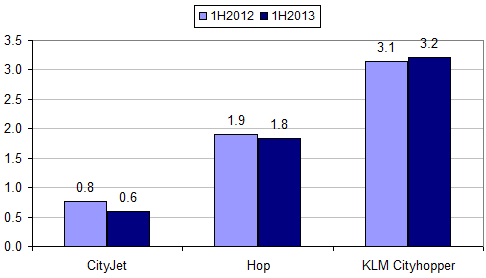 CityJet also has the weakest load factors among Air France-KLM's regional businesses. Its 1H2013 load factor of 63.2% compares with 66.9% for Hop and 79.0% for KLM Cityhopper. Moreover, CityJet's load factor fell versus the same period of 2012, as did Hop's, while Cityhopper's load factor increased.
CityJet, Hop and KLM Cityhopper passenger load factor (%): 1H2012 and 1H2013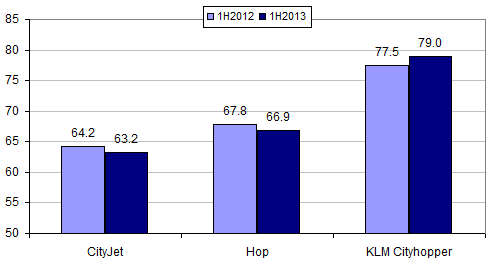 According to CityJet's website, it operates to 15 destinations from London City Airport. These destinations are mainly in France, the Benelux countries and Germany, but also include Dublin and Aberdeen. Using data for RPKs and passenger numbers in 1H2013, the network's average passenger haul is around 520 kilometres, 10% less than in 1H2012 and a very short distance that reflects its regional focus.
CityJet's London City base gives it access to high yield business travellers, but is not strategically vital to Air France-KLM's network as it does not provide significant feed into the main hubs of the two principal airlines of the group.
Indeed, CityJet no longer operates to Air France's Paris CDG hub at all, although it does fly to KLM's Amsterdam hub.
CityJet route map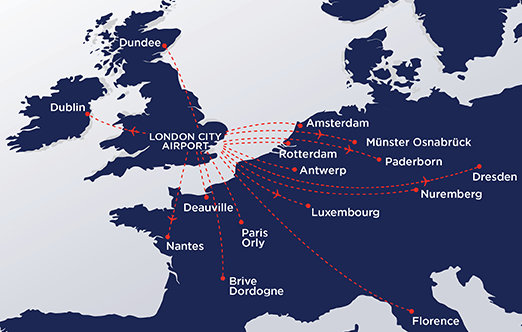 Hop route map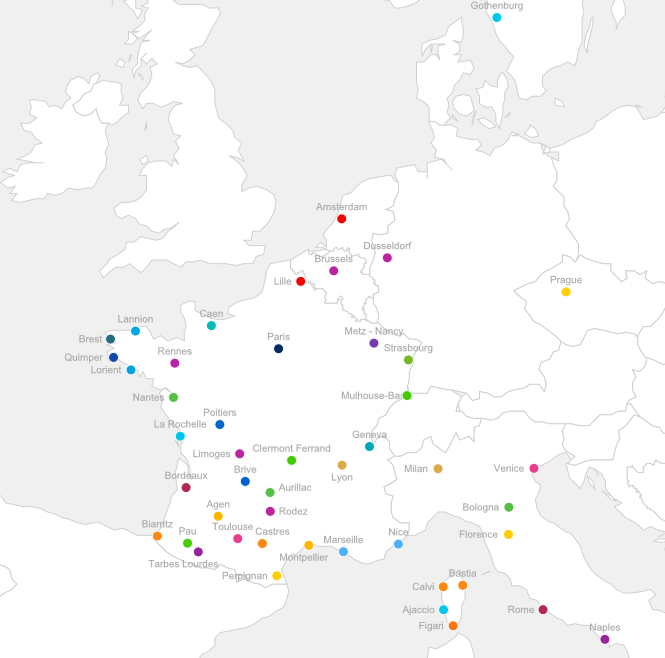 The fleet age averages almost 19 years
CityJet also has the smallest fleet among the Air France-KLM Group's regional carriers. As at 30-Sep-2013, its 22 AVRO RJ85s and 12 Fokker 50s, a total of 34 aircraft, compared with Hop's 116 and KLM Cityhopper's 48 aircraft. According to the CAPA Fleet Database, the CityJet fleet's average age is almost 19 years. The new owners will likely wish to initiate a fleet renewal programme.
CityJet, Hop and KLM Cityhopper fleets as at 30-Sep-2013
| Aircraft type | | Hop | |
| --- | --- | --- | --- |
| AVRO RJ 85 | 22 | | |
| ATR72-500 | | 8 | |
| ATR72-200 | | 2 | |
| ATR42-500 | | 13 | |
| ATR42-300 | | | |
| Canadair Jet 1000 | | 13 | |
| Canadair Jet 700 | | 15 | |
| Canadair Jet 100 | | 13 | |
| Embraer 190 | | 10 | 22 |
| Embraer 170 | | 16 | |
| Embraer 145 | | 20 | |
| Embraer 135 | | 6 | |
| Fokker 70 | | | 26 |
| Fokker 50 | 12 | | |
| Total | 34 | 116 | 48 |
Several years of financial losses
Air France-KLM does not separately report financial results for CityJet, but accounts filed with Companies House show it to have been loss-making for at least six years. In 2012, CityJet's turnover was EUR260 million and its operating loss was EUR21.3 million. After exceptional items, including an impairment charge of EUR175 million on the value of its holding in VLM, its net loss was EUR208.9 million.
Moreover, Air France injected EUR180 million in fresh equity capital in 2012 to allow CityJet to repay loans to Air France. The combination of losses and its lower strategic importance to the Air France-KLM Group, compared with its other regional operators, led to CityJet's disposal by the Group.
High yields may be defendable at LCY, but cost reduction must be the priority
CityJet's accounts also say that it carried 2.1 million passengers in 2012, a figure that differs from the 1.5 million reported through ERA. The difference may be explained by the ERA figure being scheduled passengers only. Applying total revenues of EUR260 million to the figure of 2.1 million passengers gives a total revenue per passenger figure of EUR124. CityJet's accounts also show EUR218 million of revenues from scheduled passengers, which gives a scheduled revenue per passenger figure of EUR145.
Either way, with an average passenger haul of well under 600km, CityJet is deriving a very high yield from its London City base (see chart below). The physical constraints of the airport are likely to keep the major European LCCs out, since it cannot accommodate the Boeing 737 and Airbus A320 family.
For this reason, high yields at London City may be reasonably sustainable. Ms Ourmières is hopeful that, as an independent carrier, CityJet will be able to improve its offer. She told CAPA "... you can create your own product content, you can create your own distribution strategy, because you also have your own financial risk so you can be more creative, more innovative…".
Total revenue per passenger for selected European legacy carriers and LCCs: 2012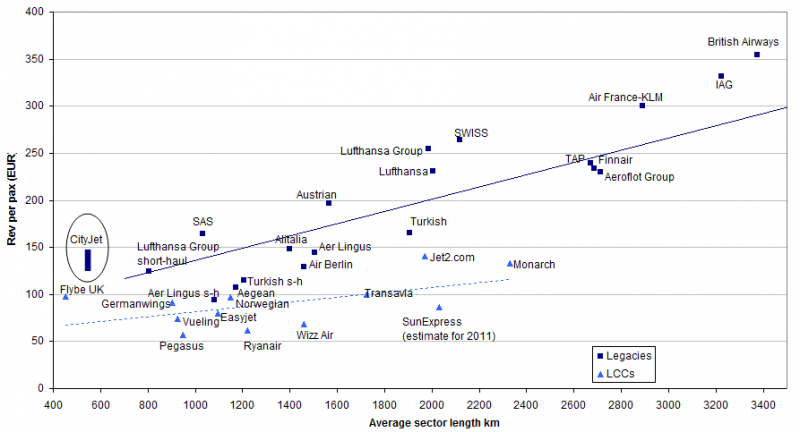 Nevertheless, significant increases in revenue per passenger cannot be relied upon. With a long track record of losses, CityJet will need to achieve meaningful cost reduction under its new ownership if it is to restore profitability.
What next, after the Intro?
The Intro Group has a track record of restoring profits to carriers that have come from larger groups and also of selling them on to other groups. Presumably the Group sees potential for profitability here. With the acquisition of CityJet not yet complete, it may seem premature to start speculating over Intro's exit plans already. Nevertheless, Intro has sold airlines quite quickly in the past and CityJet may be of interest to UK-based carriers, if it can fix its cost base and start to renew its ageing fleet.
Competition authorities would want to look closely at any deal between CityJet and British Airways, due to their relative positions at London City, but BA's parent IAG could be interested at some point. CityJet's regional business model could also make it attractive to Flybe and bmi regional. Just as Intro will be planning ahead, interested parties will also be assessing the possibilities.
See related reports: