London City Airport talks aviation: 'In the city, there's a thousand things I want to say to you'.
Analysis
British band The Jam's debut single included the lyrics: "In the city, there's a thousand things I want to say to you… In the city there's a thousand faces all shining bright, and those golden faces are under 25".
London's City Airport is no longer growing with the youthful energy captured by The Jam. Indeed, it turned 25 last year, but it has matured into a successful airport with an increasingly diversified route portfolio. Business routes remain very important, but you are now also likely to find business people there looking to recapture their lost youth in one of the several leisure destinations served.
In London City, there might not be a thousand things to say, but it does reflect a number of key trends and issues in European aviation today: airline consolidation, the battle between the alliances, EU liberalisation, capacity constraints, the importance of high yield passengers, the development of surface infrastructure and the shift to new generation aircraft technology are all evident at the airport.
The only shining bright faces that are missing are the low-cost carriers.
LCY's growth has outpaced UK airports
London City is the closest airport to the centre of London, but the smallest of the five airports that serve the UK capital. Its runway can only handle short take off and landing aircraft and it is currently home to 10 airlines serving 47 destinations (four domestic, 42 in Europe and one, New York, in North America). It has its own station on London's Docklands Light Railway and has plans for terminal refurbishment over the next three years.
In 2012, three million passengers flew through London City Airport (LCY), only 0.8% more than in 2011. In the first five months of 2013, it has handled 1.3 million passengers, 10% more than in the same period of 2012, and this seems to mark a return to the stronger growth it enjoyed before the recession. Prior to the downturn, its passenger growth significantly outpaced that of UK airports as a whole and, while it fell more heavily in 2009, it has also seen superior growth rates in the recovery.
This has resulted in its share of UK airport passenger numbers growing from 1.0% in 2006 to 1.4% in 2012.
London City Airport passenger numbers (million): 2006 to 2013

London City Airport and UK airports annual change in passenger numbers (%): 2007 to 2012

Air France is the biggest operator at LCY
Since London City became designated as a slot coordinated airport in 2009, the slot coordinator Airport Coordination Limited, which is responsible for slot allocation, has published data showing the share of slots by operator. The chart below summarises the available data for the summer schedule since 2009.
Over this period, LCY has seen increased market concentration, with more than 93% of air transport movements controlled by the top five airlines in 2013, compared with 83% in 2009. This reflects the wider trend of consolidation in the airline industry, with the larger players leading the process through acquisition, as illustrated by Air France-KLM's takeover of VLM, and through organic growth, as demonstrated by British Airways' increased share at the airport.
Air France's share of movements almost doubled from 20% in summer 2009 to 39% in summer 2013, although this really only reflects the integration of its VLM subsidiary into its Air France-branded City Jet operation. The combined Air France/VLM share fell from 2009 to 2012, but has picked up a little in 2013. With Alitalia, SkyTeam has around 43% of slots.
London City is one of the few airports in a major European capital city where a foreign flag carrier is the leading operator. Presumably, European regulators anticipated more of this when EU liberalisation was implemented. In most of Europe, only the low-cost carriers have taken full advantage of the right to operate freely across borders within the EU.
In the circumstances it is in some ways ironic that the LCCs remain absent from LCY, but its runway and charge structure are not suited to their aircraft and cost bases.
Over the same period, number two ranked British Airways' share of movements grew from 23% to 36% as a result of adding the New York route with its mainline operation and adding European routes with its CityFlyer subsidiary. BA has added a number of leisure destinations, such as Malaga, Angers, Faro, Ibiza, Menorca and Palma, to what was traditionally regarded as almost exclusively a business airport.
In 2010, SAS withdrew from LCY and Lufthansa ceased its Düsseldorf operation and reduced capacity to Munich (this route ceased altogether in 2012). Lufthansa now has around 3% of slots, but SWISS (11% of slots) is the biggest Star Alliance operator at the airport.
London City Airport percentage share of air transport movements by operator: summer 2009 to summer 2013 (start of season)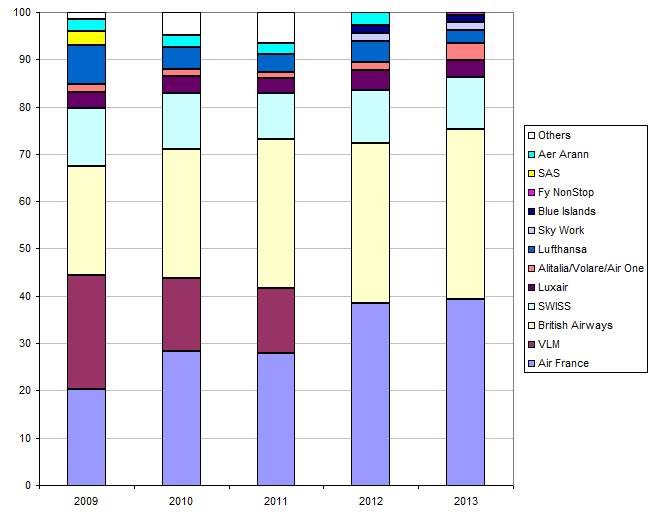 International traffic has driven the recovery
Traffic recovery at LCY since the global financial crisis has focused mainly on international traffic, which represents 79% of movements and 80% of seats in the summer 2013 schedule. In summer 2009, these proportions were 75% and 77% respectively. However, the summer 2013 schedule has seen a faster year-on-year increase in domestic capacity than international capacity for the first time in four years.
London City Airport air transport movements summer: 2009 to summer 2013 (start of season)
London City Airport domestic and international seats summer: 2009 to summer 2013 (start of season)
Top 20 destinations still business-focused, but leisure routes also feature
The development of the list of top 20 destinations between summer 2009 and summer 2012 reflects the growth in importance of international routes. Amsterdam remains the number one destination and the top four are the same four cities as in 2009, with three of them being international. The top domestic destination, Edinburgh, has slipped from second to third place, with capacity down between 2009 and 2013 (although fifth placed Glasgow has seen capacity added and Aberdeen has moved in to the top 20 in 2013 after not ranking in 2009).
Three international destinations are in the summer 2013 top 20, but did not feature in the 2009 list (Milan Linate, Nuremberg and Ibiza), while Munich has dropped out altogether. Other destinations that have seen growth over this period are Luxembourg and Madrid. Those that have shed seat capacity are Zurich, Frankfurt, Dublin, Geneva, Rotterdam, Paris Orly, Stockholm, Nice and domestic route Isle of Man.
London City Airport weekly top 20 destinations by weekly movements: summer 2013 and summer 2009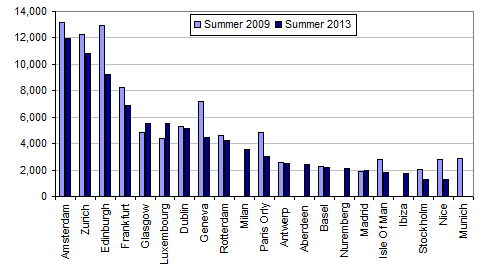 London City Airport is relatively highly dependent on business travellers. Although business class has all but disappeared on may of the short-haul European routes from the airport, premium economy accounts for 12% of seats compared with 1% worldwide (source: Innovata, week of 3-Jun-2013). The worldwide average for all premium cabin seats (including premium economy) is just over 7%. LCY's dependence on business travellers stems from its proximity to, and convenience for, the financial services industry in the Canary Wharf and City districts of London. This was the catalyst for British Airways' launch of its all business class A318 New York service in 2010 (still the airport's only long-haul route).
Although LCY remains a business-focused airport, the reduction in seat capacity between 2009 and 2013 on business destinations such as Zurich, Frankfurt, Geneva and Munich together with the addition of leisure destinations such as Ibiza and Granada have led to a broadening of LCY's market positioning.
London City Airport schedule by class of seat (one-way weekly departing seats): 3-Jun-2013 to 9-Jun-2013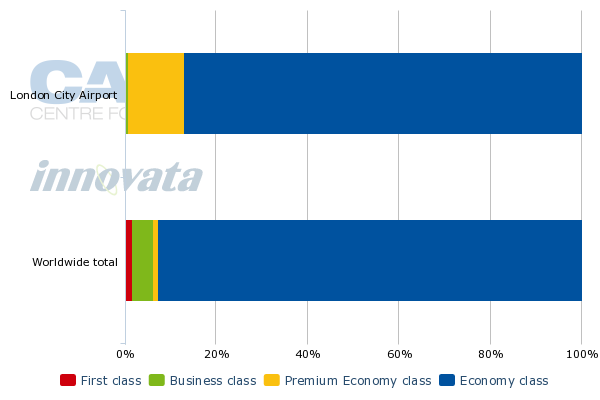 Average aircraft size has been fairly stable despite significant changes in aircraft types
Although there has been a significant shift in the mix of aircraft types operated from LCY since 2009, the average number of seats per air transport movement has been fairly stable (76 in summer 2009 and 75 in summer 2013). On international routes, the average number of seats has fallen from almost 79 to a little more than 76, while domestic routes have seen an increase from 69 to 72 over the period.
London City Airport seats per ATM summer 2009 to summer 2013 (start of season)
The shift in aircraft types over the past four years mirrors wider trends towards next generation technology. In summer 2009, Avro RJ aircraft types dominated the market, accounting for 57% of ATMs, continuing a long association between LCY and the aircraft that (as the BAe 146) were the catalyst for the airport's early success. However, this share has fallen to 26% in summer 2013, while from a standing start, the Embraer 190's share has grown to 24% and the Embraer 170's share has grown to 13% in 2013. Both BA and Lufthansa have replaced Avro aircraft with Embraer.
Bombardier's Dash 8-300 has disappeared from the airport, while its Dash 8-400 has seen its share grow from 3% to 7%. The Dornier 328's share has more than halved to 4% and ATR types have fallen from 6% to 2%. Fokker 50 has held onto its share of around 20% in spite of its age as it continues in the City Jet (Air France) fleet.
London City Airport aircraft types by percentage share of ATMs: summer 2009 to summer 2013 (start of season)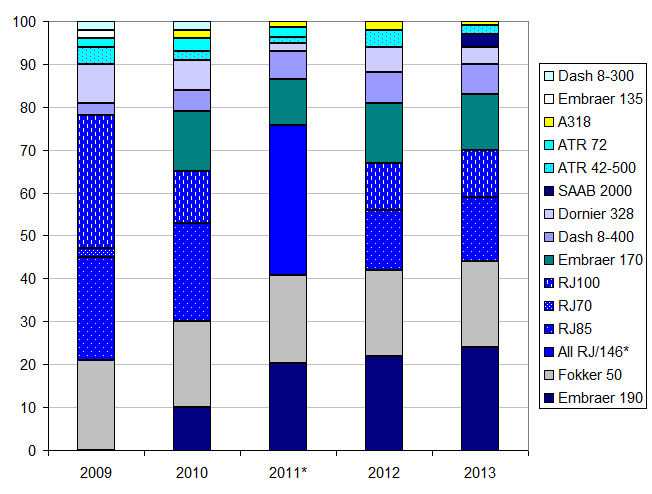 Peak hour capacity constraints
The introduction of slot coordination in 2009 reflected capacity constraints that had begun to be felt at peak hours (between 07:00 and 09:00 and between 18:00 and 19:00), when demand for runway movements was greater than supply.
This is illustrated in the chart below for summer 2010 and reflects the leaning towards business routes.
London City Airport runway movement demand (all times local): summer 2010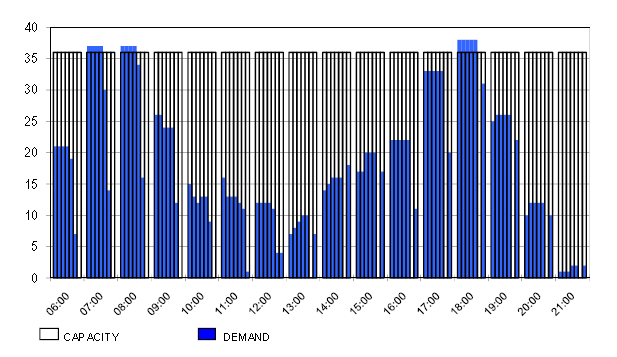 The role of the slot coordinator is to reallocate excess demand to times that can accommodate it and the result was a modest smoothing of runway movements across the day, relative to airlines' initial requests. As the airport had considerable surplus capacity through much of the day, this was not too challenging.
London City Airport runway movement allocation (all times local): summer 2010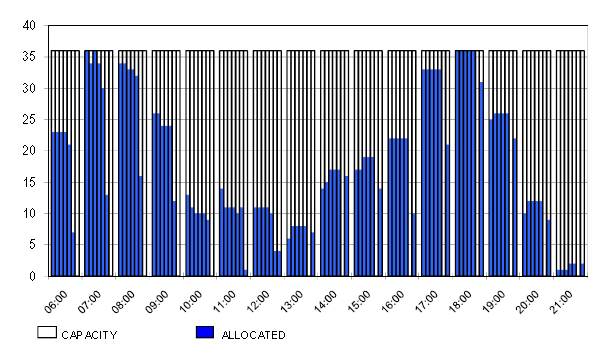 In summer 2010, the hourly movement limit was 36, but was subsequently increased so that it is 38 for most of the day in 2013. However, the limit is now only four for the first hour of operation (06:00 local time, or 05:00 UTC), reflecting the need for noise control in what is a built-up area. The initial demand for movements in summer 2013 was within capacity limits throughout the day, presumably because airlines have learnt from the previous peak hour demand excess situation.
The allocation of runway movements more closely matches this initial demand than was the case in summer 2010.
London City Airport runway movement demand (all times UTC*): summer 2013

London City Airport runway movement allocation (all times UTC): summer 2013

'...a thousand faces all shining bright'
In spite of the presence of the slot coordinator, LCY has significant spare capacity and it has a master plan that plots significant further growth. Its proximity to the centre of London, in particular to the financial districts, delivers airlines a high proportion of high yield passengers.
Moreover, its short runway has, so far, kept the LCCs away, making LCY one of the fastest growth airports in Europe that has not relied on them to drive expansion. The airline managers at City may not be under 25, but their faces are likely to be shining bright.