CAPA Outlook 2015: Western Europe - Uncertain impact of lower fuel prices to determine the outlook
The economic backdrop in Western Europe was sluggish in 2014 and remains fragile into 2015. In particular, the eurozone nations continue to struggle to recover fully from the global recession. A Jan-2015 poll of economists conducted by the Financial Times suggests that most experts expect GDP growth in the eurozone to be around only 1% in 2015.
This is a little better than 2014, but well short of the cyclical peak growth rates in excess of 3% that have not been seen since 2007.
For 2015, the two most important strategic issues facing Western Europe's legacy airlines, particularly the Big Three flag carrier groups, will be restructuring in their core businesses and maximising their low-cost vehicles.
Among Western Europe's larger economies, only the UK has shown much sign of strength
UK government official forecasts expect GDP growth of 2.4% in 2015 (albeit slower than the 3.0% estimate for 2014).
Long-term historical data show that changes in oil prices are closely related to GDP growth. Although the current oil price slump may have been triggered by an excess of supply, a persistently lower price indicates that demand may actually be weaker. All other things being equal, lower oil prices (and therefore lower jet fuel prices) are positive for airline profitability, but weaker economic growth is most definitely not. The oil price outlook provides the most important source of macroeconomic uncertainty facing the airline sector in 2015.
According to initial data from the Association of European Airlines (AEA), which represents most of Europe's legacy airlines, its members' passenger traffic – as measured by RPKs – grew by 4.4% in 2014. The most recent data from IATA, published in Dec-2014, estimated RPK growth for all European airlines at 5.4% in 2014. This higher rate than the AEA figure underlines the stronger growth by LCCs, who are not part of the AEA.
IATA forecasts that Europe's RPK growth will increase only very slightly to 5.5% in 2015 – still healthy relative to GDP growth. IATA's RPK forecasts are not split between Western Europe and Eastern Europe, but EUROCONTROL data for the number of flights by country show that growth generally remains higher in the east than in the west of the continent. They also demonstrate higher growth for LCCs than for legacy carriers, particularly within Europe.
Making the airline group strategy work
The two most important strategic issues facing Western Europe's legacy airlines, particularly the Big Three flag carrier groups, are restructuring in their core businesses and maximising their low-cost vehicles.
See for example:
Airline Leader, Issue 23, p. 22, HOLDING STRUCTURES BECOME VITAL TOOLS
On both of these issues, IAG has a strong lead over Lufthansa and Air France-KLM. IAG's British Airways subsidiary started confronting labour restructuring some years ago and it has made significant progress with lowering costs, in particular through labour productivity gains, at Iberia. Moreover, the 2013 acquisition of Vueling has been a positive addition to the group and given IAG the largest and most authentic pan-European LCC business of the Big Three.
In 2015, IAG's Iberia will continue to seek cost efficiencies, but will also continue its return to growth, particularly on Latin American routes and through its low-cost subsidiary Iberia Express on short-haul. 2015 may also see IAG deepen its relationship with Qatar Airways, with negotiations over some form of joint venture agreement a possibility.
IAG is the only one of the Big Three that looks capable of reaching the profit target for the year set in 2012 (and subsequently raised).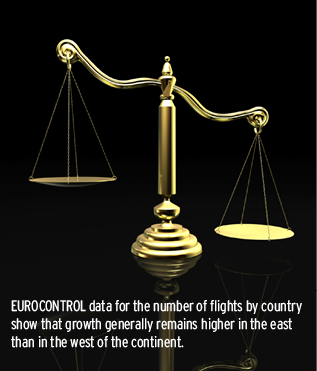 Lufthansa will need to resolve the ongoing dispute with its pilots, ostensibly over retirement benefits, but really rooted in a disagreement over management plans to develop alternative, lower cost business models within the group.
In addition to Germanwings, Lufthansa's not-so-low-cost LCC for European point to point routes outside the two main hubs of Frankfurt and Munich, the group plans to develop its Eurowings subsidiary to expand its short-haul low-cost concept into Austria and Switzerland.
It also plans to develop this platform into a long-haul operation in partnership with SunExpress, a 50/50 joint venture company owned by Lufthansa and Turkish Airlines.
These plans are vital to Lufthansa's attempts to create options for itself in fighting off competition within Europe from LCCs and a growing number of competing long-haul business models (including Gulf carriers and long-haul LCCs).
Such initiatives rely on greater use of pilots outside Lufthansa's main collective bargaining agreement, who are prepared to be more flexible and more productive. The dispute with its mainline pilots is a must-win for Lufthansa.
Air France-KLM's Perform 2020 restructuring programme
The programme means the group it will continue to focus on discipline over capacity and capital unit cost reduction and balance sheet fixing. It will also continue to restructure the short and medium-haul passenger business, including a more aggressive expansion of LCC Transavia and the closer integration of the regional operations of Air France and Hop, and further reduce the group's full freighter fleet. Long-haul remains the most profitable part of the group.
As with Lufthansa, Air France also suffered from a damaging pilots strike in 2014 over the development of its low-cost platform. The dispute was settled when the group agreed to abandon its plans to develop Transavia as a pan-European LCC and instead to concentrate its growth only on destinations from France.
Growing Transavia makes sense, but limiting this growth to France alone will increase the difficulty in closing the gap with IAG's profitable Vueling, which carries about twice the number of passengers as loss making Transavia.
Ryanair and easyJet, who look set to continue their success in 2015
Europe's two largest LCCs are much bigger – and more profitable – than Transavia, Vueling and Germanwings. Although no longer growing at the double digit rates of the Big Three's LCC subsidiaries, both are profitably increasing capacity at healthy mid to high single digit rates. Ultra-LCC Ryanair, Europe's lowest cost producer (as defined by CASK), raised FY2015 net profit guidance twice in 2014 thanks to faster passenger growth, stimulated by lower fares, but also reflecting improved customer service and new routes.
Marking a strong bounce back from the previous year's profit warnings, Ryanair is on a path of raised load factor and profit margins. In addition to softening its image for customer service, it is increasing its appeal to business passengers by opening new routes from more primary airports and with greater frequencies. Ryanair lags easyJet in its initiatives towards business travellers and on wider customer service improvements, but has a significant opportunity to grow revenue per passenger as it follows easyJet up the yield curve.
easyJet already has a strong pan-European network of primary airports and a strengthening brand. It looks well positioned to take further market share from the legacy carriers with whom it mainly competes and over whom it has a significant cost advantage. Ryanair's even lower cost base, coupled with its new-found conversion to being nice to passengers, should also propel it to grow faster than the market.
The second tier of legacy airlines is still very pre-occupied with restructuring

SAS fell back into net loss in FY2014 and its operating profit margin was only 1.0%. It is however achieving its cost reduction targets and moving towards a more efficient operation. But in a highly competitive marketplace characterised by capacity growth and downward price pressure, unit cost did not fall enough to offset the drop in unit revenue. SAS' priorities for 2015 will be further cost savings plans, the reorganisation of its regional flying activities and the revival of talks to sell its ground handling business to Swissport.
Finnair finally reached agreement in 2014 with all its key labour groups on achieving its cost reduction targets, which should benefit its 2015 results. In addition, the expected delivery of its first A350 in late 2015 should also help Finnair's profitability in the future. For 2014, as with SAS, success with unit cost reduction was not enough to offset weak unit revenues.
For Alitalia, 2015 marks the start of its equity relationship with new 49% shareholder Etihad Airways
The Abu Dhabi-based carrier made the investment on the assumption of significant restructuring, in the hope that Italy's perennially loss making national airline can eventually reach breakeven and more. Alitalia's dismal financial track record and the close interest historically shown in it by the Italian government – whether a shareholder or not – suggest that achieving sustainable profitability will be an enormous challenge – but there is certainly plenty of scope for improvement. Etihad's investment in airberlin shows that it is prepared to be generous with both its patience and its cash, but lower oil prices may increase the pressure for a quicker return on its Italian investment.
Another airline deep into long-term restructuring is airberlin, whose 9M2014 losses were wider than the year before. Although it is continuing to seek operational and network efficiencies, its most recent strategic rethink did not really seem to answer the fundamental question of what its true purpose is: short-haul point to point LCC, or full service long-haul carrier? Leisure operator, or high frequency business airline?
Fresh investment from 30% shareholder Etihad in 2014 ensures that airberlin has sufficient liquidity to pursue its restructuring without the short-term fear of bankruptcy, but shareholders' equity is negative. With more losses likely in 2015, airberlin will need to start recording full-year net profit figures if it is to rebuild its equity without seeking yet more funds from Etihad and/or other shareholders. It has a new CEO now who has done some good things with Jazeera and Fiji Airways, but airberlin is a new challenge.
The privatisation of TAP Portugal may finally take off in 2015
The Portuguese President has approved the relaunch of the process to sell 66% of the company in Dec-2014. TAP's key asset is its Brazilian network and it seems that the most likely kind of bidder will be another airline for whom this network is complementary. Airlines reported to have shown interest include Air Europa, Azul, Avianca (and its owner German Efromovich).
However, TAP needs fresh equity to increase its fleet expansion options. At least one financial organisation, Savoy Capital, headed by ex-Continental Airlines president Frank Lorenzo, has also been linked with a possible bid.
Virgin Atlantic ended 2014 confident that it would report a breakeven result for the year
This is after making losses in four of the previous five years. Its brief experiment with short-haul (UK domestic operations operated under contract by Aer Lingus under the Little Red brand) will come to an end in Mar-2015.
It will withdraw its operations from London to Tokyo, Mumbai and Cape Town this year and further increase its reliance on the North Atlantic, where its joint venture agreement with 49% shareholder Delta Air Lines is now in its second year. Virgin took delivery of its first two Boeing 787-9 aircraft in 2014 and has a further 14 to be delivered by 2018, of which seven are expected in 2015, as replacements for ageing 747 and A340 equipment.
For Flybe, Europe's largest independent regional airline, 2014 was a year of restructuring
This was a welcome return to profit for the financial year to Mar-2014. It slipped back into loss in the first half of FY2015, although this was due to restructuring and other one-off charges, as well as the Flybe Finland joint venture – in which it agreed to sell its 60% stake to Finnair – and its operating result actually improved year on year.
The challenge for Flybe remains that regional airlines have a fundamental CASK disadvantage compared with operators of larger narrowbody jets in the short and medium-haul markets. The restructuring will continue in 2015.
An airline that stands out as unique among Western Europe's airlines is fast growing LCC Norwegian Air Shuttle
Still predominantly a short and medium-haul operator, it attracted an enormous amount of attention in 2014 for its growing long-haul business. Additional costs associated with the introduction of its 787 widebodies, delays to its US foreign carrier permit application and currency movements weighed on its results in 2014.
However, Norwegian cannot blame these factors entirely for its likely FY2014 loss. It also experienced heavy falls in unit revenue in 2014, not entirely unrelated to its very rapid capacity expansion. Unit cost fell too, but not fast enough. Pioneering a new business model on long-haul, growing very rapidly, while also launching a new aircraft leasing subsidiary certainly provides challenges.
In 2015, Norwegian is planning much slower growth, around 5%, which should be beneficial to unit revenue. Other factors that should work in favour of better efficiency and financial performance in 2015 include the greater maturity of Norwegian's new London Gatwick and Spanish bases and its long-haul routes, better utilisation of the 787 fleet and the phase out of the last Boeing 737-300s in favour of 737-800s.
It should also know definitively whether or not Norwegian Air International will receive its US foreign carrier permit.
IATA forecast a net profit margin of 1.8% for Europe's airlines in 2015, up from 1.3% in 2014
This is less than its forecasts of 3.2% for the industry globally and 6.0% for North America. This does not fully account for the likely benefits of the fuel price fall, but Europe's perennial underperformance in airline margin terms – in spite of the region's wealth, high propensity for air travel and high load factors – still owes much to the fragmented nature of the market.
European consolidation has lagged North America, which has become the world's most profitable region for airlines. Nevertheless, a European deal that is truly transformational in terms of its market structure remains unlikely for now. IAG's bid for Aer Lingus, which was rejected but is likely to reappear in 2015, would make little difference in this respect, since the Irish airline controls only 1% of seats to/from Europe.
A deal involving two of the Big Three legacy groups would be far more significant in increasing market concentration, but they all still have other priorities and would no doubt face political, labour and competition-related obstacles if any of them did try to make such a move.
Meanwhile, it seems that non-European airlines, such as Etihad, will remain the most effective (and productive) force for consolidation in Europe, albeit in a manner that is less watertight than outright acquisition.