AirAsia X to London: Long haul low cost arrives in Europe - seriously
Analysis
In just under four weeks, on 11-Mar-09, the first flight of five times weekly A340 (leased from Air Canada) service from Kuala Lumpur will arrive at London Stansted Airport. This is long-haul low cost and most experts will be betting it doesn't work. They will be wrong.
Many of the passengers will have originated in Australia, paying the promotional fare of less than AUD600/GBP400 for the Australia-UK 40,000 km roundtrip - about a quarter of the most common fares on the route. But AirAsia X will also be collecting passengers from around other parts of the region to feed into the flight.
From the same stable as Malaysia's immensely successful conventional LCC, AirAsia, the new long-haul entrant works hand in glove with its partner and parent.
AirAsia's current Asian network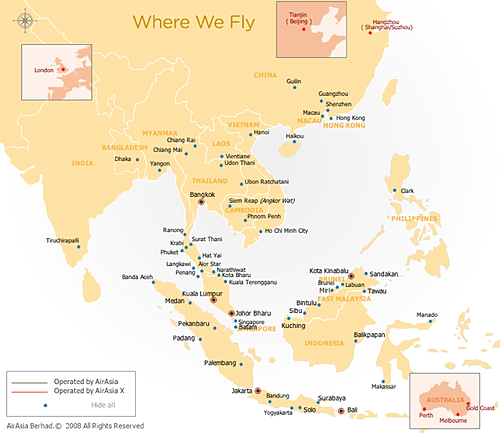 Step in the realisation of AirAsia Group's international aspirations
The Kuala Lumpur-London route is a major step in the realisation of AirAsia Group's international aspirations, and strengthens Kuala Lumpur as the regional aviation hub and gateway into the Association of Southeast Asian Nations (ASEAN) region.
The carrier has gone for a 286-seat configuration in its leased A340, with 10.5% of seats (30 seats in total) dedicated to its 'XL' Premium economy section. This is over 3 ppts more than its high-density A330-300 used on routes to Melbourne, the Gold Coast, Perth and Hangzhou, and reflects the fact that a higher proportion of premium passengers are needed to make longer sectors work economically.
Low cost long-haul airlines fleets and configurations: AirAsia X (A330-300/A340), Viva Macau, Jetstar and (now defunct) Oasis Hong Kong
Airline

A330-300
(initial from Nov-07)

A330-300
(from Nov-08)

A340
(from Mar-09)

B767

Oasis Hong Kong

B747-400

Base

Melbourne

Aircraft

A330-300 (leased)

A330-300 owned

A340 leased

B767-200ER

A330-200

B747-400

Business

-

-

-

-

-

81

Premium Economy

36

28

30

24

38

-

Economy

279

355

256

186

265

278

Total seats

315

383

286

210

303

359

Premium seating % of total

11.4%

7.3%

10.5%

11.4%

12.5%

22.6%
Fleet expansion plans...
AirAsia X ("X" for extra long) has been working up a strong following in China and Australia since it started operating to Queensland's Gold Coast in Nov-08 with, at first, a single leased A330-300.

Its first new one was delivered last month, configured with 255 economy seats at 31 inch set pitch and 28 "X-large" premium economy seats, with 38 inches (for a total configuration of 383 seats, lower than the previously announced 392 seats). They are for use on routes within the region. No other Asia Pacific A330 operator has a seat configuration of above 350 seats.

By the end of this year, AirAsia X's fleet will include six A330-300s and "perhaps" a further A340 (with the new aircraft scheduled for delivery in 2009, AirAsia X plans to add five new destinations, with the LCC stating, "we hope to fly to Japan, Korea, China, India and at least one more somewhere else"). Another ten aircraft are to be delivered in 2010.

As the carrier's canny and understated CEO, Azran Osman-Rani, says, "for us, slowing down is not an option", despite the slumping economic environment. The message may be Ryanair-like, but the messenger couldn't be more different.

In addition to its confirmed orders, AirAsia X is also reportedly planning to order up to 37 more A330s, to take advantage of weaker aircraft prices. Mr Osman-Rani also stated there is an opportunity to accelerate some of the existing orders "because some other airlines are deferring the orders due to problems related to market demand or financing" and the carrier has also stated it is interested in leasing up to five A340-300s, to expand its network to Germany, France and New Zealand, subject to lease rates. According to Azran Osman-Rani, "for the right price, we would like to lease five A340-300s, although they are in tight supply".
The airline, meanwhile, is currently looking at local and foreign funds to finance the purchase of its 25 ordered A330 aircraft. So far, financing for the first few aircraft had been secured, with the carrier in talks with export credit agencies to finance three A330-300s scheduled for delivery in 4Q09.
AirAsia X fleet plan: 2009 to 2012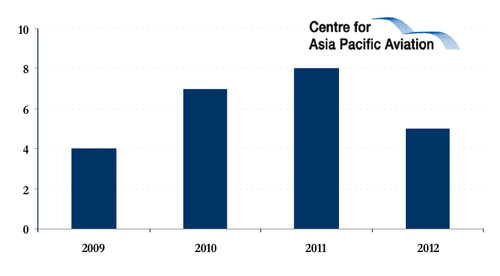 ... and network expansion plans
AirAsia X's long-haul route network now includes Perth and Melbourne in Australia, and Hangzhou in China; five times weekly service to Tianjin, adjacent to Beijing, will be added in Apr-09. And Sydney is likely to be added as an "X" point soon.
In Mar-09, the very important and more complex spoke to Stansted comes on line. Initially five times weekly, the carrier plans to increase frequency to daily when it receive a second A340, and possibly operate the route double daily in the future. The LCC expects to obtain a load fator on the sector in the 83-84% range, but stated, "it works for us if it's in the mid-70s in terms of breaking even. 80% is really good, but 84 and beyond is what I'm hoping for".
The A340 that will be used was acquired at a competitive lease price when fuel prices were way up. "X" certainly has some luck on its side; the four-engined A340 is suddenly again a much more effective aircraft with oil down in the low USD30s per barrel - at precisely the time consumers are most price sensitive for long distance flying.
Meanwhile, AirAsia X stated it hopes to launch services to at least three destinations in Japan (Hokkaido, Osaka and Fukuoka) by the end of 2009, after the Japanese Government relaxed its visa requirements for Malaysians. The LCC also plans to commence services to Tianjin (near Beijing) in Apr-09 and is considering Chengdu, Xian, New Delhi, Mumbai, Amritsar and Sydney as other possible destinations, subject to government approval.
Good chance of success, unlike long-haul low-cost predecessors
Whatever you think of the prospects for this type of operation, it would be dangerous to dismiss the new arrival as simply another Oasis, the short-lived long-haul LCC operating between Hong Kong and London last year. Competing head to head against the combined might of Cathay Pacific, British Airways, Virgin, Qantas and others, Oasis was always up against it; the carrier entered the market with old B747s at a time when fuel prices were beginning to punish old technology. More importantly, it had no feed, whereas the larger network airlines, with vastly more seats to deploy, enjoyed all sorts of price discrimination options.
AirAsia X is a very different proposition. It is well funded - and even has, as one of its owners, Sir Richard Branson, who, like the founder of AirAsia and fellow shareholder in X, Tony Fernandes, comes from a background in the music business. Mr Fernandes is betting the new services will enhance the short-haul airline's Asian network too.
A low cost network carrier
Significantly, X has already has established a passenger profile where only around 50% of its passengers are purely point-to-point, using AirAsia's home base of Kuala Lumpur as their staging point. They connect onto short and long-haul sectors through Kuala Lumpur International Airport's (KLIA) purpose-built Low Cost Terminal, which is dominated by the LCC.
At the moment connections are performed in basic LCC terms - do it yourself - but, Mr Osman-Rani has plans for a simplified airside transfer for passengers, with a parallel online baggage transfer service for an additional fee.
If that sounds increasingly like a network carrier, bear in mind that AirAsia has the lowest cost base in the world. That isn't achieved by management which is careless about costs. And baggage connections will simply become another revenue source (Stansted may not be ready for that yet - watch that space - but it does at least offer no shortage of low cost services to transfer to and from).
Sample LCC unit cost (per ASK; USD cents)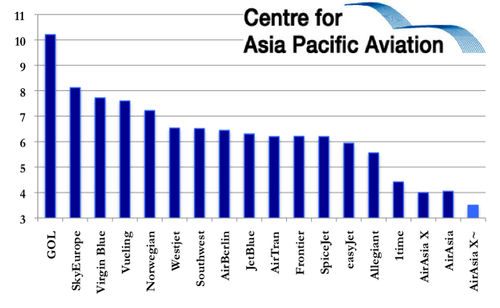 Nonetheless, there is more legacy-type profile: along with the 256 economy seats on the London-bound A340, are 30 premium seats with 60-inch seat pitch. They are priced just above the opposition's economy fares.
Is this just another low price - rather than viably low cost operation? After all, long haul loses a lot of the advantages that make short haul LCCs so competitive, like higher seating density and higher utilisation.
The A330s are high density certainly, but apart from applying the AirAsia low cost culture to every detail (and some innovative ancillary revenue options on the yield side), an 18 hour daily utilisation rate delivers considerably lower seat cost - achieved by a rotating schedule (charter airline style) which avoids the aircraft sitting on the ground waiting for the next daily business cycle.
What about some really cheap seats?
Is AirAsia X looking at the A380, with its potential for nearly 900 seats in all economy configuration? "We've had a look at it", says Mr Osran-Rani, coyly leaving the issue open.
Expects to be profitable in 2009
AirAsia X, meanwhile, stated it expects to report a profit in 2009, with sales and demand remaining strong (the carrier was still experiencing strong forward bookings to Mar-09, despite economic weakness and battered consumer confidence. The carrier also stated it is currently generating strong cash flow and "quite robust" forward bookings, with an average load factor of around 78%.
According to Mr Ozman-Rani, the carrier has over RM300 million (USD83 million), stating "probably within three to four months from operating our new planes, we will be profitable. With new planes, more passengers will fly. Most important is cash flow and this is how we convince our financiers. We have been cash positive since Apr-08".
AirAsia X also stated it is targeting a tenfold increase in annual revenue to USD1 billion by the end of 2010. The carrier plans to reach annual revenue of RM1 billion (USD276 million) in 2009, after slightly over two years of operations, with the carrier expecting to end 2008 with revenue of approximatly USD100 million.
More to come
The long-haul model - modified along some of the lines of AirAsia X's operation is no longer in fact an experiment in Asia. Qantas subsidiary, Jetstar, is already spreading its low cost wings across the region, also using A330s, and picking up on routes where its parent just couldn't make it work. While it stays low cost, the more the model looks like a legacy airline. Jetstar, which already codeshares with Qantas, has also just announced a broader codeshare/interline arrangement with several full service operators.
Meanwhile, AirAsia and X's biggest headache is that KLIA won't have sufficient room to accommodate their planned expansion for 2012. Well, everyone has their problems...
Background Information:
An affiliate of AirAsia and Virgin Group;
Is a long-haul, low cost airline unveiled in Jan-07, and launched service in Nov-07;
Having franchised the AirAsia brand, AirAsia X aims to cover destinations more than four hours in flight duration from Kuala Lumpur, which complement the existing AirAsia short-haul network;
Currently operates from Kuala Lumpur to the Gold Coast (Australia) and Hangzhou (China) using leased aircraft;
Has ordered 15 A330s, two of which will be delivered this year (Oct-08 and Dec-08), with another two to be delivered in 2009. The airline plans to add 25 extra A350s or B787-10 aircraft to its fleet as it adds routes to China, the UK, India, South Korea, Japan and the Middle East over the next few years;
Expects to be profitable in its second year of operations and hopes to list the company in Malaysia as early as 2010;
Expects to handle 1.1 million passengers in its first year, rising to 10 million passengers p/a by 2010;
Current cost per ASK (including fuel) is one of the lowest in the industry, at just under USD 4 cents, with the airline expecting to achieve unit costs of less than USD 3 cents once it receives more aircraft.