Mexico's Interjet plans further expansion with new Superjet fleet targeting thinner routes
Analysis
Mexican low-cost carrier Interjet, which has seen its share of Mexico's domestic market grow to roughly 25% in its six short years of existence, sees ample opportunity for further expansion in both the domestic and transborder markets. Interjet began international services in late 2011 and is continuing its international push with the upcoming launch of service to New York, its sixth destination outside Mexico. As the first of its Sukhoi Superjet 100 aircraft enters service later this year Interjet is now preparing to stoke its continued growth by targeting new medium-density markets.
Even prior to Mexicana's demise in Aug-2010 Interjet recorded rapid growth in the domestic market place as it offered a semi-frilled product while adopting a low-cost, low-fare business model. By the time Mexicana sought creditor protection and ceased operations in Aug-2010 Interjet's domestic market share had increased to more than 15%.
In the aftermath of Mexicana's shutdown Interjet along with Mexico's two other low-cost carriers moved quickly to seize opportunities on the growth opportunities created by the exit of Mexicana and its LCC unit MexicanaClick. Interjet grew its share of the domestic market to 25% in 2011, the first full year without Mexicana, and became the second largest domestic carrier in Mexico as measured by passengers carried.
Mexico annual passenger traffic and Interjet annual domestic market share growth: 2000-2011

Through the first five months of 2012 Interjet grew its domestic passenger base by nearly another 13% year-over-year to 2.7 million. But Interjet's domestic market share in May-2012 slipped 2ppt to 23% as rival Volaris' share grew by 2ppt to 20% after a concerted domestic push by Volaris.
See related articles:
LCCs help drive Mexican international passenger growth of 42% in 1Q2012
Mexican LCCs Interjet, Volaris and VivaAerobus plan more rapid growth for 2012
Mexico's Volaris tweaks transborder flights as it makes a domestic push from Guadalajara
Mexico's third largest LCC VivaAerobus also grew its market share by 2ppt in May-2012 to 13%. Mexico's surviving legacy, the Aeromexico Group, remains the largest domestic player in Mexico with a 39% share of the market, including a 20% share at Aeromexico mainline and a 19% share at regional subsidiary Aeromexico Connect.
Domestic passenger share for Mexico's carriers (% of passengers): May 2012 vs May 2011
May-2012

Interjet.png" alt="" width="400" height="224" />

May-2011
Some of the slip in Interjet's May-2012 domestic share is attributed to the carrier's new attention on international routes. Since Dec-2011 Interjet has added flights from Mexico City to Guatemala, Havana, San Antonio, Miami and San Jose in Costa Rica. The carrier plans additional US expansion in 3-Aug-2012, when it launches a single daily flight from Mexico City to New York JFK operated with an all-economy Airbus A320.
The demise of Mexicana, which operated two daily flights to New York JFK using Airbus A320 family aircraft, has left SkyTeam partners Aeromexico and Delta as the only carriers in the New York JFK-Mexico City market. Aeromexico and Delta combined now offer over 6,000 one-way weekly seats in the market, with Aeromexico accounting for about 65% and Delta the remaining 35%.
Mexico City to New York JFK capacity by carrier (seats per week, one way): 19-Sep-11 to 6-Jan-13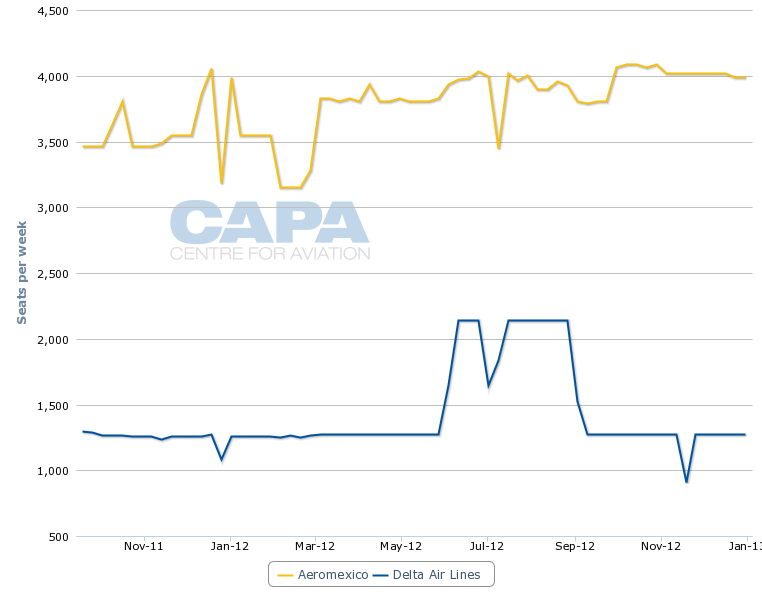 Interjet faces tough competition out of Mexico City
Aermexico and Interjet already have significant overlap in their networks. The two carriers compete on all of Interjet's international routes from Mexico City. The Aeromexico Group also competes on 23 of Interjet's 24 domestic markets from Mexico City.
Although Interjet's headquarters is at nearby alternative airport Toluca, which is about 70km from Mexico City, Juarez International Airport is now by far the carrier's largest base in terms of available seats. Interjet gained access to slot-controlled Mexico City in 2008 after purchasing slots from defunct full-service carrier Aerocalifornia. It has since focused almost all of its expansion at Mexico City although it continues to serve several domestic destinations from both Toluca and Mexico City (Interjet also serves one of its international destinations, San Antonio, from both Toluca and Mexico City).
Interjet was able to significantly expand its Mexico City operation in late 2010 and 2011 using slots previously held by Mexicana. At the same time Volaris and VivaAerobus also expanded in Mexico City, where prior to Mexicana's exit they had very small presences. All three LCCs potentially risk having to give back some of their Mexico City slots if Mexicana resumes services (Mexicana over the last two years has had several failed attempts to resume services and is now making yet another attempt to re-launch although success seems unlikely given how the void left by Mexicana has already been filled by the existing carriers.)
Interjet top 10 hubs/bases/stations (seats per week): 16-Jul-2012 to 22-Jul-2012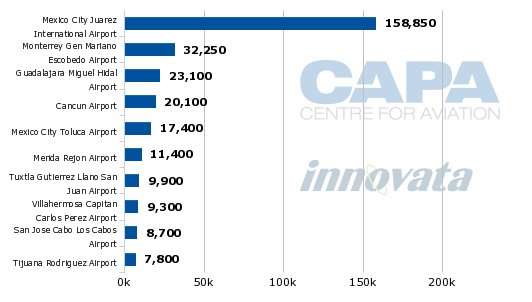 Mexico's three LCCs now join Aeromexico as the top four carriers serving the airport based upon seats on offer. But Interjet has the largest presence among the three LCCs, as it holds both permanent slots (which it acquired) and temporary slots allocated following the collapse of Mexicana.
Schedules in Innovata show that Aeromexico, Interjet, VivaAerobus, and Volaris all compete in only four markets from Mexico City - Cancun, Guadalajara, Monterrey and Puerto Vallarta. Aeromexico, Interjet and Volaris compete in another four markets - Tijuana, Hermosillo, San Jose del Cabo and Culiacan. Aeromexico, Interjet and VivaAerobus overlap from Mexico City to six markets - Merida, Tuxtla Gutierrez, Villahermosa, Tampico, Ciudad Juarez and Oaxaca.
Interjet is the lone operator on just one of the routes it operates from Mexico City, its seasonal service to the resort island of Cozumel. In addition to Aeromexico, Interjet's other competitors on international flights from Mexico City include Avianca-TACA subsidiary Lacsa (TACA Costa Rica) on its flights to Guatemala and San Jose; Cubana on its flights to Havana; AirTran to San Antonio; and American to Miami.
Mexico City Juarez International Airport capacity by carrier (seats per week): 16-Jul-2012 to 22-Jul-2012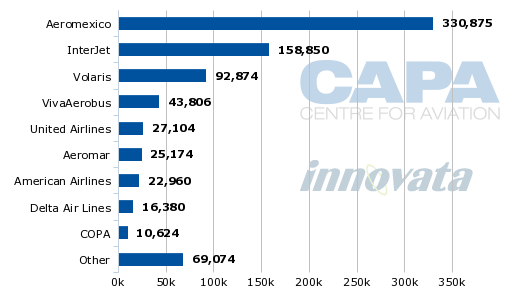 Interjet's competitors on domestic routes from Mexico City Juarez International Airport
| | |
| --- | --- |
| Route | Competitors |
| Hermosillo | Aeromexico, Volaris |
| San Jose del Cabo | Aeromexico, Volaris |
| Tampico | Aeromoxico, VivaAerobus |
| Ciudad Juarez | Aeromexico, VivaAerobus |
| Culiacan | Aeromexico, Volaris |
| Bahias de Huatulco | Aeromexico, Aeromar, VivaAerobus |
| Oaxaca | Aeromexico, VivaAerobus |
| Chihuahua | Aeromexico, Volaris |
| Zihuatanejo | Aeromexico, Aeromar |
| Ciudad del Carmen | Aeromexico |
| Chetumal | Aeromexico |
| Ciudad Obregon | Aeromexico |
| Cozumel | no competition |
| Monterrey | Aeromexico, VivaAerobus, Volaris |
| Cancun | Aeromexico, VivaAerobus, Volaris |
| Guadalajara | Aeromexico, VivaAerobus, Volaris |
| Tijuana | Aeromexico, Volaris |
| Merida | Aeromexico, VivaAerobus |
| Tuxtla Gutierrez | Aeromexico, VivaAerobus |
| Villahermosa | Aeromexico, VivaAerobus |
| Acapulco | Aeromexico, Aeromar |
| Leon | Aeromexico |
| Puerto Vallarata | Aermexico, VivaAerobus, Volaris |
The strategy adopted by Interjet entails launching operations on high-density routes that are already served by the carrier's competitors, according to a presentation by airline CEO Jose Luis Garza Alvarez delivered during an IATA conference in Apr-2012. Other tenets fuelling Interjet's growth are increasing traffic on its existing routes and domestic market expansion by operating on medium-density regional routes.
Internationally, Mr Garza believes there is room for additional expansion in US markets and believes opportunities exist for Interjet to serve Canada, the Caribbean and more destinations in Central America. Interjet aims to launch underserved, medium-density short-haul international flights. He explained that Interjet aims to launch some of those medium-density markets in late 2012 with the 93-seat Superjet 100, which will become a new fleet type for the airline. The carrier plans to take its first two Superjet 100s in late 2012.
Interjet is now an all-A320 operator, utilising its narrowbodies in a roomy 150-seat single-class configuration. The carrier expects to be operating a fleet of 39 Airbus narrowbodies by year-end 2012.
Routes opened up to Interjet by using the smaller-gauge Superjet 100 will also allow the carrier to diversify away from markets where Volaris and VivaAerobus will likely expand. Both carriers adhere strictly to the low-cost mantra of operating a single fleet type. Volaris operates a fleet of Airbus narrowbodies while VivaAerobus' fleet is only comprised of Boeing 737-300s.
Upping competition with Aeromexico
Interjet is the only Superjet customer in the Americas after placing an order for 15 of the aircraft in Jan-2011. The carrier remains so bullish on its prospects on medium-density routes that it converted options for five aircraft during the recent 2012 Farnborough International Airshow, expanding its firm orders for the Superjet 100 to 20.
While Interjet's endorsement of the Superjet 100 through a now 20-strong firm orderbook is an obvious boost to Sukhoi and its marketing partners, it also signals the carrier's need for a smaller aircraft as it develops a growth plan for 2014 and beyond built on the medium-density markets it is targeting. Interjet could add up to 21 markets during that time as it takes delivery of six additional Superjet 100s in 2013 and seven aircraft in 2014.
Projected expansion by Interjet through 2014 with the addition of 15 Superjet 100s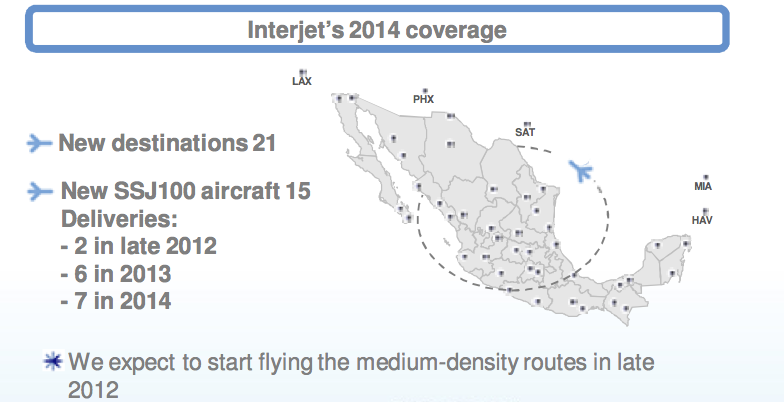 The introduction of 90-plus seat jets by Interjet will likely intensify competition with Aeromexico, which serves medium-density routes with 90-seat Embraer E190s operated by its Aeromexico Connect subsidiary. Aeromexico Connect is also now transitioning some of its fleet of 50-seat Embraer ERJ-145s to 70-seat Embraer 170s. Aeromexico Connect recently took its first second-hand E170 and plans to introduce five E170s during 2012 while also increasing its E190 from a fleet of 11 aircraft in Dec-2011 to 19 by the end of 2012.
Aeromexico believes the E170 is ideal for routes between 500km and 1,000km, and has concluded many routes exist within that range which would generate load factors greater than 80%.
Estimated load factor on Aeromexico E170 routes between 500km and 1,000km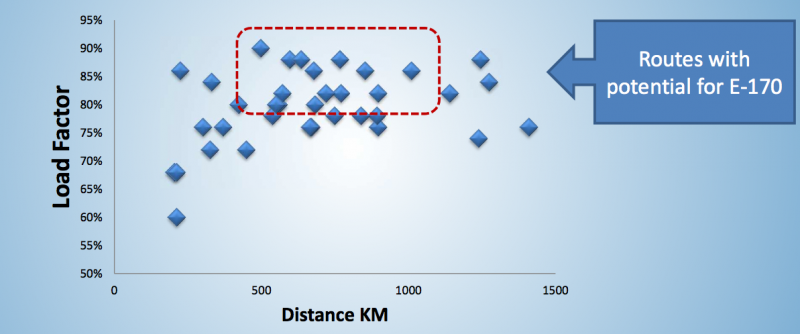 Interjet has likely made the same calculations. With generous 34in pitch seats across its all-economy cabin and corporate-packaged fares, the carrier is already creating stiff competition for Aeromexico by offering a combination of some frills and lower fares. As it takes delivery of Superjet 100s, Interjet will be able to create similar competition on new medium-density domestic and short-haul international routes operated by Aeromexico Connect.
Both Aeromexico and Interjet are basing their market assessments on nearly 4% GDP growth for Mexico in 2012 and a still-growing air passenger market that has not been fully exploited. Air travel and bus transport are the only means of public transportation in Mexico as the country does not have a massive railway infrastructure.
Interjet estimates more than 97 million passengers travel using long-haul luxury and premium intercity buses at fares that are comparable to air fares charged by the carrier, leading the airline to conclude Mexico is still very much a growth market. Mexico also has several small relatively under-served cities, making it an ideal market for 100-seat aircraft. (Mexicana also operated 100-seat aircraft on medium-density routes with its Click unit, which was in the process of transitioning its fleet from Fokker 100s to Boeing 717s at the time of the group's collapse.)
Interjet estimates annual flights per capita in Mexico at 0.3 compared with 0.2 in Brazil, which is Latin America's largest air transport market. But demand in Latin America's aviation powerhouse Brazil has cooled, forcing the country's two largest carriers Gol and TAM to pare back their domestic capacity in attempt to strike a supply-demand balance and restore yields that deteriorated for much of 2011. Macroeconomic trends could also create similar pressures in the Mexican domestic market, and create a similar weakening demand. Aeromexico has already remarked that domestic yields in 1Q2012 were softer than the year prior, reflecting some pressure on pricing in the Mexican domestic market place.
See article: Continued erosion in Brazil's domestic market triggers stringent capacity discipline for Gol and TAM
Interjet touts solid financial results as it focuses on continued growth
Privately held Interjet by its own estimates has recorded sound financial results during the last couple of years growing its revenues in 2010 and 2011 by 41% and 62%, respectively. Its net income of USD98 million in 2011 was a 62% rise year-over-year. The carrier decided to postpone an IPO in 2011 only a few days prior to the planned listing but Interjet's owners, while not in a rush to cash out, are expected to eventually relook at a listing.
Interjet's financial performance: 2010 and 2011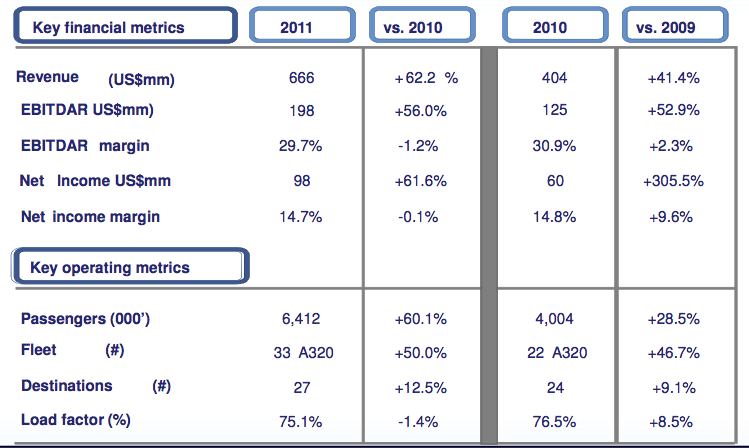 Interjet also concludes it has unit costs below the average among the large Latin American airline groups, with unit costs excluding fuel just above Panama-based airline group Copa Holdings. The carrier offered no comparison with Aeromexico, but Interjet's projected USD4.4 cent unit costs excluding fuel recorded during 2011 were below the USD5.7 cent ex-fuel unit costs posted by Aeromexico, which was a 3% drop for the carrier from the year prior.
Interjet's unit costs in comparison with Latin America's large airline groups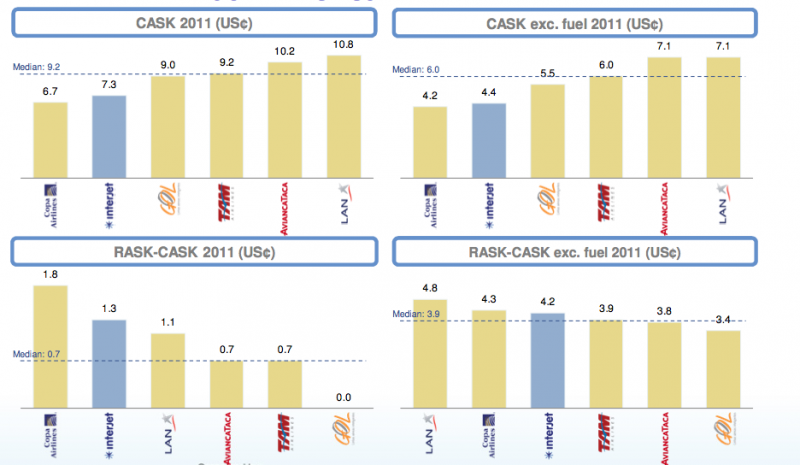 An IPO could help further accelerate Interjet's network and fleet expansion. While the market did not initially react very positively in 2011 to the planned IPO, Interjet continues to strengthen its position in Mexico and its recent international push could make it an attractive investment once market conditions for airline IPOs improves.
All the pieces seem to be in place for Interjet to continue its successful expansion - sound financial performance that includes a favourable cost structure, a hybrid product passengers are gravitating toward and a new smaller aircraft type that will enable growth into markets shielded from other LCC competition. But no carrier is shielded from global macroeconomic trends, and Aeromexico will compete fiercely to preserve its leading position in business markets. Interjet would be wise to keep its growth during the next few years measured to sustain its strong financial performance.
Background info
Interjet route map as of Jul-2012